The average driving time between Sydney and Brisbane is 11 hours. If you want to travel along the coast take Pacific Highway 1. If travelling with family you can break up your trip in two to three stops if you have more time to yourself. There are some great destinations and stopover cities which you can explore.
Here is a list of interesting towns and possible stop-overs:
Newcastle |  Port Stephens & Port Nelson | Forster | Coffs Harbour | Byron Bay | Surfers Paradise
Around 120km north of Sydney, off Pacific Highway offers great stopover option. Newcastle is a beautiful site with a nice waterfront, lively weekend nights and great restaurants to enjoy. If you are travelling at a leisurely pace you can take the exit near Gosford towards Central Coast and drive along the Ocean. The shortest way to Newcastle is to drive down Pacific Highway from Sydney and follow Highway 1 to Gold Coast.
Drive through Central Coast offers an alternative scenic route and the road meanders through beautiful and chilled out cities like  Lake Tuggerah, Toukley and Entrance. The entrance I consider is a great spot for the family holiday as the city offers a wide array of nice restaurants and waterfront accommodation. The waterfront area gets quite crowded over the weekend with a train ride for kids and water fountains to cool off the summer heat. 
The city of Newcastle is a great stopover when driving from Sydney to Gold Coast via Pacific Highway or taking a scenic route through Central Coast. The city offers an interesting mix of cityscapes ranging from the beautiful waterfront and interesting inner-city nightlife at Darby Street which is a must-visit for foodies.  Darby Street is full of cafes, bars and restaurants. 
Hotel Sale!
Save up to 30%* + Flexible booking policies + Free Cancellation + Wi-Fi Inclusive Oaks Hotels, Australia  
Check Rates Now
.
Other places of interest in this area include Port Nelson, Port Stephens, Lake Tuggerah and Entrance. Entrance is a great place for a family outing as there are nice waterfront and plenty of nice accommodation including serviced apartments and caravan parks. The waterfront has a number of restaurants, fish and chips shops and bars. Here are some of the pictures from my trip from Sydney to Lake Tugerrah and Entrance: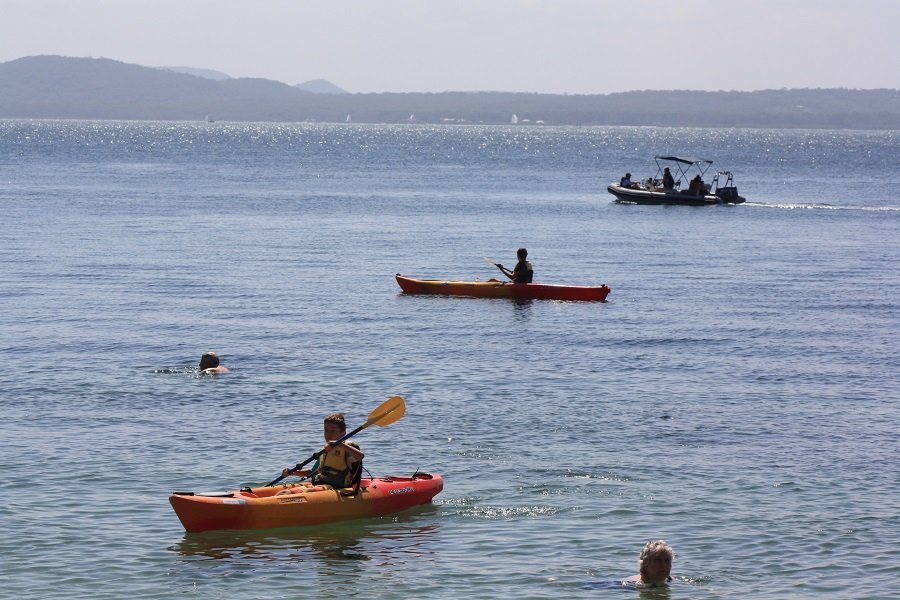 Water sports at Port Nelson Marina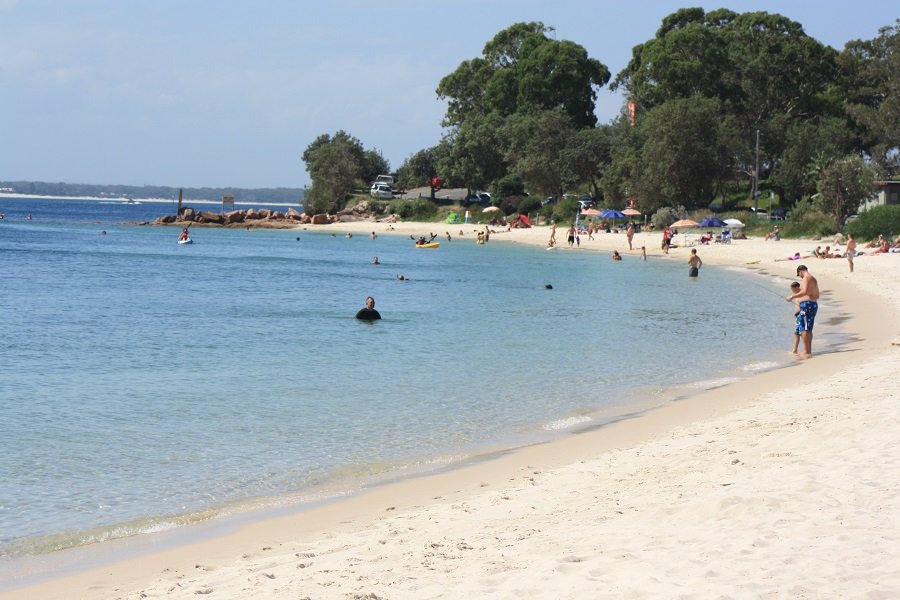 Enjoy Kayaking at Port Nelson Waterfront
Views of Entrance Waterfront 
3. Forster: 305 km from Sydney
The city of Forster is definitely an interesting stopover while driving from Gold Coast To Sydney or another way around. The twin city of Forster and Tuncurry is located at a junction of the river estuary thus providing access to freshwater as well as deep-sea fishing. The city is beautifully laid out with pristine waterfront offering great fun in summers for families who enjoy a splash in the water, kayaking, water sports or simply sit in the shade and sip cool summer drinks. Through the years, Forster is one of my favourite locations to visit for a long weekend. 
The environment in the city is great and is normally packed in summers with holidaymakers. Accommodation can be hard to find. Therefore, it is advisable to book in advance.  If you have time to yourself spend a day or two to enjoy all the activities in Forster. Must-visit places include One Mile Beach, McBrides Beach, and Seven Mile Beach South from Cape Hawk. Forster is quite popular for deep-sea fishing and rock fishing. 
4. Coffs Harbour: 550 km from Sydney
Coffs Harbour is a great mid-sized city with all modern amenities located almost in half-way between Sydney and Gold Coast. Sydney to Gold Coast drive will be incomplete without stopping at this mid-way city. People generally stop to take a quick selfie with "Big Banana" on locating don the Pacific Highway. Forster has lots more to offer for families, as there is plenty of accommodation available in all price ranges and a beautiful waterfront offers weekend markets, bars and restaurants. The mood of this city is quite festive over long weekends and public holidays as people flock from surrounding areas to enjoy the crowd and fun at local hangouts. Coffs Harbour is also easily accessible from Armidale. While driving from New England Highway you can exit at Coffs Harbour and continue on to Gold Coast. 
Big Banana at Coffs Harbour
There is a beautiful Marina Seafront with lots of activities for kids and families. During the holiday season, it is hard to find parking and places to stay. With a number of nice resorts and furnished accommodation, Coffs Harbour has become an ideal retreat for families during school holidays. If you are a nature lover, Darrigo National Park is not far from Coffs Harbour where you can find beautiful waterfalls deep in the wilderness. Armidale is quite close to Coffs Harbour and if you are driving on New England Highway road between Armidale and Coffs Harbour connects to Pacific Highway. This offers an interesting detour if you want to avoid holiday traffic and see a bit of countryside on New England Highway. Coffs Harbour has plenty of world-class cafes and restaurants and nightlife that will keep you entertained over the weekends. 
Some of the best places to stop on the way are Port Macquarie, Port Stephens, Forster, Ballina, Byron Bay, Coffs Harbour and Surfers Paradise. Coffs Harbour is half-way through and is a good 5 hours drive from Sydney. Coffs Harbour has a number of locations for family entertainment and quality accommodation. It is also the banana capital of Australia and you can see Big Banana along the Pacific Highway.
Search Hotels in Coffs Harbour
5. Byron Bay: 770km from Sydney
Byron Bay is another very popular destination offering artistic retreat and beautiful beaches while travelling from Sydney to Gold Coast. Make sure you arrange for accommodation beforehand, as this destination is quite popular during public holidays and accommodation, is hard to find. Byron Bay has the number of quality restaurants, cafes, shopping stores, antique shops and art galleries.  Lately, there is plenty of development and construction because of its popularity as a tourist sport
Historically Byron has been famous for its Hippie Culture as it hosts a number of musical festivals through the year. Also, its proximity to Nimbin, the hippie capital of NSW, makes it a popular destination. 
6. Surfers Paradise
Surfers Paradise is undoubtedly one of the most visited and vibrant locations for a complete family holiday. Packed with tall high-rises and beautiful beaches the city is a Mekkah for fun seekers and beachgoers. With an active party scene all throughout the year, Surfers Paradise offers more than 20,000 rooms in all price ranges and budgets.  Surfers Paradise active nightlife, world-class, casino and a wide range of outdoor sports. 
Surfers Paradise Beach on a summer day
Book in advance to get great deals on accommodation at 4 and 5-star furnished apartments, hotels and hostels.  
Check out a large range of activities to indulge in at Surfers Paradise.
You can enjoy a wide range of water sports including cruises, charter hires, ballooning, deep-sea fishing and sky-diving.  Surprisingly, Surfers Paradise has more canals than Venice in Italy. Most waterfront properties are owned by celebrities and you will explore multi-million dollar mansions along the canals stretching to Broadwaters. 
Views from Tower of Chevron in Surfers Paradise
Surfers Paradise boasts of a six-star hotel Palazzo Versace located near the Surfers Paradise Marine. 
Alternative Route
New England Highway
New England Highway offers an alternative route to Gold Coast. This road takes you inland through country towns of Tamworth is the heart of country music and car races. This highway is 551 miles long and you can take a road from Tamworth to Coffs Harbour through Dorrigo National Park. This is a very scenic drive with beautiful waterfalls and small town with roadside cafes and restaurants.   
General Distance Guide
Sydney to Taree: 308km
Sydney to Port Macquarie: 385
Sydney to Kempsey: 420
Sydney to Coffs Harbour: 533
Sydney to Grafton: 614
Sydney to Ballina: 740 
Sydney to Tweeds Head: 829
Sydney to Brisbane: 931
Rollover to the image to Pin It !!!!