The landscape will change drastically from Mount Kurangai to more developed waterfront properties and beautiful lakes. A49 is a scenic drive all the way beautiful city of Toukley. Toukley is around 100km north of Sydney and offers nice golf courses, hotels and restaurants. Plenty of caravan parks and accommodation along the main road suggests that this area is quite popular with tourists.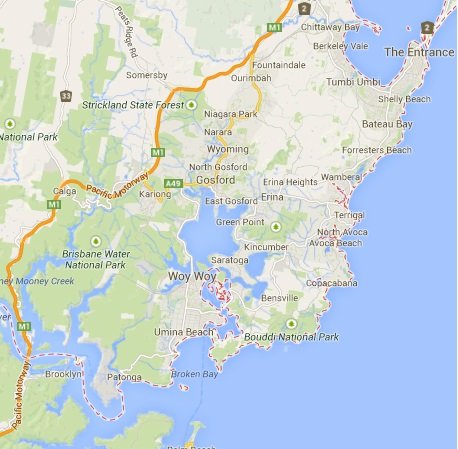 If you are travelling with motorhome or campervans, there are plenty of caravan parks on the way. Lake Tuggerah covering areas of 714 sq.km offering great recreational fishing opportunities. Lake Tuggerah is popular for bream, flathead and whiting. If you have more time for yourself, visit Terrigal and Ettalong beach. Must do things include
Pelican feeding at the Entrance
Entrance Ocean Baths
Central coast offers amazing beaches for surfing and swimming. Some of the best beaches are Terrigal Beach & Avoca Beach. You can enjoy kayaking, windsurfing, fishing, boat hire and surf skis etc. Entrance beach is great for families.