Travelling through Melaka downtown you will see beautifully preserved structure dating back to a couple of centuries. The area is listed in UNESCO heritage and is reminiscent of colonial era's occupation of Dutch, Portuguese and British.
The heart of the cultural history of Melaka is The Dutch Square, including Stadhuys, a collection of historical buildings taking back to 17th and 18th century. This building was used as town hall during Dutch rule and provides an interesting glimpse into architecture and history of a colonial period.
Other interesting historical sites in this area includes:
Christ Church
Christ Church commemorating the occupation of Dutch in Melaka in 1753. 200-year hold hand-carved pews and heavy timber beam adorn the old structure. The plaques on the wall provide interesting insight into early deaths in settlers by epidemics.
Dutch Graveyard - East of Christ church along Jalan Kota
The graveyards contain old graves of British and other colonial soldiers who fought Naning War in 1831. The graveyard dates back to 18th century
Porta De Santiago
A crumbling gave is a reminder of Formosa Fort built by Dutch East Indian company during early settlement. The fort was built by 1500 slaves to provide administrative headquarters for the company. The riverside along the Portuguese quarters is going through upgrades and you will find some new restaurants cafes and hotels. This is a pleasant change to debilitating structures of historical downtown.
---
If you are travelling with family. It is advisable to book a resort. Some of the nice resorts located on the outskirts of Melaka are:
Be mindful of the fact that some of the resorts are quite far from the city centre and you will need to drive to get to most places of interest.
Families prefer to stay in these resorts for theme parks and outdoor activities for the kids. Bayou Resort offers great rates and access to theme park located on the premises. There are water slides, pools, and other water sports for kids from all age groups.
Alternatively, staying close to the Jonker Walk (Portuguese Quarters) is the best option as most tourist attractions as well as shopping Malls are walking distance from the center of the city.
Some great hotels in the centre of the city include
---
The drive to the city from Ayer Keroh is approximately 20 minutes. During the busy holiday season, it will be difficult to find parking close to Chinatown and Jonker Walk. The nearest and easiest to find parking is in the shopping centres Mahkota Parade Mega Mall. Jonker Walk is quite close to the Malls which also offers respite from summer heat. You can find Macdonalds and other popular fast foods in these Malls.
Restaurants near Jonker Walk. Try Nancy's Kitchen for Nonya Food
Exploring Jonker Walk
F
Famous Geographer Cafe on Jonker Walk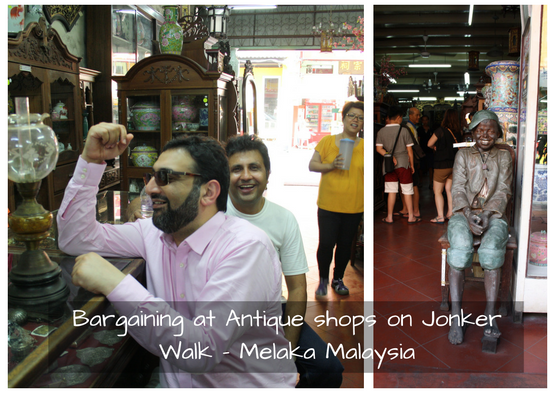 Menara Taming Sari is located right next to Mahkota Parada Shopping Mall. The tower commands a 360-degree view of the city. A couple of years back, a massive Ferris wheel called eye of Melaka was located close to the Menara. This is however closed down. A new Ferris wheel will be constructed soon in the same area.
Menara Taming Sari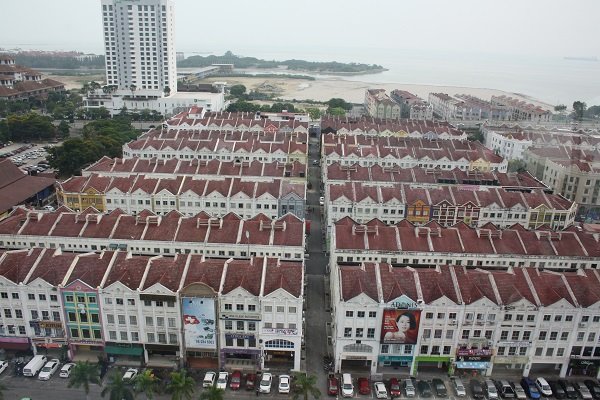 View from top of Menara Taming Sari
Overlooking Jonker Walk and China Town
Most places of interest to the tourist are located in the vicinity to this locality. Night markets are situated opposite to Menara Taming Sari and mostly open till late on the weekends. This area becomes very crowded and you can find a large variety of local delicacies in the food court next to Menara Taming Sari.
Jonker walks because of its historical value and UNESCO heritage status has become a Mecca for tourism. Last development in this area includes Hard Rock Cafe situated at the entrance to Jonker Walk right next to the river.
Jonker walk is filled with life as the night approaches and a number of stalls pop up on both sides of the road. Walking through the street you will explore local artifacts as well as antique shops with a wide range of historical furniture, decorations, and memorabilia.
Stall on the road site sells grilled seafood, radishes, and other local delights.
The river cruise is a very popular activity which will take you 9 miles upstream to explore various parts of the city. Jonker walk is lined with hawker stalls and antique shops.
A beautifully preserved house in Jonker Walk
The architecture is a remnant of Portuguese occupation in this region. Stop by at Geographer Cafe to enjoy chilled beer and some local delights. Nancy's cafe is just around the corner. This place is popular for authentic Nyonya Cuisine and conducts cooking classes on certain days of the week.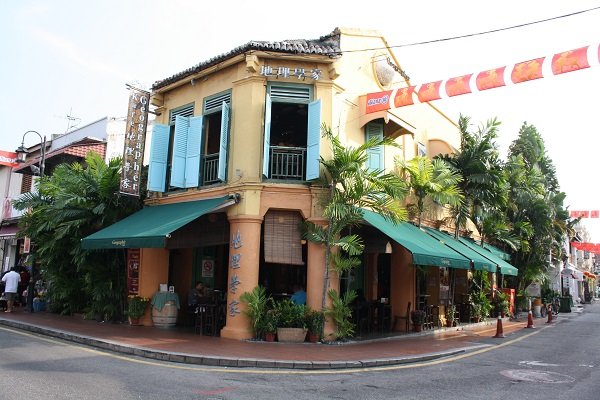 Famous Geographer Cafe on Jonker Walk
Night Markets in Jonker walk are worth watching. The streets are crowded and you can smell local food cooked on the open grills. Hawker sells handicrafts, local artefacts, and souvenirs.
PIN IT FOR LATER
Scroll Over the image to Pin
Pictures from my visit to Jonker walk