Cheap airline tickets and over 50000 rooms in KL alone make it a very popular tourist destination. Kl provides easy and efficient road as well as air access to destinations like Singapore and Southern Thailand. 
Whether you want to travel by trains, roads or sea, Malaysia is a very affordable country to travel to.  I have travelled to KL over 50 times in the last 15 years and explored most of the areas of this interesting city in detail. I have seen Kuala Lumpur evolve over the last decade and enjoy the great cultural mix, culinary experience and interesting historical places to visit. Here is some useful information I have compiled over the years. 
---
Kuala Lumpur is a great destination for a family holiday or honeymoon
These are some of the great reasons to explore this amazing city:
Get Cheap Flights to Kuala Lumpur
Kuala Lumpur is the hub of AirAsia one of the largest budget airlines in the work. With thousands of connecting flights routed through KL, it has become a major destination as well as a stopover for many travellers flying to other amazing destinations in ASEAN countries. Planning to travel to KL, find a Cheap Flight  online with JedRadar. 
Kuala Lumpur offers Cheap Accommodation
Kuala Lumpur has hundred of cheap budget hotels and hostels in all major tourist areas of the city.  There are more than 50,000 hotel rooms in Kuala Lumpur alone. Check for amazing rates online .
Great road infrastructure in Kuala Lumpur
Kuala Lumpur is connected to all major cities in Malaysia through a major road network. You can drive to Melaka and Ipoh in one hour from KL City. Most popular destinations like Pangkor, Penang and Taman Negara are easily accessible by road networks. 
Amazing Cultural diversity
Malaysia has a good mix of Chinese, Malaysia and the Indian population that add colour to the diverse cultural heritage of Malaysia. With Muslim and non-Muslim populations living in perfect harmony, Malaysia is equally attracted to the Muslim population from around the globe as well as foreigners seeking rich cultural and travel experiences. Halal food is easily available in most restaurants across Malaysia. 
Affordability
Malaysia is a relatively affordable destination as compared to its neighbouring countries. Budget-conscious backpackers and young travellers find Malaysia an ideal destination where they can travel for under $30 a day. This is possible due to affordable transport, food and accommodation available across the country. 
Kuala Lumpur has since become a hub of ex-pats seeking work and business ventures and travellers who want to explore the mixed culture of South East Asia while enjoying the modern-day facilities, eat-outs, accommodation and travel destinations. 
The most popular neighbourhoods with tourists in Kuala Lumpur are KLCC (KL  City Center), Bukit Bintang, Masjid India, Chinatown, and Bangsar. The city itself is quite spread out and you will need a good couple to explore KL in detail. Whether your interest is shopping, exploring restaurants or cultural exploration, all suburbs in Kuala Lumpur have something unique to offer. With an effective transport network, you can travel most sections of the city hassle-free, as the transport within the city is quite cheap.
---
Search for Best Experiences in KL with Klook
---
Interesting Areas of Kuala Lumpur
Kuala Lumpur offers a variety of neighbourhoods ranging from historical areas giving insights into the interesting history of Kuala Lumpur as well as uptown modern localities representing the modern face of Kuala Lumpur.
Golden Triangle Kuala Lumpur
For first-timers to Kuala Lumpur, Golden Triangle is a wider area including KLCC (Kuala Lumpur City Center) and Bukit Bintang Area in general. 
The Golden Triangle is the heart of tourist activities in the city with the highest concentration of top-notch hotels, international restaurants, shopping malls and places of interest. 
This area is generally very popular with business travellers, honeymooners and people seeking accommodation in finer establishments in the city. 
However, you can find hotels and hostels in all price ranges in this area as well. The hotel room rates are relatively higher, costing over $120 for a five-star hotel. 
The 
light rail transport network
 connects most of the neighbourhoods with the overhead train which is easily accessible from places like Bukit Bintang, Berjaya Times Square and KLCC.
Where to stay in Golden Triangle?
During my various stay in the Golden Triangle, I have stayed at
Traders Hotel by Shangrila
 (located next to KL Suria), Concorde Hotel, Istana Hotel, Park Royal Serviced Suites Kuala Lumpur. 


Some cheaper options include
Furama Hotel 
( 4 Star Hotel) and
Mesui Hotel
(in Bukit Bintang)
.
Get Best Hotel Rates in KLCC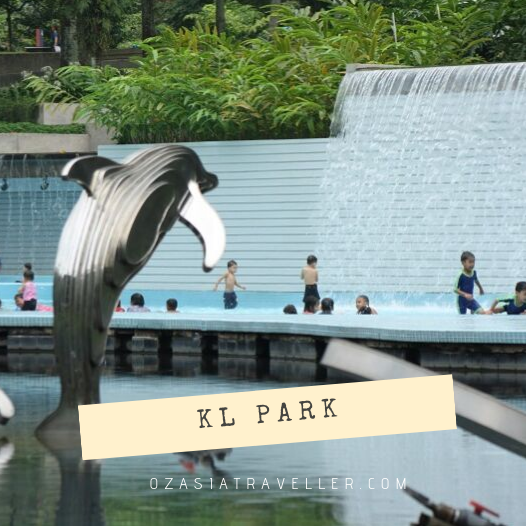 An oasis in the middle of the Concrete Jungle KLCC Park a great place to relax in the middle of the city. Located adjacent to Twin Towers and KLCC Suria, it is easily accessible by public transport.
Catch a hop-on hop-off bus to explore the main touristy areas of the city.
KLCC Suria world-class shopping experience with international fashion outlets, a massive foodcourt, Harrods and number of local brands.
Bukit Bintang, Kuala Lumpur
Heart of the tourist experience, Bukit Bintang is a must-visit to experience a hustle and bustle of Jalan Alor, Changkat and Jalan Ramlee.
Bukit Bintang is a mecca for tourist offering a number of world-class shopping Malls including:
Sungei Wang
Pavilion
Fahrenheit
Berjaya Times Square
Lot 10
Jalan Alor hosts the famous food street at night offering an outdoor and indoor dining experience of
seafood cooked
in various styles from across Malaysia. Walk up to 1 Jalan Alor to enjoy grilled chicken wings or chicken satay prepared right in front of you.
Changkat
is the heart of nightlife with places like Movida, Pisco Bar, Opium and other bars keeping the night alive all through the week. 
Slip into one of the massage places to enjoy a relaxing foot massage for under RM 50. 
During my various stays in Bukit Bintang, I stayed at
Hotel Istana
,
ParkRoyal
Serviced Apartments and
Hotel Mesui. 
EXPLORE CHANGKAT BUKIT BINTANG
Heart of nightlife with plenty of bars, night clubs, cafes and restaurants.
Enjoy flavours of Malaysia at the famous food street.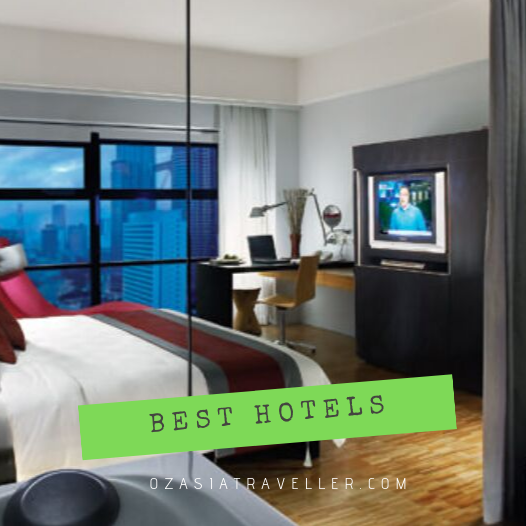 Book some of the most popular and best hotels in Kuala Lumpur
Most popular activities and things to do in Kuala Lumpur
Popular Day tours from Kuala Lumpur
---
 

How to travel from Kuala Lumpur Airport to the City Center
There are several ways to travel to KL City centre and Bukit Bintang area from the Airport: 
Private Airport Transfers from KLIA/KLIA2
The easiest way to travel from both KLIA and KLIA2 airports is to book 
PRIVATE AIRPORT TRANSFERS
online. This is the cheapest and most convenient way to travel to your hotel in Kuala Lumpur City. 
Travel from Kuala Lumpur Airport to Kuala Lumpur City By Bus 
Travelling by bus is by far the cheapest way to travel to Kl Sentral which is the hub of all transport in Kuala Lumpur.  You can catch KTM commuter for intercity train transport, KL Light rail for access to various areas of Kuala Lumpur as well as catch connecting buses to various locations in the city.  The ticket cost around 10 RM and it takes around 1 hour 15 minutes to reach KL Sentral. 
Transport Services in Kuala Lumpur
---
Essential Tour & Activities in Kuala Lumpur
If you are planning to travel intercity by Bus you should catch a shuttle for KLIA to BTS (Terminal Berespadu Selatan) the main bus station that provides access to all major cities including Johor Bharu, Kota Bharu, Penang, Kuantan and Terengannu etc. 
BTS is a world-class facility with hotels, restaurants, cafes and 24-hour booking counters. I used this terminal several times for catching the bus from KL to Kuantan and KL to Ipoh. 
KL Sentral is located in the heart of the city and the hub of KTM ( connect KL with suburbs in KLANG valley), KTM intercity is the train network connecting Kuala Lumpur and other major cities with Singapore in the South and Thailand in the north. More information is available on this
link
.
KL Sentral also provides lockers for long-term and short-term storage. This locker facility is much cheaper than on KLIA and KLIA2. Areas located close to KL Sentral include Masjid India, KL Park and Brickfields. 
 .
A number of luxury, as well as budget hotels, are located around KL Sentral making this locality an ideal place to stay in the heart of the city.
Check Rates Online with Agoda
.
By Train ( KLExpress) 
Note
Here is a list of KL essential activities. Book online and Save $$$$.
KLExpress is the quickest way to reach KLIA, KLIA2  and Putrajaya from KL Sentral. The ticket, however, is around 58 MYR. It takes only 28 minutes to reach KLIA from KL Sentral using KLExpress. Onboard Wi-fi is available free of cost that making this trip quite enjoyable. If you are running short on time or catching a flight in peak hours, KLExpress is the best way to reach KLIA.  
Some useful Transport Links In Kuala Lumpur 
---
Catch a taxi
Taxi is the second-best option after KLExpress. It is most convenient for locations like KLCC and Bukit Bintang as if you are carrying bags, switching trains from KL Sentral can be hectic at times as you will need to climb up the stairs at most Light Rail Stations.
Premier Taxis at KLIA
There are two types of Taxi:
1. Metered Taxi from KLIA to Kuala Lumpur City
You can catch this taxi froM the ground floor of KLIA Airport. The fare is charged by the meter. If you are familiar with the directions and know how much it costs to reach your destination there can be no issue. A tourist or unwary traveller might be in for a rip-off. Late-night rates are much higher than the regular taxi fare rates in the morning. 
2. Fix Priced Taxi
Walk up to the taxi coupon counter and get a price for either a red taxi if you do not have many bags. Premier taxis are a bit costly and can take up to five passengers and bags. These are blue-coloured large taxis often SUVs. 
3. Private Car Charter for a day or extended period
Another convenient way to explore Kuala Lumpur is to charter a
private car online . 
This saves the hassle of driving in an unknown area and enjoying the comfort of an air-conditioned car driven by a professional driver. 
A small taxi from KLIA to Bukit Bintang costs around 80 RM. Premier taxi costs from 120-140 RM.  
---
Renting a Car in Kuala Lumpur 
Renting a car is probably the easiest way to travel in Kuala Lumpur and surrounding areas. There are a number of services available on arrival on the ground floor at KLIA2 Airport. To get the best possible rates book online in advance. 
Car rental booths at KLIA2
Ridesharing Applications: GRAB
Download and install the GRAB application. Uber does not operate in Malaysia. Grab fare from KLIA to the city is around 65 RM. 
---
Cheap Hotels in Kuala Lumpur
Kuala Lumpur offers plenty of hotels for budget-conscious travellers. The average 2-star hotel ranges from $25-$30 per night. Most affordable hotels are located around KL Sentral, Brickfields and Jamek Masjid area. 
Search Hotels in Kuala Lumpur with HotelsCombined
Some quality budget and boutique hotels also KLCC,
Bukit Bintang
 and Bangsar Area. These areas are comparatively more expensive because of modern architecture and location close to the most popular places in KL.  
Find Best Hostels in Kuala Lumpur
---
Serviced Apartments in Kuala Lumpur
S
erviced Apartments are a better option if you are travelling with family. Serviced apartments offer more space and bigger better amenities. Read online about my stay in some of the best-serviced
 apartments in Kuala Lumpur .
Recommended Hotels in Kuala Lumpur
Other useful content on the website 
Pin it to read later!!