---
The UNESCO-listed state, Melaka provides a unique cultural experience with a rich history of colonial occupation. Offering easy access to Kuala Lumpur, Melaka city in recent years has seen a spate of development which makes it an ideal place for a weekend break as a number of quality hotels are available at very affordable rates. 
If you want to enjoy the authentic Nyonya cuisine of Malaysia and indulge in the rich history of early Portuguese Settlers and Dutch invaders to this part of the world, Melaka should definitely be on your list during your visit to Malaysia. 
How to travel to Melaka from Kuala Lumpur 
Where is Melaka?
Melaka is located at a distance of 120 km south of Kuala Lumpur. The quickest way to travel to Melaka is using E2 exiting on M29 towards Ayer Keroh. This road has tolls. Alternatively, you can take Highway 5 from Sepang towards Port Dickson. This road passes through small towns and traffic is considerably slow.  
A taxi would cost around USD $50 from your hotel in Kuala Lumpur to downtown Melaka. Alternatively, you can catch a bus from Kuala Lumpur Airport or BTS Terminal in KL costing USD $3 to Melaka Sentral. Book Private Transfer from Kuala Lumpur to Melaka .
From KLIA or KLIA2 catch a bus or taxi to TBS (Terminal Bersepadu Selatan), the main intercity bus terminal in Kuala Lumpur. Bus service is available on the ground floor of both airports to the city with a stopover at TBS Terminal. You can catch a bus to any city in mainland Malaysia from TBS. 
---
Driving from KLIA to Melaka
Renting a car from KLIA OR KLIA2 is another interesting option as cheap car rentals are available at both locations. Driving is a great way to explore locations between Kuala Lumpur and Melaka (including Port Dickson). Long-term rentals are generally cheaper. I recommend booking in advance to get the best rates as cars are very hard to find during the peak holiday season. 
The bus is probably the cheapest way to get to Melaka Sentral Bus Stand from where you can catch GRAB or taxi to your hotel. 
TIP If you are driving in Melaka, make sure to buy a Touch n, Go Card. This allows you to pass through automated tolls and also provides access to a number of public parking everywhere in Malaysia. These cards are available at BP or Petronas Service Station. Top up these cards at any service station or 7-eleven.
The best way to move around the city is to walk or hire a trishaw. For Ayer Keroh take a bus (USD 4.5) from Melaka Sentral, hire a taxi (USD 20) or you can just walk the 7.7 km.
You can take a bus to Port Dickson (USD 10-2.5 hours) from Melaka Sentral to Terminal 1 Seremban and from there to Teluk Kemang. Renting a cab will be expensive (USD 100). 
---
Heritage & Historical Attractions in Melaka
A visit to Melaka is ideal for a walkabout exploration. The downtown area of Melaka is the heart of tourist activities. Most of the places of interest are located within walking distance of each other. With so many places of interest nearby, the Jonker Walk area is declared a Melaka UNESCO zone. 
Stadthuys is the centre of the historical part of Melaka
---
When driving into Old Melaka town from Ayer Keroh Area you will notice bright red-coloured buildings that are typical of Portuguese heritage buildings in Melaka. The area around Melaka river and Jonker walk have undergone a massive transformation. Walls are painted with murals celebrating the mixed culture of Melaka. A walk along the river and an old told town definitely offer plenty of Instagram-able moments. 
---
Museums of Melaka - Best places in Melaka 
For history buffs, Melaka is a wonderland offering a rich walk-through of well-maintained museums on Nyonya History, History of Islamic Art and Museum with rich artifacts from the colonial occupation in Melaka representing the rich cultural history of the region.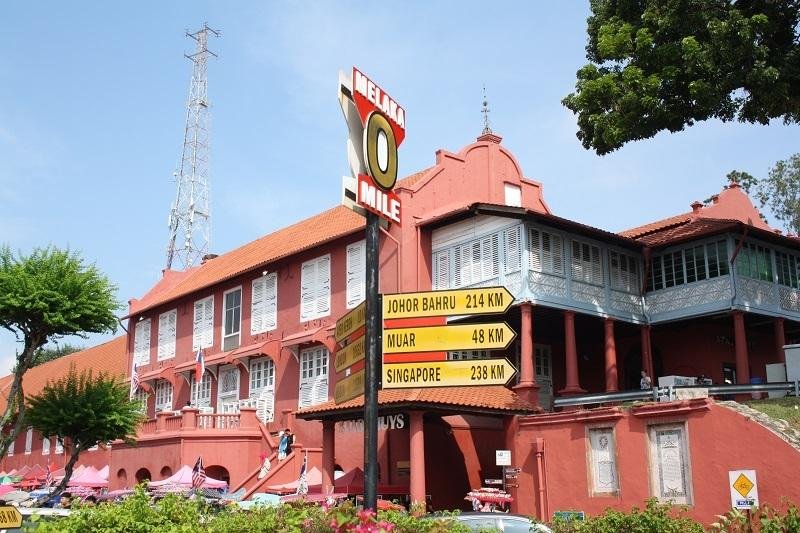 The Ethnography Museum is a starting point at Studhueys offering an in-depth insight into the communities that settled in Malacca from 1400 to the mid-twentieth century. You will learn about Malay, Chinese, Portuguese and 
---
Churches and Cathedrals in Melaka - Best places in Melaka
A short hike up St. Paul's hill is the remains of the 16th-century Portuguese Church commanding amazing views of the city of Melaka. Downhill stands Porta de Santiago, the last remaining door of A'Famosa Fort.
Christ Church, St. Paul Church & Francis Xavier Church are well-preserved buildings in Melaka located in the historical quarters of the town. Christ Church is the oldest Protestant Church in Malaysia. These structures have undergone transformation through centuries under Duch, Portuguese and British Rule. 
---
Other Interesting places in Melaka Malaysia
Bukit Cina or Bukit China is located north of the historical part of the town. Chinese princess Hang Li Po was sent to marry the Sultan of Malacca in the mid-15th century. A wishing well, historically a source of water to the town has never dried up and is used as a wishing well for tourists. Throw a coin in the well and you will return to Malacca!!!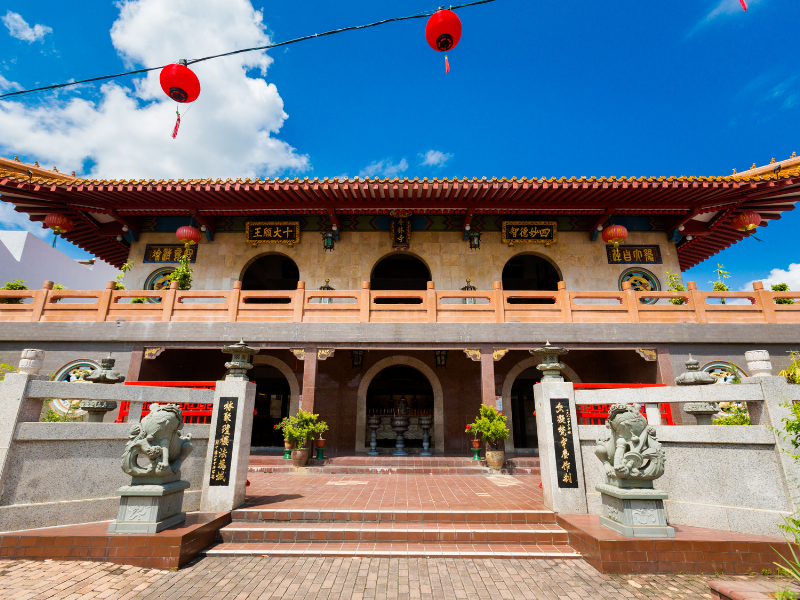 Another place of interest is the oldest Buddhist temple, Cheng Hoon Temple. The temple was built around 1645 and has gone through several renovations.
The location of this temple is close to Kampong Kling Mosque and Sri Poyatha Moorthi Temple and covers an area of 46000 sq.m. The structure of the temple is designed by keeping feng shui principles in mind. 
---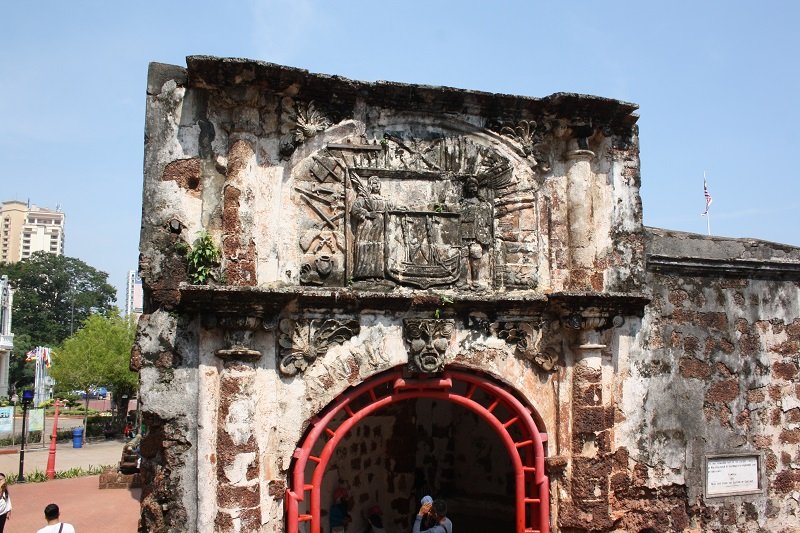 Remnants of A' Famosa Fort
---
Nearby stands a replica of Sultan's 7-tiered Palace (15th Century) constructed without using a single nail! It is a cultural museum now with 1300 artifacts, jewellery, weaponry, ceramics and art displays. Take a picture at the iconic Christ Church and Stadthuys.
Downtown Melaka near Jonker Walk and Dataran Palawan has a number of tourist attractions including Rickshaw Rides, Buggy Rides and Menara Taming Sari (with 360-degree views of Melaka).
The cycle rickshaw ride costs RM 15 and you can choose your favourite jingle or theme bike to enjoy the ride to the Jonker Walk area. 
---
There are also multi-coloured trishaws- very attractive for kids. Taming Sari revolving Tower (110m) gives a 360 degrees bird's eye view of Melaka and beyond (5.5USD). The old Eye of Melaka does not exist anymore. 
Views from the top of Taming Sari Revolving Tower
---
A'Famosa Resort & Melaka Wonderland Theme Park and Resort
Travelling with family? A'Famosa Resort is perfect to have fun with kids or friends. At their three theme parks; feed the tigers, ride the elephants, raft away to the Monkey Island or experience the ultimate safari in Safari Wonderland (150 species of animals). Visit the Old West theme park to be transported to a different era with old west shows, restaurants, Red Indian performances and fireworks!
Another great place to visit for a day excursion is Melaka Wonderland Theme Park and Resort offering a full day of fun and adventure for the entire family. The park has over 11 attractions including tornado chasers and Kamikaze racers. The park is plenty of cafes and restaurants and all amenities for families. 
Enjoy Water World theme park with covered and open slides, family rafting, a wave pool and the longest slide in South Asia-the Big Ice Cream. There is also a thrilling seven-story slide for adventure seekers.
---
---
Additionally, you can try horse riding, paintballing and archery. With their award-winning 27-hole golf course and a shopping arcade with more than 70 fashion brands, there truly is something for everyone here!     
---
Enjoying Melaka River Cruise in Melaka
Melaka River Cruise
---
Melaka River provides an idyllic setting as it snakes down the middle of the city. Stroll along the river in the daytime to view life-sized graffiti- a picture-worthy opportunity.
The night transforms into a romantic getaway with twinkling lights. Sit back and relax with your partner as the boat takes you along a sleepy river (RM 25/ person).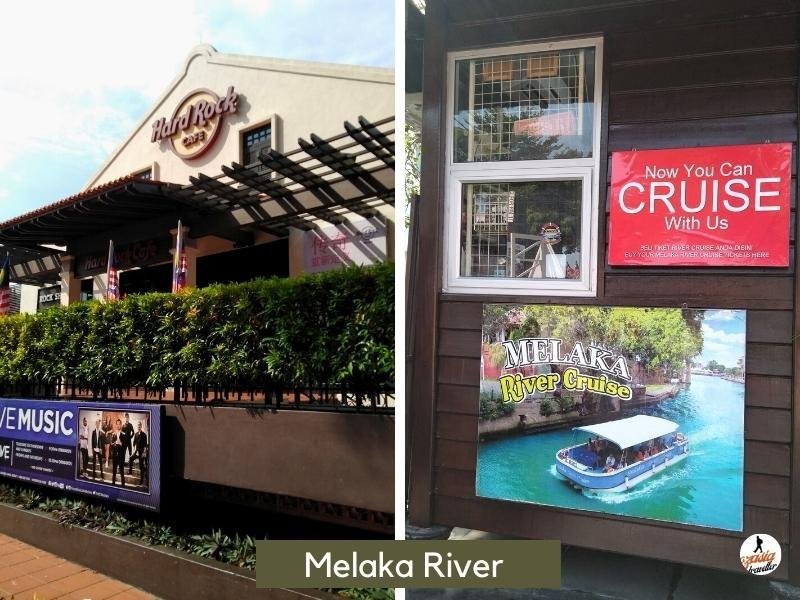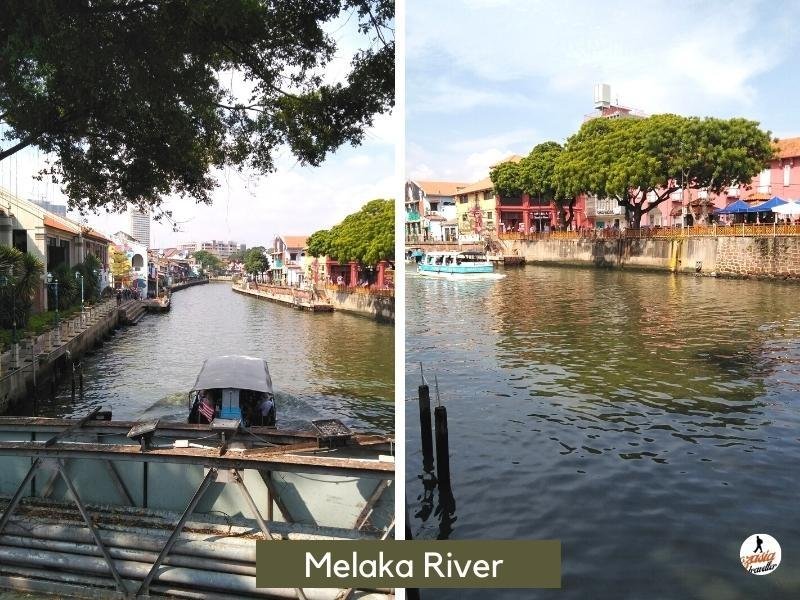 In the daytime walk along the river to explore riverside cafes, restaurants, bars and beautifully decorated walls with cultural murals. The recent development in the last couple of years has given a facelift to this old part of the town and is worth exploring on foot. 
Casa Del Rio  is a 5-Star resort located at Melaka River commanding views of Melaka River. A new infinity pool overlooks the Melaka River. 1-minute access to Jonker Walk makes this establishment an ideal play to stay. 
---
 Jonker Walk Night Market in Melaka City
Just landed in Melaka and thinking what do in Melaka?  Start with exploring Jonker Walk Night Market (Fri-Sun) on Jalan Hang Jebat is going to knock your socks off with the level of activity. Here you will find antiques, souvenirs, electronics, clothes and whatnot.
Jonker Walk in Malacca Malaysia
---
Jonker Street is the centre of activity in the historical quarters with hundreds of walkers exploring souvenir shops, and antique stores. Drop-in one of many cases on Jonker street to enjoy local drinks and snacks. Geographer Cafe, in particular, attracts large crowds on Jonker Street 
The best merchandise at the market is the thriving cuisine! Fish head curry, baked cheese tarts and stuffed rice balls are rather famous, wash it all down with the famous chilled cendol dessert. Being the first contact of the outside world with Malaysia, this city is pretty much the birthplace of classic mixed cuisine!
Interesting Wall Murals at the Entrance to Melaka
---
Jonker walk has plenty of modern cafes like the Hard Rock Cafe, Backlane Cafe, The Daily Fix Cafe etc. 
You'll also see several temples, mosques and museums along the way. If you are with kids check out the Mamee Jonker House where the kids can create their own noodle snacks and you can enjoy delicious café food.  
For bargain shopping, try the Jonker Walk night market while the Little Nyonya gift shop is great for local products and souvenirs.  Jonker is one of the major attractions in the city with a historical night market that is open till late.
There are a number of nice cafes and restaurants giving you a chance to relax and cool down before heading on to your adventure. I have visited Geographer Cafe several times and do enjoy local drinks and snacks. Jonker Walk is a great place to buy souvenirs, bargain for local antiques and enjoy Melakas Street Food. A trip to Melaka will be incomplete without a visit to Jonker Walk. 
Geographer Cafe at Jonker Walk 
---
Shopping Malls in Melaka Malaysia
Dataran Pahlawan & Makohta Parade Shopping Mall in Melaka
---
Dataran Pahlawan and Mahkota Parade located on Jalan Merdeka (walking distance of St. Paul's Hill) are a one-stop shop for clothing, fashion brands, movies and food. The latter also has factory outlets. Other malls close to Dataran Pahlawan are Makota Parade Shopping Mall and Terminal Pahlawan.
A Heritage Gallery undercover shopping complex underneath the grounds next to Dataran Palawan offers great low-budget and traditional shopping including souvenirs, batik, t-shirts and plenty of local produce and popular items. Just walking through the galleries and checking out local wares is an interesting experience and give a local touch to Melaka and Malaysian culture. 
---
Food & Nightlife in Melaka
If you experience places through your palate, you are in for a rich gastronomical extravaganza at Melaka. Jonker walk is a good start. Some of the must-go places include Geographer's café (mid-range price), Kedai Kopi Chung Wah for chicken rice balls and for Nyonya cuisine head out to Nancy's Kitchen and Kocik Kitchen (halal) both flavoursome and reasonably priced.
Ringo's Café is a great place (open only Friday-Saturday) with live music and never-ending pints of beer! Live it up at Hard Rock Café with a classic Tex-Mex menu, a memorabilia store, a bar and live rock music.
Mixx Club (closed on Sunday-Monday) is the place to be if you want to see the trendsetters- located in Mahkota Parade it houses Paradox (dance club with techno beats) and Arris (café with live performances). It is a bit heavy on the pocket though.   
---
Ayer Keroh in Melaka
Ayer Keroh just 11km from the city is known for tourist attractions like a go-kart track and Malaysia's longest golf. Visit Taman Mini Malaysia Complex showcasing 13 traditional houses representing Malaysian states and Taman Mini ASEAN with houses of Asian nations.
Melaka Zoo, with a night safari and the Melaka Butterfly & Reptile Sanctuary, is the place that will appeal to both families and solo backpackers.
---
Driving from Port Dickson to Melaka
Only a 1-hour drive from KL (approx.30mins from Melaka) is the ideal getaway for water sports enthusiasts, beach lovers and forest trekkers. The drive itself is rejuvenating with beaches all along the coastal road.
Tanjung Tuan is a coastal rainforest branching out into mangroves. Smack in the middle is a crescent-shaped water body- the Blue Lagoon a haven for swimming, windsurfing, snorkelling and just relaxing in a secret hideaway of the forest.
To the left of the Blue Lagoon is Cape Rachado the bird-watching forest reserve, ideal for trekking in the wilderness.  Just walk up the hill to the Lighthouse for breathtaking panoramic views from the cliff (entry is restricted). Port Dickson is a great weekend getaway that offers all the lush greens and sparkling blues of Malaysia without venturing far from Melaka.
---
Where to stay in Malacca City?
Melaka offers affordable hotels and resorts in all price ranges. Holiday Inn Melaka  (RM 220) is recommended for families with pool facilities and ideal central location. Bayview Hotel (RM 90) will provide a clean modern living option in central Melaka.   
If you plan to stay near the major attractions, choose a hotel near Jonker Walk and Dataran Pahlawan Shopping Mall. There are a number of budget hotels available in the area with basic amenities. Ayer Keroh is popular for resort-styled accommodation. This area, however, is not close to the city centre. 
Hotel Mirage (20 USD) and Bayfront  (33 USD) are the budget options for Port Dickson. For a luxurious family experience, Lexis Hibiscus Hotel (175USD) offers archery, yo-yo car rides, a kids pool, outdoor pools, banana boating, kayaking and jet skiing. You can opt for the pool villas and enjoy a secluded one.
Explore best attractions in Melaka with Klook
The place has all kinds of cuisine and a top-class spa facility but what your family will enjoy the most is the private helicopter ride (49USD/person) to take in the beautiful vistas of Port Dickson. 
---
Resorts & Theme Parks in Melaka Malaysia where I stayed during my visit
For family fun, it is best to book a resort with a water park. During my last visit to Melaka, I booked Bayou Lagoon Resort  in the Ayer Keroh Area of the town. The resort is reasonably priced and equipped with a beautiful water park adjacent to the residential complex. 
Staying at Bayou Lagoon Park Resort in Malacca
---
I explored another interesting location on my recent trip to Melaka "The Shores Hotel & Residences" located in alan Persisiran Bunga Raya.
This is a great option if you are travelling with kids, as the complex comprises three 43 stories building housing Shores Residences, Swiss Garden Hotel and Resorts and a common shared kids pool area, infinity pools, a sky deck and plenty of kids attractions including kids jumping castle, aquarium and 3-D Virtual Reality experiences, all housed under the same roof. 
Enjoy Indian and continental Food at the pub on the ground floor called Rock Bottom.
---
Staying at Shores Hotel and Residences Melaka
---
The accommodation is within 2.5 km driving distance from the main areas of Melaka and offers all facilities including restaurants, bars, laundry, money exchange and other amenities within walking distance from the property.  
Shore Residence is also popular for Shore Sky Tower, an observation deck on the top floor of the building. Sky Oceanarium with an amazing collection of sea life is located on the ground floor. With such interesting activities on-premises, Shore Residence is an ideal location for a family holiday. 
shaukat
About the Author
I am Shouket, creator of Ozasiatraveller Travel Blog. I have travelled extensively across Malaysia in the last 20 years and most of the content on my website and blog comes from my own road trips across Malaysia. 
I am passionate about Malaysian cultural history and enjoy exploring new locations on every trip to Malaysia. Melaka is one of my favourite spots because of its proximity to Kuala Lumpur. 
I enjoy local cuisine and stay at the new hotels and resorts during my visits to various destinations across Malaysia. 
Join my adventure!!!
info @ ozasiatraveller.com
---
Other interesting Content on Melaka
---