Genting Strawberry Leisure Farms is a very popular destination for a day trip from Kuala Lumpur. Most day-trippers to Genting Highlands stop over at the farms for an hour before catching Awana Skyway Cable Car  to Awana Resorts. The Strawberry and Lavender Gardens offer a pleasant retreat from the concrete jungle of Kuala Lumpur and the children can enjoy strawberry picks and learn about amazing plants and flowers that are grown in the region. 
How to book a day tour of Genting Highland from Kuala Lumpur?
Most tour desks at the hotels in Kuala Lumpur offer a day tour to Genting Highlands  which is one of the most popular day trip destinations near Kuala Lumpur. These tours sometimes can be a bit expensive as the tour operators charge per person. The cost can add up for a family of 4+ or bigger groups. If you are traveling alone yourself, booking a tour  through the tour desk can be a good option.
Gohtong Jaya offers a nice stopover on the way to Genting Highlands
---
---
Another alternative is to catch a Go Genting Bus which costs a very nominal amount and offers a round trip from Genting Highlands. The bus ticket includes a lunch coupon as well as a ticket for Awana Skyway Cable Car. 
The bus stop is located at the Skyway Station in Gohtong Jaya. The Strawberry Leisure Farm is located within walking distance of the Bus Stop. 
If you want to avoid the hassle of organizing transport and activities, I suggest booking through GetYourGuide Online: Kuala Lumpur to Genting Shared Tour
Genting Strawberry Farms Entrance
---
Most visitors to the Strawberry Farms visit this location as a part of a day trip to Genting Highlands which includes Awana Cable Car, Genting Highlands Casinos, and Fashion Outlets in Gohtong Jaya. Most of these locations can be covered easily in a day trip. 
However, if you are staying in Genting Highlands for a weekend, the locations can be easily accessed by Awana Skyway Cable Car or a taxi from First World Hotel, etc.
Stay in Malaysia with Homestay
If you are driving from Kuala Lumpur to Genting, the location can be very easily accessed from Gohtong Jaya. Stop by at one of many restaurants along the way for tea or light lunch as the food is quite affordable in Gohtong Jaya (as compared to food outlets in Genting Highlands Casinos)
---
Note: If you are planning a budget trip, Gohtong Jaya offers cheap accommodation and plenty of budget food outlets, coffee shops, and all basic amenities in one place. Staying at Genting Highlands Casinos can be quite expensive. 
---
How much does it cost to visit Genting Strawberry Leisure Farm?
The entry ticket for adults is RM 15 which child ticket is RM 10. The Farms has an impressive plantation of local varieties of flowers and lavender. 
Lavender is a popular plant often used in teas, medicine, and facial creams, etc. A stall at the farm sells plenty of lavender-based products at a very reasonable price. Other local produce includes honey which is harvested abundantly in the region.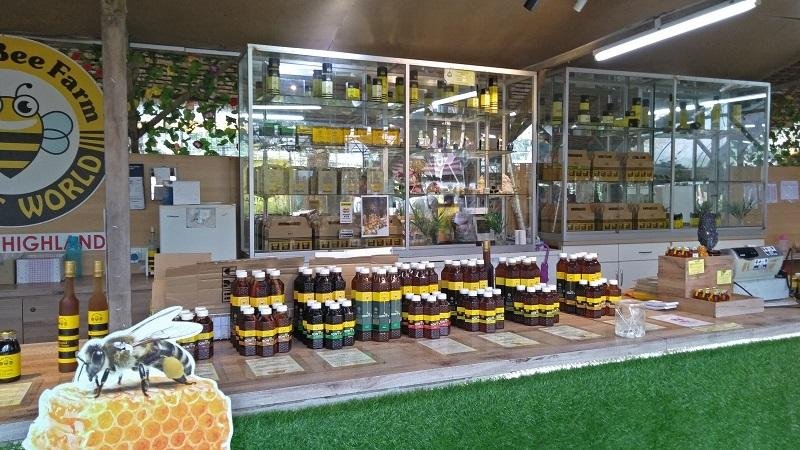 Locally produced products at the Strawberry Farms
---
If you are traveling with children, this can be a very enjoyable activity.  Take a moment out to enjoy the serene atmosphere with multi-colored flowers, roses, and lavender fields. 
A cafe offers some basic snacks and hot drinks. Do stop over to buy some souvenirs and local delights at a number of stalls located towards the exit of the park. 
The strawberry parks offer a great activity for kids and families to pick their own strawberries. The picked strawberries can be collected in a basket.
The picked strawberries cost around RM 8 per 100 grams.  Picking up the ripe strawberries fresh from the farm is a very enjoyable activity and offers a unique experience for children who live in the cities and have little access to farmhouses. 
---
---
A number of strawberry products including jams and jellies are also available for sale along with candies shaped like a strawberry. 
---
Other places of interest in the area?
The Strawberry farms are located very close to the Awana Skyway Cable Car station which offers free parking if you are planning to visit the casinos. Finding a parking slot at the Genting Casinos can be a challenge. Free parking is not available anymore to the day visitors.
Therefore, one option is to park the car at the Ghotong Jaya Station and catch the cable car to visit Awana Casinos and Genting Resorts World. 
Stopover along the way on the SkyCab allows you to visit Chin Swee Temple. The multiple-story temple commands amazing views of Ghotong Jaya and Berjaya Hills. The temple offers meditations halls, accommodation as well as restaurants. If you are visiting Genting Highlands for the first time, I suggest stopping at the Chin Swee Temple.
The Fashion Outlets are also located near the SkyWay Station.
---
Planning to stay in Gohtong Jaya or Genting Highlands?
Lately, Gohtong Jaya has seen a lot of development, and a number of quality hotels and serviced apartments have popped up providing quality accommodation close to Genting.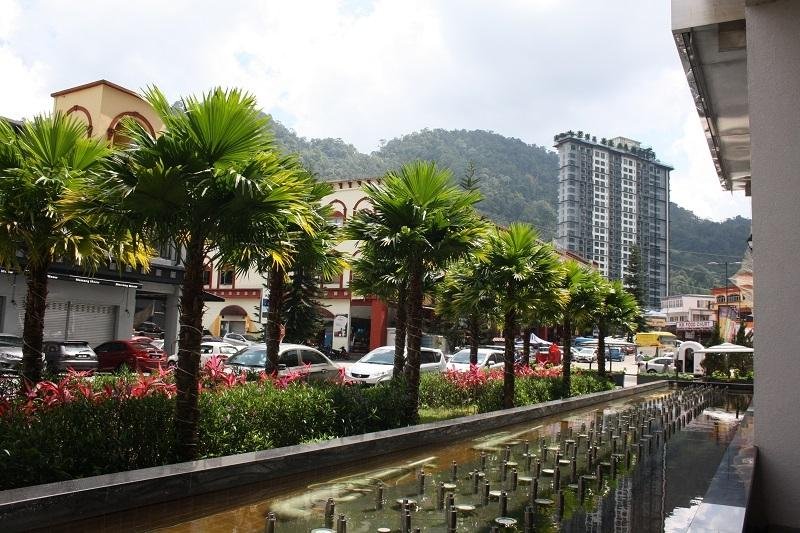 The latest development in Gohtong Jaya has made it an attractive place to stay in Genting Highlands
---
By staying at Gohtong Jaya you can easily visit the Strawberry Farms, Horse riding stables, golf clubs, and Genting Shopping outlets. This area has plenty of cafes bars and a Starbucks outlet. 
---
Other Attractions in Genting Highlands
---