Malaysia is ranked as one of the best locations from honeymooners from across the world especially from the Middle East and Asian countries. Rich cultural heritage, amazing ethnic mix, modern lifestyle and world-class holiday destination make Malaysia a very likeable choice if you are are looking for a dream honeymoon destinations. Plan your honeymoon in Malaysia in one of many exotic Island destinations including Langkawi, Radang and Perhentian Islands. 
This guide is useful for people planning Malaysia Honeymoon Itinerary.
Planning a honeymoon in Malaysia?
Exploring some interesting and exotic locations for a memorable honeymoon in Malaysia? Here are some of the great reasons to choose Malaysia as your honeymoon destination:
I have been travelling to Malaysia for the last 15 years. Here is my pick on some of the best locations I have come across for Honeymooners:
Kuala Lumpur and Surrounding areas
Kuala Lumpur must be the starting point of your visit to Malaysia. With over hundreds of 4 & 5 Star Hotels available across the city, the choice is endless. I suggest picking a location close to Bukit Bintang as this is the heart of Shopping, Nightlife and touristy activities. The most highly recommended hotels in KLCC area includes:
You can start your visit in Kuala Lumpur and keep it for last before your boards the flight to your home country, as Kuala Lumpur is a great place for shopping, dining and indulging in some exotic experience like spa treatments etc. 
Possible itineraries to for a couple of days around Kuala Lumpur include:
1. A day trip to Historical City of Melaka  
You can book this tour with a local tour operator or book a Premier taxi for a day trip which will cost around RM 400-500 a day. Most tour operators will pick your around 8 am. The drive to Melaka takes around 1.5 hours. The most interesting places to explore include a walking tour of Jonker Walk and area near Menara Taming Sari. Most tourist attractions in Melaka are walking distance from each other. The Shopping Malls of Dataran Palawan & Hattan Place are located at a walking distance from Jonker Walk.
If you plan to spend one to two nights in Melaka, I recommend catching a bus to Melaka and then using GRAB (ride-sharing app) for commute within the city. 
The hotels ideally located in City Center includes
An alternative option to travelling to Melaka is to Stay in Port Dickson area. This city is located half-way between Kuala Lumpur and Melaka and is popular for top-end resorts like Lexis Hisbiscus which is designed in the shape of a palm tree.
Lexis Hibiscus Resort at Port Dickson
---
2. Planning a day trip to Genting Highlands
Genting Highlands is a great place for a day trip located at 1.5-hour drive from the Kuala Lumpur City Center. Located some 800m above the sea level, Genting offers a break from the warmer temperatures in KL. With recent upgrades to facilities in the Genting Highlands, a new Shopping Mall, Awana Cable Car, Shopping Outlets, Casinos and indoor entertainment makes Genting an ideal location for a honeymoon.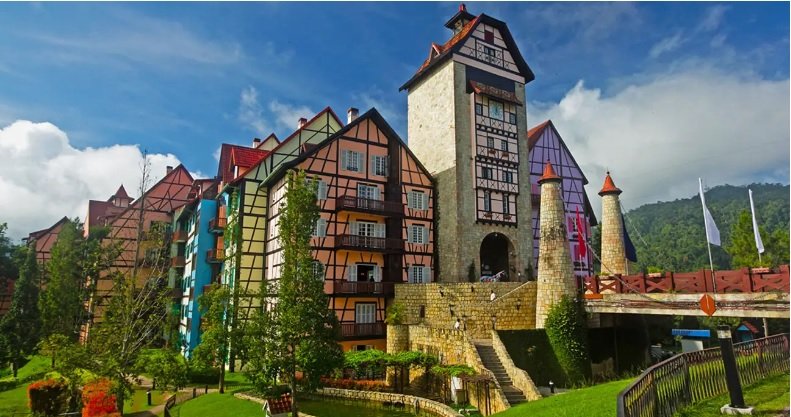 Best places to stay includes:
3. 1-2 Night trip to Cameroon Highlands
Cameroon Highlands is approximately 2.5 hours drive from Kuala Lumpur. I suggest staying for one to two nights to enjoy this hill location popular for the tropical rainforest, strawberry farms and tea plantations. Enjoy the cool atmosphere of Cameroon by booking your holiday in one of the best resorts including
Langkawi and Georgetown Penang
Langkawi is one of the most popular duty-free island destinations in Malaysia. The best way to reach Langkawi is to book a flight from Kuala Lumpur. Alternatively, book a direct flight to Langkawi from your home country. A minimum of two nights stay at Langkawi is recommend to explore some exotic beach locations, waterfalls and state forest. 
Boating tours, including sunset cruises, are popular activities for honeymooners.
For high-end resorts including Andaman Langkawi, Tanjung Rhu Resort, Four Seasons Resort and Datai Langkawi located on northern tip o the Island. These resorts have their own private beaches and activities for guests. Some of these resorts are over USD 400 per night.
Luxury Resorts Dana Langkawi & Andaman Langkawi
---
For a more affordable option, check out some locations in Pantai Cenang  the most popular location on the Island. If you are looking for the best honeymoon destination on a budget, Cenang Beach Langkawi offers a wide range of 3 to 4 start hotels with honeymoon packages including honeymoon suites and tours packaged together. There are plenty of options to organize sunset cruises, boating tours with romantic dinner or lunch on the boat. Langkawi Honeymoon is definitely an option to consider for a luxury or a budget honeymoon romantic getaway. 
After enjoy two amazing nights in Langkawi catch a ferry from Kuah Village in Langkawi to Georgetown Penang.
Batu Ferringhi is the coastal resort town in Penang popular for high-end resorts with private beaches. Staying at Batu Ferringhi is definitely a great option if you looking for a resort-style honeymoon holiday with easy access to beautiful beaches, night markets, great cuisine and rich cultural experience to make your honeymoon a memorable one. Penang is a foodie paradise with rich colonial and Chinese/Muslim history.
Enjoy local walking tours through historical quarters of Penang exploring Peranakan Mansions, historical temples as well modern building with skyline views of the Island. Climb on top of Penang Hill on the funicular railway to enjoy great views at the lookout on the top of the hill. 
I recommend staying in Gurney Drive area to enjoy the modern side of Penang with high-end shopping Malls and 5-Star Hotels along the waterfront overlooking the ocean. Alternatively, if you are more inclined towards history and culture, downtown Penang is the place to explore. 
Check Hotels Prices in Georgetown
---
East Coast Malaysia Honeymoon Island Destinations
Eastern Part of Malaysia is popular for some exotic islands ranked in top ten island destinations across the world. Perhentian Islands, Pulau Kapas, Redang Island and Tioman Islands are among the best honeymoon destinations. Most tour operators offer 2-3 night stay for the honeymoon packages including transit, accommodation and tours. Booking in advance can save a substantial amount o money on the tours.  
Book in advance as the peak season bring large crowds from across country. The best option is to book a minimum of a 2-night stay at some of the resorts through local tour operators. The slots fill up early, therefore, give yourself enough time to book in advance. Do not rock up to the Islands hoping to find some accommodation. 
The benefits of going with tour operators include meals & breakfast, transport to the mainland (ferry tickets) and snorkelling equipment hire as a part of the honeymoon package. 
Note that the best time to travel to the Perhentian Islands is between April to October. 
Pin it to read later!!