Central Market or Pasar Seni it is popularly called is a traditional market that originated as a trading hub around the 1880s. Central Market is located near Jamek Masjid India which had a cluster of businesses in the early years of Kuala Lumpur City. The market was developed as a trading hub for local vendors. In recent years, the market is transformed into a cultural center and shopping destination for local crafts, art, and products from all regions of Malaysia. For first-time visitors to Kuala Lumpur, Central Market is a must-visit destination to experience the richness of Malaysian culture. 
Interesting History of Central Market
The Central Market was initially established by Yap Ah Loy, a prominent Chinese-Malaysian businessman and the third Kapitan China of Kuala Lumpur. It served as a central location for trading various goods, including fresh produce, meat, and fish.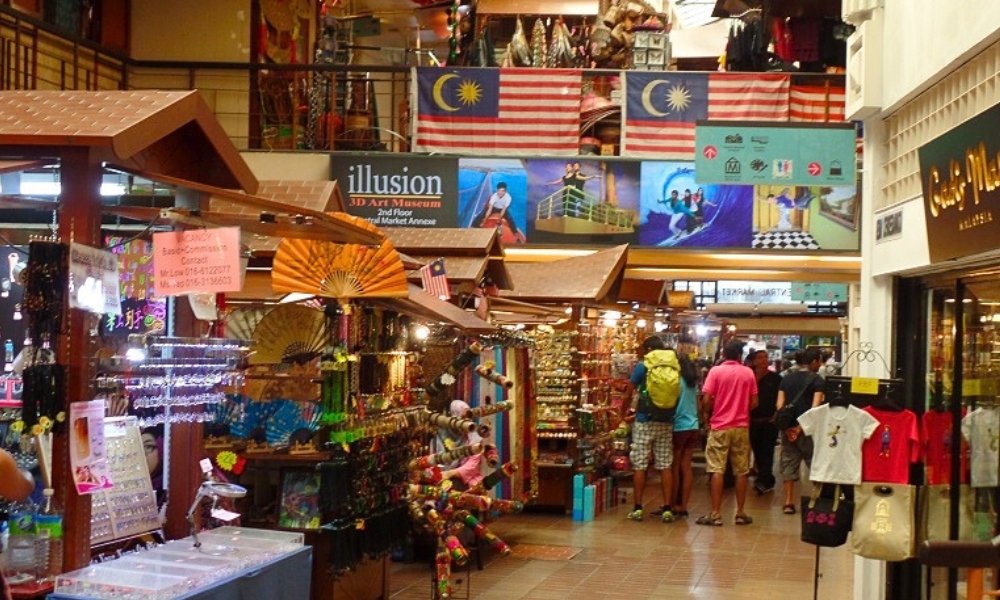 In the early 20th century, the market underwent significant renovations and expansions to accommodate the growing population and changing needs of the city. The structure was rebuilt in Art Deco style, featuring a distinctive blue-tiled façade and a clock tower.
In the 1980s, there were plans to demolish Central Market as part of urban redevelopment initiatives. However, recognizing its historical significance and cultural value, the government decided to preserve and restore the building instead.
Useful Link:  Explore Kuala Lumpur with KL Pass
---
Book Best Activities in Kuala Lumpur with KLOOK
---
In 1986, Central Market was reopened as a vibrant cultural center and shopping destination. The restoration was aimed to preserve the rich cultural heritage of Malaysia and maintain this building as a hub for arts and crafts as well as other cultural attractions for tourists keen to explore the arts and culture of Malaysia. 
---
What makes Central Market a special place to visit in Kuala Lumpur?
Central Market must be on your list if you are visiting Kuala Lumpur for the first time. The area has flourished into a major tourist attraction with Petaling Street, Kasturi Walk, Masjid Jamek, and Merdeka Square located very close to each other. Most tourists enjoy the mid-range shopping in the neighbourhood while indulging in the diverse foodie adventures in Chinatown and its surrounding area.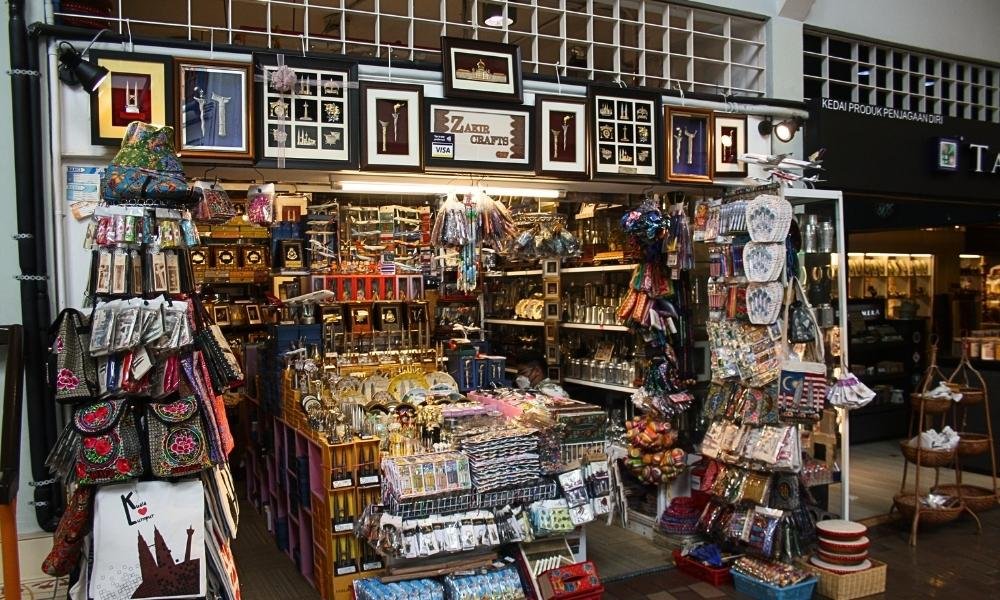 During my last visit to Kuala Lumpur in late 2022 I decided to stay at Travelodge City Center located in front of the Central Market. This gave me an amazing opportunity to explore the Central Market as well as it is surrounding area. 
Today, Central Market continues to thrive as a cultural hub and tourist attraction. It features a wide array of stalls and shops offering traditional Malaysian handicrafts, artworks, and textiles including batik, and souvenirs. The market also hosts cultural performances, demonstrations, and events to promote and preserve the country's rich heritage.
Upon entering the central market you are greeted with a friendly staff and information desk that provides you with a wide range of tourist maps, brochures, and tips on exploring the places of your interest. If found the staff very professional and well-trained. 
On the first floor, you will find a wide range of arts and crafts stores displaying Malaysian brands like Royal Selangor and ARCH. I particularly loved the designs and creative displays of ARCH reflecting the traditional, history and culture of Malaysian life, architecture, and design. I bought a number of miniature models of amazing buildings in Kuala Lumpur. The craftsmanship and design are sure to impress anyone. 
As you walk along the corridors a number of clothing stores and boutiques display a wide range of fabrics manufactured in a traditional manner in Malaysia. Hand print-making and batik are traditional techniques extensively used in Malaysian fabrics and offer very unique and eye-catching designs. 
A number of stalls in the middle of the hallway display a wide range of beautiful souvenirs, gifts, fashion jewelry, and perfumes. The Central Market is definitely a place to buy memorable gifts and souvenirs during your trip to Kuala Lumpur City. 
A great fact about Central Market is that you can find shops selling products from other states in Malaysia including Kelantan, Pahang, and Sarawak. Various crafts and artwork are unique to these regions of Malaysia. 
---
Cafes and Food Court in the Central Market
The first floor of the Central Market has a food court offering a good mix of local Malaysian food stalls as well drinks. You can enjoy a meal under RM 10. Don't forget to try local Malaysian sweet drinks as well as Teh Tarek. 
One of my favorite Nyonya Restaurants, Precious Old China Restaurant is located adjacent to the food court and offers a unique menu with a number of popular Peranakan Dishes. I highly recommend trying out this restaurant if you are keen on exploring the true culinary flavors of Malaysia. Debels's Chicken and vegetables cooked in sambal belacan (a special shrimp paste) are some popular dishes on the menu. 
---
Arts and Crafts at the Central Market, Kuala Lumpur
Central Market is home to several art galleries and shops that exhibit and sell traditional Malaysian paintings, including those inspired by batik motifs, landscapes, cultural scenes, and abstract art.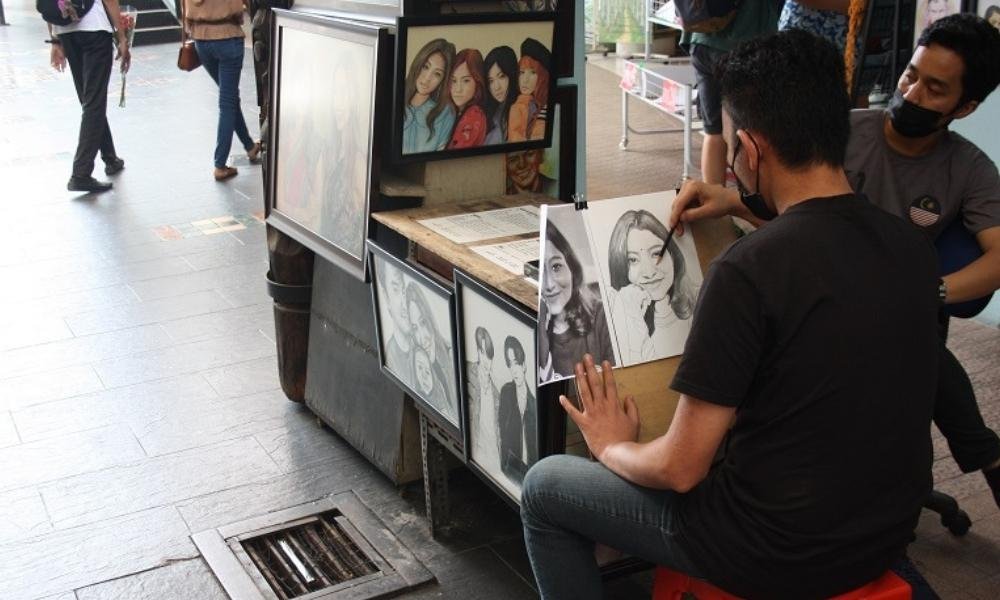 The gallery at the rear of the central market has a buzzing art scene as well as crafts activities. I enjoyed Batik's Design painting in one of the galleries for RM 15. A number of local artists can draw caricatures as well as portraits upon request using various art mediums.
---
What other places are worth visiting near the Central Market Kuala Lumpur?
Kasturi Walk: This covered pedestrian walkway connects Central Market with the nearby Jamek Mosque and Chinatown. It hosts street performances, cultural shows, and events, making it a lively and entertaining spot. In the daytime, Kasturi Walk has a number of stalls selling kids' toys, local fruit, and mid-range gifts. 
While staying in the neighborhood I picked a liking for Restoran Yasoof Dan Zakhir offering an interesting mix of local Malay and Indian dishes. This is a regular everyday restaurant where you can enjoy a local meal for under RM 15. This restaurant is very popular with office workers which makes it a very busy spot for lunch.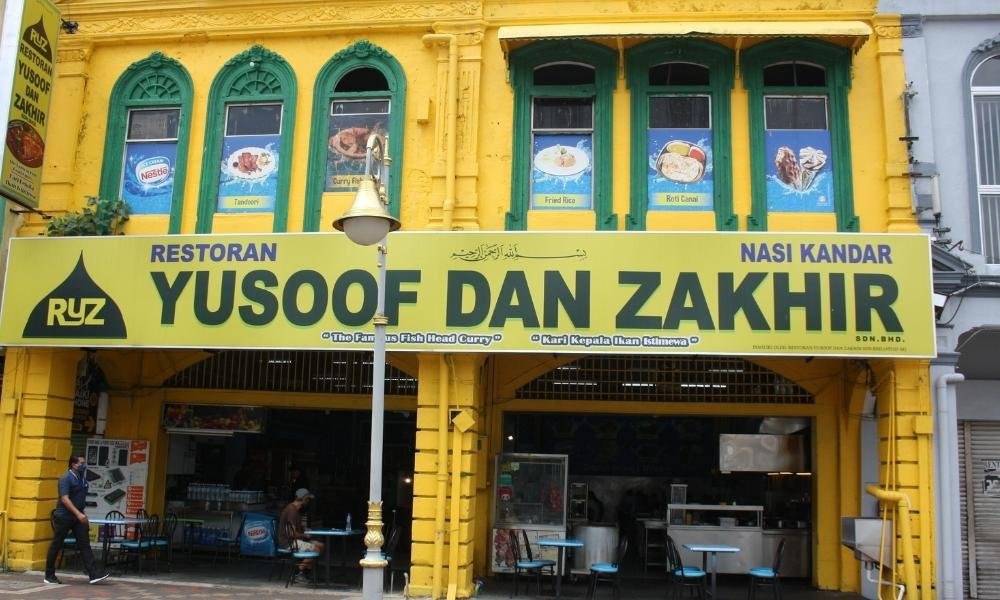 Petaling Street: Petaling Street is renowned for its vibrant market stalls and shops. Visitors can explore a variety of goods, including clothing, accessories, electronics, toys, souvenirs, and imitation designer products. Bargaining and haggling are common practices here, so be prepared to negotiate for the best prices.
Masjid Jamek: Masjid Jamek features a distinctive architectural style that combines traditional Islamic elements with colonial influences. The mosque's design includes domes, minarets, arches, and decorative tile work. Its prominent red-brick structure stands out amidst the modern buildings of Kuala Lumpur.
The market's location is strategic, situated close to other popular tourist attractions in Kuala Lumpur, such as Merdeka Square, Sultan Abdul Samad Building, and Petaling Street. It is easily accessible via public transportation, including the LRT (Light Rail Transit) and buses.
Central Market Kuala Lumpur is a must-visit destination for those interested in Malaysian arts, crafts, and culture. It offers a rich and diverse shopping experience while preserving the country's heritage and traditions.