Quick Facts
Distance: One hour drive from KL
Attractions: Casinos, Theme Park, Cable Car, Strawberry Farms, Indoor Theme Park (Skytropolis)
Tickets: Buy GoGenting Package RM50 (includes bus transfer, skyway + Indoor theme park + buffet lunch at First World: Buy at Utama, KL Sentral
Genting is one of the premier tourist destinations in Malaysia. Easily accessible from Kuala Lumpur, Genting attracts large crowds over the weekends where young people love speeding up the steep road to the casinos. Public holidays and school holidays are jam-packed with thousands of people travelling from Malaysia as well as Singapore. Whether you are travelling solo or visiting Genting Highlands with family, there is plenty to do for everyone. 
The First World Hotel is one of the largest in the world with more than 7351+ rooms, making it to the Guinness Book of World Record.  Genting is host to world-class shows, performances and concerts. There are plenty of mid-week activities, encouraging people to travel and stay at Genting Casinos. First World offers amazing mid-week deals, as low as $20 per night which can reach up to to $150 on the weekends. Check current Rates online with Agoda. 
How to Travel To Genting Highlands?
Genting Highlands is easily accessible by car, bus or taxi. Most people book rent a taxi or charter a car which can cost up to 500 RM depending upon the group size. Travelling by Bus can be a relatively cheaper option, however, it can take more time and you will not be able to explore many other interesting places on the way. Here are brief guidelines if you are travelling by bus or car to Genting Highlands. 
Book transport for Genting Highlands Online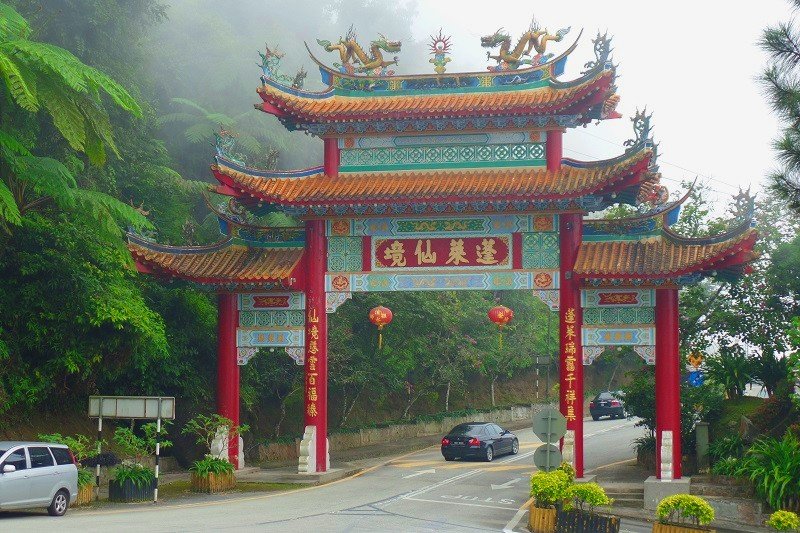 Roadside temple on the way to Genting Highlands
---
Travelling by Bus to Genting Highlands
The bus is the easiest and cheapest way to get to and back from Genting Highlands The buses operate from the top floor of KL Sentral.  The return ticket to casinos is subsidized by casinos and costs RM 10. The buses will drop you at the bottom of the cable car station near Ghotong Jaya. The last bus departs from Genting around 10 pm. If you miss your bus, you can book a taxi or GRAB which will cost around RM 150. 
You can also catch a bus from Puduraya bus terminal ( frequency is every 30 minutes), from KL central station: (half-hourly and hourly), Venetian Pasarakyat (half-hourly and hourly) Gombak ( half-hourly and hourly).
Renting a taxi from Kuala Lumpur to Genting Highlands
A taxi ride will take around an hour and should cost you around RM 200 from the city. A return day trip can be organized for around RM 400-500 depending upon the type of vehicle. The premier taxis (blue coloured SUVs) are comparatively cheaper. Make sure to rent a new vehicle as the road from KL to Genting Highlands is very steep and older cars can heat up or breakdown. The best way to explore if you are travelling with family or a large group is to Book a tour . 
Where to stay in Genting Highlands?
For First World Hotel , book way in advance as most of the time rooms are not available on short notice. For price-conscious travellers other options are available. Ghotong Jaya is the last town before the Genting Highlands Casino area and this year (2019) I observed a number of new hotels and serviced apartments built in this area. This is a relatively cheaper option and there is a number of cheap food outlets, cafes, Starbucks and a service station in addition to other basic serviced. If you are travelling on a budget and explore this region for a couple of days, Ghotong Jaya is definitely a great option. 
Handy Tip: Check Mid-Week Rates for First World Hotel Genting where you can get mid-week specials for under USD $20 per night. 
Awana Resort Genting Highlands
---
First World Hotel offers great deals mid-week (off-peak season) where you can rent a deluxe room for under $20. Compare best hotel rates from top search engines .  Other options available in this area include:
I have stayed at First World Hotel several times in the last 5 years and always booked a room online. The automatic machines in the lobby of the hotel can issue hotel check-in cards. In peak holiday season the waiting time can be a couple of hours if you want to make a booking over the counter.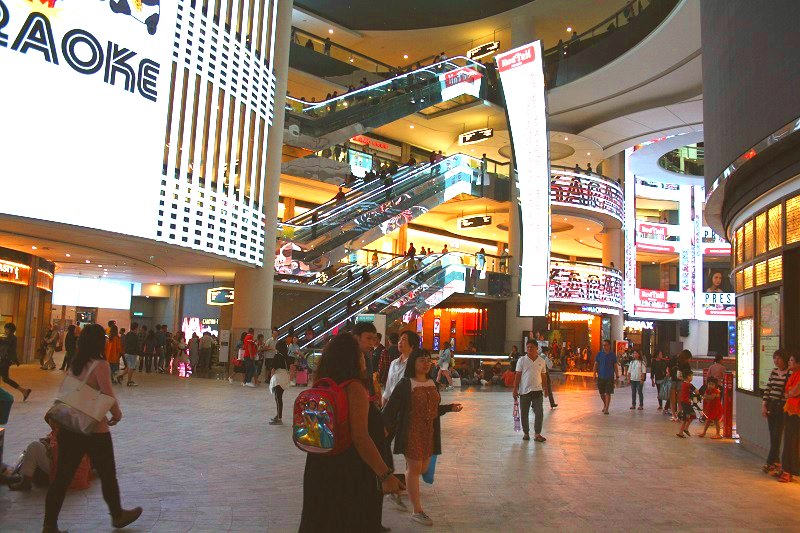 A new shopping Mall at Awana Resort is a great place for shopping
---

Things to do in Genting Highlands?
01
Awana Cable Car
Awana Cable Car is one of the major attractions in Genting Highlands. Awana Cable Car has recently replaced the old chairlift. The Skyway Station is located in Ghotong Jaya which is also the stopover for the buses to Genting Highlands. The Cable car is an amazing way to enjoy the scenic views of the Highlands. The ticket price for a return ride is RM 9. The Cable covers a distance of 2.6 KM with an altitude of 620M. Check prices online.
02
Strawberry & Lavender Park
Strawberry and Lavender Park are located in Ghotong Jaya near the Skyway Cable Car terminal. The entry fee for the adult is RM 15. Children entry fee is RM 10. You can also pick strawberries from the farm at 8RM/ 100 grams which will be packed for you at the exit. There are a number of other stalls selling locally produced honey, lavender products and health products. This is an interesting experience to enjoy if you are travelling with kids.
03
The Chateau
The Chateau is a five-star luxury resort ideally located at a driving distance from Genting Highlands. The area is generally called Bukit Tinggi and other places of interest include Tropicale Colmar a French Styled Village. Japanese Garden is also another worth visiting location in the same area. Book a stay at The Chateau to enjoy an amazing break from the noisy and hectic life of Kuala Lumpur.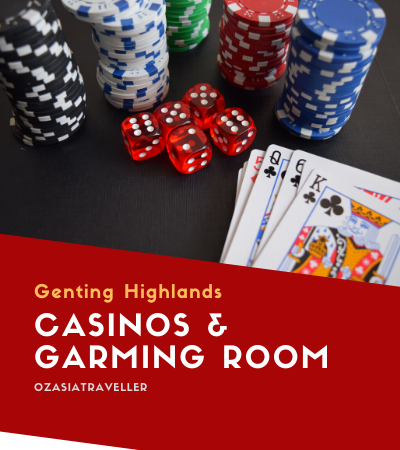 04
Casinos
Try your luck at some of the best casinos including Maxims, Genting Resort, First World, Genting Grand and Awana. Genting Highlands attract large crowds on the weekend. Group tours from Singapore are popular during holiday season. Spend a weekend at Genting to enjoy the casinos and concerts.
Tropicale Colmar Bukit Tinggi
05

Tropicale Colmar is a French Styled village located in Berjaya Hills. Enjoy French Cusine, spas and kids entertainment at Tropicale Colmar.
06
Skytropolis Theme Park
A recent addition to the indoor entertainment is "Skytropolis Indoor Theme Park" which offers unlimited thrill rides for a flat rate of 90RM. Multiple day passes can be bought to enjoy two full days for fun-packed thrill rides ranging from the roller coaster, ziplines, Power Surge, Bumper Boss, Skin Crazy and Sky Towers and lots more. The rides are designed for kids of all age groups. Weekends are very busy therefore, it is recommended to travel mid-week to get the best out of your trip to Genting.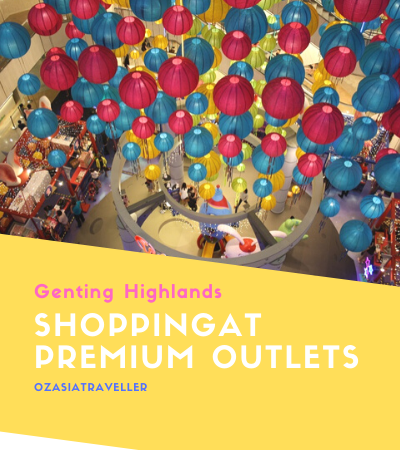 07
Shopping
SkyAvenue Genting offers a variety of retail, dining, and entertainment outlets in Genting Highlands. The majority of shops, restaurants, and cafes within this four-storey shopping mall are open between 10:00 and 22:00, while entertainment outlets,
Genting Highlands has something to offer for people from all age groups. New shopping Malls and fashion outlets near Ghotong Jaya offer world-class shopping. The indoor theme parks offer amazing thrill rides and a full day of action for kids and families alike. If you are staying for a couple of days, you can explore a number of outdoor activities, including a visit to Lavender Gardens, horse riding and other adventure sports. 
Best Tours in Genting Highlands with KLOOK
 T O U R S     IN     G E N T I N G   H I G H L A N D S
Most popular tours in Genting
The best way to explore Genting Highlands is to book a day tour from Kuala Lumpur. Here is a list of most popular tours and activities in Genting Highlands.

Book online and save $$. Online bookings have special discounts and you can avoid queuing up at the venues during peak period and avoid missing out on the fun due to overbookings etc.

KLOOK offers amazing tour deals to most of the locations across Malaysia.

Ozasiatraveller has teamed up with KLOOK to provide the best possible rates for amazing activities in Genting Highlands. Enjoy!!!
Pin it to read Later!!