Trip to Thailand is not complete without visiting the magical islands of southern Thailand. Phuket Island has been the centre of tourist activities since the 1970s with a rich culture of holiday resorts and amazing beach parties all throughout the years. The southern part of Thailand is the home to some of the most beautiful beaches and coastal landscapes. A long strip of land called Kra Isthmus lined with breath-taking beaches and thick jungles in the middle.
Tourism in Phuket Thailand has picked up in the last ten years or so and there is plenty of options for custom safaris & adventures trips that can be undertaken with the experienced guides. Best beaches in Phuket include Kata Beach, Karon Beach, Patong Beach and Nai Harn Beach. In this article, I am exploring some popular activities in Phuket that I undertook during my visit to this interesting part of Thailand in late 2019. 
Krabi, Koh Sumai and Koh Phangnan
For many tourists, Phuket is also a starting point to explore a number of interesting location in Sothern Thailand including Krabi, Koh Phangnan and Koh Sumai. The famous Railey beach is located in Krabi and is accessible by a cruise from Phuket. 
The driving distance from Phuket to Krabi is 162 km that can be covered in 3-4 hours. Ferry operates between Phuket and Krabi and takes an average of 4 hours. This is the best way to explore Krabi for a day or weekend trip if you are staying in Phuket for a long term period. 
For more adventurous, a bus ride from Krabi to Surat Thani is a great option to explore the fascinating island of Koh Phagnan and Koh Sumai. If you are short on time, a flight from Phuket to Koh Sumai is a desirable option that can save day worth of travel time. 
---
There are several popular beach areas in Phuket that cater to a different crowd. If you are planning to explore nightclubs and nightlife, explore crowded beaches and enjoy shopping Malls, Patong Beach is definitely the place to stay.
If you are planning a family holiday in Phuket I would recommend booking resorts in Karon Beach and Nai Harn Beach. These beaches are located on the southern side of the coastal strip of Phuket. 
Karon Beach in Phuket has a number of accommodation options ranging from Airbnb locations, luxury beachside resort and chalets. Nai Harn beach is currently developed and is home to exclusive resorts. 
Patong Beach area is my favourite place to find a hotel in Phuket. I have stayed a couple of times at Sai Kar Road, which is home to Expat Hotel, The Crib, Phoenix Grand and At Patong Hotel. 
Bangla Road, Patong Beach Phuket 
Bangla Road in Phuket is the heart of night-life in Patong Area. The Bangla Roads starts from Patong Beach and extends to Thanon Rathuthit Road. Both sides of this busy road are lined with bars, restaurants, shops and some of the most popular nightclubs including Illuzion Nightclub, Tiger Club and Shark Club. These clubs are the centre of attraction for partygoers and stay busy till early hours of the day.
The side streets along Patong Road have venues for adult entertainment including live sex shows.
Patong Beach Phuket
---
Planning on visiting Phuket and not sure what are some of the best things to do in Phuket? If you like noise and commotion, Bangla Road Patong Beach neighbourhood is a great place to stay. Spend a lazy day hanging at the local bars or walk along the busy street with a number of local restaurants, art and craft shops, souvenirs stores and lots more.
This section of the town is densely populated and you can find all services including the post office, money changers, clinics and massage places. Patong Beach is popular for watersports including kids attractions like banana boats, boat tours, paragliding and water scooters. 
Popular Night Club "Illuzion" on Bangla Road
---
Bars at Bangla Road Phuket
---
 Patong Beach Phuket
The waterfront area at Patong has a number of mid-range resorts, bars and western food outlets. Patong is undoubtedly the centre of attractions and a most crowded spot in Phuket. With a large number of tourist to Phuket staying in Patong, this area is the heart of shopping, eating out, nightlife and all other services related to tourism. 
Paragliding at Patong Beach
The Patong beach area is popular for watersports. Embrace the adventure and enjoy parasailing, a popular activity on Patong Beach. You will be strapped on to the Parachute tied to a speedboat. An instructor will accompany you on your flight. This activity is a great adrenalin rush and a memorable experience on a crowded Patong beach. The local operators provide these services all day long till the sunset. The cost is 1500 Bhat and the flight takes around 15 minutes. 
Watersports at Patong Beach
Other interesting activities for the entire family includes banana boats, water scooters, speedboat tour and boating tours. If you are into fishing you can charter a fishing tour. The prices are quite reasonable and the local tour operators around Bangla Road in Patong can charter a boat tour for a day. The prices vary depending on boat size and the number of individuals. 
The Patong beach is full of activity all throughout the day. Sunset brings a cool breeze from the ocean and well-lit waterfront makes Patong beach a great place to relax and enjoy or take a stroll along the water. Enjoying Seafood Dinner at Ba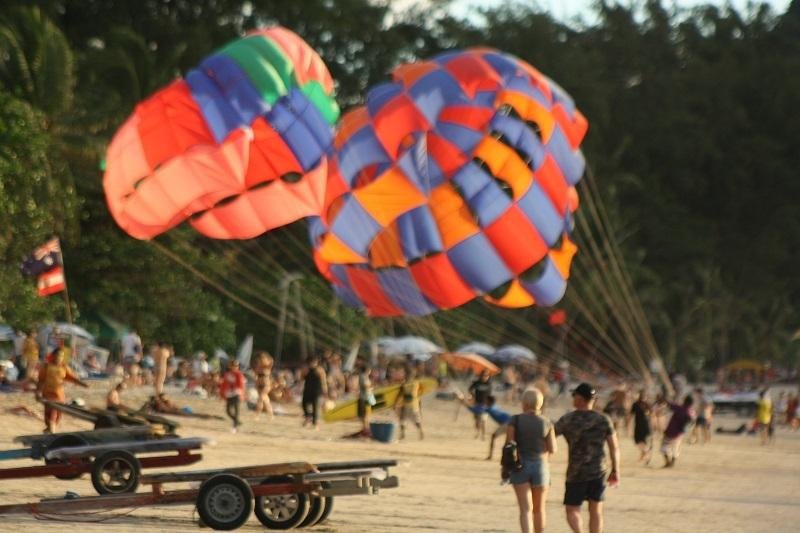 Water-sports at Patong Beach Phuket
---
 Enjoy Seafood at Banzaan Market near Bangla Road in Phuket
Banzaan Fresh Fruit Market is the main vegetable and fruit market in the day time. You can buy a wide range of fresh seafood as well. The first floor of the market has a number of kitchen-front that offer to cook your fresh seafood in the cooking style you like.
I bought some fresh prawns and crabs from the seafood market on the ground floor and took it upstairs to one of the shop front kitchens. The seafood was cooked in spicy chilli sauce by an excellent Nepalese Chef. I enjoyed the double serving of prawns and crab with steamed rice. I highly recommend this experience if you are a fresh seafood lover. 
---



Where to Stay at Patong Beach in Phuket 
Phuket offers a great choice of budget hotels, mid-range resorts as well as luxury accommodation. Whatever, your budget or travel style you can find accommodation in all price ranges. It is advised to book online in advance as you can save up to 40% on advance bookings with Hotels Combined Network I booked Phoenix Grand Hotel  for under $US20 per night. A normal walk-in price can be around US$ 50 per day. 
Phoenix Grand Hotel is ideally located to Banzaan Fresh Fruit and Seafood Market, Robinson Shopping Malls and Bangla Road. A number of quality restaurants, cafes and bars are located at a walking distance from the hotel. I highly recommend this location for budget-conscious travellers. There are plenty of nice budget hotels located on the same street as Phoneix Grand Hotel. The hotel does not have a swimming pool, however, the room and clean and quite a basis and great value for money. 
The waterfront area in Patong and the starting point of Patong Beach near Kilim Beach and Patong View Point has a number of luxury and mid-range hotels. This place is ideal if you plan to spend most of your time on the beach or Bangla Road area.
Recommended mid-range budget hotels in Phuket
Other recommended hotels in the reasonable price range and great user reviews include: 
---
Karon Beach Phuket
Karon Beach is located south of Patong Beach and is quite popular with families. There are a number of luxury resorts and serviced apartments along the beach. The beach is monitored by surf guards. Be mindful of riptides from May to October which can create dangerous swim conditions. 
The resorts along the beach are ideal for a family holiday, as the beach is 5 km in the stretch and offers plenty of spots where you can relax and enjoy a number of water sports including water scooters, windsurfing and paragliding. 
Here are some interesting pictures from my day at this beautiful beach in Phuket
Phuket City tours and Phuket Old Town Tours are conducted by local operators and are designed to explore the most popular location in Phuket in one trip. Booking a day tour is the best and hassle-free way of exploring most destinations in Phuket Beach area and Old Phuket town in a single day. 
The normal price for adults is around 2300 BHAT and Children price is 1400 BHAT. Check some Popular ours offered in Phuket
How to book a tour in Phuket?
The easiest way is to book online and obtain the vouchers and contact details of operating before arriving at Phuket. During peak season tour slots might not be available due to the high volume of tourists visiting this region. Klook  offers great prices and engages the best tour operators in Phuket. 
Alternatively, most hotels have their own tour desks.
What places do I visit in a Day Tour in Phuket?
The Day tour normally starts with an early pickup from your hotel around 8 am. Rest of the participants of the tour are picked from their respective hotels. A van normally occupies around 10-11 passengers and is air-conditioned. A tour manager usually accompanies every tour and briefs the participants on various activities and provide useful information as well. 
Visiting Cashew Nut Factory in Phuket
---
A tour van meanders through hilly streets of Karon taking you to the vantage point lookout located above Karon called Karon Lookout. With traffic on the road driving time to the lookout can be around thirty minutes. This lookout commands a great view of the western coastline of Phuket area. Other interesting places included in the tour are:
1. Big Buddha Phuket
2. Chalong Temple Phuket
3. Honey Farm in Phuket
4. Cashew Nut Factory in Phuket
5. Phuket Zoo
6. Crocodile Show (optional)
7. Elephant Show (optional)
8. Monkey Show (optional)
7. Tiger Kingdom (option) - extra charges
8. Visit Old Phuket Town
Big Buddha Statue an important landmark in Phuket
---
Phi Phi Islands: Romanticised in the movie "The Beach" featuring Leonardo Di Caprio, Phi Phi Islands represents idealistic heaven-like places with crystal clear water and isolated locations for a perfect holiday. Other popular Island tour locations include:
Similan Islands (one of top ten dive sites in the world) 
Ko Lanta 
Khao Lak 
On the opposite coast Gulf of Thailand is Ko Sumai Island. This area is surrounded by hundreds of small islands. You can get ferries for islands like Ko Tao and Ko Phangan. 
Similan Island Tour in Phuket
Similan Island tour is a must for nature lovers because this island is praised for its amazing coral reefs. This Island claims to be one of the most beautiful Island on earth with amazing underwater life, green trees and sandy beaches. 
A normal tour starts around 8 am where you will check-in at Anadamen private pier. 
Private tour charter in a single-engine boat
---
After a briefing provided by your guide, you will depart to Similan Island. You will stop for snorkelling at Ba-Ngu Island and Similan Island. Most day tours come with buffet lunch with halal option. Snorkelling gear is provided by the tour operators.  
You will, however, need to carry some cash to buy food or snacks. A beach shoes and water-proof bag/ mobile phone cover is recommended. You can buy these accessories from Phuket shopping area before organizing for the tour. 
Buying Waterproof bags and beach shoes is a must to be safe on the Islands as jagged rocks or sea urchins can cause injuries
---
Phi Phi Island Tour from Phuket
Phi Phi island is one of the most popular tours offered in Phuket. These tours are offered in different price ranges with a number of destinations. You can either do 4 or 7 Island Tour. However, with time constraint and distance, I suggest a lesser location are far better as you will get more time to enjoy snorkelling and other activities. 
The best way to enjoy is to book your own tour on a single-engine boat (cheaper option). Alternatively book a 14 people catamaran, which is a bit expensive but offers great opportunity to explore the island at your own leisure. 
Snorkelling near Phi Phi Islands
---
A cheap option is to book a three-engine tour boat with 40 passengers. This is the most popular option and a more affordable one. 
A bigger cruise offers a much cheaper option as it docks at a distance from the Island and you can enjoy the great views from the deck. These tours do not provide an option to get into the water for snorkelling or swimming. 
Boats stopping for lunch at Phi Phi Don Island
---
 Birds Nest area in Phi Phi Island only accessible to authorized people
---
One of the interesting location after Koh Phi Phi Island is Koh Noi Island. This is a small Island with a few rock formation. There are nice shacks and cafes serving chilled drinks, juices and milkshakes. You will see plenty of people arriving on various tour boats and enjoy the calm water of this Island. This is one of the last Islands for the trip.
A common lunch area for various tours on Phi Phi Don Island
---
A boat ride back to Phuket pier area takes approximately one hour. Most of the passenger are tired for the day are seen napping on the way back to the piers. 
Koh Noi Island visited during Phi Phi Island Tour
---
Pin it to read later!