The motto on the Australia roads is "Stop, Revive and Survive". Fatigue is the major reason for road accidents on the freeways in Australia. Therefore, planning stopovers along the way are the best way to enjoy your trip and explore some interesting locations as well. 
There are a number of stopovers between Brisbane and Sydney designed by Road Authority encouraging travellers to stop for short breaks. Free tea and biscuits are offered beside basic amenities and covered sitting area. Information Centers in all major cities along the are great places to obtain regional information, event guides and maps. Coffs Harbour has a nice Information Center located on Pacific Coast Highway. 
Where to stop between Sydney and Gold Coast on a day trip?
If you planning a trip to Gold Coast from Sydney it is recommended to start early as the traffic picks up on Pacific Coast Highway from early hours of the day.  The average driving speed limit is 110km/hour on the Pacific Coast Highway. However, the travel time is more than expected due to the ongoing roadworks near the city of Newcastle. The speed limit close to the cities drops between 50km/hour to  60km/hour  Coffs Harbour is a great stop almost half-way between Sydney and Gold Coast. 
An overnight stay is also a great option as there is a number of Serviced Apartments, Motels and Hotels available in this mid-sized city. Compare Best Rates Online for Hotels in Coffs Harbour . The coastal area in Coffs Harbour is popular with surfers and beach lovers. Weekends are quite lively with live bands playing at a number of pubs and venues in the city.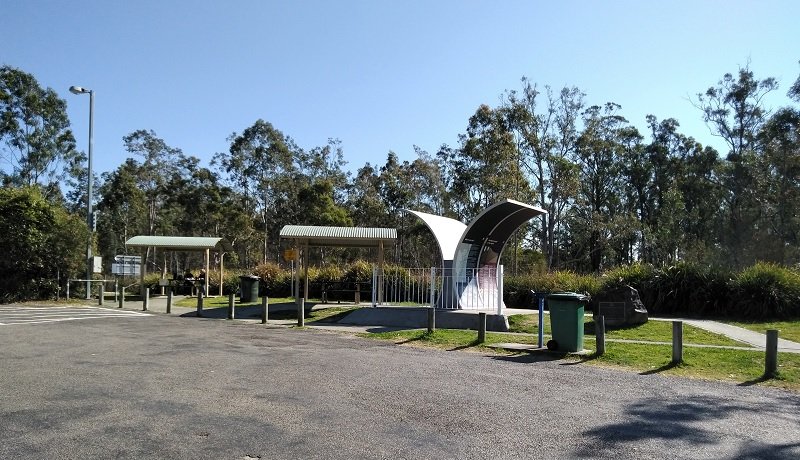 Roadside Rest Area new Newcastle
---
Is driving the best way to travel between Sydney and Brisbane?
You can either catch one hour flight, hop on a train or bus to travel between these two popular destinations in Australia. Driving, however, is the most enjoyable way to explore some of the best locations in NSW and Queensland. Sydney to Brisbane travel route is probably one of the busiest air routes in Australia. 
Pacific Coast Highway is the quickest route to Brisbane. Places like Central Coast ( The Entrance, Toukley, Forster) are slightly off the main freeway, Pacific Coast Highway 1. Therefore, these destinations are recommended if you have more time to yourself.
The cities that lie on Pacific Coast Highway 1 includes Port Macquarie, Coffs Harbour, Ballina (& Byron Bay) and Surfers Paradise.  
Most Country roads or Scenic Drives are marked by brown coloured signs as opposed to green coloured signage for intercity freeways. The scenic routes are detours through historical towns or places of interest and link back to the major freeways. 
What are the best places to stay between Sydney and Gold Coast for 3-4 Day Trip?
Pacific Coast Highway passed through mainland NSW and Queensland. However, if you are planning to travel for 3-4 days there are a number of interesting stopover locations between Sydney and Gold Coast. Here is a list of suggested places to stop on the way.  I have explored my favourite location in the Central Coast area of NSW. 
Best places to stop between Sydney and Gold Coast
1.
Newcastle & Central Coast ( Port Nelson, Port Stephens)
Mooney Mooney Bay and Brooklyn are small towns located at the outskirts of Sydney and are quite popular for fishing charters and river and ocean cruise. Hawkesbury river exits into the ocean near the Brooklyn area. These water channels are popular for sightseeing and fishing tours. 
There are two different routes to Newcastle. If you exit from M1 near Gosford, the coastal road takes you down beautiful central coast towns of Gosford, Shelly Beach, The Entrance and Swansea Heads. I highly recommended this detour if you have more time to yourself. Alternatively, follow the Pacific Coast Highway after exiting Sydney and exit towards Newcastle on M15. 
Hotel Sale!
Save up to 30%* + Flexible booking policies + Free Cancellation + Wi-Fi Inclusive Oaks Hotels, Australia  
Check Rates Now
.
Newcastle is a booming city with a seaport and thriving student community. Newcastle is the second most populated area in NSW with beautiful architecture and landscapes. A new tramline is the latest addition to the city connecting major places of interest. 
Checkout my PhotoGallery for Newcastle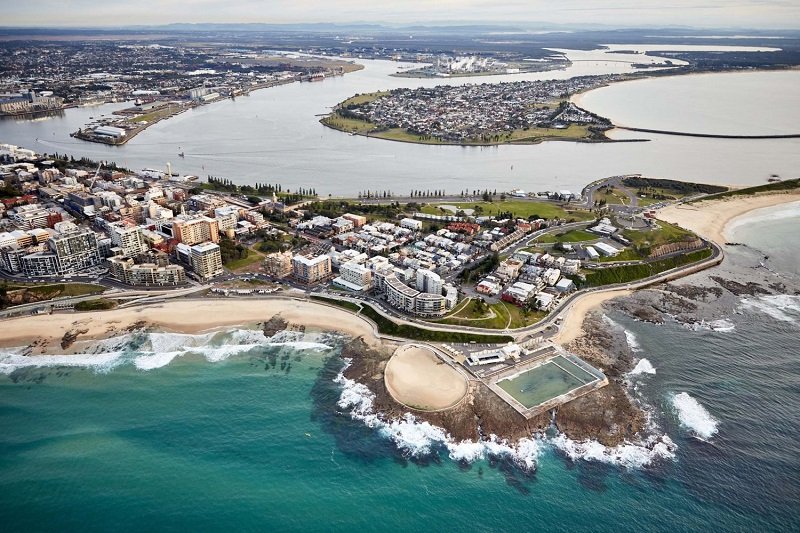 Aerial View of City of Newcastle   
---
I personally like Newcastle because of its laid back and relaxed feel. There are plenty of nice cafes at the waterfront and hilly neighbourhoods overlooking the coastline. Darby Street is a must-visit for the foodies offering a good mix of trendy bars, coffee shops ( Goldbergs Coffee House) and restaurants. Newcastle is definitely worth a day stop if you have more time to yourself.
Around Newcastle, you can explore amazing places like Port Nelson and Port Stephens. These places are popular for the largest sand dunes in Australia and offer a great holiday option for families as well as solo travellers. The Marina at Port Stephens offers is a great location for Whale Watching, Fishing, Deep Sea Fishing Charter & simply enjoying kayaking in the shallow waters along the bay. 
Port Nelson, Fingle Bay, Soldier's Point and Salamander Bay area is very popular tourist destinations with plenty to do over the weekend. I personally like this area as most of these towns have beautiful waterfront areas with kids activities and marinas where you can charter boat for fishing for sight-seeing tours (Dolphin & Whale Watching Tours)
Sand Dunes near Port Stephen offers Camel Safaris, Quad Bike Adventure, Desert Safaris and sandboarding adventures.
There are plenty of caravan parks and serviced apartments located in Port Stephens as it is a popular hangout for families in summers. We stayed at Mantra Apartments offering great comfort and proximity to the main areas of Port Stephen. 
Planning to stay at Nelson Bay?
Compare the best hotel rates online...
Take some time out to explore beautiful precinct of Hamilton to experience the multi-cultural culinary heritage of Newcastle. This locality is a hidden gem for food lovers and shoppers alike. Explore some of the interesting venues like:
Depot on Beaumont
Barcito
The Grain Thai restaurant
The Blind Monk
El Nonno Restaurant  
Where to stay in Port Nelson?
During my stay at Port Nelson, I booked Mantra Nelson Bay . This is a five-star property offering one and two-bedroom apartments with all the amenities of the home. This property is walking distance from the waterfront and has easy access to restaurants and shopping Malls. Port Stephens offers a wide range of accommodation in all price ranges including holiday parks, caravan parks and long term rental. 
Images: Mantra at Port Nelson
---
Entrance, Toukley and Lake Tuggerah
Another interesting holiday spot is Entrance Waterfront which is popular for Pelican Feeding. The waterfront offers a great location for live performances over the weekend, kids trains and family activities. This location is very lively during the long weekend and school holidays period.
 Serviced Apartments are available along the waterfront with easy access to shopping malls and  Lakes Main Holiday Park  is an amazing location is you want to stay at a holiday park along Lake Tuggerah. 
Beautiful Coast Area of Hawkes Nest and Tea Gardens NSW
---
Images: The Entrance, NSW
---
3.
Forster: 

305 km from Sydney
Twin towns of Forster and Toukley are my favourite locations for a weekend getaway from Sydney. You can enjoy kayaking, boating, fishing or swimming in shallow water channels. The environment in the city is great and is normally packed in summers. If you have time to yourself spend a day or two to enjoy all the activities in Forster. Must-visit places include One Mile Beach, McBrides Beach, and Seven Mile Beach South from Cape Hawk. Forster is quite popular for deep-sea fishing and rock fishing.  
Forster waterfront is absolutely breath-taking with the river merging into the ocean. The places around the estuary are popular for fishing. 
Images: Forster, NSW
Where to stay in Forster NSW?
I stayed at Discovery Park holiday Park  with is 4 Star holiday park with amazing amenities and feeling of home away from home. The cabins are furnished with basic amenities and the common shared area has bbq area and common sitting area. This is definitely a great spot for family accommodation. The property is located at the outskirts of the town and commands views great views of the river. You can enjoy the following facilities at the Park
Kids pool and splash Are
BBQ Spots
Kayaking
Restaurants
Common Sitting Area and Lounge
Fully contained cabins with Bunks
Staying At Discovery Holiday Park in Forster  
Want to explore Forster?
Find other great places to stay in Forster...
A warm summer day in Forster is fun for the entire family 
---
4. Coffs Harbour: 550km from Sydney 
Coffs Harbour is a definite stop as it is located almost midway between Sydney and Gold Coast. In my recent visit to the city during Easter Break and Thanks-Giving Holiday, I have fallen in love with the great vibe and crowds in the city. There is a weekend market on the waterfront and you can enjoy a number of nice cafes (Hogs Breath Cafe) and bars at the beach.
Beautiful Waterfront of Coffs Harbour
---
Coffs Harbour attracts large crowds during public holidays. You must book in advance to get some great deals on accommodation. Agoda offers great prices online. Some of the interesting places to visit in Coffs Harbour includes
The Big Banana
Park Beach Plaza
National Maritime Science Centre
C.ex Coffs - Coffs Harbour Premium Dining Venues
Big Banana, a famous landmark at Coffs Harbour
---
Images: Coffs Harbour
---
If you are a nature lover, Darrigo National Park is not far from Coffs Harbour where you can find beautiful waterfalls deep in the wilderness. Armidale is quite close to Coffs Harbour and if you are driving on New England Highway road between Armidale and Coffs Harbour connects to Pacific Highway. This offers an interesting detour if you want to avoid holiday traffic and see a bit of countryside on New England Highway. Coffs Harbour has plenty of world-class cafes and restaurants and nightlife that will keep you entertained over the weekends. 
Planning to stop at Coffs Harbour?
Find the cheapest hotels rates online...
---
5.
Byron Bay & Ballina: 770km from Sydney
Byron Bay is another very popular destination offering artistic retreat and beautiful beaches. Make sure you arrange for accommodation beforehand, as this destination is quite popular during public holidays and accommodation, is hard to find. Byron Bay has the number of quality restaurants, cafes, shopping stores.  Look out for event guide if you want to plan your visit ahead of time as a number of music events take place in Byron round the year that attracts large crowds.  
Beautiful Views of Byron Bay from the Lighthouse
---
Byron is a popular hangout for artists and musicians, as this city hosts some popular music festivals throughout the year. Nimbin, the heart of the hippie culture of NSW is another popular destination for tourists. 
If you are travelling with family, Ballina and Byron Bay offer amazing stopover options. More information on the activities in the region can be obtained at the information centre in Ballina and Byron Bay area. 
A beautiful day for surfing at Byron Bay
---
I have stayed at Ballina a couple of times at Discovery Park  ideally located along the waterfront. 
Search Best hotels in Byron Bay
---
6.
Surfers Paradise
Surfers Paradise is undoubtedly one of the most visited and vibrant locations for a complete family holiday. Packed with tall high-rises and beautiful beaches the city is a Mekkah for fun seekers and beachgoers. With an active party scene all throughout the year, Surfers Paradise offers more than 20,000 rooms in all price ranges and budgets.  
Book in advance to get great deals on accommodation at 4 and 5-star furnished apartments, hotels and hostels
---
You can enjoy a wide range of water sports including cruises, charter hires, ballooning, deep-sea fishing and sky-diving.  Surprisingly, Surfers Paradise has more canals than Venice in Italy. Most waterfront properties are owned by celebrities and you will explore multi-million dollar mansions along the canals stretching to Broadwaters. 
During my several visits to Surfers Paradise, I have stayed of  Towers of Chevron , which is centrally located to shopping areas and beach at Surfers Paradise. Public Holidays and Christmas Season bring street performers, concerts and kids activities over the weekends. 
STAY CONNECTED
Join our mailing list to enjoy new content delivered right to your inbox!
Planning to stay in Surfers Paradise?
Find the cheapest rates online...
Alternative Route from Sydney to Gold Coast
New England Highway:
New England Highway offers an alternative route to Gold Coast. Our first stop along the way was at Musselbrook, a mid-sized town 250km north of Sydney. This city is historically famous for horse breeding and coal mining. Lately, it is picked up a reputation for gourmet food and wine tasting. We enjoyed breakfast at a local cafe. Murramundi is a small town along the way where you can get some local information about the region at the Information Center along New England Highway. You some cottages dating back to last century built by early settlers in the region. 
Tamworth is next major down popular for Australian Country Music and car racing. This is a great city to stopover if you have more time to spare. We proceeded to "Big Golden Guitar" to take some memorable pictures. 
Our first stopover for the night was at Armidale, a beautiful town of Armidale. Developed around 1850s Armidale enjoyed the riches of the gold rush, evident in nice historical buildings and architecture of the town. Armidale has a number of heritage buildings including cathedral and post office buildings. 
Powerhouse Armidale Hotel by Rydes is one of the best places to stay in Armidale. There are plenty of nice cafes and restaurants in the city area. In winters, the shops and businesses close early therefore, it is advisable to plan an early dinner. 
The drive to Coffs Harbour from Armidale passes through Dorrigo National Park. This place is ideal for bushwalking, trekking or enjoying a picnic in the grounds of the park. The lookout in the park provides an amazing view of the New England Tablelands. Take a walk along the track to a beautiful Dorrigo Waterfalls. 
Other interesting road trips 
General Distance Guide
Sydney to Taree: 308km
Sydney to Port Macquarie: 385
Sydney to Kempsey: 420
Sydney to Coffs Harbour: 533
Sydney to Grafton: 614
Sydney to Ballina: 740 
Sydney to Tweeds Head: 829
Sydney to Brisbane: 931