The Blue Mountains Australia is one of my all-time favourite locations for a day trip from Sydney. Sydney is blessed with beautiful rolling coastline with breath-taking beaches as well as national forests in the north and west of the city. The Blue Mountains National Park is a well-developed area and home to a number of beautiful towns, historical locations and 400 million years old rock formation and caves.
How to Plan a Visit to the Blue Mountains 2021
Planing a day trip to Blue mountains and not sure where to go? The Blue Mountains is a region spreading over 11,400 sq. km. Therefore, deciding your trip beforehand will save you time and help you see most of the interesting places during your stay in the Blue Mountains. 
Best way to visit the Blue Mountains?
Booking a tour
A number of tour operators offer day tours to the Blue Mountains and Jenolan Caves. The prices vary from $78 to $100. 
By Car
Travelling by yourself is the best option in 2021 as COVID-19 restrictions are still in place in NSW. Renting a car from one of many locations in Sydney is a cheap option and gives you a lot more flexibility to travel at your own pace.  The driving distance from Sydney CBD to the Blue Mountains is approximately 1.5 hours. 
By Train
Alternatively, you can catch a train fro country link platform on Central Station in Sydney. The train rides take around 2 hours as the train stops at most of the stations along the way. A train ride can very time consume but a cheap option if you are planning to visit small towns in the Blue Mountains. 
The benefits of "do it yourself" day trips
Most of the lookouts and places of interest in the Blue Mountains are not close to the train track. The distances cannot be covered on foot. Therefore, driving offers the best option to explore the region. 
You can park your car at a designated spot near the starting point of the track and can do various walking tracks in the region. For more adventurous drive down into the Megalong Vally to find yourself among giant mountains ranges and thick flora and fauna of the region. You will see occasional kangaroos and wallabies running around the area. 
---
Where does the name Blue Mountains come from?
There is simply too much to explore in the area. The region is home to blue gum trees. The smoke from the burning of these trees creates a bluish-grey mist which is visible from a distance. This is where this region earns its name as "Blue Mountains".
---
General Guidelines to Blue Mountains Region
The Blue Mountains National Park covers an area of approximately 11,400 sq km. The region stretches from Western Suburbs of Richmond in Sydney to Mittagong area in Central Highlands. The Blue Mountains region is approximately 400 millions years old. Some of the oldest subterranean caves in the world are found in this region.
Most of the small towns in Blue mountains are home to early settlers and miners. Today these towns have become a Mecca for artist and nature lovers who seek inspiration in the wilderness of this amazing region.
A general misconception with many tourists is that they are considering the Blue Mountains as a single scenic location and a tourist spot. Blue Mountains region is quite spread out and cannot possibly be explored in one day. The town of Katoomba is the centre of attractions and the starting point for many explorers.
With very easy access from Sydney by car, bus or train, Blue Mountains is one of the most visited locations close to Sydney. The Blue Mountains makes a great location for a day excursion in nature, scenic bushwalks and exploring the history of early settlers NSW. There are a number of cafes and restaurants and bars which makes it an ideal retreat from the hustle and bustle of Sydney life.
---
The weather of Blue Mountains?
In December and January, the temperature can climb up to 40c. The fire alert during the hot season is turned to high and bushwalking and BBQ is not allowed. In the summers season (Nov-Feb) average temperature is around 18c. During the winter season around mid-July the average temperature is 5c and nights can be very cold. Blue mountains have been receiving snow in the middle of winters for the last couple of years.
---
How to drive to the Blue Mountains from Sydney?
There are two alternative ways of driving to the Blue Mountains from Sydney
First Route
If you are driving to the Blue Mountains from Sydney the shortest route is to follow Freeway from Sydney Olympic Park towards Hawkesbury River in Penrith. The winding road ascends to beautiful towns of Springfield, Hazelbrook, Leura, Wentworth Falls Katoomba and Blackheath.
Second Route
The second routes take Bells Line Road through North Richmond to Kurrajong, Bilpin and Mount Tomah finally joining A32 near Mount Victoria. 
The landscape changes drastically as you climb higher. The road network has undergone an upgrade which makes the drive very enjoyable all the way to Katoomba and Lithgow. 
---
Explore the Blue Mountains with Ozasiatraveller - A day Itinerary
Beautiful towns of Leura Village, Katoomba and Black Heath have a rich history of early explorers and settlers in the region in the mid-19th century. Early settlers explored the mining and logging industry settling in the towns along the main road to Lithgow.  
With changing times, the region has become to exclusive holiday resort offering unique escape, pristine remote locations and some lavish 5-Star resort locations in the region. 
The region is a wonderland for outdoor lovers and adventurers with some unique landscapes and wilderness for exploration. 
---
Best things to do in the Blue Mountains for a Day Trip
1. Visiting Three Sisters 
Three sisters, a rock formation in Katoomba is probably the most visited site in Australia. Several walking track into the valley can take you to secluded spots in the wild and you can explore hidden waterfalls and beautiful flora and fauna of the region. If you are into scenic rides, Scenic World is the best spot to visit as it has the world's steepest incline as well as a Sky Trolley that takes you across the Megalong Valley.
Three Sisters Lookout Katoomba
---
2. Visiting Scenic World
Scenic World is the centre of attraction with many visitors to the Blue Mountains region. You can enjoy the Cable Car Ride,  a Tropical Forest and incline to descend into the Megalong Valley. 
Here are some quick facts:
The 52-degree Scenic Railway incline is the second steepest in the world.
The scenic Skyway is the highest cablecar in Australia.
Scenic Cableway is the biggest cable car in Australia.
2.4 scenic walkway is the longest boardwalk in Southern Hemisphere.
The Blue mountains have the second steepest incline in the world in Scenic World. You can take multiple rides of the various attractions with a single entry ticket costing $28. 
Scenic World Blue Mountains is the centre of attraction in the Blue Mountains as it contains the world's steepest incline descending into Megalong Valley. SkyLift takes you across the Megalong Valley with breath-taking views of mountains stretching to hundreds of miles.
You can buy one pass to take three different rides available at Scenic World, Katoomba. Be mindful of time as the crowd starts building up early in the morning and the rides finish by 5 pm in the evening.
Scenic World Blue Mountains is particularly crowded over the weekends and public holidays. The ticket for adult costs around The best way to enjoy Scenic World Katoomba is to buy a Hop on and Hop Off Bundle with Scenic World Unlimited rides. This will provide you access to the most popular locations around Katoomba and you can take unlimited rides throughout the day.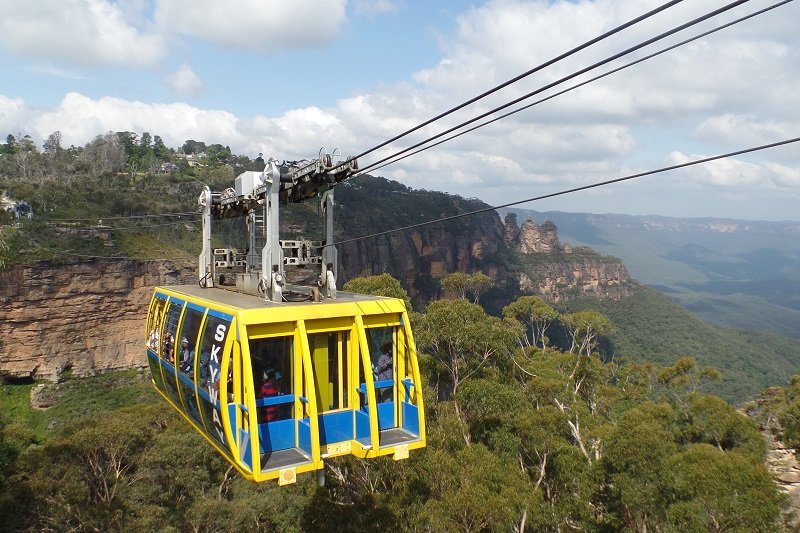 Cable Car at Scenic World Katoomba
---
The restaurant at the scenic World Katoomba
---
3. Enjoying Hop on Hop off Bus 
The best way to leisurely explore the area at your own pace is to buy a ticket for the tourist bus that takes you through all the scenic locations in the Blue Mountains. This way get a chance to explore small town next to Katoomba, including Leura and Wentworth Falls as well. Once you get off at Katoomba Train Stations, the booking booth is right next to the train station.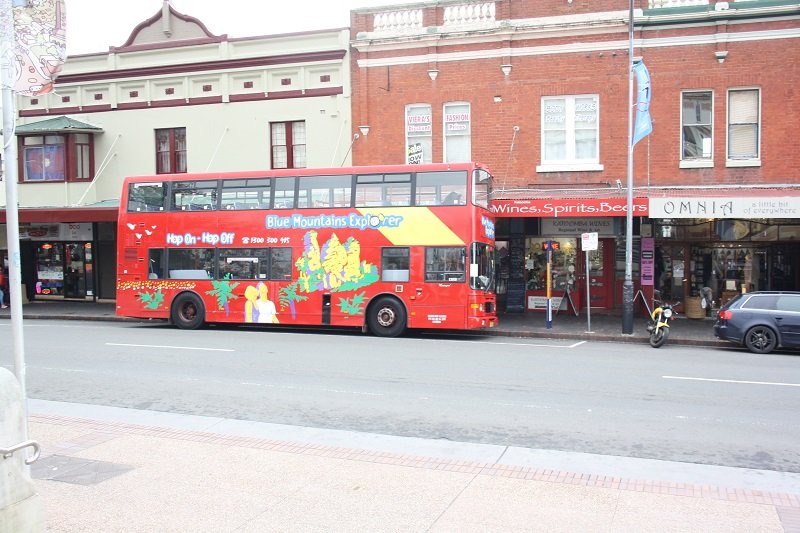 Hop on and Hop-Off Bus is a great way to explore the Blue Mountains You can also plan to travel to the Blue Mountains for a day and travel with a group. The benefit of the day tour is that you get to see most of the location in minimal possible time and do not have the hassle of using public transport.
The Blue Mountains has a lot more offer for those who are into outdoor activities. If you fall into this category, a planned couple of days trip is a great idea, as you can explore hidden gems in the area while enjoying visiting small towns like Blackheath or Mount Victoria.
4. Explore Antique Shops & Art Galleries in the Blue Mountains
In the last couple of years, Blue Mountains has become a hunting ground for antique lovers as some of the shops carry antiques from early settlers in the region around 18th Century. You can find a wide range of furniture & home decoration items.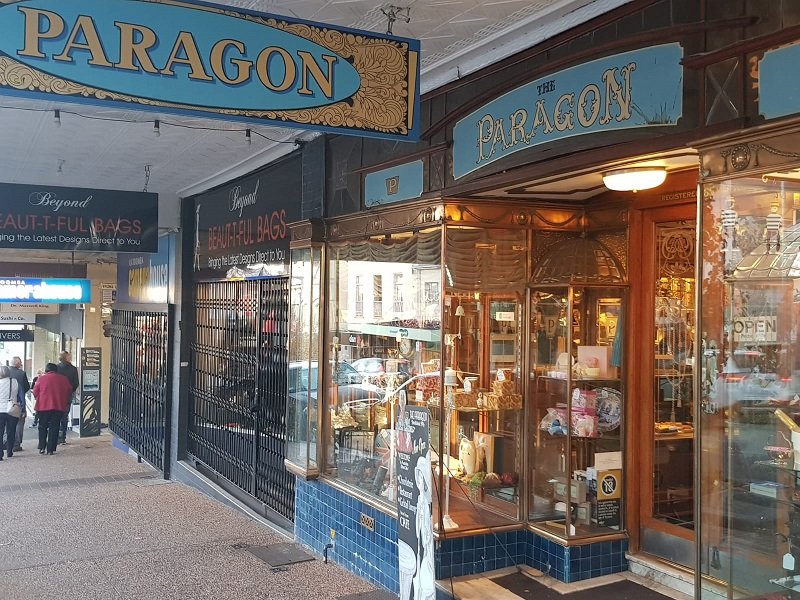 Art Deco Cafe at Katoomba
---
5. Visit the Carrington Hotel in Katoomba
Carrington Hotel is one of the earliest building in the Katoomba area catering to rich clientele who have visited this exciting tourist town over the last 150 years. The amazing structure is preserved in its original design and decoration. Carrington Hotel takes you back in time with a beautiful wooden staircase at the entrance and immaculately kept dining room where dinner is served with the original menu.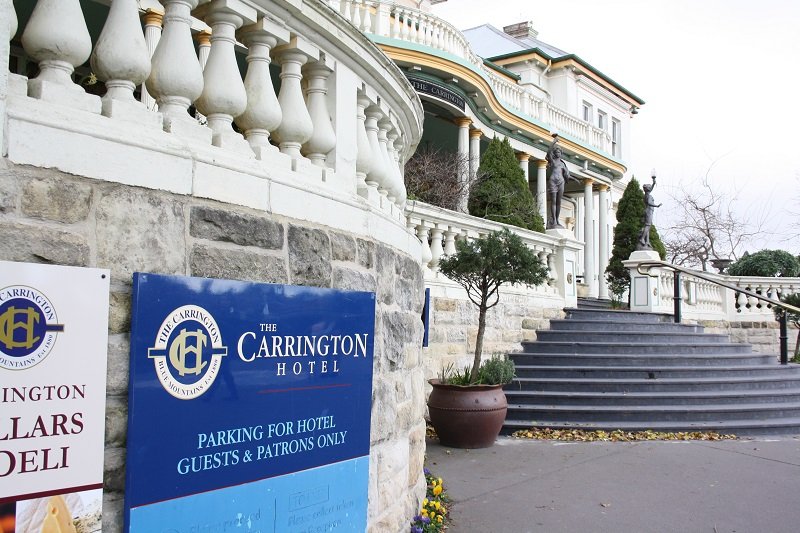 Historic Carrington Hotel Katoomba
---
Carrington Hotel is one of my all-time favourite locations to visit in the Blue mountains. The lounge area is a great place to relax and enjoy drinks and light snacks.
If you want to relax after a long day of exploration in the area, I suggest you find a comfy couch near the fireplace in the main hall and order tea and scones with home-made jam or potato wedges with sour cream and milkshake. Surprisingly the food is priced quite reasonably.
The hotel provides lavish accommodation for honeymooners as well as families with two-bedroom suites. You will find a wide range of modern amenities including a beautiful spa where you can pamper yourself with beauty treatments.
Other facilities on premises include a Billiard Room, Conference Room, Study rooms as well as a small library.
Another historical hotel in the Blue Mountains is the famous Hydro Majestic Hotel that prides in its rich history and amazing location overlooking the Megalong Valley. The hotel offers high tea and dinner in its newly refurbished restaurants. The hotel is located between Katoomba and Blackheath.
---
6. Explore interesting towns around Katoomba
Katoomba is the central location in the Blue Mountains region. The region, however, comprises a large number of small towns and communities offering unique visiting experience to the travellers. A large number of private properties are turned into bread and breakfast accommodation offering comforts of home and very enjoyable holiday experience in the Blue Mountains.
You can easily book a small townhouse to a villa if travelling with a large group. This gives the luxury of space and other amenities along with easy access to all public areas.
To get a real feel for the bush you can also rent remote country cottages with nice fireplaces and wooden structure. This requires a bit of exploration online as most properties are managed privately through Airbnb and similar services.
Some interesting towns to explore near Katoomba includes
Famous for zig-zag railway ( currently closed down ) and walking trails to Victoria Falls
Amazing lookouts as well as calm and serene country houses
Famous for Bilpin apples and Botanical Gardens
Next to amazing Megalong Valley and beautiful Cafes and historical building
---
8.Bush-Walking in the Blue Mountains Australia
Looking for some of the best walks in the Blue Mountains? The options are simply too many as the region spreads over 1000 sq. km. Some of the walks in blue mountains can take a couple of days and should be enjoyed with a group.
Note: A number of hikers go missing annually in the wilderness in the Blue Mountains and have to be rescued by Fire Services Katoomba. If you are planning to explore long trails make sure to notify the local police departments and carry a Safety Beacon.
The Blue Mountains is popular with bushwalker and trekkers
---
There are a number of walking tracks ranging from medium to difficult level. Each track is marked with signs and related information can be obtained from NSW Parks Website and app that provide updated information on weather condition and closures etc. 
Mount Portal Lookout, Blue Mountains
---
Make sure you get all necessary information about the trails as some of the locations are quite remote and every now and then people get lost in bush and rescue missions have to be organised to find them.
Note
Emergency beacons are available for rental from Blue Mountains heritage centre in Black Heath. 
Some Quick Walks under one hour to be enjoyed by light walkers include:
Three Sisters Walk
Empress Falls Track
Katoomba Falls Round Walk
Mount Banks Summit Walk
Some Long Walking Trails in the Blue Mountains include:
Federal Pass ( 13 km)
Six Foot Track ( 45 km)
Hanging Walk Track (8 km)
Some of the enjoyable Walks I have undertaken in the last couple of years include the walk to Wentworth Falls, walk to Minihaha Falls and Three Sisters Walk which is fun and can be easily covered on day trips.
Most trails are properly marked. However, some trails bear the signs of weathering, so it is a good idea to carry navigational & communication equipment.
---
Where to stay in the Blue Mountains Australia
Blue Mountains region is the most visited tourist area around Sydney. With easy access from Sydney, Blue Mountains attracts a large number of visitors during weekends and public holiday.
Blue Mountains Accommodation ranges from Heritage Hotels, luxury resorts, motels and B&B Boutique Hotels. A large number of properties in towns around Katoomba are turned into Airbnb accommodations which are ideal for family holidays or if you are travelling with a large group.
My first stay in the Blue Mountains was at a Caravan Park in Black Heath. In later years, I stayed at furnished bungalows at Medlow Bath, Carrington Hotel in Katoomba and a number of other locations in Katoomba.
Some recommended in the Blue Mountains includes:
Blue Mountains YHA  offers cheap and affordable accommodation in the heart of Katoomba. This location is very close to the train station and all amenities & cafes are within walking distance.
1. Motels like 3-sister Motel are very close to three sisters lookout and offers daily rates under $100. Weekday rates are a lot lower than weekend rates.
Luxury Heritage Hotels includes:
Hydro Majestic Hotel in Medlow Bath
Hydro Majestic Hotel
---
3. Mountain Heritage Hotel: This is one of my favourite places to stay offering world-class accommodation and dining experience in a unique location overlooking the Megalong Valley. The breakfast is amazing as you can see the clouds even below the hotel level. The rooms are lavishly furnished and all basic amenities are accessible.
Please Note: Jenolan Caves are currently closed as of June 2020 due to COVID-19 Restrictions.
---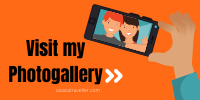 Save this image to Pinterest!!!
NSW Best things do to around Sydney