Explore Manila
How to travel to Manila?
AirAsia and Cebu Pacific offer great travel deals to interesting destinations in the Philippines including Manila. I booked a flight from Sydney to Manila with a 3-hour layover in KLIA2 in Kuala Lumpur. The flight to Manila from approximately 4 hours. AirAsia offers the cheapest airfare between these destinations. 
The main airport in Manila is Ninoy Aquino International Airport. Public transport is quite efficient but you will definitely be shocked by seeing the number of cars on the road. Manila is notorious for its traffic jams which I observed firsthand. Therefore, give yourself enough time when planning an excursion or catching a flight from Manila.
If you are planning to take a road trip, booking a car is a great way to explore Manila. Manila is notorious for traffic, however, a network of free and toll roads can save lots of time and connects major parts of the city.
Using Public Transport in Manila
If you plan to use local transport download GRAB ridesharing application to enjoy hassle-free travel in Manila. Jeepneys and public buses are Manila's principal modes of transport. They run along with specified points, just ask the locals which one to take to get to your destination. You can also use Grab App with an additional PHP. The taxis are notorious, try to carry small change and make sure the driver runs the meter.
Renting a car is a hassle-free option for a relaxed travel experience. The shortest route from Metro Manila to Makati is AH26 on a rental car (20min) or take the MRT from Quezon in 1USD to Buendia (16min).
Where to stay in Manila?
I booked a hotel in Makati as this is a more uptown and modern part of the city with high-rises, great shopping Malls, government offices, and museums. A little bit of research online enabled me to choose this location. Bonifacio City is another interesting and modern location to stay in Manila. 
I simply loved staying at Prince Plaza II Contadel Hotel  which is ideally located next to Greenbelt 3. This is a central location in Makati which is within walking distance from Landmark Shopping Center, Glorietta, and Ayala Museum. 
The GreenBelt Shopping Mall is like an oasis in the middle of the concrete jungle, connecting all major shopping malls through the walkways. This area is popular with international brands, cafes, restaurants, and trendy bars. I highly recommend staying at Makati during your stay in Manila to have easy access to some of the most interesting places in Manila. 
Greenbelts 3 in Makati is a popular shopping area in Makati
---
Alternatively, be in the lap of luxury and gaming heaven with your stay at Solaire Resort & Casino (200USD) in Paranaque, Manila 5.5 KM away from Ayala Center. The Fairmont, Makati (112USD) and Raffles, Makati (202USD) are also popular options for a luxurious stay in the heart of Makati.
Jeepneys are a popular mode of transport in Makati connecting various areas in the city centre
---
Other interesting places to stay include Manila Bay Area and Chinatown. You can have some family time at H2O  (77USD), Manila's first aquarium-themed 4-star hotel with a spa, fitness room, conference room, and children's pool. Located behind Rizal Park, it is only 2 mins walk from Manila Bay.
For budget hotels in Manila stay at BCD 58 Ohana Hostel (11 USD), a 5-minute drive from Rizal Park. Cheap accommodation in Makati means a stay at La Casita Mercedes 23 minutes from Ayala Center on foot. 
Exploring the interesting Culture and History of Manila
Intramuros the Walled City of Manila
Intramuros is the heart of the history and culture of Manila through centuries, preserving the remnants of early invasions, war executions, and the advent of Christianity in the Philippines. Intramuros has served as administrative capital housing many government buildings. The ships (galleons) that sailed from the Philippines to Europe carried cargo to and forth from the Intramuros for over 250 years.
A trip to this location is a must to explore the rich cultural legacy of this amazing country. Most of the Intramuros can be explored in food. A map posted near the entrance gates outlines an all-important building within the walled city. You will need a couple of hours to explore the whole area in detail. 
Rent a bicycle rickshaw along with a guide to ride through the interesting locations within the walled city. This includes Rizal Shrine, San Augustin Church, and Manila Cathedral. 
Exploring San Augustin Church in Manila
Make your way to San Augustin Church and Museum – a UNESCO world heritage site and Manila's oldest standing church with a magnificent interior and a museum. Its entry fee is PHP 100. Don't miss the beautiful stone building of the Manila Cathedral.
San Augustin Church is one of the oldest church in the Phillipines was completed on 1607. Built during Spanish cononial period this building is declared World Hertiage location by UNESCO. The church is home to rich colonial history and arrival of Christianity in The Phillipines..
Trip Notes from my visit to San Augustin Church
I started the Intramuros Church around 10 am with a local cycle rickshaw guide. The guided tour has a fixed price and costs are 400 pesos per hour depending on how much time you want to spend.
If you are really keen to explore the history of the location, a better option is to get a flat price of 20 PHP to the San Augustin Church. This way you do not have to pay for the waiting time to the rickshaw driver. It took me around 1.5 hours to go through various sections of the Church.
The entry price is set to around 200 PHP. You continue on to explore the hallways and corridors to the different chambers of the building housing the rich cultural history of the last 300 years. The art gallery has a rich collection of paintings of early Christian preaches and invaders who arrived from Spain. A vast collection of illustrated memorabilia and a replica of galleons that carried the cargo and Spanish invaders to the islands.
I suggest you give yourself a good two to three hours to explore this historic building. Do not forget to walk in the beautifully designed garden and meditate for a few moments near the beautiful fountain standing in the middle of the quadrangle. San Augustin Church is a product of love and I experienced the overwhelming feeling of love as well as the suffering of early preachers. 
Visit one of the oldest stone fortifications- Baluarte de San Diego built in the late 1500s. Its mossy stone walls and dilapidated structure offers good photo opportunities and a vantage point for city view (8 am to 5 pm, PHP 75). Do Not forget to visit Casa Manila restaurant for a glimpse into the lifestyle of a typical Spanish family.
---
Lunch at Illustrado in Intramuros Manila
Illustrado is an old Spanish Styled restaurant located near the main gate of Intramuros. The decor of the building is amazing and is a great location for lunch and dinner. Lunch is served between midday and three o'clock. The kitchen closes between this time and dinner time. 
You can enjoy light snacks and coffee in the adjacent cafe between lunch and dinner time. 
---
Rizal Park in Manila
Rizal Park is another site of interest where Jose Rizal was publically executed –calling forth the Filipino Revolution. It also houses dancing fountains, an Orchidarium, and the Manila Ocean Park. This area is of particular interest to the history of the Philippines as Rizal was a great revolutionary leader and his place of execution is preserved as a historical location in Intramuros.
Rizal Museum is an interesting place to experience the life of Rizal along the timeline and explore a collection of his personal belongings, books, diaries, and letters. I really enjoyed exploring this interesting part of the Philippines' history which was a new experience for e. 
Food in Manila
Walk across the river to Binondo – the oldest Chinatown in the world! And feast on tantalizing local cuisine some of the crowd-pleasers include Adobo, Kare Kare, Kinilow, Sinigang, and Halo-Halo dessert. You can also find Jollibee – the Philippines' version of McDonald's everywhere.  
Foodcourt in  Glorietta Shopping Mall in Makati District
---
Explore the waterfront bay area for chasing the sunset across the water, relax with a drink, or seek delectable street food. I enjoyed an amazing meal at Peoples' Palace in Greenbelt 3 in Makati. Peoples Palace is a popular Thai food restaurant offering great flavors of Thailand. The ambiance is cozy and the atmosphere is great for a get-together with friends. 
Ayala Museum and Dessert Museum in Manila
The Ayala Museum in Makati is a must-go tourist spot in Manila. Its 4 floors will take you from the rich ancient history of the region to local and contemporary art and the diorama experience (Tuesday-Sunday 9 am -6 pm, 100 PHP). 
Museo Pambata (Roxas Boulevard) is the ideal place for some fun yet educational activities for children. Here you can interact with the displays; learn about the working of the human body, step into the marketplace, an old church, or ride a Spanish galleon (PHP 150). Visit the Metropolitan Museum of Manila (Roxas Boulevard) for a fix of contemporary art alongside Pre-Hispanic jewellery and Neolithic utensils (PHP 100)
You cannot visit Manila and not see the quirky, flamboyant Dessert Museum whether you are with friends or family 8 eight larger-than-life dessert-themed rooms will make you take pictures, slide through doughnut holes, walkthrough candy grooves, and eat curated desserts along the way. Get the ticket online from the KLOOK website for a discount on the money without compromising on the experience! 
Theme Park in Manila
The Manila Ocean Park is home to 14000 species of aquatic life indigenous to Southeast Asia, it boasts amazing viewing tunnels and adventures like swimming in a mermaid costume (350/head), shark and ray encounters (550/head), and underwater diving adventures (995PhP/head). Don't miss out on the chance for a discount from the Klook website.
Check out the Star City theme park (Pasay city) for that quintessential adventure ride experience.
Shopping in Manila
If you are looking for luxury items like Louis Vuitton, Marc Jacobs, Armani and Gucci Greenbelt Malls in Makati, Ayala Center and malls in Bonifacio Global City in Taguig City (25 mins from MM) are the places to be whereas you will find both high-end, knock off products and pre-loved items at Greenhills Malls at jaw-dropping prices from fashion products to gadgets and furniture. Another place to be is at the SM Mall of Asia at Manila Bay for shopping in Manila as well as food and entertainment. It has an in-house ice skating rink and an amusement park!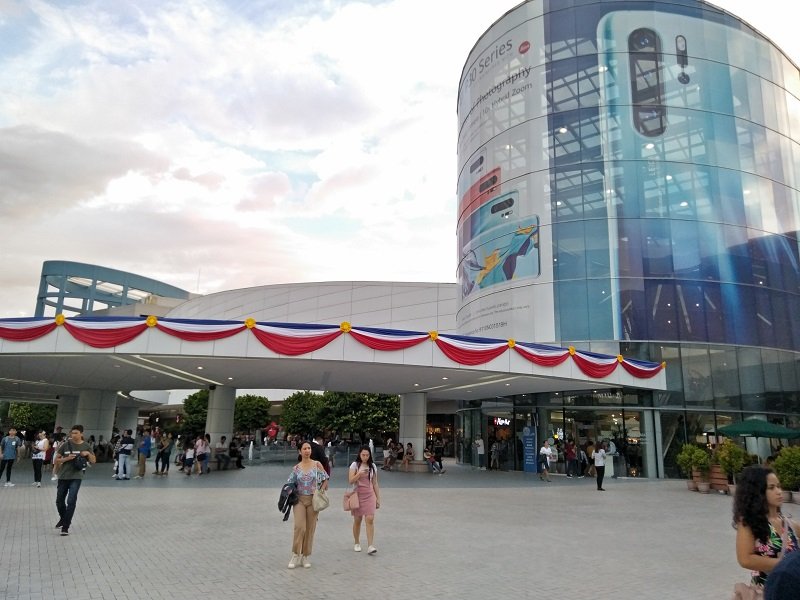 Mall of Asia in Manila is the largest Mall in Asia
---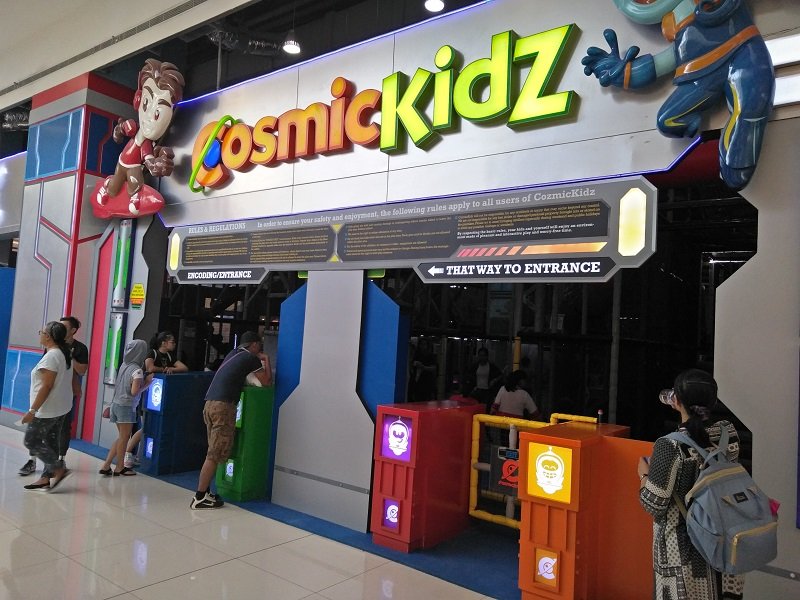 Kids Zone at Mall of Asia
---
Nightlife in Manila
Manila is great for a little fun in the sun, but its after-dark edition offers riotous delights. Go PubCrawl for hopping between bars/pubs with a group of locals. Travel to Manila for the quintessential Manila bar experience.
Enjoy 2 drinks with entry tickets, a cozy luxurious ambiance, some poolside fun and live music at Revel at The Palace (38th Street, Bonifacio) or head over to Black Market (Sabiao Street- free entry) nightclub for a more casual Manila nightlife experience.   
If you have a hankering for mermaid fishing- Air force one Manila (Gentlemen's Club/KTV) has a fine selection for all sorts of entertainment and after-dark fun. It offers a spa experience, dance shows, ramp walks, and drinks with a twist.  Makati nightlife is an experience unto itself. Walk down Manilla's famous red-light districts include  (Makati) and EDSA Complex (Pasay City) to meet Manila street girls.
Try your luck at Okada Casino built to put Manila on the map as a casino destination and the establishment boasts international standards.
Nightlife at Burgos Street Makati in Manila
Burgos Street is the heart of adult entertainment in Makati. This street is located a couple of blocks away from Greenbelt Shopping Mall. If you are planning to enjoy the nightlife in Manila and visit some jazzy sports bars like Howzat, Handle Bar and Grill, and Bikers Bar, Burgos Street is the place. You will find a number of budget hotels and massage places as well. 
Enjoy Mexcian street food at El Chupacabra, a popular Mexican street food eatery located opposite of H&J on Burgos Street. You will be approached by a number of working girls on the street and will try to strike up a conversation. 
Another interesting place to meet girls in Makati is Cafe Havana in Greenbelt 3 area.  
Other related content
---
Pin it to read later!!
Scroll over the image