Travelling to Lake Taal & Taal Volcano and Tagaytay
Where is Taal Lake located?
You can easily travel to Tagaytay by bus and use local transport including jeepneys and rickshaws to commute in the local area. I highly recommend booking a car from Manila for a day trip. This will save you plenty of time and you can stop over for a nice location to take pictures and change your itinerary based on your places of interest. Manila to Tagaytay driving time is approximately 1.5 hours. 
I booked a car with an excellent driver from Manila. The benefits of travelling with a local driver are the local knowledge of the places. It is best to negotiate a daily rate with the driver including fuel and time or return. A day trip from Manila to south or north should cost between 4500 Pesos to 6000 Pesos. In my experience travelling with a local driver is better than renting a car in Manila. 
If you are planning a self-drive to Lake Tagaytay it is best to rent a car from Nino Aquino International Airport.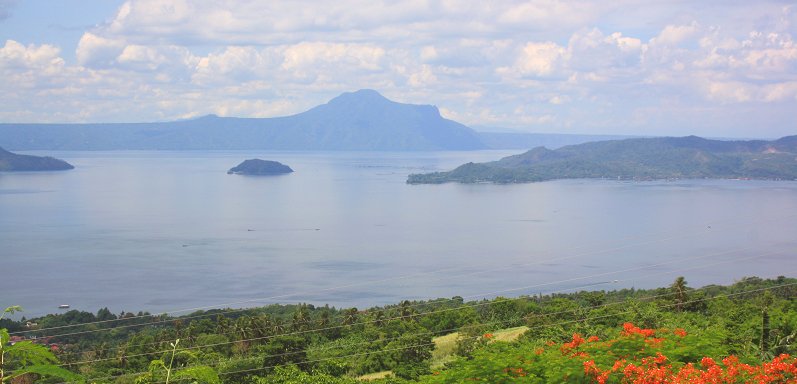 Views of Lake Taal from Picnic Grove Area
---
TIP: I travelled with Carlos from Manila, Angeles City and Subic Bay area and found booking the car the best way to travel for day trips around Manila. Renting a car can be an expensive option in Manila and driving a challenge that you would want to avoid at all costs. 
We started early at around 5 am to beat the city traffic. The trip took us around 1.5 hours to the Picnic Grove area of Tagaytay. 
First stop in Tagaytay: Picnic Grove Area 
Tagaytay is a hilly area with a massive lake Taal around the active Taal Volcano. The city of Tagaytay is perched on top of the hill commanding amazing views of the lake. 
Picnic Grove are is a popular tourist area offering great views of Lake Taal. There are a couple of nice local cafes and sitting area. The facilities are rudimentary, however, for most visitors, it will be a starting point for a trip to Lake Taal, as you will be approached by a number of touts suggesting a tour of Lake Taal. 
You can negotiate a price with the tout as he will take you to one of many hotels located along the Lake area. The resorts have wooden shacks and cottages as well as 4-star resorts.
Second Stop: Lake Taal Boating Trip
Local resorts can charge about 300 Pesos for using their facility to relax or enjoy meals before boarding on the boat. The boat costs around 2000-2500 Pesos which will take you to Taal Island. You can hire horses or trek up to the top of the active volcano.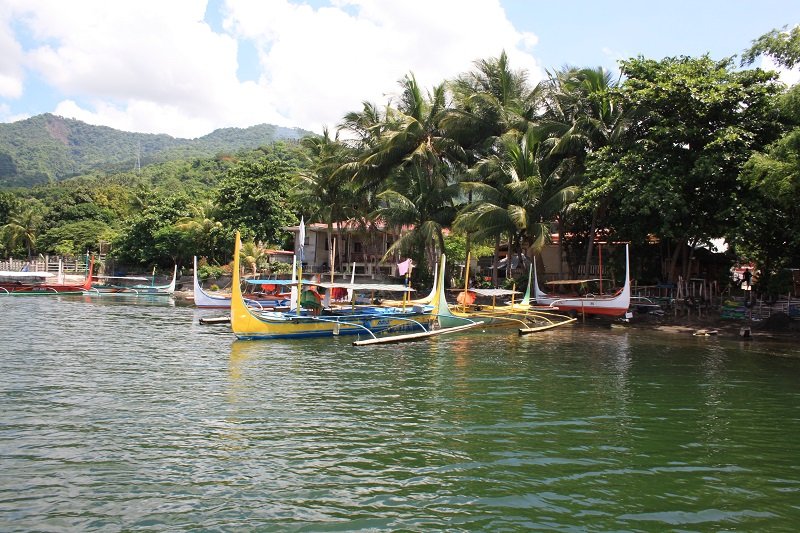 Lake Taal  Tagaytay Luzon
---
Lake Taal has a number of Talapia Farms and tours is quite enjoyable where you can enjoy some great scenic views of the Lake area. The tall buildings in the city of Tagaytay are visible from the Lake Taal Area. Taal Volcano is popular for a day hike. You can rent a horse on the Island and the trek to the top of the mountain takes around 45 minutes. Alternatively, you can hike to the top. A package tour can be organized by the resort located along the beach which works with a number of boat operators who can take groups to the Island and back. 
Taal Lake Facts
Lake Tall is located South-West of Manila in Luzon and is a major tourist attraction in the region
Lake Taal surrounds active Taal Volcano and covers an area of 94 sq. km and is approximately 24 long
The centre of the lake has a crater with a small lake which has last erupted in 2000
The tip of the volcano is accessible by tour operators from Tagaytay
There are several resorts located at the edge of Lake Taal that organize group tours to Lake Taal
The Taal hike difficulty level is medium and a return hike should take around 2.5 hours. The trail length is around 1.7 km. It is best to do the hike early in the morning as the day time temperature can very high. The summit of the mountains commands a great view of the circumference of the peak.
The drive from Picnic Grove to the Lake Taal area is quite scenic. This area is named "Santorini of Philippines". There are a number of high-end resorts as well as expensive celebrity bungalows along the road. Lake Taal area is a popular hangout with rich and famous in the Philippines. 
Views of Tagaytay from Lake Taal
---
I enjoyed breakfast in a Bamboo hut along the lake before boarding a beautifully coloured boat for a one hour tour. A trip to the top of Lake Taal can be hectic. if you have a couple of days to yourself, you can plan one day trip to the Taal Volcano area. I decided to enjoy the boat tour and head on to explore some local five-star resorts to understand various accommodation options available in this area. 
Where to stay in Lake Taal Area?
Club Balai Isabel is a great location if you are planning a weekend excursion to this area with your family. Private apartments and rooms are available for large groups. This is a very well maintained property and a great place to stay for the weekend.
Kids attractions include an inflatable island and water sports in Lake Taal. Club Balai organizes their own tours to lake Taal and Taal Volcano. Staying at this amazing location you can enjoy a great view of the look or simply soak on the outdoor pool overlooking the volcanic craters. 
Check Latest Rates at Club Balai Isabel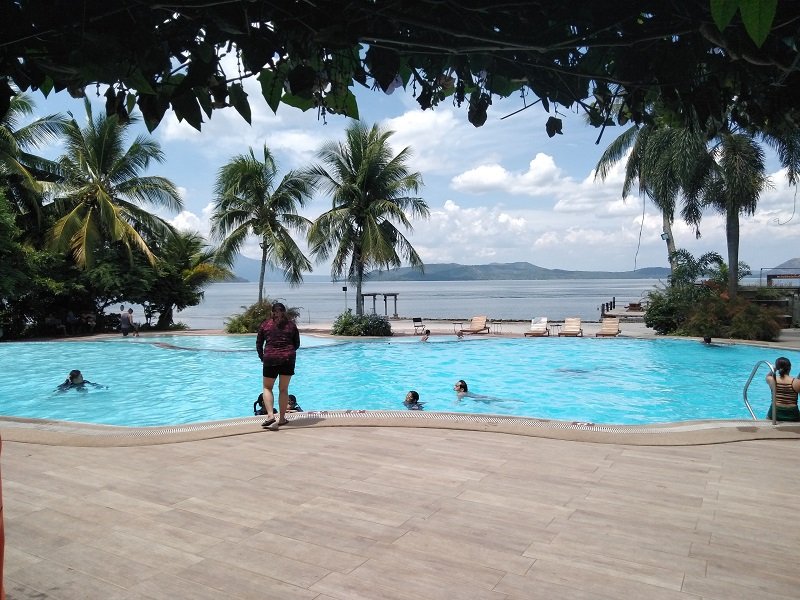 Club Balai Isabel Outdoor Pool facing Lake Taal
---
Third Stop in Tagaytay: The Pink Sisters
 Pink Sisters Cathedral is located in Tagaytay city surrounded by pine trees. The stone structure with a green roof is a sanctuary of peace and an amazing place to reflect and meditate and connect with God. There are some very nice hotels located adjacent to the chapel for people who plan to spend some quality time in this place of worship. 
Pink Sisters Chapel Tagaytay
---
9061 Gen. Maitim 2 East, Emilio Aguinaldo Hwy, Tagaytay, 4120 Cavite, Philippines 
+63 917 638 5762
4th Stop in Tagaytay- Starbucks in Tagaytay 
Starbucks at Tagaytay is probably one of the best locations for a Starbucks I have come across in my travels. Located on the top of the hill, the location enjoys amazing views of Lake Tagaytay. I stopped by an interesting location to enjoy a nice cup of coffee while viewing the beautiful locations.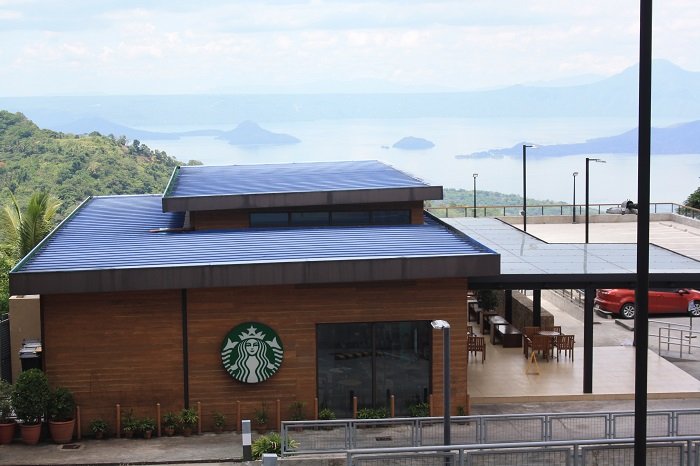 ---
5th  Stop in Tagaytay - Sky Ranch Tagaytay

 
Sky Ranch is a great location for kids
 with plenty of rides including Ferris wheel, zipline rides, bumper cars, express trains and many others. There are a number of nice cafes and restaurants located outside the park. The best way to enjoy this theme park is a keep an eye on the special promotion going on during the time of your travel. 
The park is ideally located on a hilly crest overlooking lake Taal. You can enjoy amazing views of Lake Taal from the top of the Ferris Wheel and Zipline in the park. 
A number of cafes and restaurants have located the entrance which is ideal for a brunch or lunch break during your adventures in Sky Park. Each ride is priced separately. There is an entrance fee that has to be paid at the entrance of the facility. Here are some interesting pictures of Sky Ranch in Tagaytay.
---
6th Stop in Tagaytay: Leslie's Restaurants in Tagaytay 
Leslie's Restaurant is a tradition in Tagaytay serving popular Filipino dishes including Bulalo ( beef broth ) and Tiwilis ( deep-fried fish unique to this region). The ambience is great and the lunchtime is quite crowded with families. You will spot some local singers (mariachis) signing popular tunes and birthday songs for some customers. I thoroughly enjoyed the atmosphere and food.
The menu is pretty impressive and there are plenty of local dishes to try. I order some stir-fried seafood dishes, bulalo (beef broth with vegetables), tiwilis (deep-fried sardines served with chilli sauce) with a coconut drink. Really enjoyed the food.
OzAsiatraveller at Leslie's Tagaytay
---
Other places of interest include Ayala Shopping Mall, Fruit Market and definitely Rowena's Cheese Tarts. I would recommend staying in Tagaytay for at least two nights to explore all attraction. There are a number of boutique hotels located on top of the hill overlooking Taal Lake. The view is definitely unique and makes this city an amazing place to stay. 
7th Stop: Ayala Mall in Tagaytay
Tagaytay is a modern city with all amenities including top-end hotels, shopping malls and restaurants. I plan to visit this location next year for an extended period to enjoy all the major attractions. Ayala Mall is a popular shopping area located very close to SkyRanch on the main road in Tagaytay. There are plenty of boutique hotels located on the hillside facing the amazing views of Lake Taal.
The Ayala Mall is a modern mall with a number of speciality stores, food markets, cafes and restaurants. This spot is definitely the place to shop if you are staying in Tagaytay for a couple of days. For a day trip, pop into enjoying coffee at one of the coffee shops on the ground floor. 
If you plan to stay for an extended period in Tagaytay, Ayalaya Malls is a great place to shop for grocery and food items. I definitely want to plan a longer holiday with family to this amazing part of Luzon. 
 Hotels in Tagaytay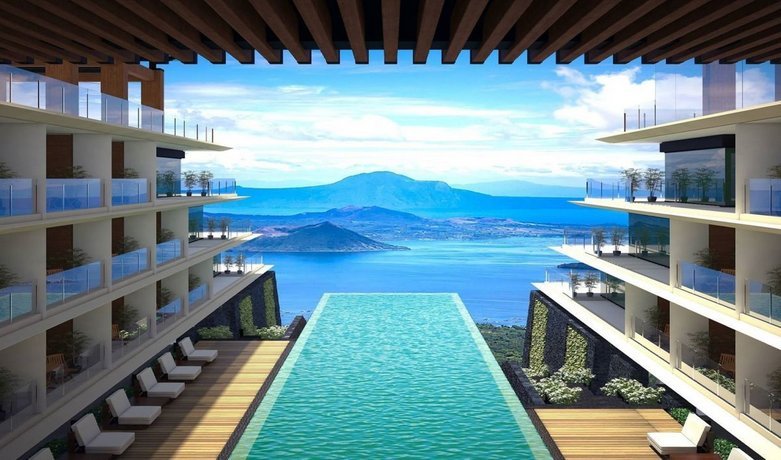 ---
There is plenty of cheap accommodation available in the Tagaytay and Lake Taal area. Some people visit Tagaytay to enjoy the chapels and church for which this city is so famous. There are a number of quality hotels located right next to Pink Sisters Chapel. Other visitors keen on exploring Lake Taal and Taal Volcano tend to rent resorts along the Lake. I highly recommend Club Balai Isabel, an excellent property located on the shores of Lake Taal. 
A stay in one of these hotels is a must if you want to enjoy the best of the Tagaytay Holiday. Here are some interesting hotels with the view of Lake Taal,  I explored during my trip:
Hotels with a View in Tagaytay 
Best places to stay in Tagaytay
---
On our way back to Manila we stopped by the popular Rowena's Tarts to buy some popular tarts for our trip back to the city. This store is located across from the Tagaytay Fruit Market. This region is popular for plenty of tropical fruit including pineapples and bananas. I bought some local fruit and tarts from Rowena's store.
The return trip took around one hour and we were lucky not to have enough traffic after six pm.