Kuching is one of the most interesting destinations in Malaysia located in the Southern end of Sarawak in East Malaysia. The flight time from Kuala Lumpur is approximately 1 hour. AirAsia flights operate daily with prices ranging from RM 400 to RM 1000 (between A$ 10 -30).
The best way to utilize your day is to book an early morning flight from Kuala Lumpur to Kuching.  My knowledge of the history of the Sarawak region was very little and I decided to pick a new destination in Malaysia. Kuching, to my surprise, was a unique adventure and amazing dive into the rich cultural history of Malaysia. Here are some interesting recollections from my three amazing days in Kuching.
Quick Guide to Kuching
1. Day 1 in Kuching 
1.1 Staying at Grand Margherita Hotel
1.2 Centerpoint Shopping Center
1.3 Jalan Abell & Jalan Padungan
1.4 Tun Juggah Shopping Center
2. Day 2 in Kuching
2.1 Sarawak River Cruise
2.2 Fort Margherita
2.3 Sarawak State Museum
2.4 Lunch at James Brooke Cafe
2.5 Carpenter Lane &
Backpacker Hostels
& Bars
3. Day 3 in Kuching
3.1 Trip to Sarawak Cultural Village
3.2 Dinner at Top Spot Seafood
3.3 Exploring Sarawak Waterfront
---
Arriving in Kuching Sarawak from Kuala Lumpur
The first thing you notice immediately after arriving in Kuching is the lack of public transport. Therefore, install the GRAB application on your smartphones before arriving as this is the cheapest and quickest way to get to your hotel. The ride-sharing application GRAB  is a must to commute in Kuching  GRAB ride from Kuching Airport to the main area of the city costs around 10 RM (US$ 2.5).
Taxis cost around 25 RM. Therefore, GRAB is the obvious choice. Mid-February is the rainy season in Sarawak. The rain has a short spell and clears up in an hour or two. It took me 25 minutes to reach my hotel Grand Margherita  ideally located at Sarawak Riverfront at walking distance from Sarwark River Cruise and other places of interest. 
Meandering Sarawak River visible from the plane
---
Day 1 in Kuching Sarawak: Where to Stay in Kuching Sarawak
Grand Margherita  is a great choice if you want to enjoy the city views and explore the city on foot. I explored a bit online and made a great choice based on reviews and location. Advance booking costs around A$ 60/night .
 The most important Landmark of Kuching, Cat Statue is located right in front of the hotel. My room was facing the Cat Statue and I could see a tourist taking photographs of this interesting landmark even in the middle of the night as the place is easily accessible by a short walk from the Sarawak Riverfront which stays busy till late over the weekends.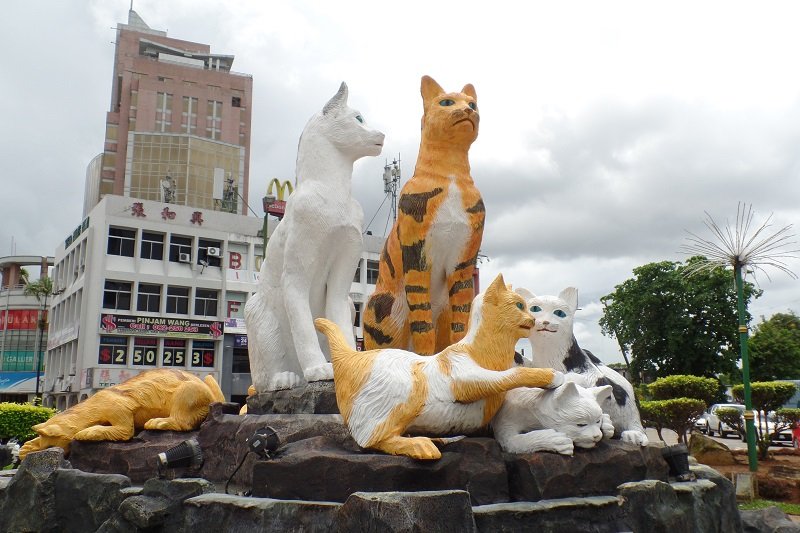 Statue of Cats in front of Grand Margherita Hotel in Kuching Sarawak
---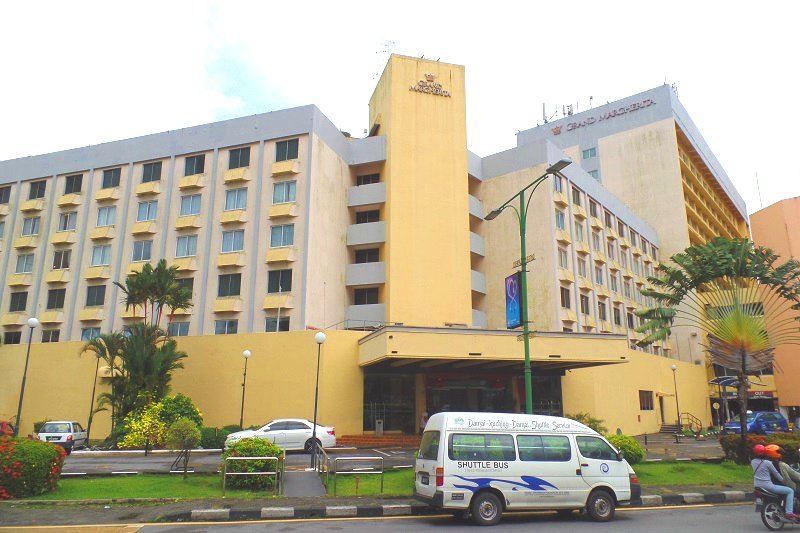 Grand Margherita Hotel Kuching  
---
The Grand Margherita Hotel offers great services including a spa, restaurants and an outdoor pool. A 2-minute walk takes you to Sarawak Plaza and Centerpoint Shopping Center. Both of these shopping centres have food courts, pharmacies, salons etc. MacDonald, as well as KFC, is located right next to the hotel.
If travelling with family, Grand Margherita is a great location. I found a nice book store in Sarawak Plaza and a massage place in the basement managed by two blind individuals. They offer a one-hour massage for under 35 RM. 
Photos are taken during my stay at Grand Margherita  in Kuching City
---
Other places to stay in Kuching Sarawak
I enjoyed staying at Grand Margherita because of its ideal location next to the Sarawak River. In the evening I explored all the neighbourhood on foot. There are plenty of budget hotels located within half a kilometre of Grand Margherita. Exploring Jalan Abell and Jalan Padungan. There is plenty of mid-range and budget accommodation available in this part of the city with easy access to cheap cafes and restaurants.
---
The shopping centre adjacent to the hotel has a number of cafes, stores, book shops and salons. Places to eat in the vicinity of Grand Margherita include
1. Feast and Furious
2. Chong Choon Cafe
3. Top Spot Seafood Food Court
4. Tom's 
---
 Exploring Jalan Padungan & Jalan Abell in Kuching Sarawak
Jalan Padungan is quite popular for a mix of Asian and Malay restaurants. A lazy walk on a weekend morning takes you through a wide array of restaurants lining both sides of the road. You will find noodle shops, bars and some fancy cafes offering Malay Fusion Food.  I had breakfast at the famous Chong Choon Cafe which attracts a large local crowd for breakfast. I tried some local noodle dishes followed by a simple toast and egg brekkie. I liked the place as the food was nice and fresh and reasonably priced. 
Famous Chong Choon Cafe 
---
Some budget hotels in this locality of Grand Margherita include:
Looking for a cheap hotel in Kuching?
Get the best hotel rates online...
---
Where to eat near the Grand Margherita Hotel in Kuching Sarawak
Top Court Food court offers great seafood and is open for dinners. I enjoyed a lavish meal on the weekend night when the food court was packed with local crowds. The seafood is of great quality but some varieties of fish including pomfret are quite expensive. Food Court at Tun Juggah Shopping Center is also a great option for lunch. 
Tun Juggah Shopping Mall is located within walking distance from Grand Margherita
---
Exploring Jalan Padungan on foot
Jalan Pundagan is popular for a number of restaurants, shopping Malls and budget hotels. The street is located within walking distance of the Grand Margherita Hotel.  A cat statue marks the beginning of Jalan Padungan. I explored the street on foot and found a number of restaurants full of local people.
A number of food courts are located along the road offering a wider range of local delights in Kuching. If you are looking for cheap accommodation in Kuching, you find a number of 1-3 Star hotels under $20 a night. 
Try out local food at Country Kitchen, Cafe @ Padungan and other local cafes along the road. 
---
Exploring Sarawak State Museum in Kuching 
Planning on exploring Kuching attractions?  I started my first day by exploring the Sarawak Museum and Sarawak Textile Museum which was quite an interesting experience into the cultural and economic history of the region. Both buildings are located within a walking distance of the Kuching waterfront area. I reached the Museum by walking at a leisurely pace along the waterfront and then following the map to Sarawak Museum. 
Sarawak Museum is a great place to learn about the history of various tribes who lived in the Borneo and Sarawak region. There is a large collection of local flora and fauna and stuffed animals found in the region. The Sarawak Museum Building comprises several sections divided into cultural history, tribal lifestyle, artifacts & totems as well as the economic history of the region. There is a huge collection of items on display.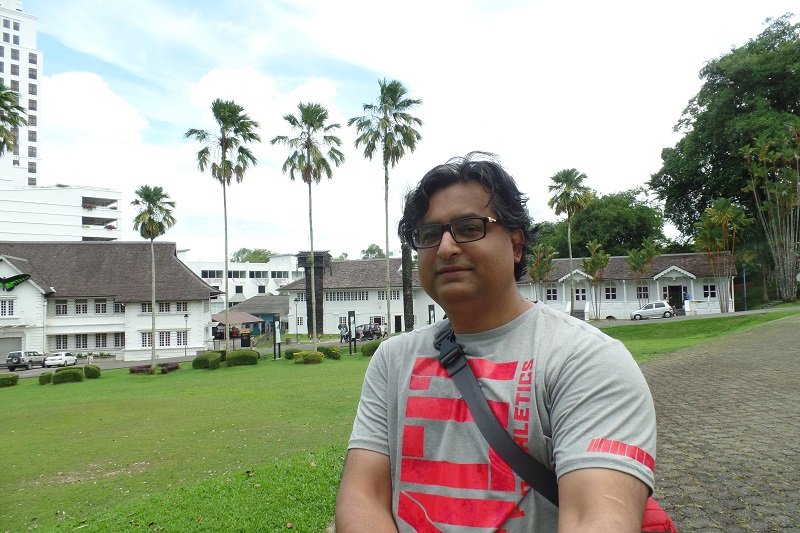 Ozaisatraveller Outside Sarawak State Museum in Kuching
---
The museum provides an interesting insight into early exploration in the region and the history of tin mining in the region. A section is dedicated to the art and crafts of local people.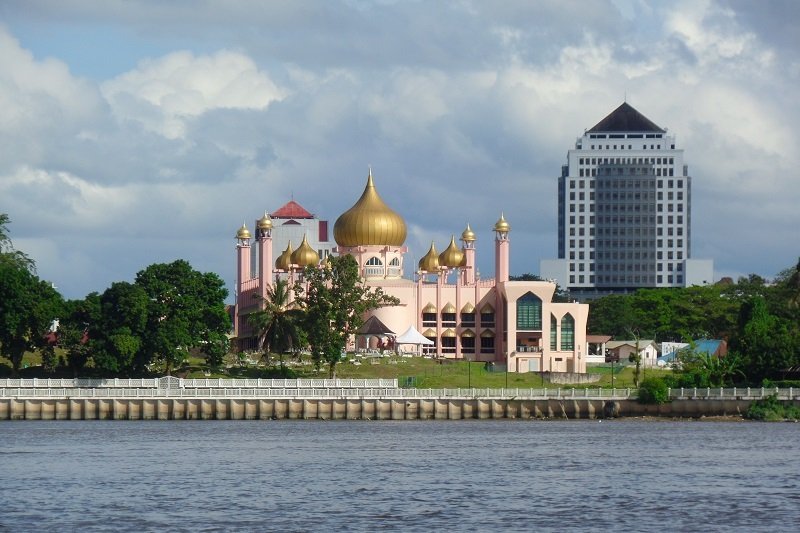 Kuching Mosque visible from the boat during the Sarawak River Cruise
---
A 20-minute walk towards the old part of the town takes you to Kuching City Mosque. I offered my Asr prayers at the mosque and enjoyed some peaceful moments in the serenity and calmness of this amazing building. 
Beautiful Interior of Kuching Mosque
---
2nd Day in  Kuching Sarawak: Sarawak River Waterfront & Grand Margherita
Sarwark River Water Front & Fort Margherita
Sarawak River Waterfront is an amazing hangout all through the day and gets quite busy on the weekend nights with riverside cafes and live entertainment. One of the star attractions is the Sarawak River Cruise. The cruise cost around RM 60. An alternative option is a one-hour traditional boat tour costing around 18 RM and provides great views of the city from the river. Make sure to keep your hands out of the water to avoid occasional crocodiles feasting in the neighbourhood. 
---
Sarawak River Waterfront in Kuching City
I hopped on a local transport boat to go across to the opposite side to explore Fort Margherita and Astana. Fort Margherita is a historical landmark and great cultural Icon which is well preserved with a large number of relics from the colonial occupation of Sarawak. The tickets to the Fort costs RM 20. 
The area has a very rich traditional history of Dayak and subtribes that occupied the region for centuries. The ticket also provides access to the goal and execution areas within the fort. The top of the fort provides amazing views across the river. 
Visiting Fort Margherita across the Sarawak River 
---
I decided to have lunch at the famous James Brooke Cafe. The cafe is located near the riverfront and offers a great location to enjoy the local crowd. I ordered the famous Kuching Laksa and some house desserts. The decor and ambience of the cafe are great and offer relief from humidity during the rainy season.  
James Brooke Cafe near the Kuching Waterfront
---
Exploring Bazaar and Carpenter Lane in Kuching Sarawak
This is the most interesting area of Kuching Downtown with narrow alleyways containing hidden eat-outs and budget backpackers' accommodation. Carpenter lane is quite popular with westerners as it provides easy access to all the late-night bars and restaurants including Kai Joo Lane in the Main Indian Shopping Area.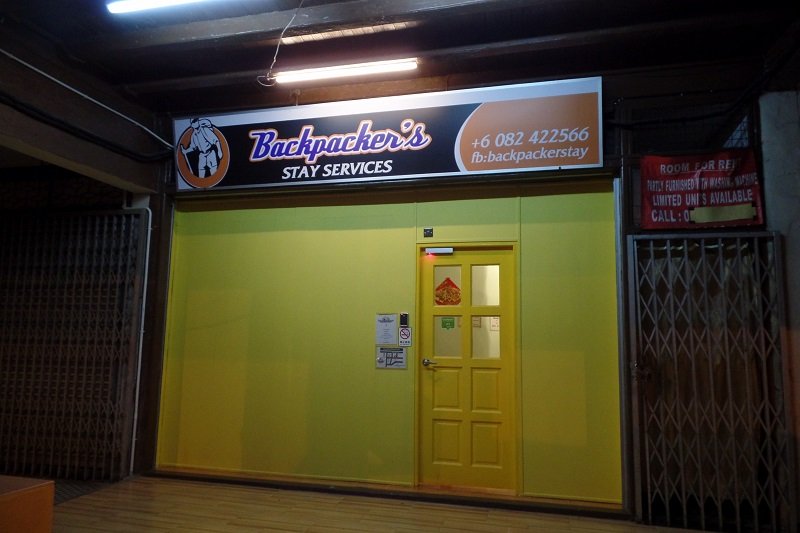 One of many backpackers places to stay in Carpenter Lane
---
The bazaar along the riverfront has a number of Souvenir and craft shops. The inner streets are painted with beautiful murals reflecting the colourful culture of Kuching. You will also find several tour operators in these streets as this area is central to most tourists. 
Main Street Along the Riverfront
---
In the evening, I enjoyed the festivities of the Chinese New Year. People visit Tua Pek Kong Chinese Temple to say their prayers and make their offerings for a happy and prosperous year. This temple is located within walking distance from James Brooke Cafe and Sarawak Riverfront.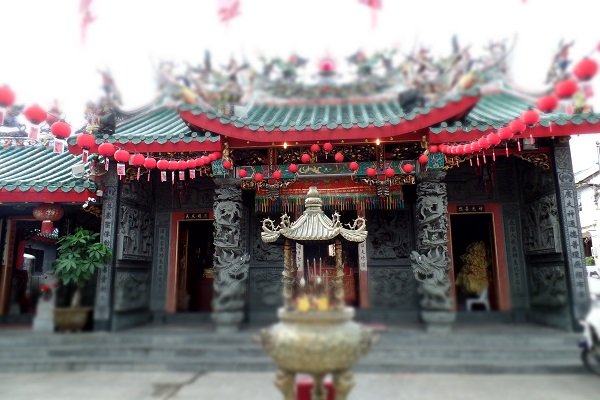 Tau Pek Kong Chinese Temple 
---
Day 3 in Kuching Sarawak: Sarawak Cultural Village at Damai
Sarawak Cultural Village Kuching
On the third day, I booked a tour to Sarawak Cultural Village from the reception at Grand Margherita Hotel. A shared van costs around 50RM and departs from the hotel around 9 am. A 45-minute ride through some interesting landscapes takes you to the Sarawak Cultural Village. The location is famous for Rainforest Music Festival which is held annually and brings large crowds from all across Malaysia.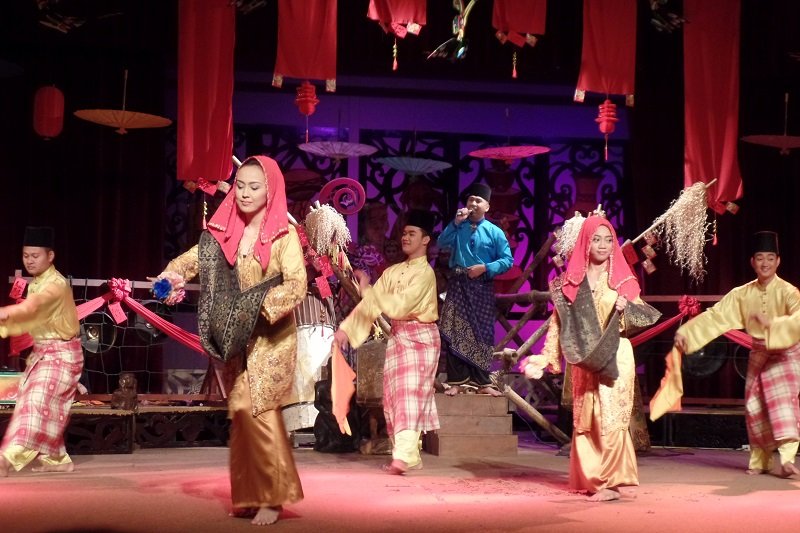 Cultural Show at Sarawak Cultural Village
---
The cultural village needs good 2-3 hours to explore. The different sections of the village have a replica of longhouses built by various tribes that lived in Sarawak and Sabah. Each tribe has a distinct style of longhouse, totems, dress and lifestyle. It is quite interesting to observe how these tribes created weapons, made clothes from natural materials and survived in the wilderness of Borneo and Sarawak.
In the later afternoon, a performance is held in an auditorium where various artists perform wedding ceremonies, cultural dances, social rituals and hunting traditions passed down through generations. I really enjoyed this cultural show and bought some nice souvenirs before heading back into Kuching.
Ozasiatraveller with Ladies in Cultural dresses from various tribes in Sarawak
---
On returning to the hotel I decided to have seafood dinner at Top Spot Seafood Center. This open seafood is located within walking distance from the Grand Margherita Hotel and is very popular with local families who enjoy local seafood on weekend nights. I tried some local varieties of pomfret fish and prawns cooked in local sauces. The food was a bit expensive but worth every penny. 
Sarawak Cultural Village
Cultural Show at Sarawak Cultural Village Kuching
Later on, at night I walked along the riverfront to Kai-Joo Lane. The street is quite busy over the weekend with local markets and looks nice with colourful murals on the walls. 
Carpenter lane is quite popular with the backpacker crowd and you can book a shared dorm for under RM 20.  "Wrong Place" is a popular and trendy hostel in the centre of the old city. There are a couple of nice bars in the street that stay open till late and offer a great opportunity to meet locals and travellers.  
Walking through streets of old Town
Views of Istana from Carpentar Lane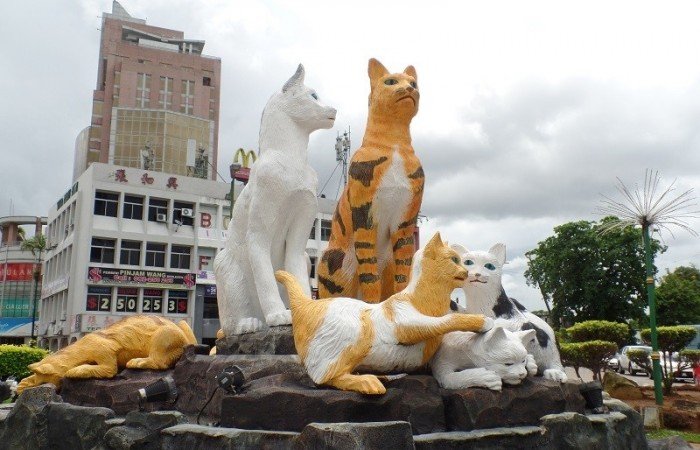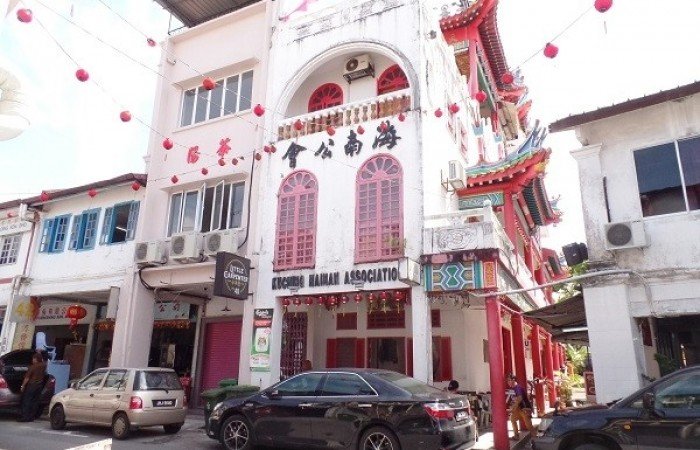 James Brooke Cafe near the Sarawak Riverfront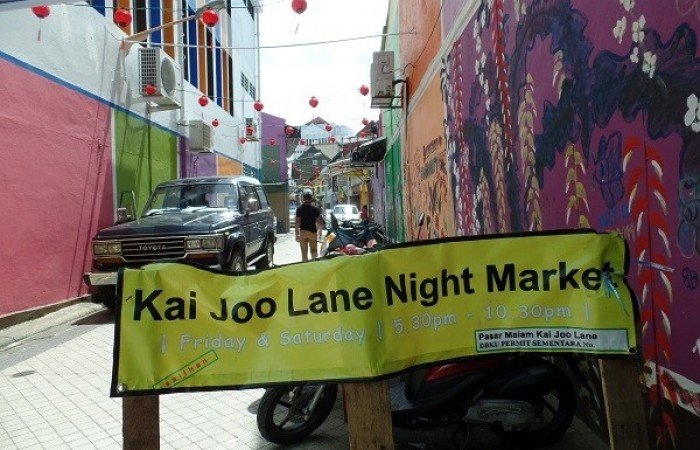 Kai Joo Lane is popular for night arkets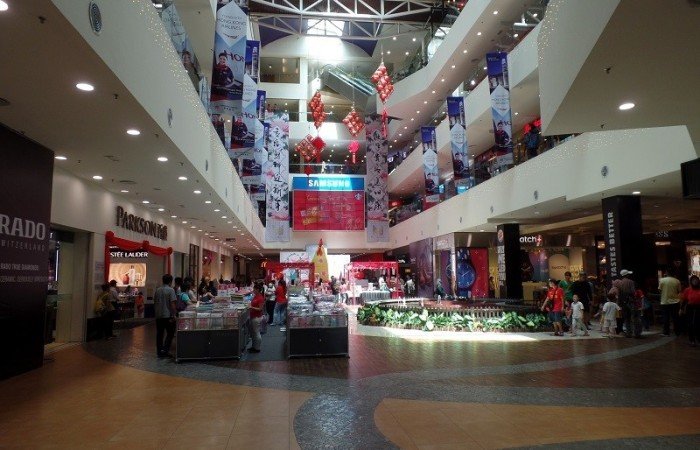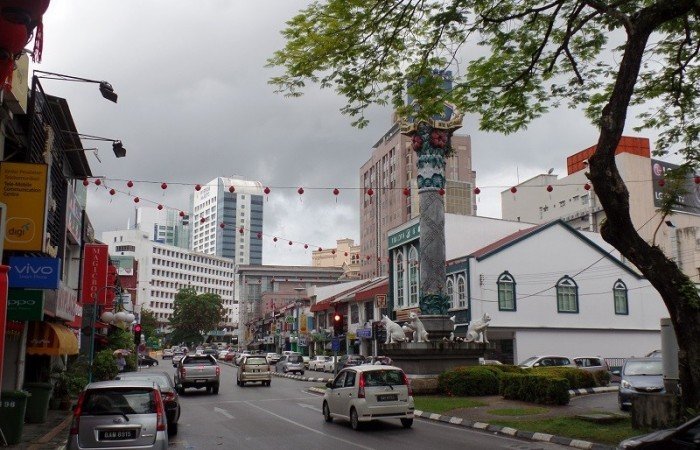 A temple near James Brooke Cafe
---
Some more great reasons to travel to Kuching Sarawak - National Parks in Sarawak 
One of the most popular travel experiences that makes Sarawak different from other places in Malaysia is its unique landscapes and flora and fauna. The forests in the national park are some of the oldest rainforests in the region and are home to unique species of wildlife. 
Sarawak Government is making a constant effort to promote nature tourism. Guided visits to the National Parks and homestays are a step forward in this direction. 
---
Kuching Wetlands National Park
Covering over 6000 sq. hectares this park is located 15km north of Damai. The shallow mangrove wetlands are home to a local variety of birds and proboscis monkeys that attracted early western explorers to this part of the town. An intricate network of shallow waterways connects major rivers in the region. 
Other species of wildlife include alligators, silver leaf monkeys, macaque monkeys, monitor lizards and the man-eating alligators that roam the marshes. Wandering off into the parks by yourself or swimming in the waterways is not recommended. 
I learnt my lesson first-hand by observing the skull of the person at James Brooke Gallery at Fort Margherita. His watch was also recovered from the massive animal. There are occasional reports of crocodile attacks in the region. 
---
Bako National Park
Bako National Park is a relatively smaller park covering 27sq.km offering a wide range of flora and fauna local to Borneo. A number of walking tracks (guided tours recommended) are available in various lengths and strength levels. 
Bako national park is a paradise for bird watchers, as the mangrove and water bodies provide a safe refuge for a number of species that thrive in tropical jungles. Kingfishers, owls, flycatchers and Asian bluebirds are common species of birds found in Bako National park. 
---
Kubah National Park
Another great location for a day trip from Kuching can be accessed by car. The drive time is 40 minutes and it's better to start early. The park has a number of walking tracks offering a great opportunity to explore local varieties of birds, water bodies and mountainous features.
The waterfall track is the most popular trail in the park, traversing through an interesting mix of landscapes, plank boardwalks and finally reaching the waterfall. 
It is recommended to book a tour from a number of tour operators working from the area in Kuching city centre. 
---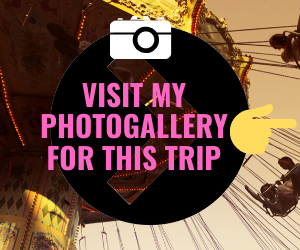 Pin It to read later!
Scroll over the image to save it.