Kuala Lumpur is a great city for a family holiday. There is plenty of things to do in Kuala Lumpur for visitors from all age groups. Attracting over 26.1 million international tourists in 2019 and over 57,000 rooms available in hotels in Kuala Lumpur has become a hub of tourist activities. 
A large number of tourists in Kuala Lumpur arrive from neighboring countries like Thailand (10 million) and Singapore (over 4.6 million). If you are traveling solo or with family and looking for the best things to do in KL and Selangor, this is a useful guide for you. 
Malaysia is also very popular for family holidays from middle eastern Muslim countries like Saudi Arabia, Dubai, and Kuwait. The average stay in most countries is approximately 7-9 nights (2018 tourist data). Therefore, planning your trips to Kuala Lumpur should include days of excursion to some amazing locations around Kuala Lumpur. 
Planning to travel on a budget? Here are some useful tips for enjoying Saving money and seeing Kuala Lumpur city
I have visited Kuala Lumpur over 30 times in the last 10 years and explored almost all of the popular tourist places of interest in KL and Selangor.  Whether you are planning to travel south or north, there are plenty of places to explore including coastal towns, hill resorts, casinos, theme parks, and historical towns. 
Save the hassle of booking transport and guides, BOOK YOUR TOUR WITH GETYOURGUIDE for the best guided day tours from Kuala Lumpur with experienced operators. 
Here are some useful tips for planning a day trip to Kuala Lumpur attractions
Book Beforehand as advance booking to save time & $$$
Compare rates with local tour operators. Most Hotels have their own tour desks which provide useful information and book tours. Tours offered by hotels are much more expensive than options available online. Link
Book a tour with a driver in a Premier Taxi ( Blue 4-Wheel drive). Most drivers provide you with their business cards and fixed rates for the most popular tours
Book your own car  from Kuala Lumpur airport and plan your own custom tours
Most popular locations are accessible by local transport from KL Sentral and BTS (Main Bus Terminal in KL)

---
I suggest making an early start to make the best out of a day trip from Kuala Lumpur CBD. In this article, I will explore the 4 most popular locations for a day trip from Kuala Lumpur. 
List of the best places to go in KL for a day trip
---
1. A Day Trip to Genting Highlands from Kuala Lumpur
Genting Highlands is a popular destination located at 1865 m above sea level and is approximately one hour drive from Kuala Lumpur City. Visitors escaping the summer heat and crowds of KL city find Genting Highlands an amazing location for a day trip or a weekend escape for couples as well as families.
Major activities in Genting Highlands include Awana Skyway Cable Car, Strawberry and Lavender Gardens (Ghotong Jaya), Casinos, Food Courts, Shopping Malls, and Indoor Theme Parks. The outdoor Theme Park at First World Hotel is under construction and will be opened in late 2019. 
How much is the Genting Highlands Theme Park Ticket?
The outdoor theme park, Skyworlds Genting has opened up and is attracting large crowds. The entry fee is RM 190 per day for unlimited rides at the Skyworlds Genting Theme Park. 
The indoor theme Park, Skytropolis provides a wide range of rides for children from all age groups. A whole day passes for
The indoor Theme Park at First World called Skytropolis  is a great place for kids and it has been attracting large crowds since it has been opened. Other attractions for kids include Ripleys Museum, BigGame Video Game Park, Snow World, and Train to Busan Horror Park. 
To enjoy all these activities it is recommended to book the resort/hotel for at least two nights. Enjoy mid-week low rates with Agoda for First World Hotel, which has the highest number of rooms in the world. 
A charter vehicle  for a day trip from Kuala Lumpur to Genting Highlands will cost from RM 250-450 ( US$ 100) depending upon the group size. A cheaper way to travel is to book a bus from KL Sentral. The return ticket is subsidized by casinos and costs around RM 100. A RM 47 tickets provide a return ticket, lunch, and chairlift pass. The tickets are available at KL Sentral and various locations in the city.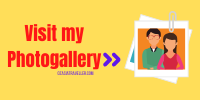 Awana Skyway Cable Car: Source KLOOK
---
Read More about Genting Highlands
2. A day trip to Bukit Tinggi, Berjaya Hills
Bukit Tinggi is one of my favorite KL attractions and a popular weekend destination for tourists. The major attraction in Bukit Tinggi is a French-styled village called Tropicale Colmar. This location is probably the most "instagrammable" location in the region. The small village is equipped with cafes, restaurants, gaming arcades, and a hotel. You can enjoy some scenic views of the location from the clock tower located in the village. 
Another major attraction, "The Chateau" is a five-star resort located adjacent to Tropicale Colmar. Guests at the resort can enjoy lavish spa treatments, fine dining, and outdoor activities including riding, trekking, and golf. 
Japanese Garden is located very close to Tropicale Colmar and is a great place to enjoy the serenity and calm environment of Berjaya Hills. Japanese Garden is a great place to explore with children. Enjoy the serene atmosphere of the gardens with beautiful bamboo structures and water flowing through to different ponds filled with goldfish. Tatami Spa offers a day of relaxation with massage facilities. Check out my photo gallery for Japanese Garden .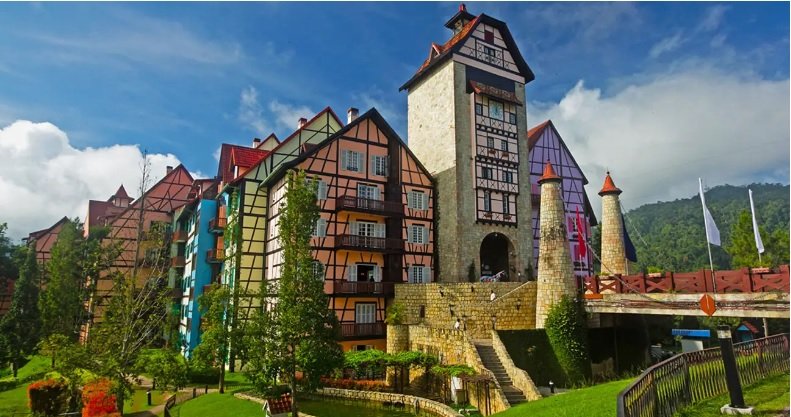 Tropicale Colmar, Bukit Tinggi: Source Klook
---
If you are visiting this location for a day trip the entry fee to Bukit Tinggi is RM 15 for adults and RM 10 for children. As this location is not accessible by public transport, a day booking of a car or taxi is the best option to explore this interesting location in Kuala Lumpur. Bukit Tinggi and Genting Highlands can be covered in one day if you start early in the morning. A taxi costs around RM 450 for this day trip. Book a Tour to Bukit Tinggi with Klook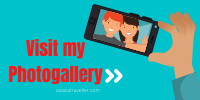 ---
3. A day trip to Ipoh from Kuala Lumpur - Lost World of Tambun
Ipoh is an interesting city in Malaysia located 200 km north of Kuala Lumpur. I have visited Ipoh a couple of times with family and thoroughly enjoyed the popular Sunway Theme Park "Lost World of Tambun". The driving time from Kuala Lumpur to Ipoh is 2.5 hours. The road network is amazing the trip is equally enjoyable on a bus or a tour van. If you are traveling in your own car there is a lot more flexibility to extend more destinations as catching taxis inside the city is very time-consuming. 
Ipoh is historically a tin-mining town and is for mountain temples, amazing food, Kellie's Castle, and caves. 
Some exclusive resorts in Ipoh have unique caves and natural spas which make them quite an exclusive and popular location for a weekend retreat from Kuala Lumpur. One of these locations is the Banjaran Hot Springs Retreat .
Hot spas are also located inside the Lost World of Tumbun and operate till midnight. The entry fee in the evening is RM 10. You will have access to steam baths, hot steam caves, and artificial formations. The experience is very enjoyable and rejuvenating.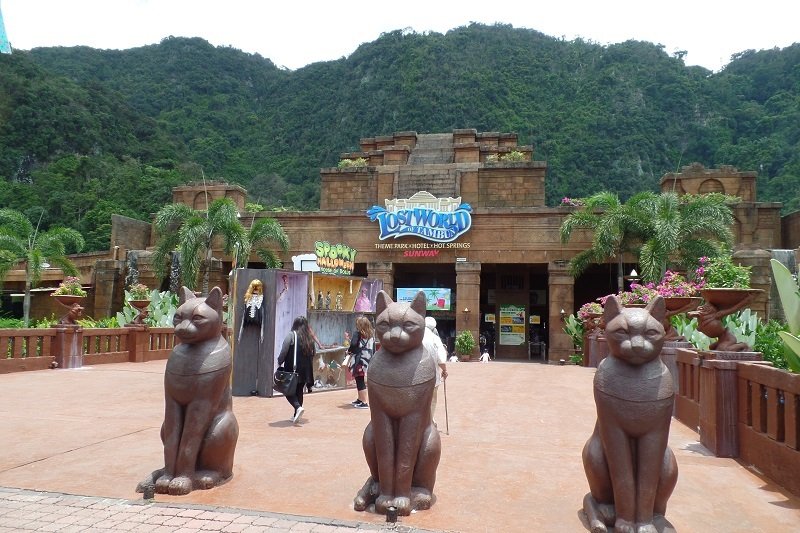 Lost World of Tambun
---
Lost World of Tambun is located next to the Sunway Hotel. Check out weekend deals before planning your trip. Start early from KL to get the most out of your trip to the Lost World of Tumbun as there is a number of activities for visitors from all age groups.  There is a water park with massive wave generators, Hot spas, Animal Kingdom and joyrides.  Check Online ticket Prices for Lost World of Tambun.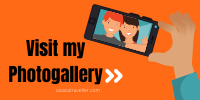 Other interesting places to visit near Ipoh include Taiping and Cameroon Highlands.  
---
4. A Day Trip to Melaka from Kuala Lumpur - Heritage City
Melaka is a very popular place to visit as it is easily located approximately one hour from Kuala Lumpur City. Melaka is a UNESCO heritage city with buildings from Dutch and Portuguese rules. Jonker Walk is the heart of tourist activities with old-style shops, cafes, antique shops, and an interesting night market. Visiting Malacca is one of the most popular cultural things to do in Malaysia. 
With the recent spate of property development, Melaka is attracting a large number of visitors. You will find a number of 4 & 5 Star hotels and resorts, massive shopping Malls, and a great dining experience. Malacca offers interesting holiday options for couples as well as family travelers. 
---
Melaka River Cruise, A' Famosa Resort, Menara Taming Sari (360-degree view of the city), Jonker Walk, and Melaka Straits Mosque are some of the popular activities you can enjoy during the day trip to Melaka from Kuala Lumpur. 
Other places I like in Melaka include Malacca Straits Mosque and shopping Malls including Dataran Palawan, Makota Parada, and AEON Bandaraya Malacca. Nightlife in Melaka is full of life with a large number of local places to eat. My favorite restaurant is Nancy's Nonya Kitchen offering a good mix of Nyonya cuisine. Book in advance to enjoy this amazing restaurant. 
Enjoy a buggy ride near A'Famosa Fort or catch a decorated Rickshaw for a spin from Dataran Pahlawan to Jonker Walk. Melaka is a great place to enjoy yourself with kids.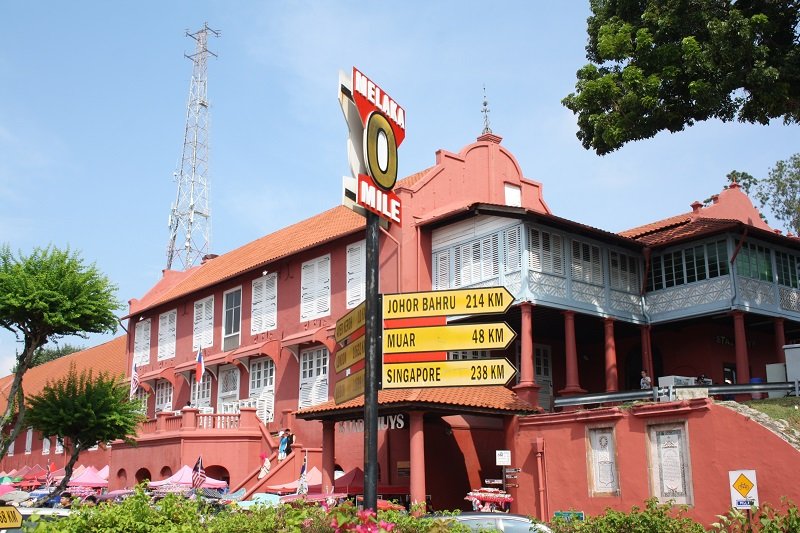 Studhueys Melaka
---
A popular way to travel to Melaka is to book a resort with a theme park. I stayed at Shore Apartments and Residences , a multi-story resort with plenty of activities for kids. A'Famosa Resort  is quite popular with outdoor theme parks and Safari.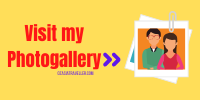 BOOK MELAKA DAY TOUR WITH ATTRACTIONS
Read more about Melaka on my website
Pin it to read Later!!!