Looking for the Best place to stay in Kuala Lumpur?
Concorde Hotel- Kuala Lumpur 

$$

2, Jalan Sultan Ismail, Kuala Lumpur, 50250 Kuala Lumpur, Wilayah Persekutuan Kuala Lumpur, Malaysia
Concorde is one of my favourite hotels when travelling solo or with family. The management of this hotel works with the military discipline to ensure utmost comfort is provided to the guest. The rooms are nicely furnished with three amazing restaurants on-premises including Hard Rock Cafe.  
Just around the corner on Jalan Ramlee, you can find a number of bars. Watch out for pimps and girls trying to reach out to you as if your only purpose of visiting Kuala Lumpur is to hire a beautiful lady for the night. The popular Beach Club is very close to the Concorde Hotel is an attractive spot for music and drinks. The cover charge is around 40 Ringgits. You can enjoy live music and a large number of local girls looking for prospective clients. Concorde offers best accommodation deals including breakfast under US80 for twin rooms.
One of my favourite breakfast in the Concorde Hotel in Kuala Lumpur 
---
Benefits of Staying at Concorde Hotel
Easy access to Bukit Bintang
Close to LTR
Easy access to Menara KL 
Easy access to Petronas Towers
Best breakfast in Town
Hard Rock Cafe is located in Concorde Hotel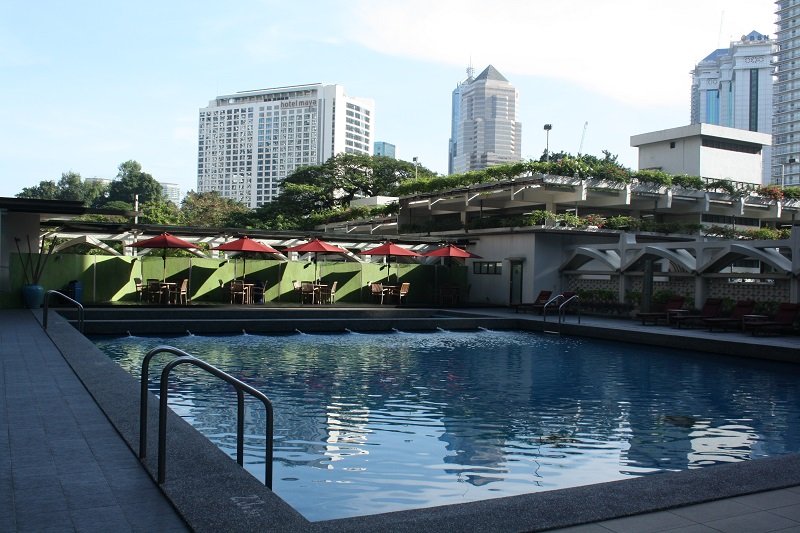 Outdoor Pool at Concorde Hotel 
---
The breakfast is quite lavish and caters to both local and international taste. Hard Rock Cafe is located right on the hotel premises and attracts a nice crowd over the weekends.
Enjoy live music in the lavish lounge on the ground floor on the weekend while sipping your favourite drinks. There is an impressive cigar room, two restaurants, a swimming pool and two massage parlours on-premises. 
The famous Menara is located on a hill in front of the Hotel. If you are catching trains to navigate to various parts of the city, Bukit Nanas station is located right in front of the hotel. Bukit Bintang is only two stations away and costs less than 2RM on the train and approximately 5 minutes.
Staying at Concorde Hotel in Kuala Lumpur during Christmas Season
---
KL Twin towers are around 10 minutes walk from Concorde Hotel . Another interesting hotel we checked in was the Traders Hotel. Traders Hotels by Shangrila is around 20RM taxi ride from Concorde Hotel. The great location of Traders Hotels makes it a great spot to stay whether you are a single traveller or travelling with your family.  A buggy ride from the lobby of Traders Hotel takes the guest to KLCC Suria Shopping Center which is right next to Twin Towers. You have easy access to public transport as well as great shopping and restaurants. The food court on the third floor of Suria Shopping Centers offers a good range of local and international food at a nominal price.   
Planning to stay at Concorde Hotel in Kuala Lumpur
Compare the best hotel rates online..
Traders Hotel by Shangrila Kuala Lumpur

$$$
Kuala Lumpur City Centre, Kuala Lumpur City Centre, 50088 Kuala Lumpur, Wilayah Persekutuan Kuala Lumpur, Malaysia
Traders Hotel is ideally located next to KLCC park. The location provides walking distance access to one of the best high-end shopping centres, KLCC Suria and Petronas Twin Towers. 
Advance booking can guarantee almost 40% discount over the walk-in rates. If you plan to stay central and enjoy the high-life in KL, Trader's is the hotel of choice. 
Traders Hotel nice lunch and dinner options at a restaurant on 5th Floor offers buffet and a la carte menu. Do try local Malay dishes including Oxtail Soup served at Gobo Chit Chat Cafe. Try local delicacies for breakfast and lunch. 
The Sky Bar at Trader's Hotel on 34 floors is a must-visit if you want to mix with the hip crowd and dance to funky tunes while overlooking some of the best views in Kuala Lumpur. Sky bars offers an interesting mix of popular drinks and snacks to keep you busy if you are catching up with friends. This is undoubtedly a great spot to meet mix crowd and dance the night away with friends. The couches around the pool offer modern and comfortable sitting. Check out the bar schedule online for various kinds of music played on different days of the week.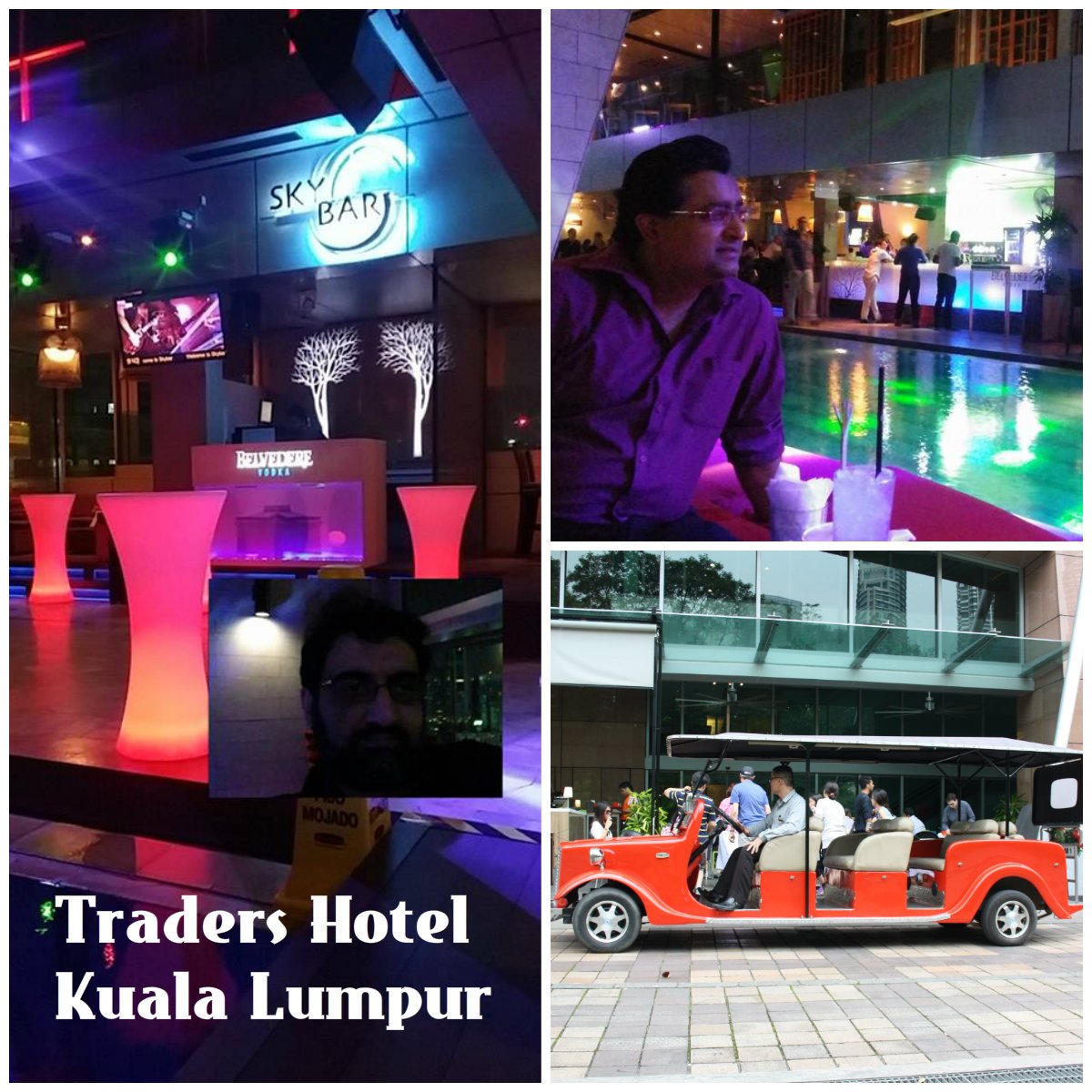 Walk next doors to KLCC Suria to enjoy warm coffee at Harrods.  Access to the observation deck on Petronas Towers costs RM 80, which is quite steep for an average traveller. You are better off enjoying a nice cup of coffee and durian pastries at Mandarin Oriental Hotel. The epitome of style and decor, one of the best hotels in town, Mandarin Oriental is located right next to the Twin Towers. Average room cost around US 145+. There is plenty of nice restaurant in the building including the latest addition, Mandarin Grill. Mosaic offers a great dining option for buffet lovers at a cost of less than RM 100 per person. 
Like to book Traders Hotel for your stay?
Compare the best hotel rates online...