Chase the street art/art installations, walk along with the charming British Colonial houses with a camera in the hand and a sense of wonder in the heart, witness the elegance of the clan jetties almost floating on the quayside or have a food and shopping extravaganza at Gurney Drive and all over Georgetown. Head over for resort/beach fun and a vibrant Night Market at Batu Ferringhi. Penang will never let you go even after you leave!  Read More
History of Penang: UNESCO Heritage City
With its famed street art, 3D installations and wire sculptures, Georgetown is a city that lives and breathes art! It's riddled with temples, mosques, churches, eclectic Chinese shophouses, sombre British Colonial buildings and quirky jetties, making the entire city a tourist attraction. 
If you have one day, spend that exploring the streets and alleys of Georgetown and indulging in the mouth-watering cuisine.
The restored colonial mansions are a popular tourist attraction the Blue Mansion and the Peranakan Mansion (16-20RM each) are a must-visit either via local tour or stay. Don't forget to explore Love Lane (Farquhar to Chulia Street) -with the back story of housing the mistresses of wealthy Straits Chinese.
Fatt Tze Mansion 
---
The seven clans jetties-located near the ship terminal- add an interminable allure to Georgetown, visit them to see the inter-connected wooden pathways and statement doors/windows. Chew Jetty is the most famous while Tan or Lee jetties are ideal for a quiet time away from tourists. Wait till the sun turns water into a liquid canvass for the perfect photograph or a perfectly romantic moment.
Avail of the free walk tours to get a bit of local legend and history while exploring the streets!
Penang Hill & Made in Penang Interactive Museum
Visiting Georgetown Penang with family? Take a funicular tram for 15RM (children) and 30RM (adults) up Penang Hill to get a breath-taking view. Ticketing starts at 6:30 am to 9:45 pm. Experience canopy walks, trails and zip lining in the rainforest at The Habitat, experience a magnitude 8 earthquake and level 12 typhoon at Earthquake and Typhoon Pavilion and explore the unique indigenous flora of Malaysia/Indonesia at the Monkey Cup Garden. There is a handful of eating places from David Brown's colonial restaurant to a pushcart selling snacks.
Learn batik painting and dream catcher making, play games on the giant boards painted on the floor and let your mind be played in the 3D trick art room at the Made in Penang Interactive Museum-Georgetown (starts from 30RM).
Visiting Coastal Area of Batu Ferringhi
Head over to Batu Ferringhi for a day excursion- a 3km long sandy beach strip teaming with Luxury Beach Resorts and dining options. Kayak, jet ski, windsurf and parasail, and have water fun at Moonlight Bay's Wet World Wild featuring inflatable rafts for jumping, running, propelling and climbing (40RM-adults, 30RM-children).
Enjoy the stunning sunset and then head over to a spectacular night market (opens at 7 PM) with local arts and crafts, fake bags, fridge magnets, clothes, jewellery, decorations and a thousand odds and ends. Find small Malay, Chinese, Middle Eastern and Indian restaurants as you shop. 
Batu Ferringhi is about 30 minutes drive from downtown Penang and is easily accessible by taxis. 
Batu Ferringhi Beach Georgetown
Travelling with family? Don't miss out on Adventure Zone housed in Shangri La's Rasa Sayang Resort and Spa open to visitors (non-guest RM 33) for 2 hours and RM 23 for guests. Adventure Zone, Kids Club and Toddler Zone is a complete family entertainment facility for children and adults filled with drop slides and modular play equipment.
Batu Ferringhi - Penang 
---
How to travel to Georgetown and Batu Ferringhi?
To Batu Ferringhi (16KM from Georgetown) - take the 101 bus from Chulia Street or the Jetty (RM 2.7) starting from 5:30 AM while the last bus in is at 23:30 AM. 
To Georgetown (5 hours) - there's a rail (RM 34-67) and ferry (RM 1.2) option from KL Sentral- Butterworth- Georgetown. The budget-friendly option is the bus from Hentian Duta- Sungai Nibong- Komtar (10USD).
Georgetown is also the gateway to Langkawi as a ferry service operates throughout the year from Penang to Langkawi.  Catch a ferry to Langkawi- a 3-hour journey in 20USD from Swettenham Pier to Kuah Terminal.
The best way to travel to Penang from Kuala Lumpur is to catch a flight from KLIA2. Compare the cheapest flights online . 
Alternatively, catch a bus from BTS main bus terminal in Kuala Lumpur. The bus rides take around 5 hours and costs 38RM. Buses operate from KL to Butterworth as well as Penang.
Where to stay in Georgetown Penang
Staying in Old Part of the City
At Georgetown- Eastern and Oriental Hotel  steeped in British-Raj opulence located in the heart of Georgetown (160USD), Seven Terraces Hotel  in central Georgetown (127USD) or 1926 Heritage Hotel  (30USD) if you are on a budget. If you are planning to explore the history and culinary flavours of Georgetown, stay near the historical quarters of the town.
Doorman at Eastern & Oriental

Jetty at Eastern & Oriental

Exterior of EAstern & Oriental Hotel

Pool area at Eastern & Oriental Hotel

Lobby area at Eastern & Oriental

Main dome at Eastern & Oirental

Beautiful architecture of Eastern & Oriental Hotel is to be enjoyed. The massive dome in the lobby is one of the biggest in south east Asia. You can hear your sound if you ar whispering in the lobby…

Sarkies at Eastern & Oriental

A popular spot for office workers during lunch time. The restaurant is also popular for dinner buffet.

Shoe polish and Brush in Gents Toilets
---
---
I have stayed several times in Penang and enjoyed staying at the Eastern & Oriental Hotel. This hotel is over 100 years old and is preserved in colonial architecture and design. Another Hotel I enjoyed staying in because of the location is Wembley - A Saint Giles Hotel ideally located near Kotmar, Shopping Malls and public transport in Penang. 
Read more about my stay at Eastern & Oriental Hotel
Staying at Eastern & Oriental Hotel in Penang
---
Staying at Gurney Drive Penang Georgetown
If you plan to explore the modern side of Penang, Gurney Drive is a great place to stay. Gurney Plaza and Paragon are high-end shopping Malls with international food outlets and shopping options. Places to stay at Gurney Drive includes The G Hotel Penang (5-Star Hotel) and Evergreen Laurel Hotel ( 5-star) is a more affordable option. 
Staying at Batu Ferringhi in Georgetown
Batu Ferringhi offers more beach-style resorts with private beaches and beach activities including water-scooters, boating, paragliding and banana boats. At Batu Ferringhi -Shangri La's Rasa Sayang Resort and Spa (starting 136USD) is a luxury resort with a lagoon-style pool and tropical gardens along with a family entertainment centre and spa facility. It also offers a complimentary ride to and from Georgetown.
Hard Rock Hotel (77USD) is a spectacular extravaganza with a free form pool, poolside dance parties, live bands. For older children, there is a Teen Club with PS3 consoles, foosball and pool tables while younger children can play at the Lil Rock Center for fun learning activities.
Staying at Hard Rock at Batu Ferringhi
---
Enjoying Beach Area at Hard Rock Resort in Batu Ferringhi
---
Food & Nightlife in Penang
Penang- the food centre of Malaysia, houses exotic Peranakan flavours with Malay, Chinese and Indian influences. Must-try dishes include Asam Laksa, Char Kuway Teow, Nasi Kandar and Cendol. Whether you try the economical hawker stalls or popular restaurants, both offer a tantalizing food experience. Check out the lively Indian Street as well. Some recommended places are China House and Tek Sen or take a page from Anthony Bourdain and head over to Red Garden Food Paradise (food court) for delicious oyster pancakes!   
Following the footsteps of the famous chef and traveller Anthony Bourdain, I explore street-side Nasi Kandhar Restaurant Line Clear. This place attracts local crowds for lunch and serves an amazing mix of vegetable, seafood and meat dishes cooked in traditional Arab-Indian Style.
Peranakan food is the highlight of visiting Penang. Inter-marriages of affluent Chinese settlers and local Malay created an amazing mix of lifestyle referred to as Baba Nonya. The houses built in this era has distinct decor, architecture and layout. Nyonya food is quite popular in Penang as well as Malacca where most Chinese settle in the early part of the century.  I enjoyed lunch at Little Nyonya at Noorudin Alley. The host is a third-generation restaurant owner and understands how to entertain the guests. I enjoyed some vegetable and meat dishes cooked to perfection. 
With the owner of Little Nyonya in Noorudin Alley
---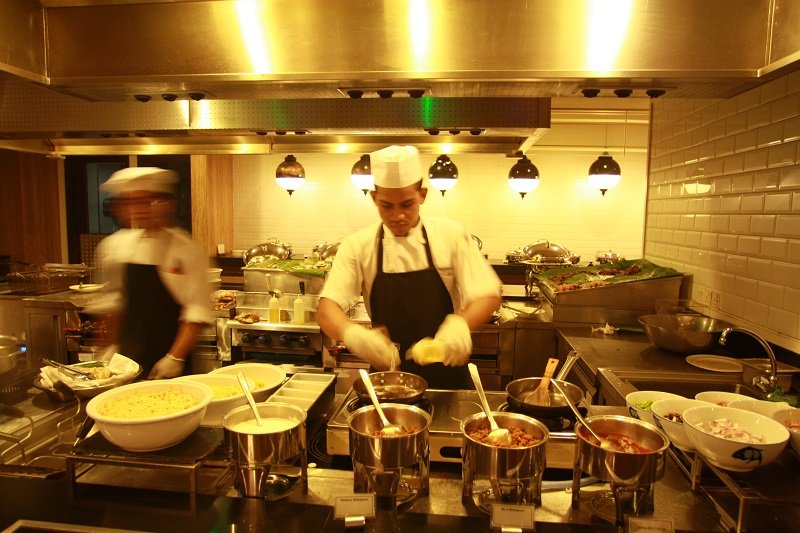 Dinner Buffet at Sarkies at Eastern & Oriental Hotel 
---

Buffet Dinner at Sarkies at Eastern & Oriental Hotel Georgetown Penang
For fine dining and nightlife QEII restaurant built on stilts on the waterfront in Georgetown has an amazing ambience, continental cuisine, exclusive wine menu and a vibrant dance scene. Chin's Stylish Chinese Cuisine with opulent interior and exquisite Chinese flavours are a must-try along with Café Amelia –a quaint and very small food joint run by a family with superb taste in food and gracious hospitality. Gurney Drive is known not just for shopping but food/nightlife as well. Try out G Spot on the first floor of G Hotel for a hip and happening night experience with a cool wine glass or two, live jazz music and delicious food.
At Batu Ferringhi -Bora Bora restaurant has a friendly ambience with a mix of locals and ex-pat clientele. The menu includes alcohol and mouth-watering mixed cuisine Penang is so famous for. Hard Rock Café has an electrifying pub (live music) with an American café and bar menu and a posh clientele.  
Batu Ferringhi is also a great place to enjoy seafood. One of the popular restaurants I visited in Batu Ferringhi is Golden Thai Restaurant along the waterfront. The restaurant serves a wide range of local and imported seafood.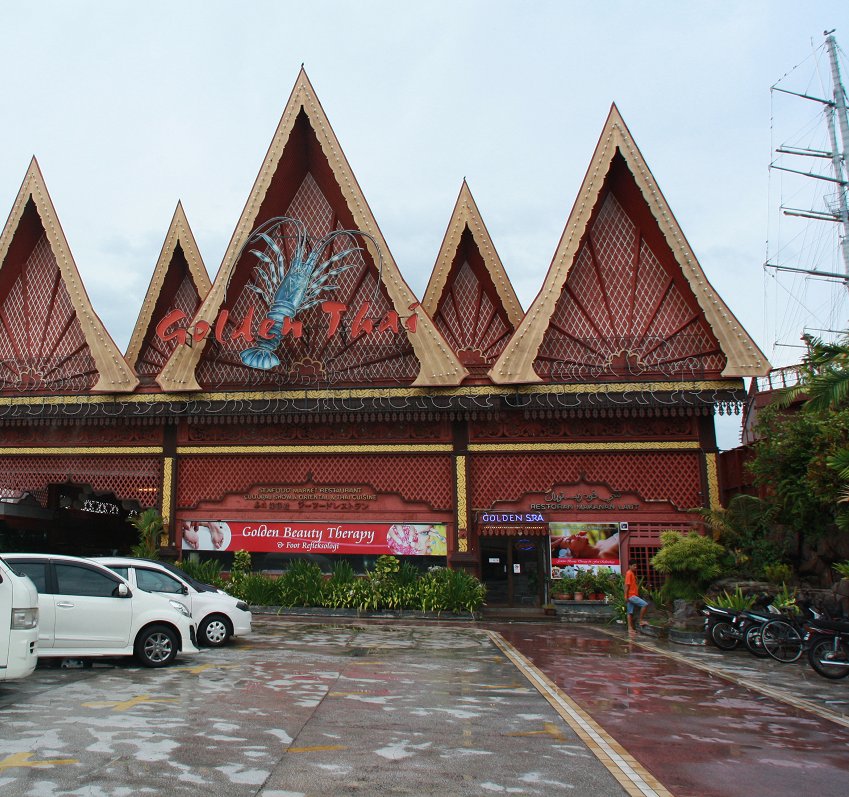 Golden Thai Seafood Restaurant in Batu Ferringhi 
---
1 Penang Street is abuzz with life later in the night with interesting venues like Slippery Senoritas, MOIS Club and a number of nice bars ideally located near Eastern and Oriental Hotel. The downtown area has a number of trendy bars including Out of NoWhere (Jalan Kuala Kangsar), Beach Bar (Jalan Penang) & Mish Mash ( 24 Muntri Street). 
Slippery Senoritas at 1 Penang Roads 
---
Shopping in Georgetown Penang
Prangin Mall is a bargain hunter's paradise while 1st Avenue Mall houses big fashion brands, cinemas and karaoke lounges. Little Penang Market every last Sunday of the month is for locals to showcase homemade items from arts and crafts to eatables and accessories.
Gurney Drive Penang
---
Gurney Drive is a must-visit for a feel of the ultramodern waterfront shopping, food and nightlife experience. Gurney Plaza and Gurney Paragon Mall house some of the biggest fashion labels from around the world. Gurney Plaza has some international fast food joints, bars and cafes and is a great place to relax and unwind. 
Plaza Gurney Georgetown
---
Some well-known hotels on Gurney Drive include Gurney Resort Hotel and Residences, G Hotel & Wang's Hotel Gurney Drive. Furnished apartments, condos and boutique hotels are also available in the different price range.
Night food markets are held at the end of the Gurney Drive offering quality seafood and local dishes at very affordable prices. The Gurney Waterfront is a great place for an evening stroll commanding a distant view of Butterworth and Penang  Bridge.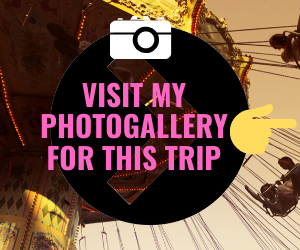 Pin it to read later!!
Scroll over the image