Looking for a cheap hotel in Kuala Lumpur?
I have explored several cheap budget hotels during my number of stays in Kuala Lumpur and here is a list of quality budget hotels that are ideally located and offer a great saving on accommodation in Kuala Lumpur. 
Cheap hotels in Kuala Lumpur
Agoda Rating: 7.8/10  Ozasiatraveller Rating: 4/5 
Average daily rate: $30 per night
Benefits of staying at Pacific Central Market
Easy access to Central Market 
Easy access to KL Central
Walking distance from Petaling Street
Walking distance from Restaurants, Shopping, ATMs and public Transport 
The Pacific Express is a cheap hotel ideally located in front of the central market providing easy access to shopping areas including Petaling Street as well as Little India. If you are keen to explore the heart of Kuala Lumpur Old City, this a great spot as you can easily catch buses to any part of KL as well as the rest of Malaysia. Most of the places interested in the city are easily accessible on foot including KL Central Market, KL Central Park and Markeka Square. 
This hotel is ideal for the traveller who wants to enjoy the hustle and bustle of downtown Kuala Lumpur and does not want to spend too much on transport and eating out. You will find hundreds of reasonably priced restaurants in this neighbourhood. 
Compare Cheapest room rates with Hotels Combined
2.

Citin Masjid Jamek

 another budget hotel in Kuala Lumpur   
Agoda Rating: 7.2/10    Ozasiatraveller Rating 3.5/5
Location: Masjid India Area
Average Daily rate: $25 per night
Planning on travelling light? Citin Masjid Jamek is another cheap Hotel in Kuala Lumpur located at a central location in the city with easy access to a number of touristy places. I recommend this budget hotel for its cleanliness, easy access and reasonable daily rates. Citin Masjid Jamek is a very basic hotel with a clean room and easy access to public transport. The hotel does not have a swimming pool or parking. The hotel is located very close to Petaling Street, Sri Maha Mariamman Temple, Central Market and other places of attraction in KL. 
This cheap budget hotel in Kuala Lumpur is highly recommended for single and budget travellers. 
Want to stay at Citin Hotel in Masjid Jamek Area?
Great budget option in the heart of the city offering a great deal for budget travellers.  1km from the city centre, Frenz Hotel offers a commanding location with easy access to all great locations in the city. 
Our Recommended Budget Hotels in Kuala Lumpur
4. Beltif Hotel, Bukit Bintang - Prescott Hotel (new name)



77 Jalan Changkat Thambi Dolah, Off Jalan Pudu-Bukit Bintang 55100
During my stay at Furama Bukit Bintang, I explored some cheap budget hotels in the neighbourhoods of Pudu and Bukit Bintang. There is plenty of cheap budget and boutique hotels located in the side streets around Berjaya Times Square Shopping Mall and Low Yat Plaza. 
Belief Hotel was a great find as this budget hotel is ideally located at the border of the Bukit Bintang and Pudu area. This hotel is situated exactly opposite of Furama Bukit Bintang and within walking distance of Berjaya Times Square as well as other shopping areas in Bukit Bintang.
The average Tariff per day for a double room is less than RM 80 including breakfast. The rooms are clean with very little noise from the neighbourhood. 
Prescott Hotel  - Former Beltif Hotel Bukit Bintang
---
The rooms are furnished with basic amenities. The premises are well maintained and air-conditioner, as well as hot water heaters, are installed. The breakfast is quite basic and available from 6 pm to 10 pm. 
If you are planning to stay on budget and want to explore the city, I highly recommend this hotel. A number of cheap eat-outs are located around the corner including Chinese, Malay and Indian restaurants.  
5. Mesui Hotel Bukit Bintang, a Boutique Budget Hotel in Kuala Lumpur
I explored this budget boutique hotel in Kuala Lumpur during my stay at Park Royal Serviced Apartments in the heart of Kuala Lumpur City. Mesui Hotel is a small but very well maintained property located within walking distance from Park Royal and Istana Hotel.
I have stayed at this property over 5 times and enjoyed the friendliness of the staff and great service as well as the comfort of living in a clean room with easy access to Changkat, Jalan Alor and all the shopping areas in Bukit Bintang. 
The best reasons for staying at Mesui is its proximity to Changkat (popular for nightclubs and bars), Jalan Alor, Jalan Ramlee and Pavilion Mall. 
I highly recommend this property to budget-conscious single travellers or families who want to stay at a central location in Bukit Bintang. 
Advance booking online with Agoda can fetch a price as low as RM 100 per night.
Planning to Stay at Mesui Hotel in Bukit Bintang?
Here are pictures from my recent stay at Mesui Hotel in Bukit Bintang.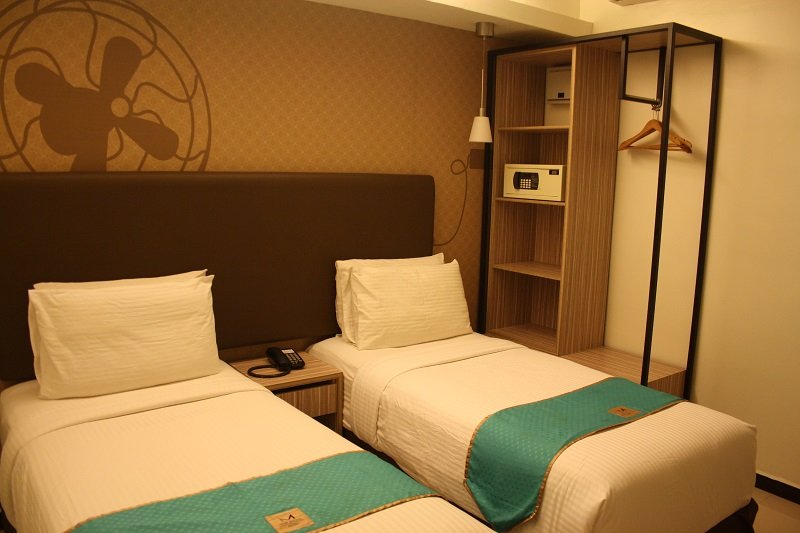 6. Revo Packers (Bukit Bintang)
258, Jalan Changkat Thambi Dollah, Pudu, 55100 Kuala 
A newly made budget hostel located across from Furama Hotel at Changkat Thambi Dollah offers budget bunks and beds are a very reasonable cost. The premises are well maintained offering basic amenities including wide-open sitting spaces, free wifi, shared dorms and separate rooms under 80RM.
This is definitely a great choice if you need a cheap budget hotel to crash or have an extended stay at a very low price. The place has a number of cheap Chinese restaurants and Nasi Khandar cafes around the corner. The neighbourhood of Pudu adjacent to the property is home to a number of cheap eat-outs. 
The nearest train station is Jalan Imbi. Berjaya Times Square Shopping Mall and Low Yat electronic Malls are within walking distance from Revo Packers. 
I highly recommend this location for budget-conscious travellers and people looking for a cheap but quality hotel in Kuala Lumpur. 
7. Capsule Transit Airport Hotel
KLIA2 Terminal- Ground Floor 
Running short on time between your flights and looking for the cheapest accommodation in KLIA2. Crash at the Capsule Transit Airport hotels which offers you 4-6-8 hour time slots to book a single or double capsule. This is a great budget place to crash if you want to avoid the hassle of catching public transport to the city for a day or want to stay at the airport in between your flights. 
The premises are well-maintained and the pods are furnished with clean crisp sheets, lamps and very basic amenities. You can use the shared toilet and sitting space. Locker storage space is also available for rental. 
I have used this cheap budget accommodation almost ten times in the last three years and have saved time and $$.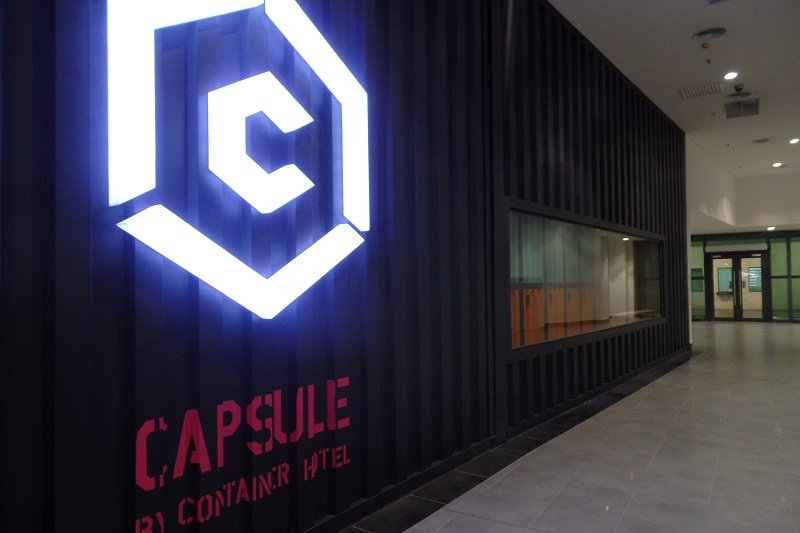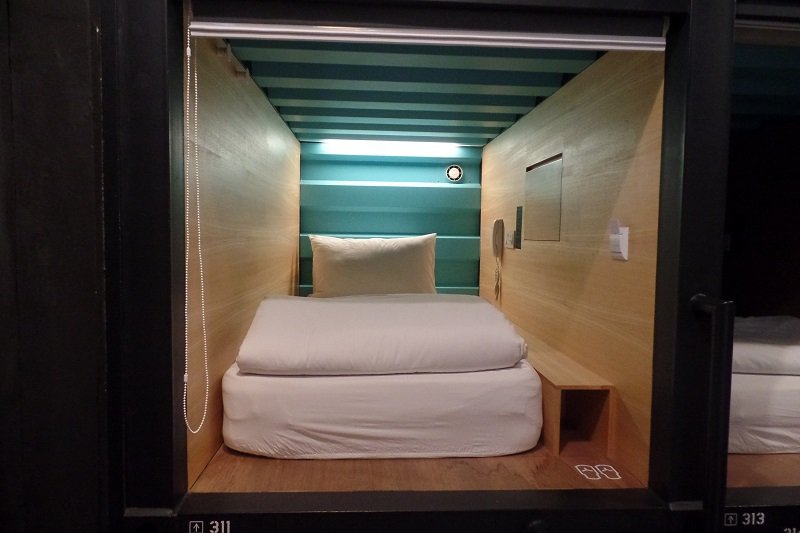 Search Hotels in Kuala Lumpur with HotelsCombined
Most popular activities and things to do in Kuala Lumpur
Popular Day tours from Kuala Lumpur
---
Pin it to Read Later!