Sydney is undoubtedly one of the most beautiful cities in the world to travel to. It is a major destination for millions of tourists from south-east Asia as well as Europe escaping from cold winters and looking for beautiful warm beaches. The land down under attracts hundreds of young backpackers and working holidaymakers to the city. The city offers good work opportunities as there is a lot of business activity all throughout the year.  
Arriving in Sydney
Advance bookings on Hotels are highly recommended as the hotel rates in Sydney can be quite expensive. A taxi ride from the Sydney International Airport to Sydney City cost AUD 40-50. A train ticket from Sydney Airport to Central Station is approximately AUD 20. If you are carrying bags, it is highly recommended to use one of the following services:
---
Where to Stay in Sydney for a Short trip?
If you want to enjoy the best of Sydney attractions, bars, restaurants, shopping and nightlife, it is recommended to find a hotel in The Rocks, CBD, Darling Harbour or Chinatown Area. All of these locations are easily accessible by public transport and are located close to City Center. 
Other popular areas include Bondi Junction (Meriton Suites & Apartments), Brighton Le Sands ( Novotel) and Rydes Cronulla Beachside at Cronulla. 
Things to See in Sydney Australia
Rocks and Circular Quay Area in Sydney
The old historical quarters are close to the harbour bridge and once-old limestone quarries, now heritage buildings and some of the most popular bars, clubs and restaurants. The Northern tip of George Street is called Rocks and hosts Rocks weekend markets. A recent addition to Sydney's landscape is a tramline connecting Central Station with the Rocks area along George Street which is the backbone of the Sydney CBD area. Tram is a very convenient way to explore the major areas of interest in the downtown area of Sydney. 
Rocks host the weekend coffee markets at the end of George Street which is one of the major tourist attractions in town.  Sydney Harbor Bridge Climb is one of the major attractions. The office is located on Cumberland Street opposite of Shangrila Hotel in Rocks. Book in advance, as this activity sells out quickly. 
Explore the rich history of Sydney in Rocks Heritage Buildings
---
International Passenger Terminal is located in rocks and becomes full of life over the weekend or when Cruise Liners are docked at the terminal. The Year 2019-20 has attracted a record number of international cruises to Sydney. 
Circular Quay and Sydney Opera House Area
---
Book Best Experience in Sydney
---
Cafes & Restaurants in Rocks
Rocks have a number of popular hotels including Orient, Mercantile, Australian and Glenmore besides others dating back to the last century. Other most popular locations are Bar 100, and Argyle (a venue with a number of bars and nightclubs) on Harrington Street. 
The Australian is one of many popular pubs in the Rocks
---
Most popular high-end restaurants include Sake $$$, Pony Dining $$ (Harrington Street & Kendell), Quay Restaurant $$$ (Overseas Passenger Terminal), Munich Brauhaus $$$ (Argyle & Playfair Street), Altitude $$$ (at Shangrila Hotel)
Other popular restaurants include Pancakes on the Rocks, Glenmore Hotel and Teppankayi etc. 
---
Hotels in the Rocks Area in Sydney
Most cruise liners dock right next door to Overseas passenger terminals. Some of the best hotels in the town including Park Hyatt , Harbour Marriott Hotel at Circular Quay , Inter-Continental Sydney , Shangrila Hotel Sydney and Four Seasons  are walking distance from this area.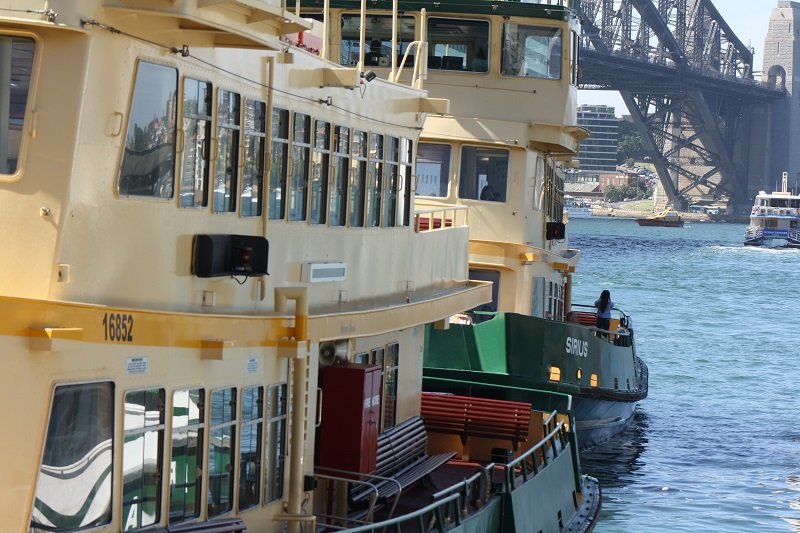 Catch a ferry to Manly, Taronga Zoo or Parramatta at the Circular Quay
---
Planning to stay in the Rocks Sydney?
Compare the best hotel rates online...
Places of interest in the Rocks and Circular Quay
The Rocks is a great place to explore on foot. Over the weekend, free tour guides are organized by the City of Sydney to provide walking tours and in-depth information on this historic part of town. Some private tour operators organize Ghost Tours to enjoy some heritage locations in a more fun and enjoyable manner. 
Observatory Hill
Opera House
Argyle 
SOMA (Sydney Museum of Modern Arts)
Bridge Climb
Mrs Macquarie Chair
Botanical Gardens
Sydney Museum
Cruise Liner arriving at International Passenger Terminal in Rocks
---
Darling Harbour Sydney
Darling Harbour is the centre of tourist activities with hundreds of restaurants, kids activities, nightclubs, bars and Harbour Cruise Services. On the weekend close to Christmas, the waterfront area has family events and fireworks etc. ICC (International Convention Center) opened up in 2018 and hosts a large number of concerts and other events. Check out the ICC (International Convention Center) event guide for event guide. 
Darling Harbour has some of the most popular restaurants in Sydney including Zafran, Nick's Seafood Restaurant, Blackbird Cafe and Hard Rock Cafe.  Darling Harbour is also the heart of nightlife with world-class nightclubs including HOME nightclub, Retro, SASH, Pontoon, Bungalow 8 and many more. 
A visit to Sydney will not be complete without exploring Darling Harbour and the Surrounding area. The Barangaroo Waterfront Development is a new addition to Sydney with open space and walking tracks along Sydney Bay. Barangaroo is adjacent to Cockle Bay and attracts uptown and trendy crowds in the top-end bars and cafes. 
If you like exploring the city on foot, there are walking tracks stretching from Darling Harbour to Glebe.
Book a lunch tour or Dinner Cruise to explore the interesting location in Sydney Bay. A number of various services offer 1-3 hour tours and party tours on the cruises. 
Other places of interest nearby include the Chinese Garden of Friendship, Chinatown, Paddy's Market and World Square. There are hundreds of cafes, restaurants and bars in these between Darling Harbour and Hyde Park areas. 
Best locations for nightlife in Sydney
Sydney is a great place to explore for partygoers and families alike. The weekend attracts large crowds from the central coast and South-Coast City who come to the party the night away in Sydney nightclubs. These areas are quite popular with party-goers
Rocks (Historical Places of interest, Argyle, Harbourfront, Circular Quay)
Darling Harbour (Night Clubs & Restaurants)
Oxford Street (Night Clubs and Bars)
Surry Hills (Bars, Restaurants and Night Clubs)
Chinatown (Karaoke bars & restaurants)
Newtown (for more funky and laid-back bars and clubs)
---
Travelling with Kid?  Things to Do in Sydney Australia
If you are travelling with Kids some of the major attractions in the town are :
A visit to Sydney Aquarium 
If you are planning to explore Sydney Aquarium near Darling Harbour, The Sydney Aquarium tickets can be bought online. Save $$ with advance bookings and attraction passes. Some of the most popular activity passes include
Other places of interest near the Sydney Aquarium include Madame Tussauds, Sydney Maritime Museum, Darling Harbour Attractions, Harbour Cruises and Luna Park. 
Sydney Hop on Hop Off Bus is a great way to explore major areas of interest in the city with an interesting guided tour of major attractions in various locations. Booking online can save $$ as walk-in ticket prices on the bus are quite steep. 
---
Other Interesting things to see in Sydney Australia
If you are planning to stay in Sydney for a longer period of time, day excursions and tours are a great way to see some great things Sydney has to offer. Most popular of these attractions and tours include
 If you want to enjoy the romantic side of Sydney, book a Romantic Cruise Dinner in the harbour or Enjoy the amazing Sydney Skyline by dining at the revolving Restaurant on the Sydney Tower. 
Pin it to Read Later!!
More interesting experiences in Sydney
The Rocks Sydney
The Rocks area is located near the harbor bridge a ...