Sydney offers some of the best landscapes of New South Wales ranging from pristine beaches, national parks, rivers and 400 million years old mountain valleys and caves. There is plenty to do in and around Sydney, therefore, planning your trip is essential to get the best out of this amazing city. The amazing coastline runs from Cronulla in South to Mona Vale and Avalon in the North offering rockpool and well-maintained beaches with picnic areas. Extensive information is available online on parklands, bushwalking tracks and picnic spots around the city. Here is a list of some of the most interesting activities you can undertake around Sydney. 
Trip 1: Explore the Blue Mountains National Park & Country Towns in the Blue Mountains
Blue Mountains region is ideal for a day trip as most of the locations of interest are within easy driving distance of Sydney. Katoomba is the main stop in the area with plenty of nice accommodation, cafes and art galleries. Enjoy a hop-on-hop-off tour to explore various small towns and lookouts in this interesting area. Other towns worth visiting includes Leura Village, Blackheath and Wentworth Falls. Blue mountains have a number of walking trails ranging from medium to tough grade. 
The scenic world Katoomba is a popular tourist attraction with the world's steepest incline, cable car and a tropical rainforest boardwalk. Three sisters, located in Katoomba is a rock formation that has become an icon for the region. 
I visit Blue mountains quite often and always take a break to enjoy scones and tea at Paragon Cafe in Katoomba. Blackheath is popular for pie shops. For more adventures, a drive into Megalong Valley is a must to enjoy the warm fireplace and home-baked scones with jam and fresh cream at the bottom of the valley.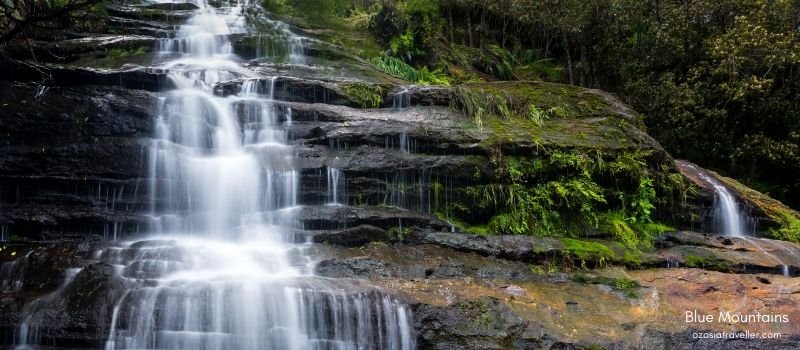 Weekend trains can be quite packed with holidaymakers and daytrippers to the region. Katoomba is perched at 1030m above the sea level.  One o the best ways to explore the region in a day is to get a day pass for hop-on and hop-off buses. Visit the mythical rock formations at three sisters.  Scenic World has  Worlds steepest incline taking you into the bottom of the Megalong Valley. Enjoy a light meal at the Carrington Hotel or decadent tea and coffee at art-deco Paragon Cafe. Walk through the main street browsing at antique shops and art galleries. 
An extended tour can include a drive to Jenolan and Wombayan Caves. These are 400million-year-old caves with beautiful rock formation and subterranean channels. Caves tours cost around 15 to 20 dollars. 
Trip 2: Drive to Hunter Valley Wine Country
Hunter Valley (Cessnock) is a good 2-hour drive north of Sydney on Pacific Highway one. Hunter Valley is famous for award-winning wineries, luxury holiday resorts and plenty of outdoor activities like ballooning, horse riding etc.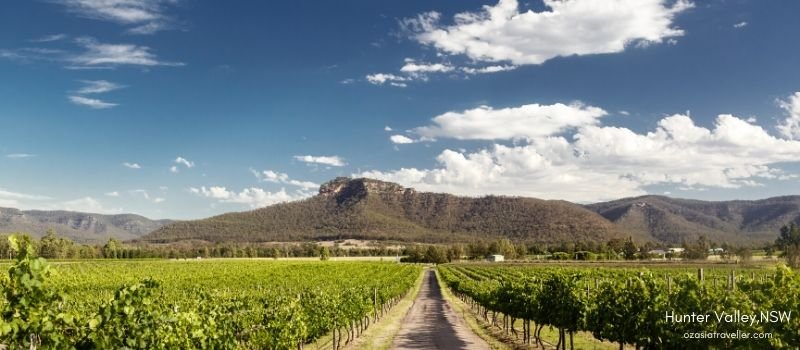 Also, Hunter valley has breath-taking Hunter Valley gardens stretching over 35 acres. You will need a couple of hours to walk through gardens designed on various themes. Most wineries have wine and dine tours. If you like to do a bit of wine tasting it is better to travel with a tour, as it takes away the hassle of driving and you are taken to some of the best spots in the area. 
Trip 3: Explore South Coast NSW
South Coast and Southern Highland are one of my favourite places for long drives and beautiful beaches. You can either stay on Princess Highway 1 and drive straight down to Wollongong in one hour from Sydney. Stop on the way to enjoy scenic views at Bulli Lookout.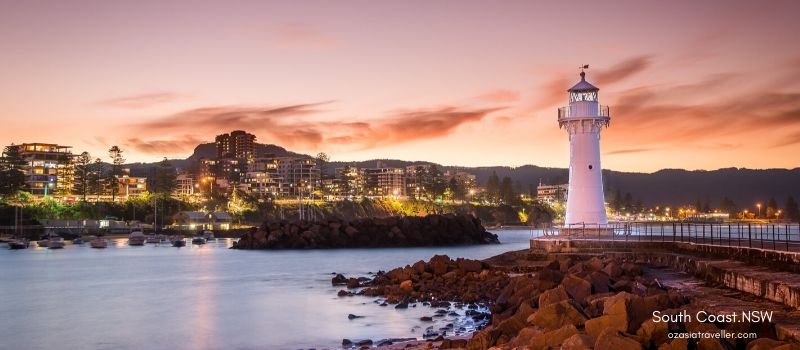 If you plan to take a relaxed scenic drive, an alternative option is to drive through National Park near Sutherland at the outskirts of the city. Use Old Princes Highway to drive through dense forest and water bodies finally reaching Stanwell Park, Austinmeer, Scarborough and laid back towns of Bulli. Stanwell Park is popular for hang-gliding. These small towns are popular with Sydneysiders for weekend breaks and are home to artists and nature lovers. There are some interesting walks in the National Parks.  
Princess Highway 1 is one of the longest roads in Australia circumventing the entire country along the coastline. The most visited location along the way includes City of Wollongong, Kiama, Berry, Jervis & Batemans Bay. 
Kiama is a mid-size coastal town with a beautiful beachfront and a Blow-Hole. This location attracts hundreds of tourist every year. You can catch a south coast train that terminates at Kiama. It takes around one hour and thirty minutes to reach Kiama by train from Sydney Central Station.
If you plan to explore beautiful white sand beaches of Jervis, plan to start early from Sydney as the drive can take over 3 hours. Jervis is a popular spot for camping over the weekend and offers a number of interesting beaches with blue water and white sand. The calm water along the coast in summers is ideal for swimming and kayaking. Ulladulla is a great place to stay if you want to enjoy the nightlife around Jervis Bay. 
Read more about the trip to Wollongong
Trip 4: Sydney to Maitland Southern Highlands
This region is nestled between Hume Highway and Princes Highway and offers high Mountain Pass  (Macquarie Pass) connection regions of Shoalhaven with Maitland. This region lies at the Southern tip of Blue Mountains National Park and is home to laid back town with wineries, fine dining, luxury resorts, canopy walks, water parks (Jamberoo Water Park in Kangaroo Valley) and active and art scene. 
Mittagong is an old historic town and popular destinations for antique collectors and people seeking escape from busy city life in Sydney. One scenic route is to drive to Macquarie Pass from Albion Park on Princess Highway continue on to Moss Vale. Follow Highway 15 to Fitzroy Falls driving down to Bombaderry. Berry is an interesting old town which served as an agricultural market for the region. There are a number of fine hotels and restaurants in this town. 
Trip 4: Sydney to Central Coast Via Gosford
Central Coast offers some of the most beautiful coastal towns with beautiful beaches for surfing and lakes for fishing and other water sports. Follow Pacific Highway northbound towards Gold Coast and exist near Gosford to drive along with the coastal towns to Lake Tuggerah, Entrance and Toukley.  
Entrance waterfront is a great place for a weekend break and a family holiday. A number of fine serviced apartments, motels and holiday parks are available along Lake Tuggerah, Toukley and Entrance. 
Drive further up the road towards Newcastle passing through beautiful towns of Murray Beach, Swansea and Belmont. 
Pin it to read later!!