Pulau Kapas is a popular island destination on the East coast of Malaysia because of its easy access from Kuala Terengganu and Kuantan. Kapas Island is an amazing destination for a day trip if you are staying in Kuala Terengganu.
Most tourists stop over KT to catch a ferry to Perhentian Islands where they normally stay for one or two nights. Paula Kapas offers easy access for families and travellers who do not want to spend a night in the Islands. I travelled to Paula Kapas in August 2019 which is a great time of the year to explore this unique location. Here is some useful information if you are planning to explore Pulau Kapas.
How to I travel to Pulau Kapas?
Paula Kapas is located approximately 15 km south of Kuala Terengganu. The best way to reach is to catch a bus or taxi from Kuala Terrangau to Marang Jetty ( not Marang Jetty which is north of KT) also called Jetty Pulau Kapas/Jamia. This is a small coastal town with a street market and a couple of diving and snorkelling gear rental stores. The local tour operators can also book a night's stay at local resorts.
If you are driving, follow highway 3 towards Kuantan and exit near Bandar Marang. The jetty area has a parking space, toilets, cafes and restaurants. A taxi ride costs around 30RM to the Pulau Kapas from KT.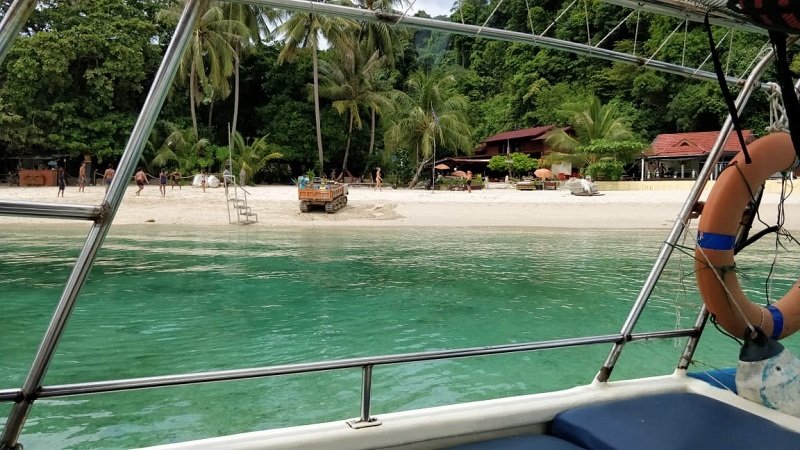 Charter boat to Kapas Island from Marang Jetty
---
Once reaching Marang Jetty the beach way to reach Pulau Kapas is to charter a private boat which costs around 50RM for a return trip. The pilot will drop you at the Island at a designated location where you can enjoy beach activities and pick you up in 3-4 hours from the same location. This is the easiest way to explore this Island for a day trip. The boat trip takes around 20 minutes as the Island is visible from the coastline.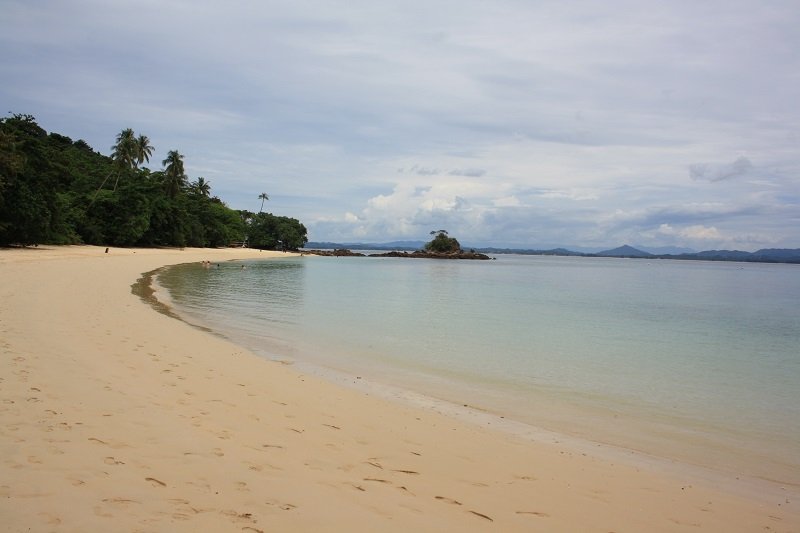 Pulau Kapas Beach
---
What is the best time of the year to visit Pulau Kapas?
Avoid travelling to Pulau Kapas from November to February, which is the rainy season. August and September is the best time of the year to enjoy this exquisite island location. 
Where do I rent Snorkelling equipment at Pulau a Kapas and how much does it cost?
At Marang Jetty there are a couple of tour operators who rent snorkelling and diving gear. If you charter a boat to Kapas Island the rental cost for renting snorkelling gear is 15RM. You can book a diving tour or a customized tour to Jamia Island and Kapas Island with local tour operators who also offer fishing charter tours in the deep sea.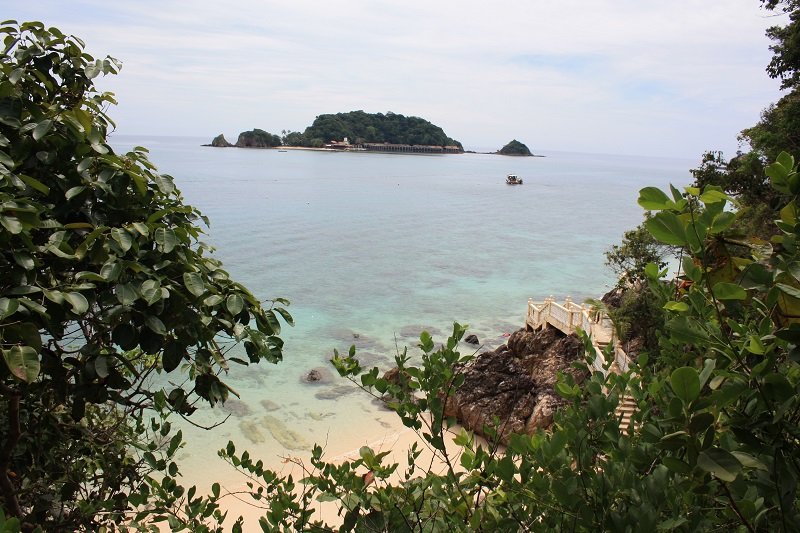 View of Jamia Island from Kapas Island
---
What are some of the activities to enjoy at Pulau Kapas?
Pulau Kapas is an ideal beach retreat with nice cafes near the waterfront, some beach chalets and a stairway that takes you to remote parts of the beaches where you can enjoy swimming and snorkelling in pristine waters. The island is not very crowded with tourists and normally you will have your own private spot to explore and enjoy basking in the sun or simply enjoy a splash in the shallow waters near the beach. 
Useful Information
Bring cash as there are no ATMs on Kapas Island
There is no decent internet connectivity on the Kapas Island
Bring sunscreen and insect repellant 
Bring Torch Light if you plan to explore the area overnight
Kayak rental at Kapas Island
---
Snorkelling is great fun at Kapas as the water is very clear and steady and you can enjoy swimming with multi-coloured fish over coral reefs. The water near the Island is not very deep and offers a safe place to swim. Since there are no lifeguards at the beach, it is suggested to practise caution when swimming in deep water. 
Charter Diving Tours or rent snorkelling Equipment at Marang Jetty Area
---
Are there cafes and restaurants on the Island?
Kapas Island has a few nice cafes offering light lunch and light snacks. A cafe and chalet near the beach are run by a European couple that offers nice snacks, milkshakes and ice cream. The sitting area is quite relaxing and very well managed. The chalets next door to the beach are available for rental online as well as through tour operators at Marang Jetty. The beachfront is popular for beach volleyball, kayaking and boat rides.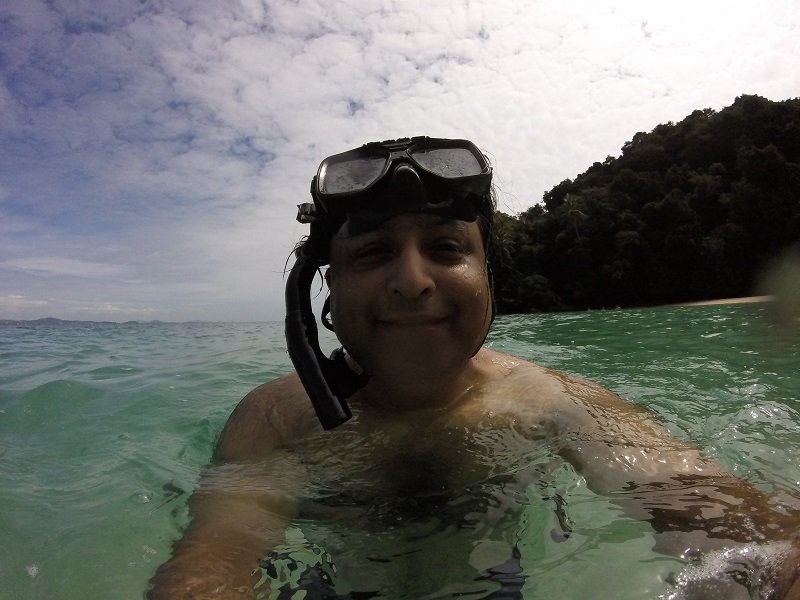 Snorkelling at Pulau Kapas Beach
---
Tip

Watch out for metal pegs in the beach area used for typing the boats. Swim in the beach area away from the main jetty. 
Cafe on Kapas Island
---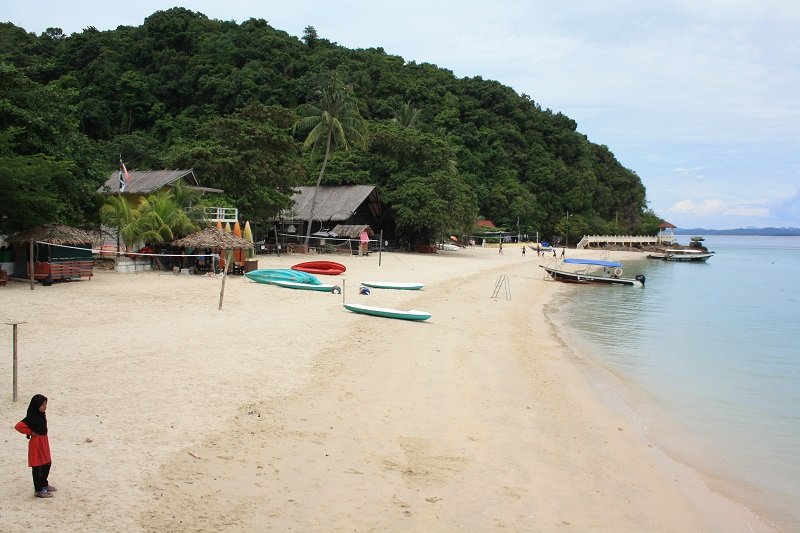 Beach Chalets & Cafes on Kapas Island
---
Where do I stay at Kapas Island?
The waterfront area has a couple of huts, chalets and beach accommodation. The accommodation is somewhat limited especially over during the busy season. There advance booking is recommended. Book in advance to get good rates . Jamia Island located close to Kapas Island has a resort with beach huts built on stilts. The resort is visible from Kapas Island.  Here are some places to stay on Kapas Island
Staying at Kuala Terengganu for the weekend and organizing a day trip to Kapas Island is a great way to enjoy this location. The beach areas around Kuala Teregganau are not popular for swimming due to rough water and rip tides. A couple of drownings are reported every year. Pulau Kapas offers a great location for swimming and snorkelling in the calm waters along the Island.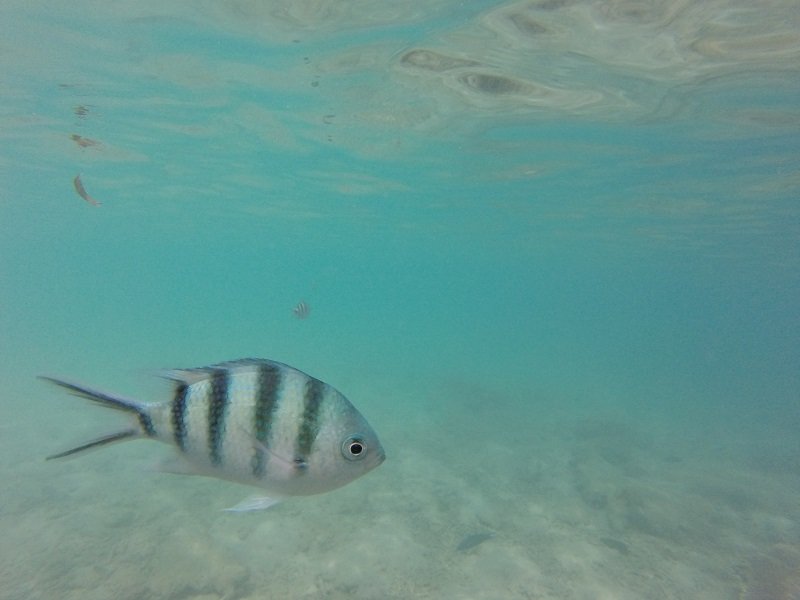 Some interesting encounters while snorkelling at Pulau Kapas
---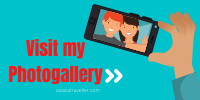 STAY CONNECTED
Join our mailing list to enjoy new content delivered right to your inbox!
Pin it to read Later
Scroll over the image to save it