Kuala Terengganu is an important and culturally interesting city to visit in the North-Eastern part of Malaysia. Kuala Terengganu is quite popular with people accessing the Perhentian Islands, Palau Redang and Kapas Islands which offer some of the best diving and snorkelling locations on the East Coast of Malaysia. Most international tourists use Kuala Terengganu as a starting point for travelling to the Perhentian Islands which attracts during peak season between March and November. 
I travelled to Terengganu in late 2019 and explored the interesting cities of Kuala Terengganu, Cherating and Kuantan. This area is ideal for a road trip and offers a contrasting experience to Western Malaysian cities. Here is some useful information if you are planning a Kuala Terengganu trip or island holiday on Perhentian Island or other amazing east coast destinations. Here is some useful information that can help you design Kuala Terengganu Itinerary. 
---
Great reasons to travel to Kuala Terengganu in Malaysia
Planning your Kuala Terengganu Roadtrip must include a list of the most interesting things to do in Kuala Terengganu. My initial plans were based on the tourist map I obtained from a KLIA2. My curiosity grew as I read more about the cultural history of Kuala Terengganu. 
Kuala Terengganu is a great place for a family holiday to explore the rich cultural history of the rulers of Malaysia. Food is an important part of Kuala Lumpur culture and Kuala Terengganu is a great place for foodie adventures. 
The first thing that I immediately noticed when I stepped out of Sultan Mahmud Airport at Kuala Terengganu was the laid back and relaxed feel of Kuala Terengganu City. There was no traffic congestion or overcrowding at the roadside bus stops and shopping areas. Getting closer to the main part of the city shows good urban planning and the layout of wide roads and beautiful buildings. Book Airport Transfer with Klook 
Exploring the downtown area of Kuala Terengganu 
---
Some modern construction has taken place in the last decade, however, driving from KT Airpot to the city area you will still feel kampong style houses and the provincial lifestyle.
One of the major reasons to travel to Kuala Terengganu is to reach Perhentian Island and Redang Islands. These Island destinations are ranked among the top ten island destinations in the world. 
Beautiful Crystal Mosque in Kuala Terengganu
---
Crystal Mosque and Taman Tamuddun Islam
Entering the city by the road, you will pass through Kuala Terengganu Drawbridge which is become a landmark of the region. The beautiful Crystal Mosque, another prominent architectural landmark of KT is visible on the right side of the bridge. The beautiful mosque stands in all its glory with its rich shades of gold and black.
Quranic inscriptions are visible on the hills overlooking the bridge. Kuala Terengganu is a predominantly Muslim populated city in Malaysia and enjoys a rich cultural history of early Muslim settlers in the region. 
Section A of the Mosque is free and can be visited by everyone. The beautiful structure of the mosque is built with steel, glass and crystal. Section B is Taman Tamadun of the area has a collection of miniature models of popular buildings of Islamic Architecture including Haram Mosque as well as the Taj Mahal in India. 
---
First Day in Kuala Terengganu
Exploring Kuala Terengganu City Center and Abideen Mosque
On our way from Kaula Lumpur Airport, we stopped over at a roadside cafe for lunch. The restaurant had a wide array of curries and deep-fried local dishes including seafood. The local food is quite cheap costing under RM15 per person. We did not realize the hotel we selected was at the southern end of the town almost at the outskirt. Catching a taxi or GRAB would be an expensive proposition. Renting a car is definitely a great option as the city is very spread out and there is not much traffic congestion on the roads. 
After checking into our hotel Regency Waterfront Resort  we drove back into the city to take a walking tour of the downtown. This hotel is ideal to stay in if you have a car. Alternatively, I recommend booking the Grand Puteri Hotel in the city centre area where most of the places of interest are easily accessible on foot or by taxi. 
The city is quite spread out and there are plenty of places to explore. Our first stop was Abideen Mosque in the city. The beautiful white structure is a landmark of Kuala Terengganu and has an amazing ambience. We offered our Zuhr Prayers at the mosque and enjoy the serene feeling of calm at his memorable location. 
The surrounding area of Abideen Mosque is a commercial bazaar type neighbourhood with a number of clothing stores, banks and shopping outlets. The concentration of commercial activity around this area shows KT to be a busy city catering to a number of small towns around KT city. 
There are plenty of mid-size and budget hotels located in the city centre which are suited to price-conscious travellers and people who want to enjoy the hustle and bustle of the CBD area. 
Kuala Terengganu is home to some of the most beautiful mosques in the region. This is reflective of the high concentration of Muslims in the region. I stayed at Regency Waterfront Resort located at the southern tip of the city. The beautiful Tengku Tengah Zaharah Mosque is located right next to the hotel property. The beautiful surrounding and layout of the mosque makes it ideal for meditation and praying. 
Zaharah Mosque is located on the outskirts of the city of Kuala Terengganu
---
The main bus terminal in KT is located very close to Abideen Mosque and a number of bus and shuttle services operate from the same terminal. You can catch shuttles to Merang Jetty, Marang Jetty, Shah Bandar, Kuala Besut and Jerteh from the same location.  Some of the brightly coloured building with shopfronts presents a very catching and visually appealing site. 
---
Main City Area in Kuala Terengganu
A KFC is located in front of the bus terminal. We had a quick lunch at the KFC and explored the electronics market adjacent to the fast food. I bought a new model of Oppo cell phone at a very cheap price. I recommend this place for buying quality cell phone accessories or electronic chargers etc. 
The downtown area of Kuala Terengganu City
---
There is plenty of wall mural along the road between the bus terminal and Abideen Mosque where I parked my car. We stopped over at a couple of very interesting antique
---
 Batu Buruk Beach Area in Kuala Terengganu
It was getting quite hot and we decided to head back to the hotel for a swim in the pool at the hotel. Pantai Batu Buruk Beach is located halfway between our hotel and CBD and we decided to explore this area along the way. This beach is very popular with tourists and becomes a Mecca for visitors on the weekend. 
The presence of Macdonalds, a number of cafes and a massive car park suggested that this area attracted large crowds. On a warm summer day, the beach is abandoned and not ideal to swim because of brought sea conditions and riptides. This area is popular for enjoying the cool breeze and crowds over the weekend.
---
 Dinner at a local seafood restaurant in Kuala Terengganu
The area south of the bridge in KT is very spread out there are plenty of nice seafood restaurants offering a wide range of local specialities. If you are staying on the outskirts of the city, a car is essential to move around. 
The main strip of road-going southbound is Jalan Ajil - Kuala Berang.  There are plenty of restaurants on both sides of the road. I was recommended Umira Nasi Kukus for its unique deep-fried seafood dishes. The restaurant was species and simply laid out. The restaurant was packed with local crowds on mid-week night suggesting its popularity.
We ordered the deep-friend snapper, battered deep-friend prawn, vegetables and some noodle dishes. The food was finger-licking and good and very affordable. Some of the sauces used in the food were specific to KT and the presentation was quite impressive.  
---
Second Day at Kuala Terengganu - Kuala Terengganu State Museum
On the second day in Kuala Terengganu, we decided to explore Kuala Terengganu State Museum before lunchtime. KT State Museum is a massive structure and you would need at least two hours to go through all the sections in detail. This amazing museum is home to a rich cultural history of Terenngau State and has a huge collection of traditional crafts, cultural certificates, jewellery, weapons and items used by the Royal family including a small plane and a number of cars. 
---
The entry fee to the Museum is RM 15. The museum is definitely worth a visit if you are interested in the rich cultural history of Eastern Malaysia. 
By lunchtime, we were very hungry and decided to have lunch in Kuala Terengganu Chinatown.  This part of the town has a number of Chinese-Malaysian restaurants serving a great variety of seafood dishes.  The menu at Restoran Keong Kee looked very impressive. We ordered chilli crabs, steamed snapper and vegetable dishes. The crabs were cooked to perfection, and the quality of the food was awe-inspiring. 
---
Turtle Conservation in Kuala Terengganu Malaysia
There are a number of restaurants and cafes in Chinatown and you can taste a number of local delicacies cooked in different styles. 
A narrow walkway connects the main street in Chinatown with the Riverfront. This area is called turtle valley and commemorates the efforts made by Terengganu state in the conservation of turtles in this region. Statues of titles and wall murals remind the visitors of ongoing conservation efforts in the region. For more information, visitors can visit the turtle conservation sanctuary in Rantu Abang Area. 
Day tours to places of interest in Kuala Terengganu are available through local operators in the city centre. More information can be obtained from the help desk a the hotel of your residence.  
---
Interesting food of Kuala Terengganu
Kuala Terengganu also offers a rich culinary adventure for foodies with a wide array of Malay/Chinese dishes specific to KT.  Rice-based dishes are quite popular. Try Nasi Dagan with Gulai Ikan Tongkol (rice with spicy tuna curry), Nasi Kunyit (rice cooked into coconut milk and turmeric) and Nasi Kerabu (rice cooked with vegetables and local species).
The use of homegrown ingredients is common in most KT dishes. Kafis lime leaves, pine leaves, galangal and turmeric are the most common ingredients. Sambal sauce is the most common accompaniment to Malays dishes.
Nasi Dagang area near the Kuala Ibai Bridge is popular for early morning breakfast delights. We visited this place in the evening for dinner. The riverfront area is popular for other seafood dishes and people enjoy the cool ocean breeze and views from the waterfront. 
At night you can hang out in Kuala Terengganu Chinatown where there are a handful of bars serving as a waterhole for local crowds. 45 degrees is a more lively and popular stop. 
---
The third day in Kuala Terengganu - Visit Kapas Island  
On our third day, we decided to drive down to Marang Jetty south of Kuala Terengganu City. Marang Jetty caters to boat trips to Palau Kapas and Jamia Island. Both of these Islands are easily accessibly by a 10-minute boat ride and provide amazing beach locations for snorkelling, swimming, kayaking or simply basking in the sun. 
Both Island offers package holiday with beach chalets and water sport activities including deep-sea diving. The packages can be purchased from the vendors at the Jetty. You can also rent snorkels ( RM 15). The boat coast around RM 45 for a return trip. The pilot will drop you at a designated spot on the beach and pick you up after 2, 4 or 6 hours.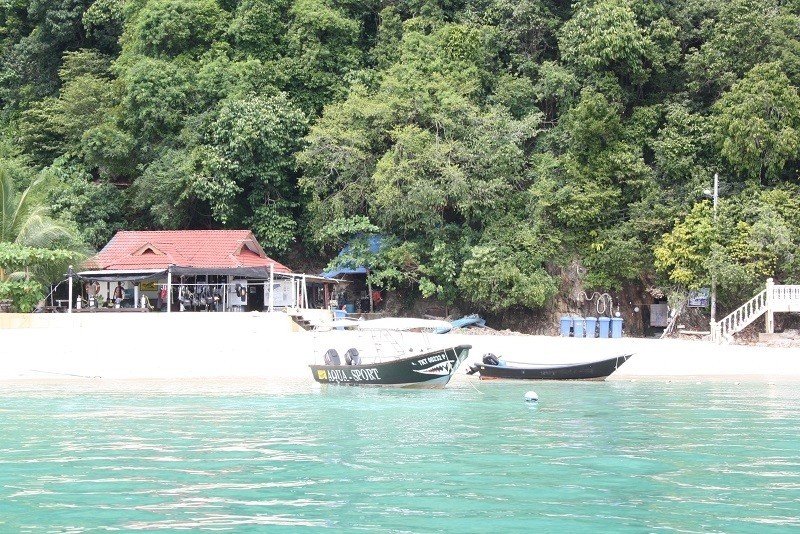 Beautiful beach at Pulau Kapas
Pulau Kapas beach is great for swimming and snorkelling
Calm waters at Pulau Kapas
Boat connecting Marang Jetty with Pulau Kapas
Souvenir shops at Maran Jetty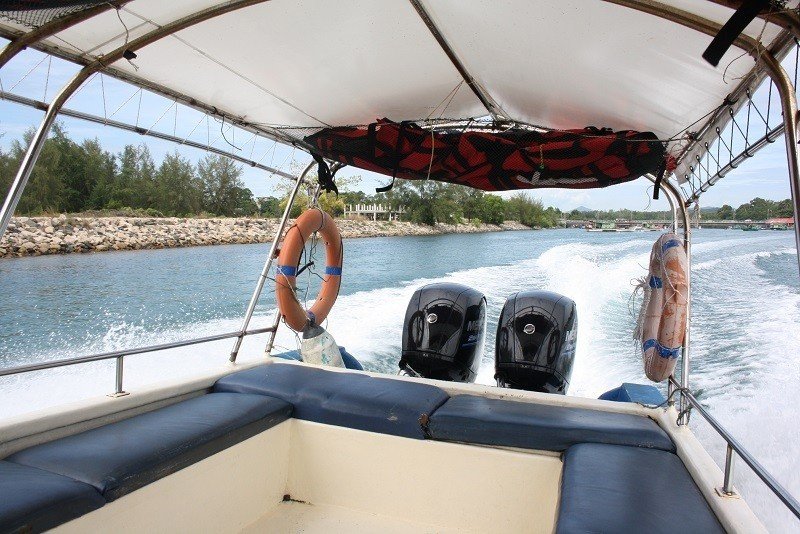 Hire a boat to reach Pulau Kapas from Marang Jetty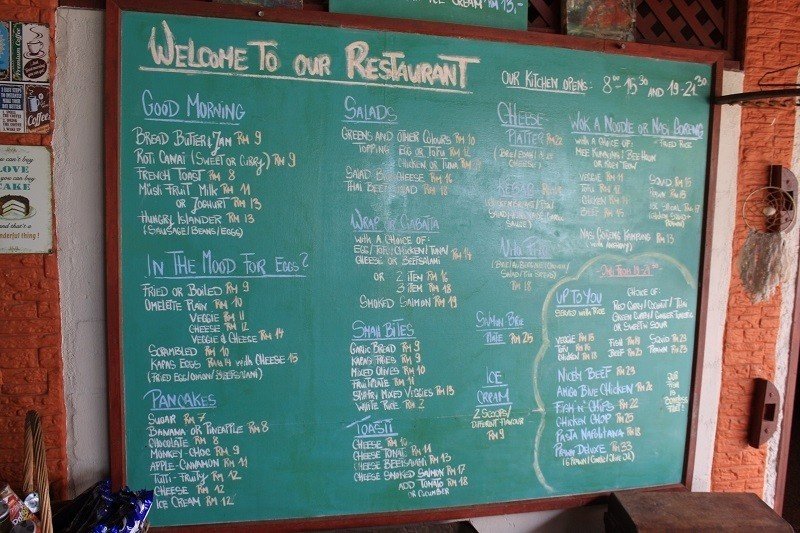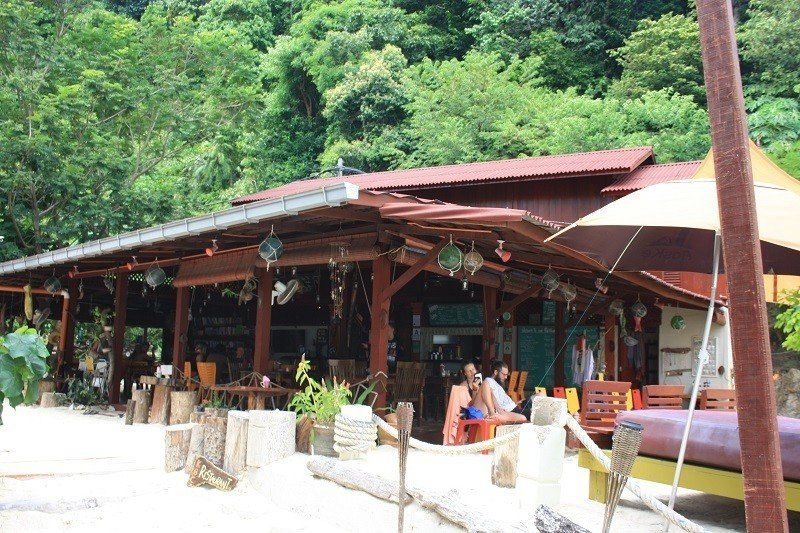 Snorkel Hire at Marang Jetty
Tour operators at Marang Jetty
Ozasiatraveller snorkelling at Pulau Kapas
Pualau Kapas is a great place for snorkelling
The day trip to Kaspas was the most memorable part of the trip. If you are short on time and cannot visit Perhentian Island, I recommend planning a day trip to Kapas Island. 
Read more about Kapas Island Trip  
---
Kuala Terengganu a Gateway to Perhentian Island and Redang Island
One of the most important reasons to travel to Kuala Terengganu is easy to access by speed from Merang Jetty to Perhentian Islands. Marang Jetty ( a different jetty in the south of the city) offers easy access to Pulau Kapas (Kapas Island) and Jamia Island, a low cost and easily accessible location which is ideal for a day trip.
Since Kuala Terengganu is a predominantly Muslim state there is not much nightlife activity in the city. Most western visitors use KT as a stopover to visit some of the best Islands in Malaysia including Perhentian Island and Redang Island. 
Beautiful Perhentian Islands offering amazing Island Holidays
---
The easiest way to travel to Redang from Kuala Terengganu is to catch a ferry from Shahbandar Jetty or Merang Jetty (located north of Kuala Terengganu). If you are booking a ferry through your resort be mindful of which jetty to go to. You can charter your own boat for this 45-minute ride which will cost more than the ferry ride. However, you can save time and avoid the hassle of travelling with more people on the ferry.
---
How to travel to Kuala Terengganu from Kuala Lumpur
The easiest way to reach Kuala Terengganu is to book a flight from Kuala Lumpur . The travel time is less than one hour and local airlines cost under US$ 20 to travel from Kuala Terengganu to Kuala Lumpur. Book in advance to get amazing rates.
The bus terminal in Kuala Terengganu connects with Kuala Lumpur as well as Kuantan
---
If you travelling with a large group, buses offer a comfortable ride from BTS (KL) to Kuala Terengganu. The travel time from Kuala Lumpur via Kuantan is approximately 7 hours. I travelled by air from Kuala Lumpur to Kuala Terengganu. From KT to Kuantan I travelled by bus with a local bus service costing around RM 30. From Kuantan to KL bus ticket is approximately RM 40. 
---
Planning a roadtrip to Terengganu?
Planning a road trip from Kuala Lumpur to Kuala Terengganu? Give yourself a headstart as the road trip to Kuala Trengganu is over 450 km and takes 6 hours of non-stop driving. However, if you are more adventurous and not constrained by time, there are a couple of interesting diversions on the way. 
Two interesting places to visit between Kuala Lumpur and Kuantan are Kuala Gandah Elephant Sanctuary and Gambang Water Park.  These places are very popular for day tours from Kuala Lumpur. Elephant Sanctuary is a great place to explore with kids as they can have a close encounter with elephants.
Gambang Park has water slides, a water park and plenty of outdoor activities for kids and families.  I recommend spending a day or two at Kuantan . During my road trip, I stayed in Kuantan for two nights and enjoyed local attractions and great food at local restaurants. 
Best expereinces in Kuala Terengganu:
Alternatively from East Coast Expressway follow E8 to Kuala Terengganu. Driving is definitely my style of travelling as the quality of interstate roads in Malaysia is world-class and there are plenty of stopovers on the freeway offering quality and cheap food, fuel and other amenities. Don't forget to carry to Touch & Go Card for the express lanes on the freeway as some of the tolls are automated. 
Car rentals are cheap, and long term rentals from KLIA can cost around US30 per day including insurance. 
---
Entrance to Kuala Terengganu
---
Some places are far apart from each other and public transport is scarce. You can hire a taxi for short trips but this can cost time if you are staying far from the city area. The best way to explore this city and surrounding area is to hire a cheap car from the airport.
In Kuala Terengganu I rented a car for under $USD 20/day and explored the city for three days, visiting local beaches, places of attractions, Crystal Mosque and Kuala Terengganu State Museum as well as an interesting area of Marang and Kapas Island. Driving by yourself is the best way to enjoy this interesting city and get the most out of your trip. A road trip to Kuala Terengganu will allow you to explore lakes and waterfalls on the outskirts of the city. 
Kuala Terengganu city has an interesting mix of old and new. The modern part of the city is quite well developed with Shopping Malls, Hotels and administrative offices. The lifestyle in adjoining areas is more relaxed and kampung style development stretches for miles. This region is not very busy towards the end of the year as tourist numbers drop before the rainy season. If you do not plan to go to the Islands, transport and accommodation can be quite cheap in October. 
A taxi is a cheap option in Kuala Terengganu, however, I recommend renting a car for a couple of days. The road network in Kuala Terengganu is quite reasonable and roads are not very congested. The hotel we rented was along with the floating Mosque on the outskirts of the city in the Kuala Ibai Area.  
---
 Hotels in Kuala Terengganu?
Kuala Terengganu has a number of nice 4 star hotels inside the city area. During my first stay, I booked Regency Waterfront Resort  on the outskirts of the city located right next to Zaharah Floating Mosque.
This hotel is available for under $US 40.  This area is halfway between Kuala Terengganu City and Marang Jetty. This location is quite comfortable if you are driving as the hotel is located approximately 15 minutes drive from the city.
If you are not driving, this hotel can seem to be a bit far as a taxi from the hotel to the city centre will cost around RM 20. The great this about this location is a lot of open space, access to a private beach and a beautiful floating mosque located right next to the property. 
---
Staying close to the city centre in Kuala Terengganu
During my second stay at Kuala Terengganu, I decided to book the Grand Puteri Hotel  is located right in the centre of the city. The location is ideal as the bus stop, shopping areas and restaurants are located within walking distance from this hotel. The property is well-maintained and you can get great rates by booking with AGODA.COM.
---
Planning to visit Kuala Terengganu
Search for the best hotels and resorts in Kuala Terengganu
---
 Pin it to read Later!!