Kuala Terengganu is an important and culturally interesting city to visit in the North-Eastern part of Malaysia. Kuala Terengganu is quite popular with people accessing the Perhentian Islands, Palau Redang and Kapas Islands which offer some of the best diving and snorkelling locations on the East Coast of Malaysia. Most of the international tourist uses Kuala Terengganu as a starting point of travelling to Perhentian Islands which attracts during peak season between March and November. 
I travelled to Terengganu in late 2018 and explored the interesting cities of Kuala Terengganu, Cherating and Kuantan. This area is ideal for a road trip and offers a contrasting experience from Western Malaysian cities. Here is some useful information if you are planning a trip to Kuala Terengganu or Perhentian Islands.
Great reasons to travel to Kuala Terengganu
Kuala Terengganu is still a laid back and relaxed lifestyle as compared to other cities in Malaysia. Some modern construction has taken place in the last decade, however, driving through the city you will still feel a kampong style houses and provincial lifestyle. Entering the city you can see beautiful Crystal Mosque on the left side of the freeway offering a great view in the day time as well as at the night time. The main city area has plenty of building, some modern houses, a beautiful Abideen Mosque. KT is also home to turtle conservation in the Rantau Abang Area. Visit the state museum provides an interesting glimpse into the rich cultural history of the region. You can accumulate some rich experiences by visiting local batik manufacturing factories as well as a local craftsman who specializes in woodcarving.  
Enjoy local cuisine of Terengganu where rice-based dishes are quite popular. Try Nasi Dagan with gulai ikan tongkol (rice with spicy tuna curry), nasi kunyit (rice cooked into coconut milk and turmeric) and Nasi Kerabu (rice cooked with vegetables and local species)
Amazing experiences in Kuala Terengganu with KLOOK
How to travel to Kuala Terengganu
The easiest way to reach Kuala Terengganu is to book a flight from Kuala Lumpur . The travel time is less than one hours and local airlines costs under $20 to travel from Kuala Terengganu from Kuala Lumpur. Book in advance to get amazing rates on. If you travelling with a large group, buses offer a comfortable ride from BTS (KL) to Kuala Terengganu. The travel time from Kuala Lumpur via Kuantan is approximately 7 hours. I travelled by air from Kuala Lumpur to Kuala Terengganu. From KT to Kuantan I travelled by bus with local bus service costing around 30RM. From Kuantan to KL bus ticket is approximately 40RM. 
Entrance to Kuala Terengganu
Some places are far apart from each other and public transport is scarce. You can hire a taxi for short trips but this can cost time if you are staying far from the city area. The best way to explore this city and surrounding area is to hire a cheap car from the airport.
In Kuala Terengganu I rented a car under $USD 20/day and explored the city for three days, visiting local beaches, places of attractions, Crystal Mosque and Kuala Terengganu State Museum as well as interesting area of Marang and Kapas Island. Driving by yourself is the best way to enjoy this interesting city and get the most out of your trip. 
Kuala Terengganu city has an interesting mix of old and new. The modern part of the city is quite well developed with Shopping Malls, Hotels and administrative offices. The lifestyle in adjoining areas is more relaxed and kampung style development. This region is not very busy towards the end of the year as tourist numbers drop before the rainy season. If you do not plan to go to the Islands, transport and accommodation can be quite cheap in October.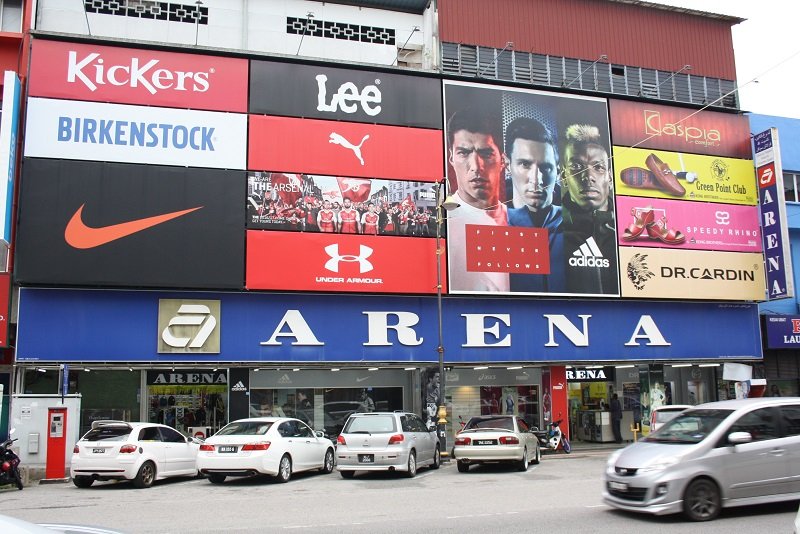 Shopping area in KT downtown 
---
Taxi is cheap, however, I recommend renting a cheap car for a couple of days. The roads are great and not too busy. The hotel we rented was along with the floating Mosque at the Outskirts of the city in Kuala Ibai Area.  
Things to do in Kuala Terengganu
1. Explore Chinatown in Kuala Terengganu
Kuala Terengganu has an interesting Chinatown with a number of nice restaurants serving Chinese, Malay and continental dishes. I visited this location a couple of times in day time and night time as well. The popular Turtle Alley is in Chinatown with wall marking and engraving providing information on Turtle Conservation efforts in the area. The riverfront area is popular with weekend markets and plenty of nice restaurants. A popular location for outdoor seafood restaurants is located on the opposite side of the river which is accessible by driving across the bridge over the river. We explored this area at nighttime and enjoyed some local cooked seafood.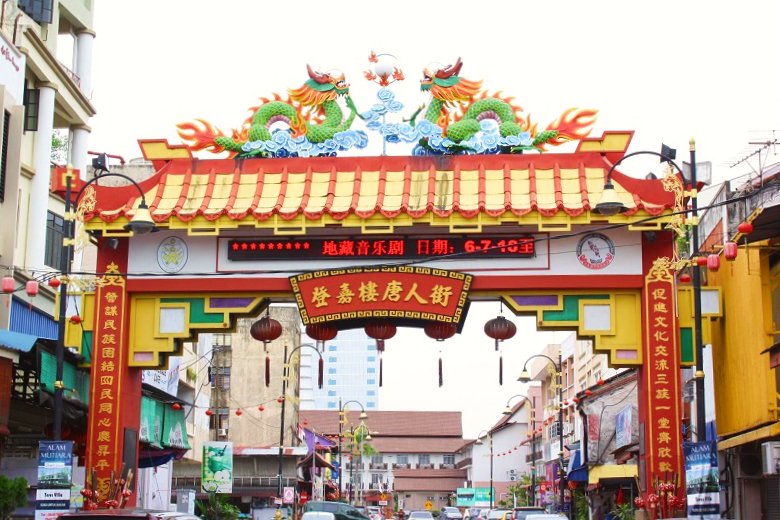 Entrance to Chinatown in Kuala Terengganu
---
Chinatown has a couple of bars and Chinese/Malay restaurants. We crashed at a local bar 45 degrees which stayed open till late. There are a couple of nice Chinese restaurants offering seafood dishes cooked in local sauces and spices.  We enjoyed chilli crabs, steamed fish and some interesting local seafood at Restoran Keong Kee.
Restoran Keong Kee in Chinatown KT 
---
2. Enjoy Kuala Terengganu River Cruise
KT River cruise station is located close to Chinatown and is an interesting way to explore the interesting waterfront. The boat tour takes you up to to the Crystal Mosque. The view is amazing in the day time. You will stop at the docking station at the Mosque for 10 minutes to take a photograph. Make sure to book the tour in the day time to enjoy the most. The tour costs around 40RM. Kuala Terengganu Tourism Center is located on the other side of the river. This area is a must-visit in the day time.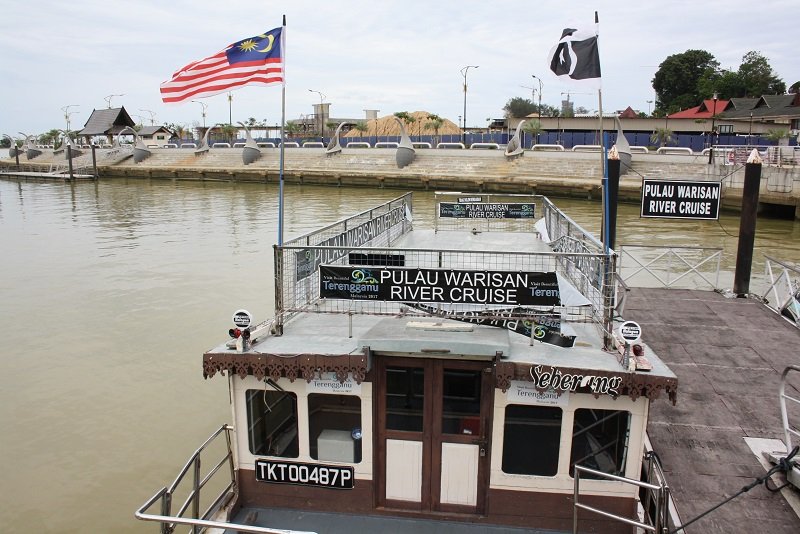 Kuala Terengganu River Cruise
---
3. Explore Kuala Terengganu State Museum 
KT State museum is a massive structure split into a number of sections. You will need a good 2 hours to explore all section dedicated to arts and crafts, colonial history, early exploration and mining projects in the region as well as life and art of various tribes that lived in this region. Various sections are dedicated to the history of weaving, weapon making, local crafts including jewellery making and detailed insights into the cultural and religious history of the region. 
Some of the vehicle owned by sultans of Terengganu is also on display outside the museum. This location is a must-visit for lovers of Malaysian history and culture. 
KT State Museum
---
4.Beautiful Mosques of KT
Kuala Terengganu has a rich Islamic history which is evident in amazing architecture in three interesting Mosques I visited in the city. Crystal Mosque is visible at the arrival of the city and is an architectural masterpiece reflecting a good mix of Middle-Eastern and Arab Muslim architecture. 
Abideen Mosque Kuala Terengganu
---
Abideen Mosque is located in the centre of the city and is an oasis of calmness and peace. The architecture is amazing and the main structure and minarets are painted in white. The floating mosque or Tengku Tengah Zaharah Mosque was located adjacent to Regency Waterfront hotel I stayed in KT.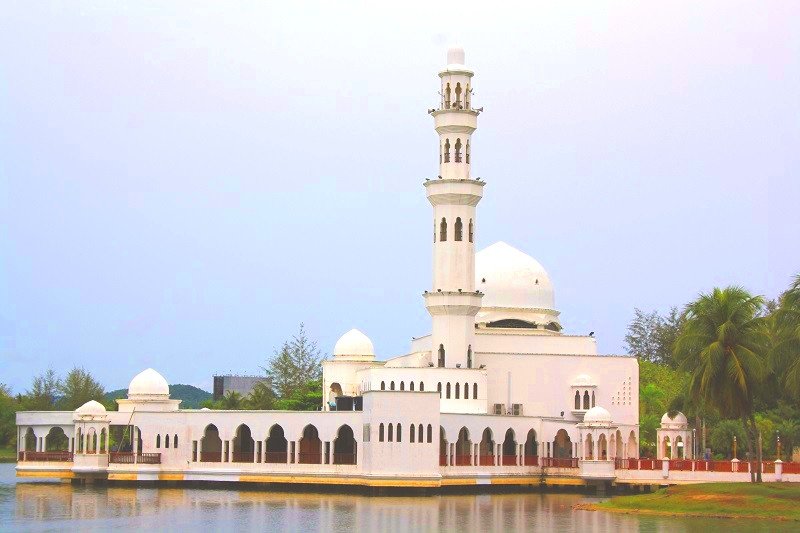 Zaharah Floating Mosque Kuala Terengganu
---
5.Batu Buruk Beach 
Batu Buruk Beach is a popular waterfront area with plenty of cafes, Macdonalds and a car Park. There is plenty of open space in the area and is quite popular with families over the weekend and holidays.  
This area is popular for excursions and kite flying rather than swimming as water can be quite choppy and dangerous to swim.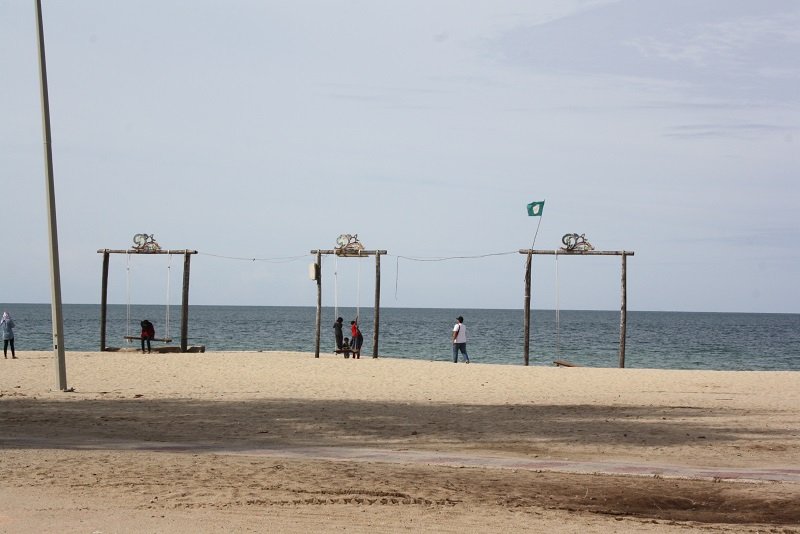 Batu Buruk Beach popular for beach activities
---
6. Pantai Bukit Keluang
This area is one of the hidden gems in the region offering many outdoor activities, clean beaches and some rocky outcrops on the beaches as well. This area is 10 km from Kuala Besut and is popular with families over the weekend. Enjoy the beach area or several caves as well as lush rainforests.
7. Palau Perhentian
One of the most popular Island destinations in Malaysia Perhentians is located off the coast of Terengganu. Most travellers to this Island stop in Kuala Teregannau and catch a ferry from Merang Jetty (as opposed to Marang Jetty which is located south of KT).
Palau Perhentian Kecil is popular with budget travellers. Perhentian Besar is more relaxed and less developed but home to high-end resorts. This Island is more popular with honeymooners and family traveller. Most traveller book a minimum of two nights stay to enjoy most attractions in this region. Perhentian is an underwater paradise and is popular for diving and snorkelling.  
 Where to stay in Kuala Terengganu?
Kuala Terengganu has a number of nice 4 star hotels inside the city area. During my first stay, I booked Regency Waterfront Resort  at the outskirts of the city located right next to Zaharah Floating Mosque. This hotel is available under $US40.  This area is halfway between the Kuala Terengganu City and Marang Jetty. This location is quite comfortable if you are driving as the hotel is located approximately 15 minutes drive from the city. If you are not driving, this hotel can seem to be a bit far as a taxi from the hotel to the city centre will cost around RM 20. The great this about this location is a lot of open space, access to a private beach and a beautiful floating mosque located right next to the property. 
Staying close to the city centre in Kuala Terengganu
During my second stay at Kuala Terengganu, I decided to book the Grand Puteri Hotel  is located right in the centre of the city. The location is ideal as the bus stop, shopping areas and restaurants are located at a walking distance from this hotel. The property is well-maintained and you can get great rates by booking with AGODA.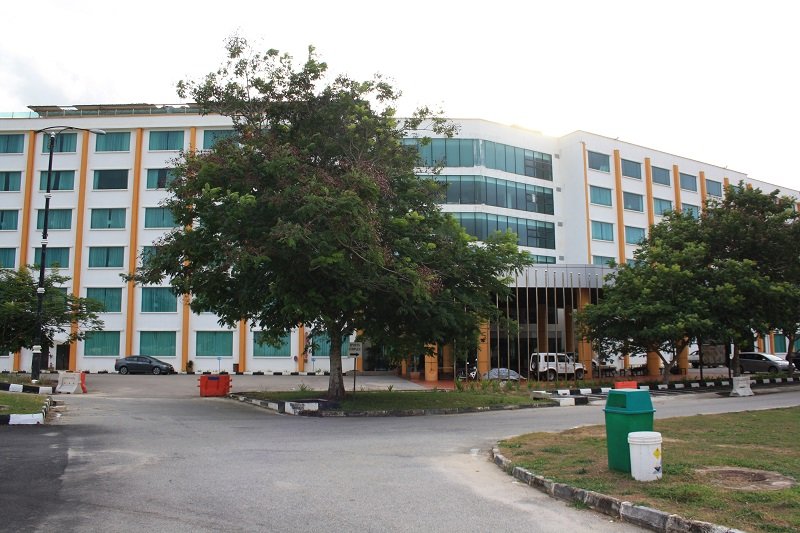 Regency Waterfront Hotel, Kuala Terengganu 
---
 Pin it to read Later!!