Langkawi Island is one of the top-rated and most visited destinations in Malaysia by local and international tourist alike. Stretching over more than 99 islands, Langkawi Island offers a wide range of activities for visitors. Looking at the map of Langkawi it might seem like a small place. However, in reality, you would need a good couple of days to explore various parts of this interesting destination which comprises of 99 islands. If you are planning a trip to Langkawi a minimum of two nights stay is suggested to explore most places of interest in Langkawi. Here is some useful information for the best things to do in Langkawi. 
Transportation on Langkawi Island?
Langkawi Island has a good network of roads connecting various parts of the Island. If you are comfortable with driving and like to explore most places of interest in minimum possible time, I recommend renting a car at the airport. The car rental costs around US 40/day on average. Taxis are easily available at any time of the day or night. The average rental from Langkawi Airport to Pantai Cenang is RM 20. 
Here are taxi fare rates for travelling between various popular locations on Langkawi Island. 
1. Kuah Jetty Area to Langkawi Cable Car Station  - around RM 55
2. Langkawi Airport to Kuah Jetty Area -RM 35
3. Kuah Village to Cenang Beach - RM 40
4. Airport to Cenang Beach Area - RM 25 
Flat rates are posted on the booking stands where you will get the ticket and pay a flat rate for your destination. A 4-hour rental will cost you around RM 140. An average 3 Star Hotel will cost around RM 80-100 (Check Recommended 3-Star Hotels in Langkawi ). Therefore, in order to avoid the hassle of catching public transport it is advisable to live close to most tourist attractions. 
---
Where to stay in Langkawi Island Malaysia?
Langkawi Island offers a wide range of accommodation ranging from high-end exclusive resorts to cheap chalets and hotel rooms along the beach. Whatever, your budget,  book online with HotelsCombined  to get the best advance booking rates in areas of your choice. 

Exclusive waterfront resorts in Langkawi Island
---
Here are 4 major areas to stay in when travelling to Langkawi
Wondering how many days for Langkawi Island?
Here are my guidelines for what to do in Langkawi for 3 Day.
Based on your budget and travel style, you can book your accommodation in any of these four areas on Langkawi Island. Pantai Cenang is one of the most popular and central areas. Some high-end resorts are located are remote locations with private beaches and a quieter environment. 
1. Tanjung Rhu      2. Pantai Cenang  3. Pantai Kok  4. Kuah Village

1. Tanjung Rhu in Langkawi ( Located on the top eastern end)
One of the most luxurious, scenic spot on the island enclosed by a cove and nice pristine beaches with easy access to adjoining islands Tanjung Rhu is home to Four Seasons Resort  and Tanjung Rhu Resort . These are top-end resorts costing on average more than RM600 per night. You will find plenty of water sports and stay for the sunset to view the beautiful view of the sun setting on the horizon.
While driving to this location you will see the mangroves and some of the most beautiful islands around Langkawi. This area is suited for a secluded romantic getaway or a memorable honeymoon in Langkawi.
These resorts make an ideal location for wedding ceremonies and a large number of foreigners book their holidays and get married on these exclusive resorts. If you are planning a honeymoon in Langkawi, you should be looking for this location on the map. 
Luxury Resorts in Tanjung Rhu
---
2. Pantai Cenang & Tengah in Langkawi( Western part of the island)
Pantai Cenang in Langkawi is the most commercialised and developed area of the island with a number of shopping centres,  restaurants and hotels and seaside resorts. For my first visit to Langkawi, I had booked online in Kuah Village hoping that this will be a busy area to stay. However, on arrival at the airport, I was dropped off by the taxi driver in the Cenang area for dinner and I realized that I should be booked my hotel in Cenang Area.
If you are travelling single and want to stay in the heart of the activity, Pantai Cenang is definitely the best option. For a more relaxed, resort-type holiday you can explore other areas of the Island. 
Cenang beach is also popular for water sports including banana boats, windsurfing, water scooters, snorkelling. 
Book your customized tour  with local operators and enjoy the scenic island in your own way. 
Take a stroll along the main road to explore a number of art galleries, seafood restaurants and massage places. Plenty of tour operators are based in the Pantai Cenang area and they take orders for boat tours till the late hours of the night.
It is a good idea to book a tour in advance with the local operators who will organize an early morning pickup for all island tours. 
Local seafood restaurants in Cenang Beach Langkawi

---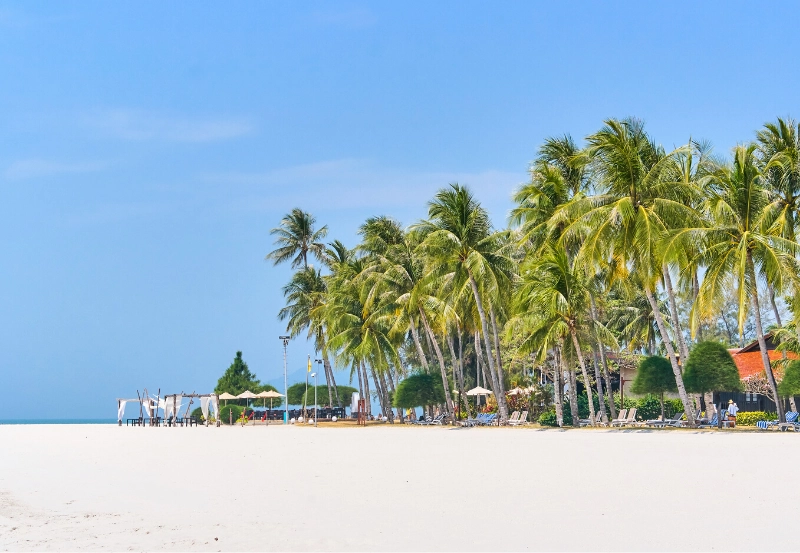 Pantai Cenang Beach Area is the most popular waterfront location for water sports
---

The Langkawi island is famous for seafood and you can find seafood in almost all restaurants. The seafood is cooked in various styles (Thai, Chinese, Malay) with sauces of your choice. Lobster, crayfish, crabs and various varieties of fish including pomfret are commonly available. 
Most popular restaurants in this area are The Brasserie, Orkid Ria Seafood Restaurant, Shin Mi Seafood Village and Happy Happy Cenang Seafood restaurant. For a nice night out you can hop into one of the bars along the main drag that stays open till late and play western music.
Some Cheap hotels in the Cenang Beach area are:
3. Pantai Kok (Middle Part of Langkawi Island)
Pantai Kok is nestled between Oriental Village and Telaga Harbour. If you go past Dana Hotel, there is public access to a beautiful lighthouse. Other resorts located in this area are Berjaya Langkawi Beach Resort, Mutiara Burau Bay Resort, Tanjung Sanctuary Resort & Sheraton Langkawi Beach Resort. This area is very close to Langkawi Marina as well as the Langkawi Cable Car. 
SkyTrex Adventure Park is a new attraction located in this area. Other places of interest in this area are Seven Wells Waterfall, Langkawi Duck Tours, Pisang Handicraft and Art Village. 
Skybridge Langkawi Price for 2019 was:
For Private Gondola for 360-degree views to be shared with 4 people: RM 155 person
Glass Bottom Gondola: RM 105  per person
Sky Cab: RM 25 person 
Note that prices vary for international visitors.
Check Ticket Prices online
.
Ticketing area at Pantai Kok
---
Pantai Kok is an interesting area to explore. This is one of the main parking areas for all the tour coaches as you can buy tickets for various activities. Walk around the open area or buy souvenirs and explore local arts and crafts in Pantai Kok. There are several local and international restaurants as well. 
Skybridge overlooking the Andaman Sea 
---
 Several hotels located in this area are: 
Langkawi Cable Car
---
4. Kuah Jetty Area in Langkawi Island
Kuah Jetty is the entry point for people travelling from other parts of the country as well as Thailand using the ferry. The terminal is the hub of transport and most buses and taxi operators are based in this area. The landmark Langkawi Eagle is located in this area. Other than an entry point into Langkawi, this area does not have a lot of tourist attractions.
You can find reasonable accommodation at walking distance from the jetty ranging from 4 stars hotels to budget accommodation under RM 50 per night. During my first trip to Langkawi, I stayed at Bayview Hotel ( 4-Star) in Kuah Jetty Area.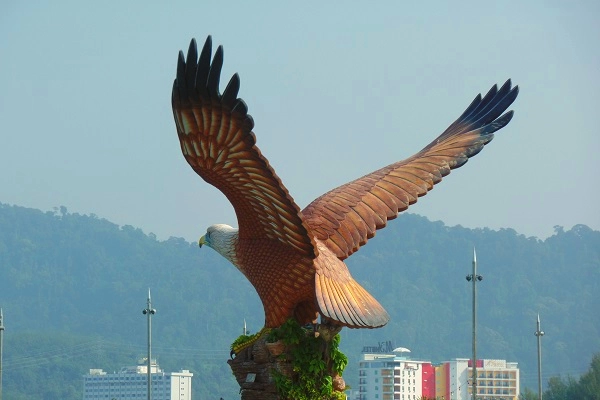 Eagle Statue near Kuah Village Area
---
Catching a ferry from Penang is an easy alternative to travel to Langkawi if you do not want to travel by air. You can also book bus trips to various cities in Malaysia from Kuah Jetty area. The ticket includes the cost of the ferry to Penang, followed by a bus ride to respective destination. 
Ferry service between Penang and Langkawi can also be booked online. Check the website for schedule and availability. Note that the service can face interruption in the rainy season between September and November. 
Waterfront area near Kuah Village and Eagle Statue
---
You can charter you personalised boat tours to various point of interest around Langkawi Island. Solo tours cost around RM 450 per day. Alternatively, join a shared group which would cost an average of RM 35 per person. The tours take around 3-4 hours and can include a number of activities of your choice. The day tours start around 9 am so hitting the bed early is a must if you want to enjoy the day tour. Midday tours start around 2 pm which could take up to three hours.
 Some of the best places to live in Kuah Jetty are
Looking for a hotel in Langkawi?
Save up to 40% on advance booking with top booking platforms.
Best time to visit Langkawi
The temperature in Langkawi round the year is between 25 - 32 c. The best time to travel is between April and August. The dry season is from November until mid-April.   
How to travel to Langkawi from Kuala Lumpur and other parts of the world
Travelling By Air to Langkawi Island
You can easily catch an international flight or a domestic regional flight to an international Langkawi Airport. Malaysian Airlines have connecting flights from London, Osaka, Taipei. With Silk Air, you can catch a daily flight from Singapore. 
Air Asia runs very affordable flights every hour to Langkawi. Booking in advance can save you a lot. Normally the last booking for the return flight from Langkawi will cost around US 50.  
Travelling By Ferry to Langkawi Island
The ferries are pretty crowded but are a cheap alternative to get to Langkawi, You can catch a ferry from Kuala Kedah, Kuala Perlis and Penang and Satun in Thailand. 
Book a ferry for Penang to Langkawi
Weather in Langkawi Island
The average temperature stays around 90 F. The hottest month of the year is February and the coolest month in October. Rainy months are from September to November. 
What to do in Langkawi Island for 3 Days
Here is a list of some of the best things to do in Langkawi. Most popular things to do in Langkawi include
Langkawi Cable Car & Sky Walk 
Langkawi Skybridge
Boat Tours to Pulau Payar National Park to see some amazing sea life and birds in the region
Trip to Ayer Hangat Village to experience hot water springs
Temurun Waterfall - a Three-level waterfall in the middle of the Island
Discount Duty-Free Shopping at Pantai Cenang
Crocodile Adventureland
Besides, these attractions, one of the major attractions in Langkawi are customized tours and sea charters for:
Day Cruise
Romantic Sunset Cruises
Private Charters
Private Island Hopping
Fishing Trip
Jetski Tour
---
Other interesting Langkawi Sightseeing check out one of these interesting things to do in Langkawi
Pin it to read Later!!!


Related Content on the Website: