Best things to do in Kuala Terengganu
Best Things to do in Kuala Terengganu Malaysia
1. Explore Chinatown in Kuala Terengganu
Kuala Terengganu has an interesting Chinatown with a number of nice restaurants serving Chinese, Malay and continental dishes. I visited this location a couple of times during the daytime and nighttime as well. The popular Turtle Alley is in Chinatown with wall marking and engraving providing information on Turtle Conservation efforts in the area. The riverfront area is popular with weekend markets and plenty of nice restaurants. 
Bar 45 Degree is an interesting hangout to enjoy alcoholic drinks and snooker tills late hours of the night. 
A popular location for outdoor seafood restaurants (Ikan Bakar Duyong)is located on the opposite side of the river from the waterfront area near Chinatown. I drove across to this section of the town to enjoy some located seafood in roadside cafes. These restaurants attract large crowds over the weekend as the location is ideal to enjoy river views as well as local seafood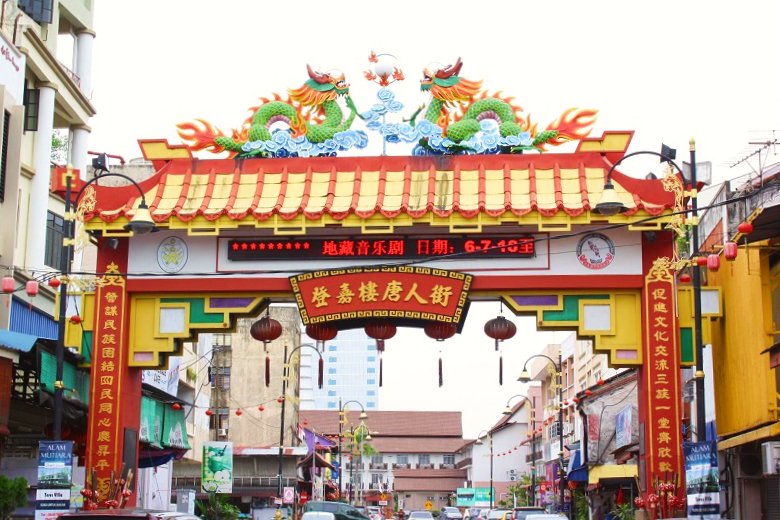 Entrance to Chinatown in Kuala Terengganu
---
Chinatown has a couple of bars and Chinese/Malay restaurants. We crashed at a local bar called 45 degrees which stayed open till late. There are a couple of nice Chinese restaurants offering seafood dishes cooked in local sauces and spices.  We enjoyed chilli crabs, steamed fish and some interesting local seafood at Restoran Keong Kee.
Restoran Keong Kee in Chinatown KT 
---
 Best Experiences in Kuala Terengganu
---
2. Enjoy the Kuala Terengganu River Cruise
KT River cruise station is located close to Chinatown and is an interesting way to explore the interesting waterfront. The boat tour takes you up to the Crystal Mosque. The view is amazing in the daytime. You will stop at the docking station at the Mosque for 10 minutes to take a photograph.
Make sure to book the tour in the daytime to enjoy it the most. The tour cost around RM 40. Kuala Terengganu Tourism Center is located on the other side of the river. This area is a must-visit in the daytime.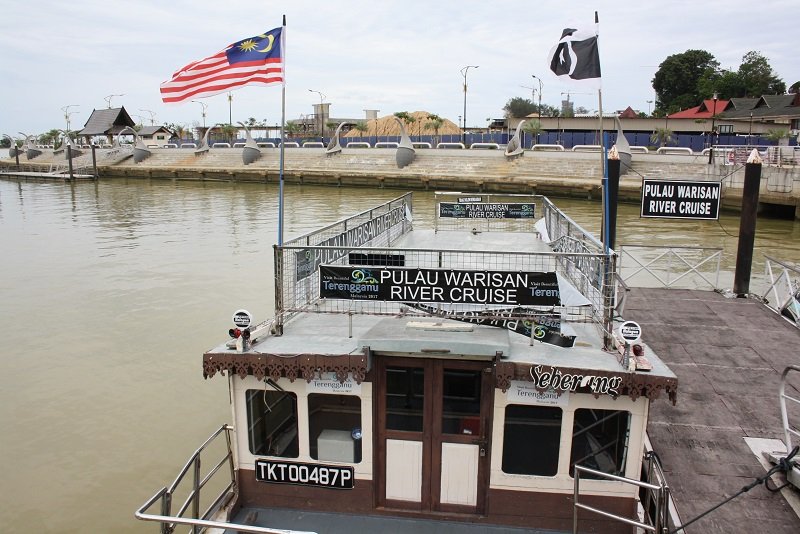 Kuala Terengganu River Cruise
---
3. Explore Kuala Terengganu State Museum 
KT State museum is a massive structure split into a number of sections. You will need a good 2 hours to explore all sections dedicated to arts and crafts, colonial history, early exploration and mining projects in the region as well as the life and art of various tribes that lived in this region.
Various sections are dedicated to the history of weaving, weapon making, and local crafts including jewellery making and detailed insights into the cultural and religious history of the region. 
Some of the vehicle owned by Sultans of Terengganu is also on display outside the museum. This location is a must-visit for lovers of Malaysian history and culture. 
KT State Museum
---
4. Beautiful Mosques of Kuala Terengganu
Kuala Terengganu has a rich Islamic history which is evident in the amazing architecture in three interesting Mosques I visited in the city. Crystal Mosque is visible at the arrival of the city and is an architectural masterpiece reflecting a good mix of Middle-Eastern and Arab Muslim architecture. 
Abideen Mosque Kuala Terengganu
---
Abideen Mosque is located in the centre of the city and is an oasis of calmness and peace. The architecture is amazing and the main structure and minarets are painted in white. The floating mosque or Tengku Tengah Zaharah Mosque was located adjacent to the Regency Waterfront hotel I stayed in KT.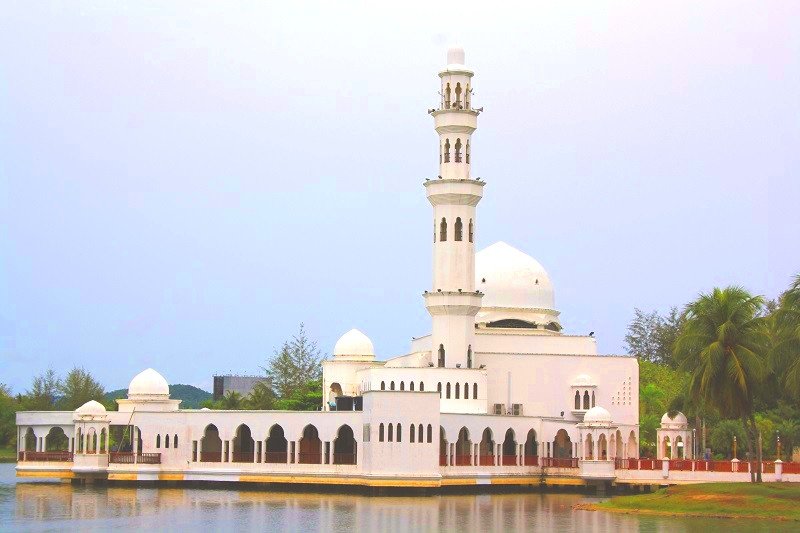 Zaharah Floating Mosque Kuala Terengganu
---
5.Batu Buruk Beach in Kuala Terengganu
Batu Buruk Beach is a popular waterfront area with plenty of cafes, Macdonalds and a car park. There is plenty of open space in the area and is quite popular with families over the weekend and holidays.  
Enjoy Best Experiences in KT with KLOOK
This area is popular for excursions and kite flying rather than swimming as the water can be quite choppy and dangerous to swim. This beach area is more of a picnic spot with plenty of open space. Swimming is definitely a very popular activity here because of the strong currents. People tend to stay late to enjoy snacks by the seaside and the cool ocean breeze on a summer night.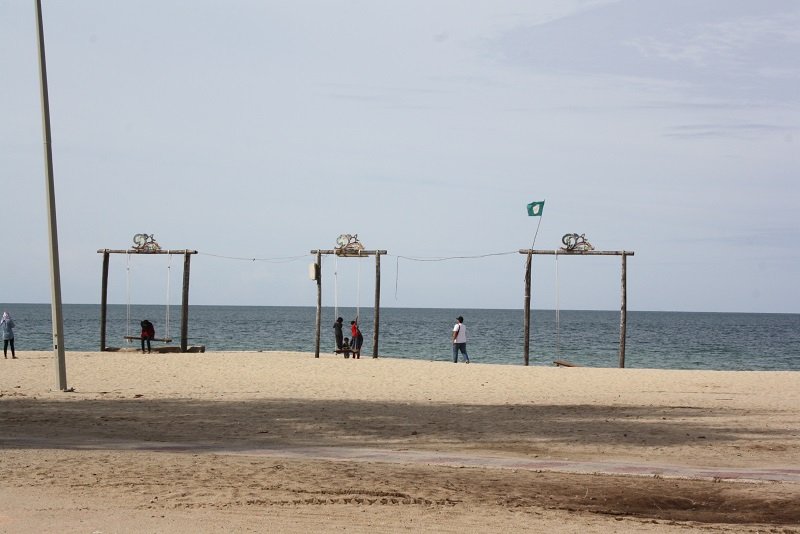 Batu Buruk Beach popular for beach activities
---
6. Pantai Bukit Keluang in Kuala Terengganu
This area is one of the hidden gems in the region offering many outdoor activities, clean beaches and some rocky outcrops on the beaches as well. This area is 10 km from Kuala Besut and is popular with families over the weekend. Enjoy the beach area or several caves as well as lush rainforests.
---
7. Palau Perhentian Island trip from Kuala Terengganu
One of the most popular Island destinations in Malaysia, Perhentian Islands is located off the coast of Terengganu. For most international travellers KT is a stopover for catching a ferry to amazing Island destinations on the East Coast of mainland Malaysia. 
Most travellers to this Island stop in Kuala Teregannau and catch a ferry from Merang Jetty (as opposed to Marang Jetty which is located south of KT).
Palau Perhentian Kecil is popular with budget travellers. Perhentian Besar is more relaxed and less developed but home to high-end resorts. This Island is more popular with honeymooners and family travellers. Most travellers book a minimum of two nights' stays to enjoy most attractions in this region.
Perhentian is an underwater paradise and is popular for diving and snorkelling or simply an amazing Island holiday for honeymooners and families alike.   
---
8. A Day trip to Pulau Kapas near Marang Jetty
10km south of Kuala Terengganu city is Marang Jetty, a gateway to the beautiful Kapas and Jamia Island. There is small fishing off the Jetty offering an interesting insight into the life of the fishing communities of Kuala Terengganu.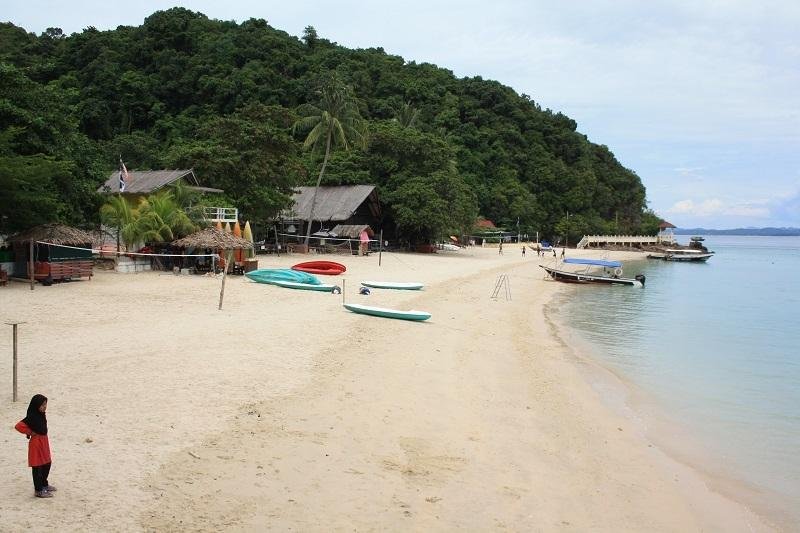 Beautiful Beach on Kapas Island 
---
Kapas Island is accessible by a private boat charter at the jetty. The boat ride takes 15 minutes to the Island. The pilot of the boat will drop you at the Island and come back to pick you up in 2-4 hours based on how long you want to spend on the island.
Make sure to rent a snorkel for RM 15 at the jetty as the clean and clear water of the island is ideal for swimming and snorkelling.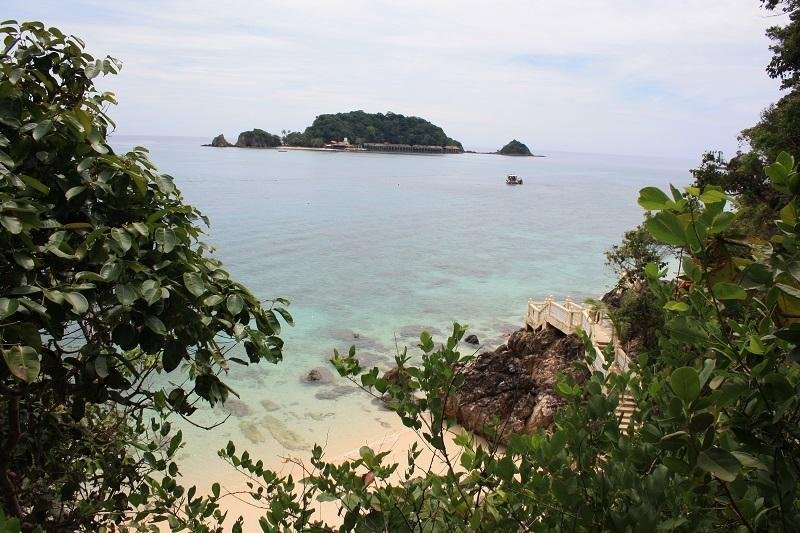 Beautiful view of Jamia Island from Kapas Island
---
There is some basic chalet and cabin-type accommodation available on both Kapas and Jamia Island. If you plan to stay longer, book a packaged tour from the operators at the Marang Jetty. 
Kapas Island is great for a lazy day at the beach and swimming. There is a short walking track that takes you to different parts of the island and some secluded beaches that can give you more privacy. 
Find Best Hotel Deals in Kuala Terengganu
---