If you are up for a long and adventurous drive through winding roads and lush green tea plantations and strawberry farms, you need to visit Cameroon Highlands. Located 400km Northeast of KL it is easy 5-6 hour driving distance. Drive North of towards IPOH on E1 and ext at take 59 towards Tanah Rata. The roads get winding with tree plantation on both sides. Watch out for the incoming traffic as there are lots of buses on the road. You will see occasional hawker on the roadside selling durians and other tropical fruit.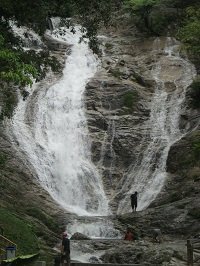 Lata Sakenar falls midday between the freeway exit and Tanah Rata. You can stop by to enjoy a beautiful waterfall (left) and eat tropical fruit. Some woman will approach you offering soothing massage in cabins located near the base of the waterfall. The place has a great relaxing atmosphere and offers a quiet retreat from the buzz of bigger cities. to take a break by the waterfall and enjoy tropical fruit.
Cameroon highlands is popular for tourist activities and offer a number of adventure trip and tours operated by local agencies. You can take a day trip through the tropical forest or go strawberry picking at a local farm. The region is famous for oversized beautiful butterflies and beetles that can be found preserved in frames as souvenirs. Take some time out to visit tea plantations and tea factories to learn about the process of making tea. Bharat tea plantation is one interesting offers daily tours of their plantation.
This part of Malaysia is famous for large insects and butterfly. Visit butterfly farms near Tanah Rata.
Take a trip to one of the tea plantation for a lazy and relaxed day of tea tasting and tea manufacturing in the region. To have a feel for village life in the region you can drive to Orang Asli village. The traditional people are living in their age-old huts and still follow the traditional lifestyle using blowpipes for hunting in the jungles. If you are staying overnight to go out for Night Market every Friday and Saturday.
Where to stay in Cameroon Highlands
Equitorial Cameroon Highlands Kea Farm, Brinchang 39100, Malaysia
Parkland Hotel No 45 Jalan Besar, Brinchang 39100, Malaysia
Cameroon Highlands Resorts By the Golf Course, Tanah Rata 39000, Malaysia