Ready for your next adventure in Queensland Australia? Brisbane to Sunshine Coast is one of the most popular tourist routes and backpacker trail is undertaken by hundreds of travellers in this most fascinating regions of Australia. This one and a half hour trip take your from the bustling city of Bristance to beautiful coastal towns and hinterland. 
Brisbane to sunshine coast can be one day trip or an extended stay that will allow you to enjoy best of the sunshine coast. Most popular coastal town destinations liked by families include Caloundra, Mooloolaba and Maroochydore. Noose headlands and Noosa National Park is not to be missed if you love outdoors and enjoy long nature walks. 
Exploring Noosa in Sunshine Coast
Noosa is easily accessible by driving from Brisbane. The driving time is approximately one and a half hour. Driving along Bruce Highway exit for Edmundi till you reach Noosa. If you are catching a bus, Greyhound runs a regular service from Brisbane to Noose. Check timings fo daily service. If you are exploring sunshine as a backpacker, East Coast passes are available with Greyhound services that allow multiple stopovers within a certain time period. This is the most economical and practical way to explore amazing destinations across Queensland region.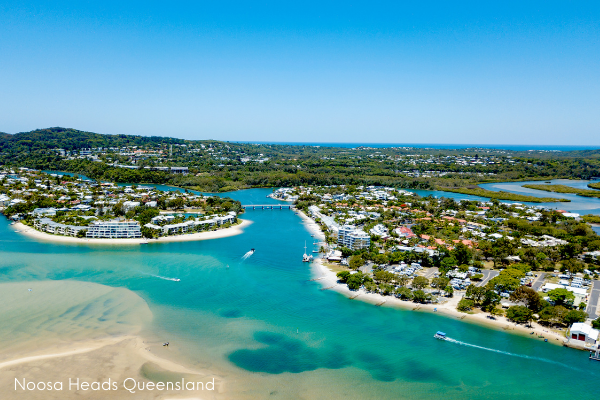 Noosa Heads offer a number of quality luxury hotels, high-end restaurants, trendy bars and a number of art galleries that will surely keep you occupied for a couple of days. 
For family travellers to Noosa, here is a shortlist of amazing things to do:
Stay at OZ Ski Resort to enjoy a number of water sports under the supervision of experienced staff. You can learn to waterski or simply cruise the water on a banana boat.
A unique way to enjoy Noosa is to take a Gondola ride on Noosa River with Gondolas of Noosa. Catch the Gondola on the Sheraton Wharf. This romantic experience is sure to stay in your memory for a long time. 
Explore speciality market store at Eumundi Markets hosted every Friday, Wednesday and Saturday. Buy souvenirs, enjoy kids activities and many health care stores. 
Explore the beaches and bushland on a horseback
Take a scenic flight to Fraser Island and enjoy a birds-eye view of the coastline
Book tours to Blackwell Range exploring beautiful towns of Maleny and Mapleton
Surfing at Noosa
The history of surfing goes back to 1960s surfing culture in the region, especially around the Cooloola Coast. You can catch a good surf through the year around Noosa Heads. Noosa National Park has a number of coves to enjoy some secluded coastline and great surf. Cooloola coastline is also popular with 4WDs and kayakers. 
A number of surfing schools near Hasting Street provide quality surf training. The one hour group lessons can cost up to $40, which is highly recommended. 
Exploring Noosa National Park
The National Parks lies towards the end of Sunshine Coast and offers plenty of nice coastal walks, scenic lookouts and a number of bays popular with surfers. Laguna Lookout offers some great views of the area. 
What are some of the best places to stay in Noosa?
There are a number of budget campground and Hostels in Noosa that attracts a large number of backpackers exploring this region on a budget. Noosa River Retreat is a popular park along the river with well-managed campgrounds and cabins. 
YHA Halse Lodge is a historical building with wooden floors and massive verandahs. This establishment is walking distance from Hasting street. 
Medium Range accommodation includes some motels including Noosa Heads Motel ( $80) and Noosa Pacific Riverfront Resort. 
Glass House Mountains
This 20 million years old Mountains are remnants of volcanic eruptions resulting in giant cones and rock formations. The area can be explored extensively on a number of mettled and un-mettled roads. There are a number of walking track for bushwalkers.
Enjoy shopping at the picnic spots to relax and enjoy the beautiful surrounding. The rocks also offer challenging opportunities for rock climbers. 
Explore the coloured Sands of Teewah
The coloured sands rise over 40000-year-old cliffs north of Noosa Heads in the Great Sandy National Park. This colouration is caused by oxidation resulting from decaying vegetation.  
What is the best time to visit Sunshine Coast?
January maximum temperature stays around 30c. The temperature from January to July stays between 22c to 30c which makes this region ideal for travel all through summers and early Autumns. 
The Tropical Adventures and Produce
The hinterland to Noosa Heads is famous for pineapple production. The big Pineapple symbolizes the important food products in the region. Other crops include academia nuts, flowers and spices. 
Yandina's ginger factory is the largest in the region selling a large range of ginger products including a ginger ice-cream. Saturday and Wednesday markets are Eumundi is a great place to shop for local produce including fruit and nuts.