Here is a list of some of my favourites sites I visited:
1. Masjid Negara, Kuala Lumpur
Jalan Perdana, Tasik Perdana 50480 Kuala Lumpur
Visiting Hours: 900-2300 hrs, Saturday & Thursday: 245-1800hrs
Located at walking distance from KL Central and adjacent to Botanical Gardens and Butterfly Park, this mosque is a must-visit if you are keen on exploring the beautiful architecture of Kuala Lumpur. 
If you are exploring KL city on foot, Masjid Negara is easily accessible from Merdeka Square as well as Little India and Chinatown.  
When visiting the mosque be mindful of mosque etiquette where women cover their bodies and leave your shoes at the entrance of the mosque.  The mosque as a calm and cool environment and you can relax and pray if it falls on your walking tour of KL. 
The mosque has a spacious structure with modern architecture this building is inspired by Masjid-al-Haram. The mosque can accommodate 15,000 worshippers. The structure of the mosque consists of 18 domes. 13 domes marking 13 states of Malaysia and 5 pillars of Islam. 
2. Putrajaya Mosque
Jabatan Kemajuan Islam Malaysia (JAKIM), Pusat Pentadbiran Kerajaan, 62502 Persekutuan, Wilayah Persekutuan Putrajaya, Malaysia
I have visited Putrajaya on several occasions. The architecture of the city is an amazing mix of modern and traditional styles, taking you back in a mystical land with massive structure, large coloured domes and wide streets on beautiful building on both sides. 
Putrajaya is the Administrative capital of Malaysia located at 30 minutes drive from Kuala Lumpur city centre. You can organise a day tour to explore various attractions in Putrajaya. 
Putrajaya mosque is made of red stone and the design borrowed from Arab & Persian architecture design. A 36m wide dome is supported on 12 pillars. 
The mosque can accommodate 10,000 people and is used widely to hold symposiums and seminars. The mosque is visited by a large number of people every day and you will be sure to find hundreds of people any day of the week. 
3. Masjid India, Kuala Lumpur
Masjid India is located next to Masjid India train station. This is the old part of the city with beautiful historical buildings and shopping area. Visiting the old part of Kuala Lumpur Little India is a must if you want to capture of glimpse of Indian culture and heritage in Malaysia.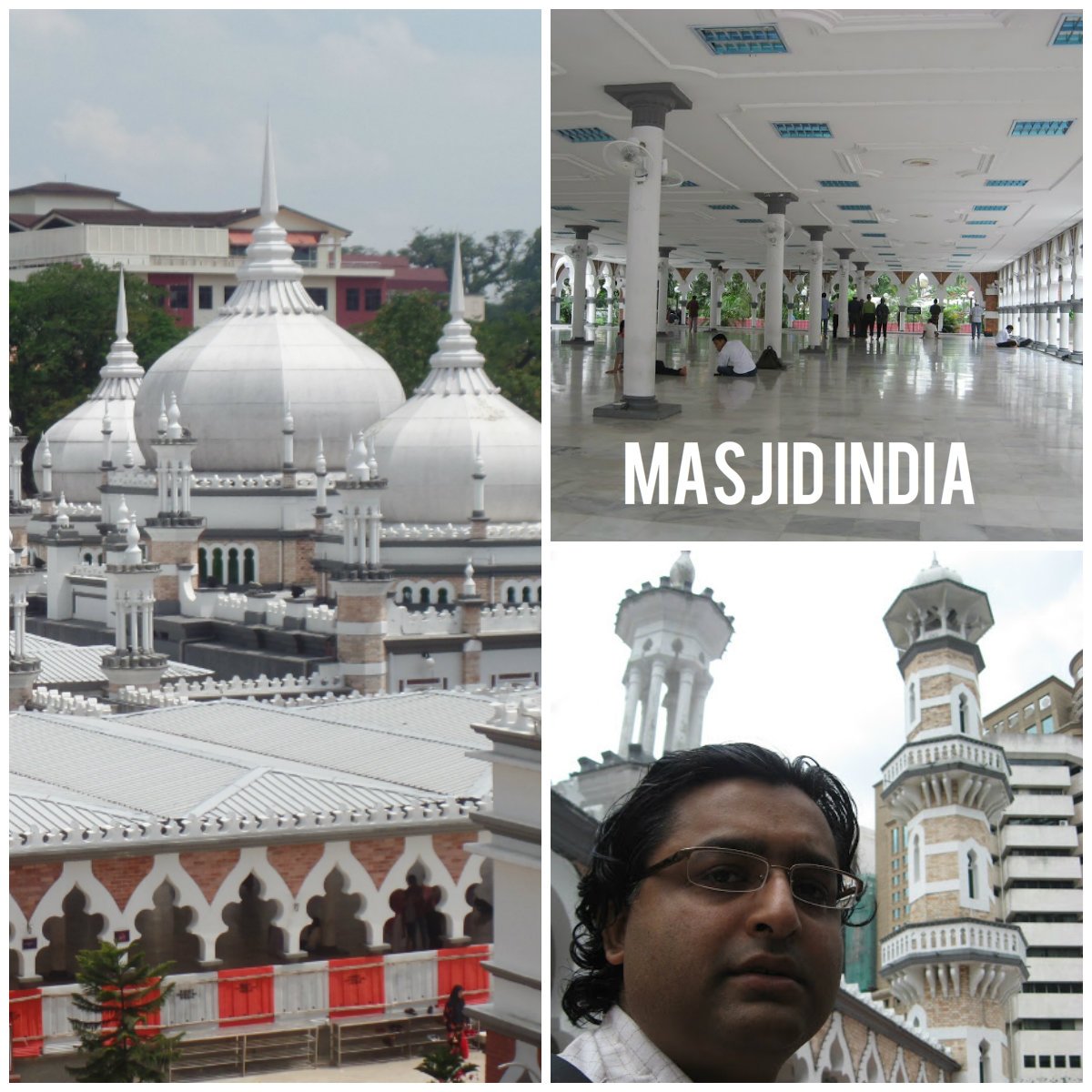 Masjid India area is marked with a number of stores selling Indian clothes, crafts, handbags and Indian food. This area has more of historic value than shopping as the quality of wares is quite mediocre. 
4. Masjid Terapung, Pulau Pinang
Jalan Batu Ferringhi, 11100 Tanjung Bungah, Pulau Pinang, Malaysia
Driving from Georgetown Penang to Batu Ferringhi you find yourself driving along a beautiful coastline. Masjid Terapung is located along the main road leading to Batu Ferringhi offering a mid-way relief to tired travellers and place to stop and pray in solitude. The architecture of this quite eye-catching with a beautifully decorated interior with light brown coloured tiles. I stopped to offer my Asr (late afternoon prayers) and sat by a pillar to enjoy the calm and relaxing environment. 
 4. Masjid Sultan Ahmad Shah
Bandar Alor Setar, 05150 Alor Setar, Kedah, Malaysia
Masjid Sultan Ahmad Shah Jalan Masjid, 25150 Kuantan, Malaysia. This is a state mosque located in heart of Kuantan, Pahang, Malaysia. The mosque is named after the founder of Pahang and sites in the middle of colonial and historical buildings in the area. The architecture is modern Ottoman-Moorish style with narrow minarets and number of small domes surround mid-size Dome.  
5. Zahir Mosque Alor Setar
Masjid Zahir Darul Aman Hwy, Alor Setar 05350, Malaysia
Zahir Mosque is the state mosque of Kedah and is one of the grandest and oldest mosques in Malaysia dating back to 1912. This mosque is rated as one of the top ten mosques and the world and hosts Quran reading competition every year. I visited this mosque during the Muslim Holy month of Rhamadan and was impressed by a number of people visiting the mosque at iftar (late afternoon time to open the fast).