Langkawi is one of the top-rated and most visited destinations in Malaysia. Stretching over more than 99 islands, Langkawi offers a wide range of activities for visitors. A general impression of looking at the map of the island, Langkawi seems like a small island where various points of attractions that are easily accessible. Contrary to that, once you land on the Island you will realise the stretch of covered and various locations on the island cannot be explored in a matter of a few days.
Different areas of Langkawi & Things to do in Langkawi
How to travel in Langkawi?
Langkawi has a good network of roads connecting various parts of the town. You can rent a car from the airport or simply catch a taxi which is a quite affordable option. Here is a fare guide for a taxi trip between various locations ( as per 2019)
1. Kuah Jetty Area to Langkawi Cable Car Station  - around 55RM
2. Langkawi Airport to Kuah Jetty Area - 35 RM
3. Kuah Village to Cenang Beach - 40 RM
4. Airport to Cenang Beach Area - 25 RM
Flat rates are posted on the booking stands where you will get the ticket and pay a flat rate for your destination. A 4-hour rental will cost you around 150RM. Therefore, in order to avoid the hassle of catching public transport it is advisable to live close to most tourist attractions. 
Where to stay in Langkawi?
Langkawi Island offers a wide range of accommodation ranging from high-end exclusive resorts to cheap chalets and hotel rooms along the beach. Whatever, your budget, book online using Agoda to get best advance booking rates in areas of your choice.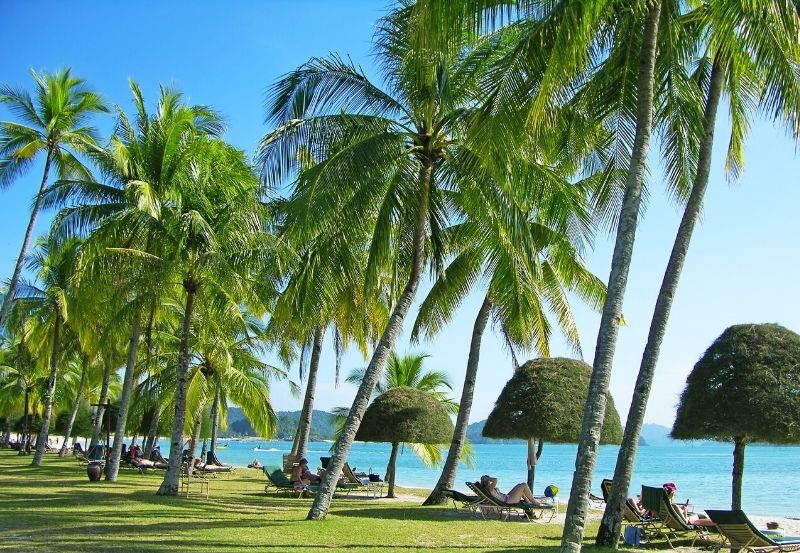 Exclusive waterfront resorts in Langkawi
Staying in a central area like Pantai Cenang provides easy access to Shopping Mall, fast food joints, cafes and bars. You can enjoy plenty of watersports along the beach. I have outlined four major areas to stay in Langkawi highlighting the benefits of staying in each location. 
Private resorts are located far from the most commercial places are quite expensive as compared to other normal hotels in the city. Pantai Cenang is the central commercial as well coastal part of the island offering a wide range of affordable options to stay. An average hotel/chalet in Cenang Beach will cost you around 120RM per night. The benefits of living here are that all shopping area is nearby and you will be walking distance from the beach. 
Planning a trip to Langkawi?
Compare prices for one of many budgets as well as luxury hotels in Langkawi. Agoda offers great prices for advance bookings. 
Here are some of the best destinations on the island for accommodation and exploration: 
1. Tanjung Rhu ( Located on the top eastern end)
One of the most luxurious, scenic spot on the island enclosed by a cove and nice pristine beaches with easy access to adjoining islands Tanjung Rhu is home to Four Seasons Resort and Tanjung Rhu Resort. These are top-end resorts costing on average of more than 1000RM per night. You will find plenty of water sports and stay for the sunset to view the beautiful view of the sun setting on the horizon. While driving to this location you will see the mangroves and some of the most beautiful islands around Langkawi. This area is suited for a secluded holiday or a honeymoon. 
2. Pantai Cenang & Tengah ( Western part of the island)
This is the most commercialised and developed area of the island with shopping centres, shops, restaurants and hotels/chalets. If you want to stay in the hub of all activity on the island Pantai Cenang is the place. You can find plenty of tour operators along the main walkway and you can book a tour with them.
Pantai Cenang Beach Area is the most popular waterfront location for water sports

The island is famous for seafood and you can find seafood in almost all restaurants which are cooked in various styles (Thai, Chinese, Malay) with sauces of your choice. Lobster, crayfish, crabs and various varieties of fish including pomfret etc. 
You can find very affordable restaurants selling quality seafood and local as well as international dishes. The menus have a mix of Thai, Malay, and Chinese dishes.
Most popular restaurants in this area are The Brasserie, Orkid Ria Seafood Restaurant, Shin Mi Seafood Village and Happy Happy Cenang Seafood restaurant. For a nice night out you can hop into one of the bars along the main drag that stays open till late and play western music.
Most tour operators make their bookings from the stall in this popular strip. You can check with them for a list of tours available and book in advance. For morning day and three-hour tours, the tour operator will pick you from your hotel. There is plenty of local information available on the information desks in your hotel. For 4 and 5-star hotels, you will find offices of tour operators on the hotel premises. 
Some Cheap hotels in  Cenang Beach area are:
Places of interest in Pantai Cenang
Shopping

Duty-Free  Shopping Center

 Restaurants

Yellow Cafe

Macdonalds

KFC

Macdonald

Happy Happy Cenang Seafood Restaurant

 Kids Attractions

UnderWater World

Penguin Watch

Seaman Water Sports
3. Pantai Kok (Middle Part of Langkawi Island)
Pantai cook is nestled between Oriental Village and Telaga Harbour. If you go past Dana Hotel, there is public access to a beautiful lighthouse. Other resorts located in this area are Berjaya Langkawi Beach Resort, Mutiara Burau Bay Resort, Tanjung Sanctuary Resort & Sheraton Langkawi Beach Resort. This area is very close to Langkawi Marina as well as the Langkawi Cable Car. SkyTrex Adventure Park is a new attraction located in this area. Other places of interest in this area are Seven Wells Waterfall, Langkawi Duck Tours, Pisang Handicraft and Art Village.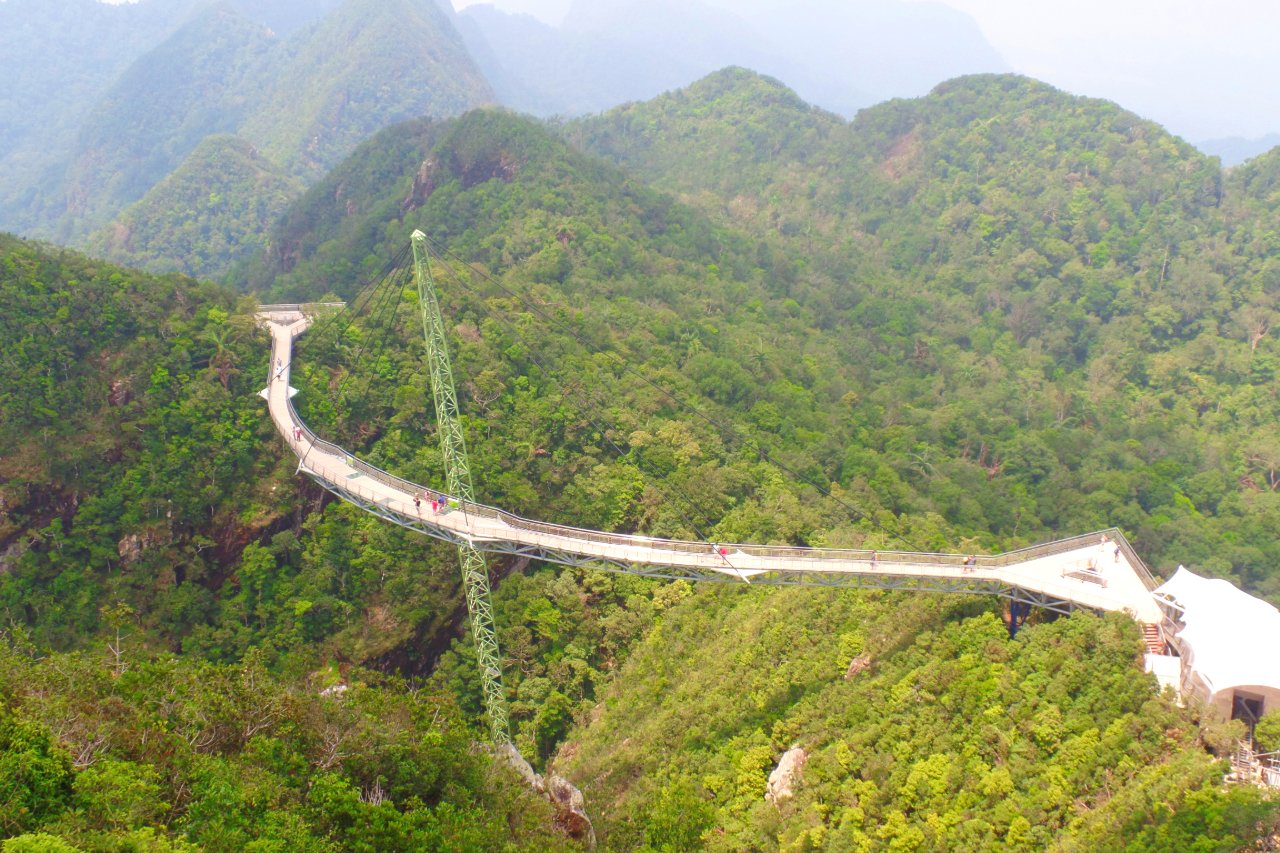 Skybridge overlooking the Andaman Sea 
Several hotels located in this area are: 
Langkawi Cable Car
Kuah Jetty is the entry point for people travelling from other parts of the country as well as Thailand using the ferry. The terminal is the hub of transport and most buses and taxi operators are based in this area. The landmark Langkawi Eagle is located in this area. For more than an entry point into Langkawi, this area does not have a lot of tourist attraction. You can find plenty of accommodation at walking distance from the jetty ranging from 4 stars hotels to budget accommodation under 50 RM per night.
 Eagle Statue near Kuah Village Area
The picture on the left shows timings of ferry service from Penang to Langkawi. Catching a ferry from Penang is an easy alternative to travel to Langkawi if you do not want to catch a plan. You can book bus trips to various locations in Malaysia which would the cost of a ferry to the mainland.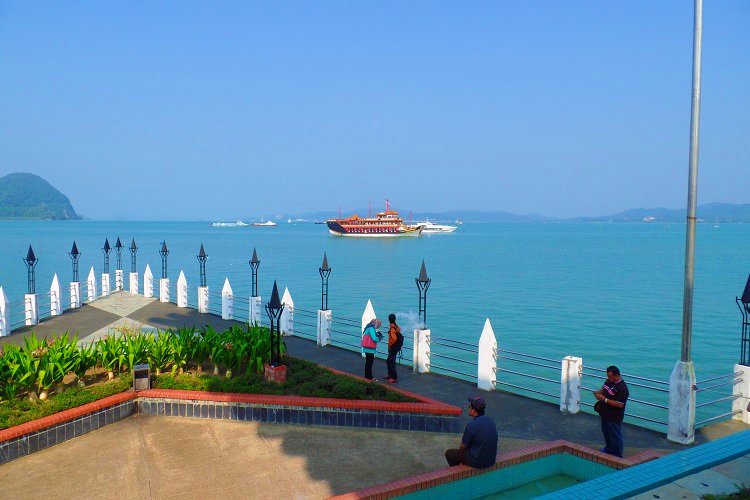 Waterfront area near Kuah Village and Eagle Statue
Langkawi is also a point of entry for ferries from Thailand. The immigration and departure terminal is located in the same building. 
Stepping out of the Jetty terminal you will find plenty of stalls and offices of local tour operators. Check for the available tours or book day tours which would take you around popular destinations on the island. 
You can charter you personalised boats for day tours costing around 450RM per day or join a shared group which would cost on average of 35RM per person. The tours take around 3-4 hours and can include a number of activities of your choice. The day tours start around 9 am so hitting the bed early is a must if you want to enjoy the day tour. Midday tours start around 2 pm which could take up to three hours. Besides, personalised custom tours can vary from a couple of hours to a day depending on activities and locations you want to visit. The list is endless and you would need to do a bit of research before time or visit a tour operator. Personalised fishing tours are also quite popular and you can charter small boats for a day costing around 300+ RM. 
 Some of the best places to live in Kuah Jetty are
The temperature in Langkawi round the year is between 25-32c. Best time to travel is between April and August. The dry season is from November until mid-April.   
By Air 
You can easily catch an international flight or a domestic regional flight to international Langkawi Airport. Malaysian Airlines have connecting flights from London, Osaka, Taipei. With Silk Air, you can catch a daily flight from Singapore. 
Air Asia runs very affordable flights every hour to Langkawi. Booking in advance can save you a lot. Normally the last booking for the return flight from Langkawi will cost around US50. 
Here are connecting numbers
Air Asia
Local : 1300 88 99  n33
International: + 60 03 7884 9000
By Ferry
The ferries are pretty crowded but are a cheap alternative to get to Langkawi, You can catch a ferry from Kuala Kedah, Kuala Perlis and Penang and Satun in Thailand. 
Weather in Langkawi
The average temperature stays around 90F. The hottest month of the year is February and the coolest month in October. Rainy months are from September to November. 
Things to do in Langkawi
Pin it to read Later!!!


Related Content on the Website: