The beautiful architecture of Eastern & Oriental Hotel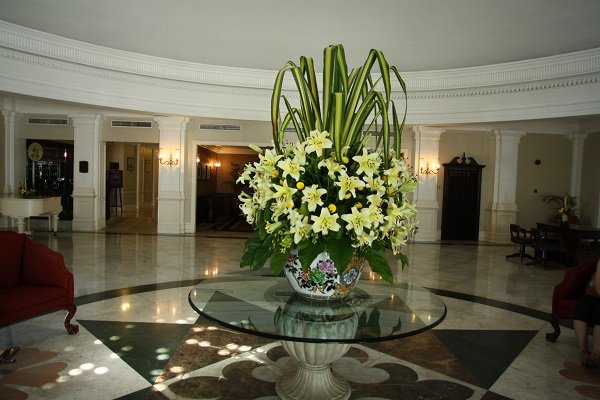 Biggest dome in Malaysia in Eastern and Oriental Hotel
Standing in the hotel lobby if you speak aloud, you can hear yourself from the echo generated by the dome. The original entrance to the hotel is preserved in the same manner when it opened to the public. Located on the waterfront, the hotel commands great views of the ocean and you can see the coastline all the way to Gurney Drive. One section of the hotel is dedicated to memorabilia including pictures of notables who visited the hotel including Rita Hayworth, Rudyard Kipling and many other famous actors and writers. 
Jetty at Eastern and Oriental Hotel
Recent renovations to the hotel have added generous parking and lavishly furnished rooms and restaurants. E & O Hotel is a great spot for catching up for coffee, tea or lunch. Sarkies Resturant offers a great buffet for around 100RM with a wide range of local and intercontinental dishes. 
A great reason to stay at Eastern and Oriental is its proximity to all the night clubs bars and other interesting eat out in the city. Le Mois and Slippery Señoritas are located across the road from the hotel. A fifteen minutes walk will take you to the famous Indian Resturant Kashmir. Line-Clear which is quite famous for its authentic Nasi Kandahar is also nearby. 
Relax and enjoy coffee or drinks in a Colonial Styled Bar & Cafe
A shuttle from the hotel can take you to Gurney Drive which is only 10 minutes away from the hotel. Being located in a central location you have easy access to all the popular eat-out and shopping malls located in Georgetown. If you are out on a culinary visit to Penang, its central location will suit your purpose. 
 Enjoy great buffet dinner at Sarkies at Eastern & Oriental Hotel
I have stayed at Eastern & Oriental Hotel twice and enjoyed great service and comfort. The help desk staff is very well informed on the history of the hotel and region in general and can provide you with recommendations for places to visit and restaurants to explore.
 
---
Enjoy Penang in Style
Book in advance and enjoy great savings with AGODA.
PIN IT FOR LATER
Roll over the image to save;