Georgetown is home to plenty of historical buildings dating from the colonial and pre-colonial eras. An influx of rich Chinese immigrants in the last century has brought about an interesting mix of Malay-Chinese culture called Nyonya (Peranakan) which is a part of the culinary as well as the architectural heritage of Penang. Nyonya food is very popular in Penang and there are a number of authentic Nyonya restaurants in the old part of Georgetown Penang.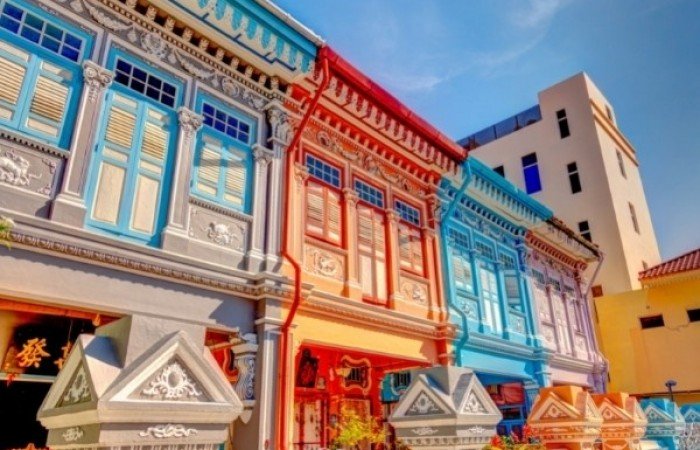 Unique Nyonya Architecture of Penang
The shophouse desgined in Peranakan styled architectue are painted in bright colours and offers a rich insight into the history of chinese settlers in the region in early 20th century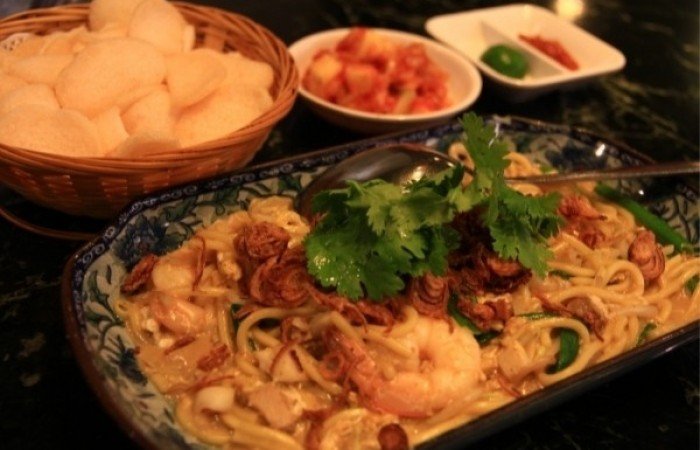 Nyonya Food
Taste popular dishes in one of many Nyonya Restaurants in Penang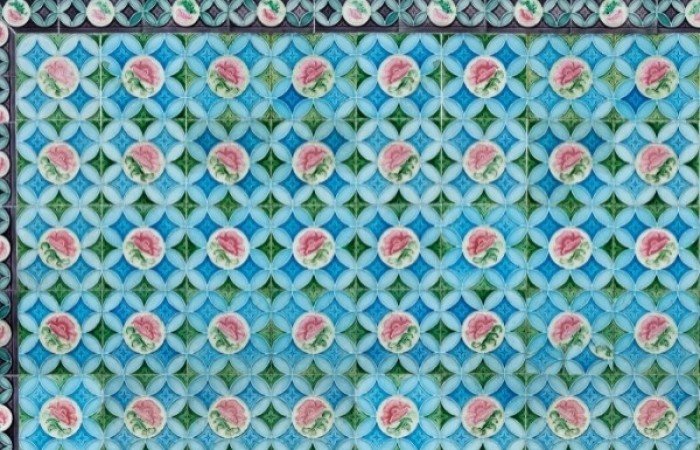 Perankan Culture
The richness of Peranakan culture can be seen in the architecture and design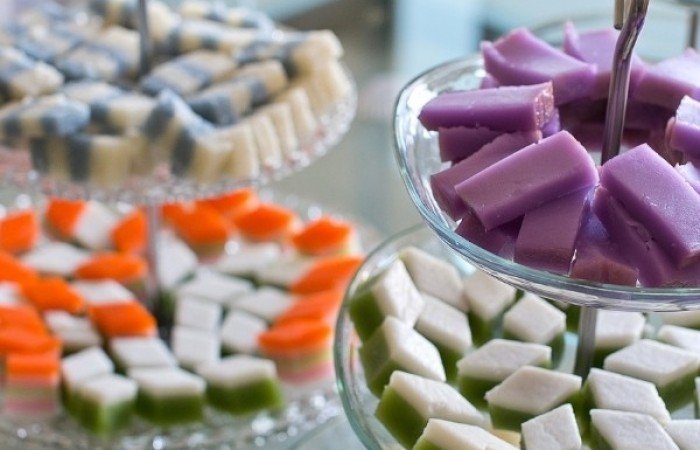 Nyonya Food & Sweet
Enjoy a wide array of sweets and desserts prepared in Peranakan cafes and restaurants
Georgetown is located approximately 280 km north of Kuala Lumpur. A network of freeways connects all major cities in Malaysia. Driving or catching a bus is an equally enjoyable travel experience in mainland Malaysia. I have driven several times from Kuala Lumpur to Penang and stopped at interesting at Ipoh, Taiping and Cameroon Highlands. These cities have an interesting history and offer a wide range of culinary experiences for foodies.  
Explore Georgetown & Penang
How to travel to Georgetown from Kuala Lumpur?
Like most major cities Georgetown is easily accessible by all modes of transport. You can travel to Georgetown Penang in one of the following ways:
Catch a bus from BTS Kuala Lumpur
There are a number of quality bus services operating from BTS, the main bus terminal in Kuala Lumpur. The ticket cost is around RM 40 and the travel time is 5 hours. The road network across Malaysia is world-class and the journey is quite comfortable with a number of stops along the way. For budget-conscious travellers, this is probably the most convenient way to travel to Malaysia. 
Drive to Penang 
I have always preferred to rent a car  and drive from KL to Penang as the trip can be broken down into a couple of stages. A direct drive is approximately four to 5 hours. You can stop at Ipoh or Butterworth if you have more time to yourself. The benefit of having a car is that you can explore most places within Georgetown at ease. There is a considerable driving time between downtown Georgetown City and Batu Ferringhi and other remote places on the Island. Click to book a car at KLIA or KLIA
Catch a flight to Penang
If you have a couple of days to travel in Malaysia, the best way is to catch a flight from KLIA2 to Penang Airport. AirAsia offers amazing discounted deals to Penang all throughout the day. Advance booking can save a substantial amount of $$. Compare online rates for best local budget airlines in Malaysia . 
---
Best Experiences in Georgetown Penang with Klook
---
 Georgetown Historical Quarters and Old Part of Penang
Nothern-Eastern Tip of Georgetown has plenty of historical buildings and architecture giving a glimpse into the glorious past of this island. Because of its beauty and history, Penang is UNESCO-listed. This includes the area south and east of Lebuah Farquhar, Lebuah Cinta and Lebuh Melaya. You will mind a maze of streets and historical shop-housed some preserved and some marking the signs of time.
Cheong Fatt Tze Manion - Blue Mansion
---
The walls in the downtown historical quarters of the town are beautifully painted with historical murals giving an interesting insight into the rich cultural history of the region. Do not forget to visit Cheong Fat Tze Mansion and Pinang Peranakan Mansion (Blue Mansion).
Walking through the richly painted and decorated interior of the building takes you back to the time of the early settlement of affluent Chinese in this area. The cross marriage between upper-class Malay and Chinese families brought about rich Baba-Nyonya Culture (Peranakan), with distinct living and cooking styles. A visit to a nice Peranakan Restaurant is a must to get a feel for the real flavours of Penang. 
Best Places to Visit in January - Tours up to 30% Off
Historical Architecture of Penang
---
Useful Information
Note that the centre of Georgetown is served by CAT Shuttle providing you with a free ride through most historical parts of the city including colonial district, Lebuh Mintri then taking you along Jalan Penang to Kotmar Building.
Visiting Penang Hill
Penang Hill is one of the major attractions in Georgetown built is one of the first hill resorts in Peninsular Malaysia. Located at 850m above the sea, Penang hill is protected with dense tropical forest which makes it relatively cooler as compared to Georgetown City. 
Tram on Penang Hill
---
Take a funicular tram for 15RM (children) and 30RM (adults) up Penang Hill to get a breath-taking view. Ticketing starts from 6:30 am to 9:45 pm. Experience canopy walks, trails and zip lining in the rainforest at The Habitat, experience a magnitude 8 earthquake and level 12 typhoon at Earthquake and Typhoon Pavilion and explore the unique indigenous flora of Malaysia/Indonesia at the Monkey Cup Garden. There is a handful of eating places from David Brown's colonial restaurant to a pushcart selling snacks.
Staying at Eastern & Oriental Hotel Penang
During my first stay in Penang, I stayed at Eastern and Oriental Hotel  on 1 Penang St. The hotel is a well-preserved reminder of the rich colonial heritage of Penang with 5-start comfort. The interior is richly decorated in colonial-era style furniture and decor. Even the doorman is dressed in the clothing worn by early Colonial Settlers.
The doorman at Eastern & Oriental Hotel  dressed in Colonial Outfit 
---
The beautiful building overlooks the water and its own jetty. An outdoor pool faces the waterfront and provides great views of Gurney Drive. At night time 1 Penang Street is packed with activities with tourists flooding to the top-end bars and night venues including MOIS club are just across the road from Eastern & Oriental Hotel. Beautiful lights adorn the street while music from Slippery Senoritas fills the air.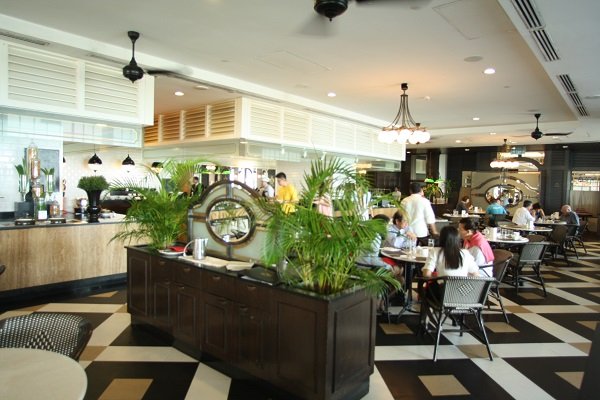 Enjoy lunch or dinner at Sarkies at Eastern & Oriental Hotel Penang
---
Celebrities like Rita Hayworth, Rudyard Kipling, and Joseph Conrad have graced the hotel with their presence. You will find pictures of Hollywood celebrities decorating the hall room. Enjoy local and continental food in cafes and restaurants on-premises. Sarkies offers a great lunch menu as well as a buffet dinner menu around RM 100.
Other facilities include Farquhar's Bar, Poolside Terrace and Planter's Lounge. On a warm sunny day, you cool off the summer heat with a chilly lemonade while dipping the beautiful pool overlooking the ocean. The overall atmosphere is relaxed and laid back. The service and facilities are great. The historical location is a must-visit if you want to enjoy Georgetown in style.
Enjoy views of Gurney Drive from the outdoor Swimming Pool
The lobby has one of the biggest domes in the region. Speak out loud and you can hear the echo from the dome. For a more candid feel for the culture walk down Penang Road to see roadside tea stalls and local cafes and restaurants.  
Planning to visit Georgetown & Batu Ferringhi?
Compare the best hotel rates online
You will cross a very long bridge (toll around 7 ringgit) to get into Georgetown. Find a hotel near the north-eastern tip of the island where most restaurants and places of attraction are. Some of the best places to stay in Georgetown are 
Gurney Drive Penang Georgetown is an interesting area to explore
Gurney Drive is more interesting for nightlife, modern shopping malls, cafes and nightclubs. The spot is quite popular for night food markets where you can find plenty of local seafood and Malay restaurants. Gurney drive has some uptown and modern apartment complexes and hotels. Gurney Plaza is a world-class shopping centre with leading fashion brands, food outlets, cinemas and banks etc. 
Some luxury hotels like G Hotel Gurney Drive  is located on Gurney Plaza. Another interesting hotel is Everygreen Laurel Hotel  which is very reasonably priced and located within a walking distance from the Shopping Malls. If you plan to stay in the Gurney drive area this is should be your first choice. 
A night market is held near the roundabout at the Gurney Drive area. There are plenty of nice seafood restaurants with an outdoor sitting area located at the waterfront. There are plenty of fast-food chains and restaurants located at Paragon Shopping Mall on Gurney Drive.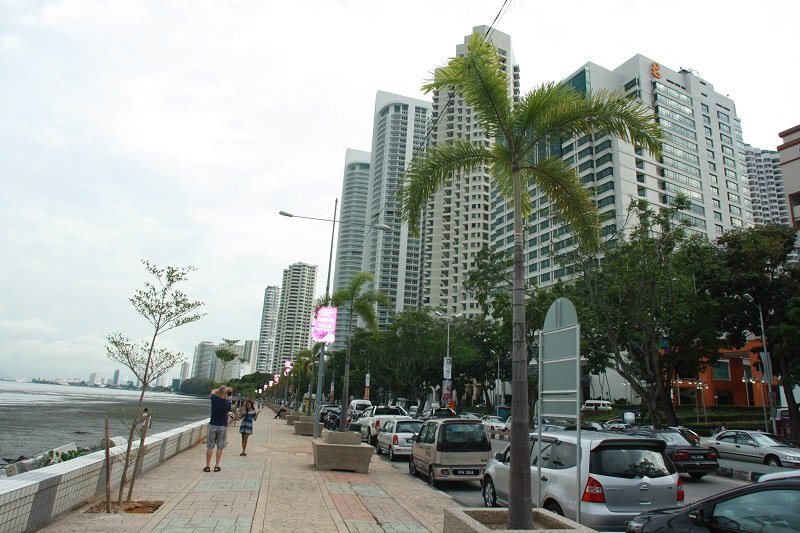 Gurney Drive Georgetown Penang
---
Gurney Waterfront is well lit at night time and offers a great sport to walk along the waterfront. You will see plenty of couples sitting along the balustrade enjoying the cool night breeze from the ocean. You can see Penang Bridge and Butterworth across the water. The place stays crowded till midnight and you can see lovers hanging around with waterfront area till later hours of the night. 
Interior of Gurney Plaza in Georgetown Penang
---
Restaurants & Bars in Georgetown Penang
An interesting and unique experience is to find a large number of restaurants located right next to each other for blocks at the end. Each restaurant specializes in a certain kind of food and cooking style from the region.
As the sun goes the whole area is lit up with brightly coloured lights and the restaurants are filled with hordes of people. Most Malaysians travel to Penang to enjoy the amazing cuisine of the region which makes it a unique culinary destination of Malaysia. 
Exploring Nyonya Restaurants in Penang
While staying in this interesting location make sure you try out popular Nonya Food and some of the traditional family-run businesses. An interesting Nonya Food restaurant is Little Kitchen, 179 Lebu Noordin, 10300 Penang, ( 04-2616731). The food is served in a small portion in a very traditional manner. The ambience is cosy, service very personal and owner Jay Loh takes pride in giving a brief overview of Nonya Culture and Food. You can also get a chance to peek in the guest room located behind the main restaurant. 
Little Nyonya Restaurant is a 3rd Generation Nyonya Restaurant
---
Exploring Nasi Kandar Restaurant in the footsteps of Anthony Bourdain
Georgetown is also famous for traditional Indian food like Nasi Kandar. Try out Line-Clear restaurant near Upper Penang Street. It is within walking distance from the Upper tip of Penang Road near the Eastern & Oriental Hotel. The food is quite nice and you can try rice with plenty of meat dishes make with gravy. The spot is also explored by Anthony Bourdain in his travel adventures to Penang. 
A Buffet Dinner at Sarkies @Eastern & Oriental Hotel in Penang
I enjoyed the buffet dinner at Sarkies at Eastern & Oriental Hotel. The ambience and decor of this restaurant are quite modern. The buffet is priced at around 100 RM and includes a wide range of Malaysian and Continental dishes. The dessert menu is also very impressive. 
---
The coastal area of Batu Ferringhi in Georgetown Penang
Batu Ferringhi is the coastal part of Penang popular for high-end resorts with private beaches. Head over to Batu Ferringhi for a day excursion- a 3km long sandy beach strip teaming with Luxury Beach Resorts and dining options. Kayak, jet ski, windsurf and parasail, and have water fun at Moonlight Bay's Wet World Wild featuring inflatable rafts for jumping, running, propelling and climbing (RM 40 for adults, RM 30 for children). 
---
The coastal area of Batu Ferringhi is located at a half-an-hour driving distance from the downtown area of Georgetown. The waterfront area is popular for luxury resorts including Bayview Resort , Hard Rock Hotel  and Doubletree Resort by Hilton Hotel Penang  amongst others.
Budget accommodation, however, is also available along the main drag where the night market is held on the weekends. Batu Ferringhi is also popular for some nice seafood restaurants including Golden Thai Seafood Restaurant which I visited for lunch. This restaurant boasts of a large variety of seafood from across the world. 
---
Best Hotels Rates in Penang with Hotelscombined Network
---
The beach area of Batu Ferringhi may not be the cleanest. Most people prefer to stay at the resorts and enjoy the pools and splash area in the resorts. There are occasional incidents of bluebottle jellyfish in the waters of Batu Ferringhi. Most people prefer to enjoy the watersports and pool area at the lavish resorts located along the coast. 
STAY CONNECTED
Join our mailing list to enjoy new content delivered right to your inbox!
PIN IT FOR LATER
Scroll over the image to pin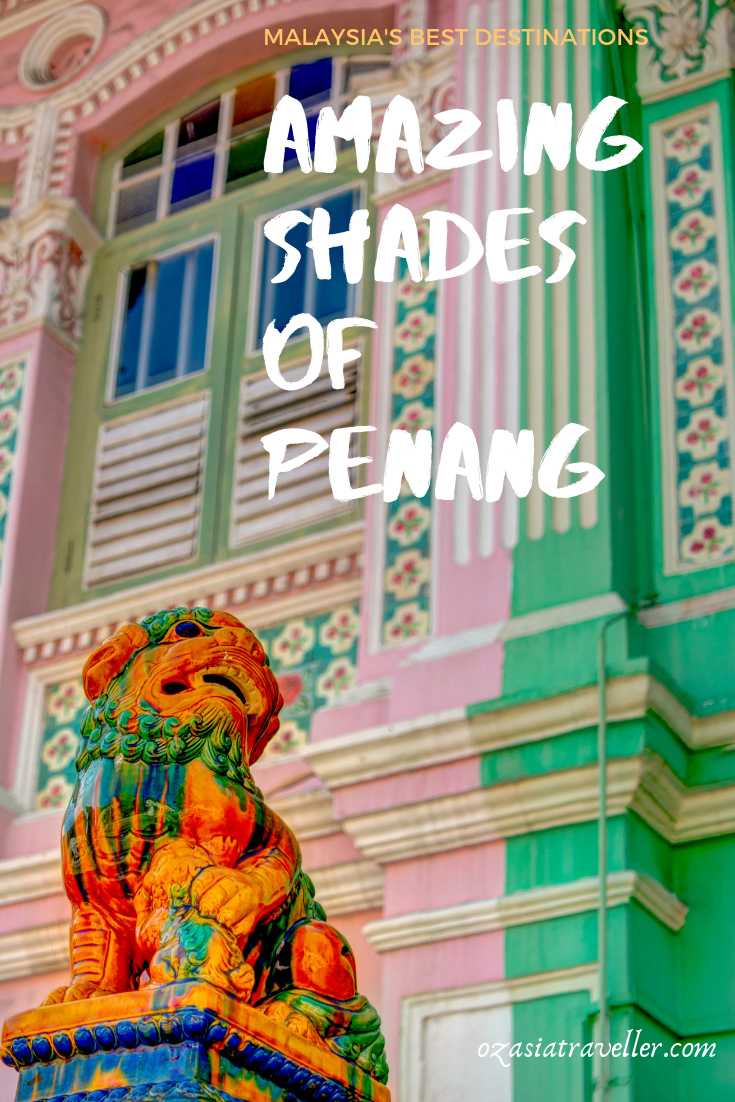 ---