Staying at Travelodge City Center Kuala Lumpur 
Planning on a budget holiday in Kuala Lumpur and looking for a hotel with an ideal location close to most places of interest in the city? Travelodge City Center must be on your list for this year's visit to Kuala Lumpur. 
I stayed at Travelodge in July 2022 for three nights and enjoyed the comfortable and easy access to places I wanted to explore on foot. 
Here is a list of some of the popular places located near the Travelodge City centre:
Kasturi Walk and The Central Market of Kuala Lumpur

Petaling Street and Chinatown - with a large number of Cafes on Jalan Petaling

Merdeka Square and City Gallery

Botanic Garden & Butterfly Garden

Central Mosque

Museum of Islamic History History

Masjid Jamek India

MRT Pesar Sani
There are hundreds of restaurants serving local and international cuisine at very reasonable prices. 
For budget-conscious travellers, here are useful tips for saving money and enjoying most places of interest in Kuala Lumpur
Jalan Petaling is a popular budget shopping area with a number of trendy cafes, bars and restaurants
---
Tip: Make sure to get a Touch & Go Card to use public trains, tolls and entry to many tourist locations. 
Search for Best Experiences in KL with Klook
---
What are the daily room rates at Travelodge City Center Kuala Lumpur?
As a solo traveller, I booked a superior room  with a double bed with 38 sq.m room space. The room was clean and nicely furnished with:
Tea and Water

TV

Security Locker 

Fridge

AC

Iron & Hair Dryer
A superior room at Travelodge City Center KL
---
The ground floor of the building has a large sitting area for reading or using your laptop etc. Enjoy a hot cup of tea for free at the premises.
Sitting area on the ground floor in Travelodge City Center Kuala Lumpur
---
Parking is available in the building next door for RM 10 per day, which is very convenient if you are driving. If you like local food, there is a very nice cafe (Yousoof Dan Zakhir) located along Kasturi walk serving early lunch and dinner. 
---
What are some of the best places to explore near the Travelodge Kuala Lumpur City Center?
I explore Jalan Petaling Street and foot and was surprised to find a large of cafes, restaurants and hidden bars in the back alleys of Chinatown. The street adjacent to 4 Points Sheraton hotel has a number of uptown trendy cafes and eateries which is a recent addition post-covid. 
Leaf & Co. Cafe, Jalan Petaling
---
Most cafes are open till the late hours of the night. The streets around Jalan Balai Polis and Jalan Petaling are packed with nice cafes and restaurants. 
I tried the coffee shops, Leaf & Co. Cafe and Vintage 1988 cafes which attract young and hype local crowd as well as a number of tourists. 
Busy cafes and restaurants on Jalan Petaling in Chinatown 
The streets between Jalan H S Lee and Jalan Petaling are home to all the trendy bars and new eateries. I suggest exploring this area on foot. 
Here are some of the interesting places I came across during my stay in the area: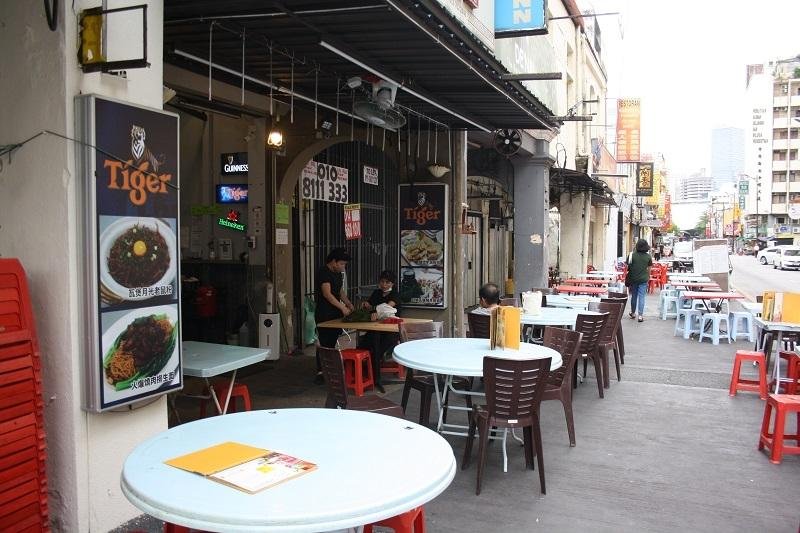 ---
 Why book with Agoda.com?
Agoda.com give you the best price guarantee with cashback options for many bookings. Longer duration and advance bookings quality of higher discounts. I always prefer to book through Agoda and my VIP status as an Agoda User normally fetches me the best prices for most hotels.
Interested in Staying at the Travelodge?
Other Amazing Destinations in Kuala Lumpur
---