If you want to enjoy the charm and glory of colonial Kuala Lumpur, Precious Old China is an interesting restaurant nicely tucked away on the first floor of historical Central Market in Kuala Lumpur. The ambience is great and decor immediately transforms into a different era with dark coloured furniture and dimly lit interior. Different sections of the restaurant are decorated to reflect cultural motifs and designs of 1950's Chinese restaurants. The restaurant is spacious enough to accommodate over 100 guests. 
Cost: $$ Mains between RM 20-40
Address: Central Market, Kuala Lumpur
Time: 11 am to 10 pm
The food is cooked in Nyonya (Peranakan) Style with a wide range of authentic dishes to whet your palate. I started off by enjoying Pie Tee- Noyna Top Hats with a nice filling of salads and chilli sauce.  The main dishes include a good mix of chicken, beef and pork dishes. Debel Chicken is a spicy chicken curry served with blue coloured rice. Okra cooked in Belanchan Sauce is not to be missed. I enjoyed a couple of meat curries, chilli prawns and finished the meal off with an amazing Durian Dessert. The taste of this amazing fruit stayed on my tastebuds for a day. 
This restaurant keeps inviting me back, each time I visit Kuala Lumpur. Precious Old China must be on your menu if you are planning to indulge in interesting culinary adventures in Kuala Lumpur. 
Most dishes are cooked with fresh chillies, ginger, garlic and kaffir lime leaves. Other important ingredients of Nyonya food are galangal, lemongrass, cinnamon, cumin and palm sugar. The seafood and meat dishes are cooked with various spices and condiments which make Nyonya food so unique.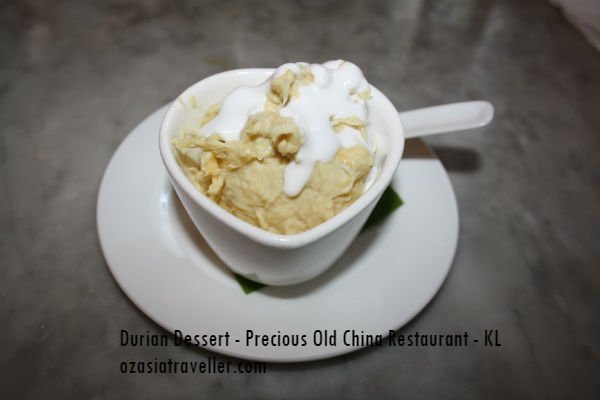 Pin it to read later!!