Penang is one of the most popular destinations in Malaysia for tourists because of its rich cultural history and amazing cuisine. Kuala Lumpur to Penang is a popular travel route for most road trippers and bike riders, as well as the intercity road infrastructure in Malaysia, which is world-class and offers an amazing driving experience.
I have travelled several times from Kuala Lumpur to Penang exploring some amazing destinations along the way. The one thing I love about Malaysian roads is the quality of service and well-maintained service areas along all major interstate routes. The rest areas offer food courts with quality local food at reasonable prices. Some stopovers also have KFC and McDonald's along with other International fast-food chains. In addition, there are also prayer rooms for travelers and clean and well-maintained toilets. 
The Intercity freeway network follows the same standards and signage as in the Western world. If you are a passionate driver like myself, I suggest renting a car and planning your own road trip. This way you will be able to take detours along the way and explore some other interesting towns and cities. 
The seven-day itinerary from Kuala Lumpur to Penang is broken down into the following legs
Kuala Lumpur to Ipoh
Ipoh to Cameron Highlands
Ipoh to Lumut - Pangkor Island
Lumut to Penang Island
---
What is the total driving distance from Kuala Lumpur to Penang?
The driving distance between Kuala Lumpur and Penang is around 360 km and can be covered easily in a 4.5-hour drive. I suggest planning some stopovers if you have more time to yourself. 
A coastal route I followed from Kuala Lumpur to Ipoh, Ipoh to Lumut, and Lumut to Penang can be broken down into separate trips total of 460 km. The drive time on two-way country roads is a bit longer as compared to main intercity motorways. 
A fruit shop in the rest area along the E2 Highway from Kuala Lumpur to Penang
---
If you plan to self-drive, check the best car rental rates at KLIA1 or KLIA2. Long-term rentals are quite cheap and come with full insurance. Make sure to buy a Touch-n-Go Card from Petronas Service Station or any 7-Eleven branch in the city. Alternatively, the card can also be purchased from LRT stations across the city. 
Alternatively, you can catch a bus from BTS Terminal from Kuala Lumpur to Penang which is the quickest and the cheapest way to travel from Kuala Lumpur to Penang. 
If you are flying into KLIA2 a connecting flight can be booked using AirAsia or Firefly to Penang. The local flights are quite affordable in Malaysia. Obtain the best prices online by booking in advance. 
---
---
What is a suggested Itinerary for driving from Kuala Lumpur to Penang?
First Two Nights - Kuala Lumpur to Ipoh - Pangkor, and Penang
As the first leg of my journey, I planned a stopover in Ipoh which is located around 190 km from Kuala Lumpur City. Ipoh has a rich cultural history as this town was the center of tin mining at the beginning of the last century and has seen rapid economic growth. The beautiful layout of the city center and the architecture of the administrative building and the railway station are reminiscent of the rich past of this city. 
In recent years, the city has seen growth in the service industry and gained a reputation as the foodie capital of Perak. A day trip from Kuala Lumpur to Ipoh is also practical if you want to explore this destination in a short time. 
I stayed at Kinta Riverfront Hotel and Suites which is ideally located near the city center. Greentown is the center of activity at night time with street food stalls and a number of quality restaurants and cafes. Healy's Mac Irish Pub is a great place to dine as there are live bands playing on weekend nights. The whole area is full of activity till the late hours of the night.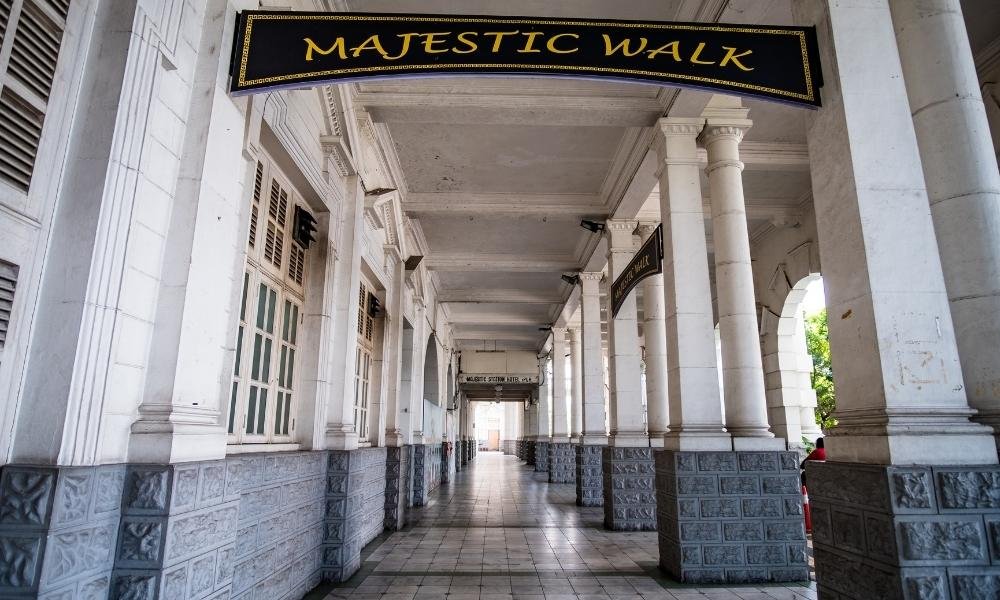 The next day I planned a trip to Lost World of Tambun, a Sunway resort with fun-packed activities for the entire family. I highly recommend this theme park if you are traveling with children. Lost World of Tambun has a waterpark with a massive water generator, hot spas, an animal kingdom, and rides for children. 
Book your tickets online to get the best rates as the weekends are very busy attracting large crowds to this amazing theme park. At lunchtime, we decided to Enjoy Indian food and headed to a popular restaurant Sri Ananda Bhawan Restaurant. The restaurant specializes in savory north and south Indian cuisine. The spicy meat dishes and grilled food is a must-try if you enjoy Indian food.
Read more on my website:  Trip to Ipoh and Lost World of Tambun
---
---
Another popular attraction in Ipoh is cave temples which are built into karst formations on the hills around the city of Ipoh. I visited some beautiful cave temples including Sam Poh Tong Temple and Perak Tong Cave Temple. Both of these temples have beautiful statues of Buddha in various postures.
The temples are carved into various caves and have beautiful frescoes, Buddhist deities, and mythical creatures. A 352-step stair leads to an amazing vantage point commanding amazing views of the valley. Read more about my visit to the Lost World of Tambun on the website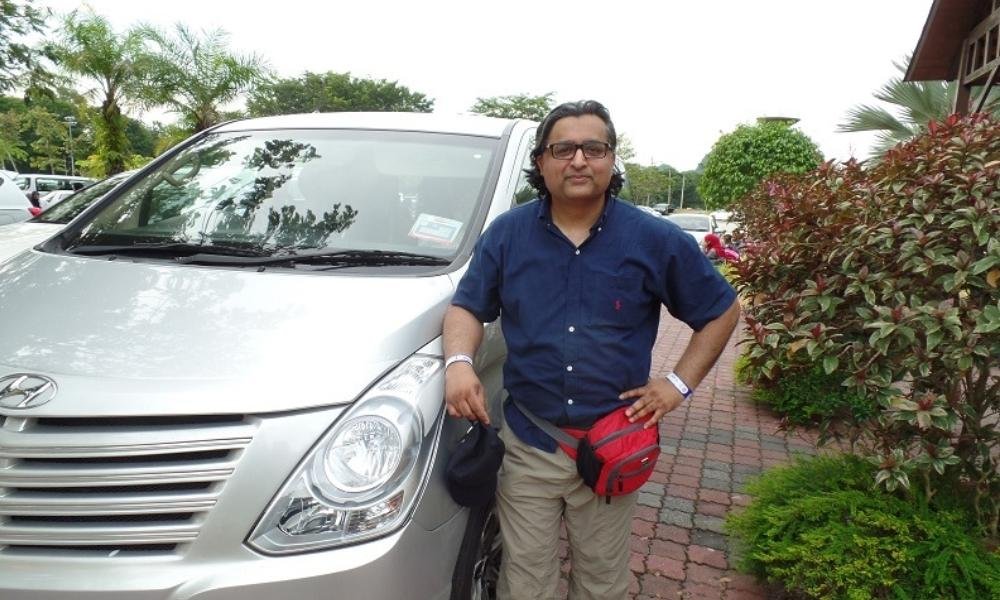 ---
One night in Cameron Highlands Malaysia
Cameron Highlands is a great location to explore for a day trip from Ipoh. The hill resort is home to tea plantations and strawberry farms. The cooler temperatures make this resort very popular with visitors where you can enjoy a number of outdoor activities. We started off early in the morning and enjoyed the twist and turn on the road all the way to Tanah Rata which is the center of activity in Cameron Highlands. A visit to Bharat Tea Plantation and Strawberry Farms was the highlight of the day. I plan to spend a longer period and Cameron Highland when I plan my next trip to Ipoh.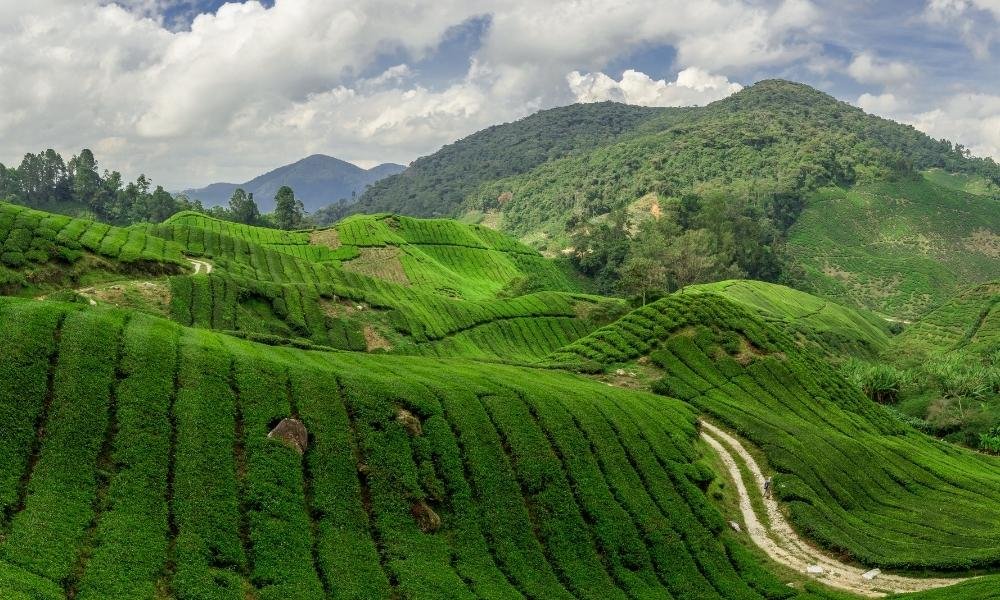 In Ipoh, we enjoyed visiting Kelly's Castle which is located a 30-minute drive from Ipoh. This apparently "haunted castle" was owned by a plantation owner in the 1920s who built it in the style of British Castles. The castles borrow architectural design from Moorish and Tamilvanan Indian architectural motifs.
The Malaysian government stepped in to preserve this historical monument which exchanged several hands after the owner left for Scotland and it was sold over to a British Based trading company. 
---
---
2- Nights in Pangkor -Travelling from Ipoh to Lumut and Pangkor
Our next leg of the journey extended from Ipoh to Lumut which is a reasonable 1-hour road trip on the two-way country road. This enjoyable road trip takes you down the laid-back towns of Perak. The area has had some development in recent years with Petronas University which attracts students from around the world. 
We planned a one-night stay at Double Tree Hilton Resort in Lumut  which was formerly known as Swiss Garden Resort in Damai Laut. The beautiful resort has its own private beach and spice gardens along with a golf course. I highly recommend this location for a family holiday as there are a number of amazing beach sports and activities organized by the resort. 
A day trip to Pangkor Island is a must-do experience as Pangkor is home to water sports and amazing Island adventures including trekking and bird watching. A 15-minute ferry ride costing RM 10 will drop you at the Pangkor Jetty where you can use local transport to reach different parts of the Island. The resorts can be rented for a day as the private beaches and shacks are available along the beach which is managed by these resorts. 
If you plan to travel to Pangkor Island from KLIA2,  book your transport online with Viator. 
The famous five-star luxury resort Pangkor Laut is also located on a private Island and offers an unmatched Island Holiday experience!!!
Read more about my stay at Double Tree Hilton Resort in Lumut
---
How long is the drive from Pangkor Island to Penang Island?
The driving distance between the two destinations of Lumut and Penand is 180 km. We started early and took E32 to E1 heading out to Penang. The Penang bridge is the longest bridge in Malaysia connecting mainland Malaysia with Penang Island. 
We booked Evergreen Laurel Hotel  on Gurney Drive overlooking the amazing views of the ocean. The Gurney Drive is a more modern part of Penang with a number of great shopping centers, night markets, and 5-star Hotels. 
The recent development along Gurney Drive towards Batu Ferringhi offers plenty of serviced apartment-style accommodation for long-term stays in Penang. The options are endless as Penang is ranked as one of the top tourist destinations in Malaysia.
---
 3-Nights stay in Georgetown Penang
We started off by visiting some trendy eat-outs on Armenian Street in Penang. Penang is famous for its Char Kway Teow, Hokkien Mee, Mee Goreng, and Laska. Peranakan food is not to be missed when visiting Penang. I booked lunch at "Little Nyonya Kitchen" in Noorudin Alley. This family-owned third-generation restaurant offers some authentic flavors of Penang. 
Following in the footsteps of Anthony Bourdain I visited "Line Clear" Nasi Kandar Restaurant on Penang Road within walking distance of the historic heritage Eastern & Oriental Hotel. Sarkies Restaurant is at the Eastern and Oriental Hotel and offers an amazing dinner buffer with a good mix of local and continental dishes. 
Other amazing places we explored in the next two included clan jetties, Fort Cornwallis, and Penang Hill. I loved the amazing view of the Island from the top of Penang Hill as well as the Kotmar Building. These locations are must-visits if you seeking some Instagram moments in Penang. 
Batu Ferringhi is a popular coast area in Penang popular for its trendy beach-styled resort including Hard Rock Hotel and Double Tree Hilton which offers quality accommodation and amazing holiday packages. Read more about Batu Ferringhi on my website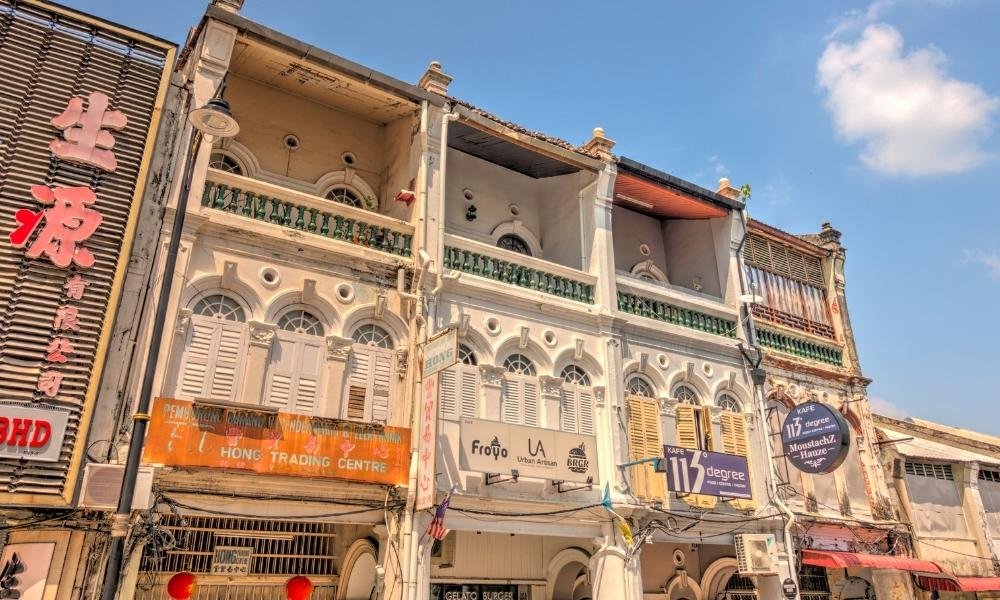 Three nights in Penang are enough to explore the amazing colonial history of the Island, visit some interesting museums, and indulge in amazing foodie adventures.  Georgetown is a UNESCO-declared heritage city with well-preserved buildings from the last century. The rich Peranakan culture can be seen in the architecture, design, furniture, and food of Penang. A visit to Peranakan Mansion was a very enjoyable experience and I highly recommend taking local tours in Penang . 
Read more on my website: Exploring Batu Ferringhi and Georgetown Penang
Explore Penang in your private Charter Vehicle
Summary
A 7-Day Travel Itinerary from Kuala Lumpur to Penang Included 2 nights in Ipoh, one night in Pangkor, one night in CameronHighlands, and three nights in Penang. This road trip takes you down some amazing places in Perak and Penang Island. 
PIN IT TO READ LATER