Sek Yuen is an interesting find in Kuala Lumpur and was recommended to me by the owner of Restoran Yut Kee. Sek Yuen prides in being one of the few oldest Chinese restaurant serving Kuala Lumpur foodies for over 75 years. The restaurant specializes in serving crispy skin duck cooked over a wood-fired stove in a traditional Chinese style. 
There are two halls of the restaurant located right next to each other. The new section is an air-conditioned and modern restaurant catering to the uptown crowd. The original structure is open sitting lunch and dining area is the original version of the restaurant.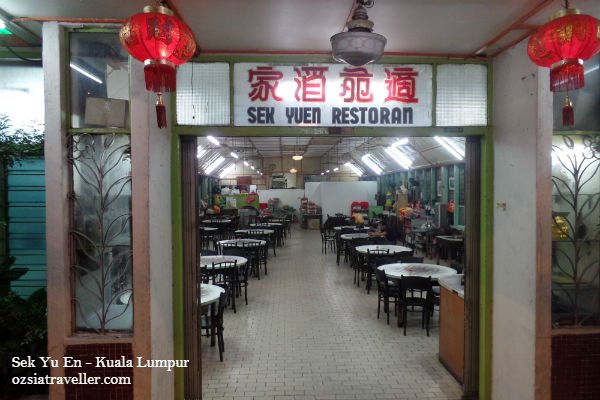 Address: 315, Jalan Pudu, Pudu, 55100 Kuala Lumpur, Wilayah Persekutuan Kuala Lumpur
Operating hours: Tuesdays to Sundays (11 AM – 2:30 PM, 5:30 PM – 10 PM); closed on Mondays
Contact: 03-9222 0903
The presentation is very simple, staff very professional and seem to have been doing the job for ages. Everything comes normally to them. Staff is quick on recommending and the food is served in no time. The wall is adorned with black and white pictures from the bygone era. An abacus resting on the counter reminds of the history of the place pre-calculator. 
I ordered the crispy-skinned duck, braised lamb and vegetables. The food tasted great and the chef seems to have mastered the art perfecting the dishes through years of cooking. 
Pork dishes seem to dominate the menu. I ordered homemade fish balls served in sauces. Tasted great.