Once part of the British Colony, Georgetown is marked with innumerable buildings dating to the eighteenth century. These richly decorated buildings give you an insight into the booming historic past. You can find plenty of mosques, churches, and temples showing the mixed heritage of this place.
Georgetown is an approximately 280 km drive from Kuala Lumpur. The drive is pretty straight on the freeway. However, it is advisable to take a break at Ipoh and explore a bit of Perak before going up to Penang. Ipoh lies approximately halfway between Georgetown and Kuala Lumpur.
---
Georgetown Historical Quarters
Nothern-Eastern Tip of Georgetown has plenty of historical buildings and architecture giving a glimpse into the glorious past of this island. Because of its beauty and history, this area is UNESCO-listed. This includes the area south and east of Lebuah Farquhar, Lebuah Cinta and Lebuh Melaya. You will mind a maze of streets and historical shop-housed some preserved and some marking the signs of time. 
Note that the centre of Georgetown is served by CAT Shuttle providing you with a free ride through most historical parts of the city including the colonial district, Lebuh Mintri then taking you along Jalan Penang to Kotmar Building.
If you are planning to explore the rich Peranakan and Colonial history and enjoy hidden bars and cafes, the Historical Quartes of the town is a great place to stay as you will have easy access to most instagrammable sites including rich murals, Peranakan Mansion, Clan Jetties and Kotmar Building. 
Walking through the streets of the old town you will immerse in the rich cultural history of this amazing part of Malaysia. 
---
Historical Eastern & Oriental Hotel in Penang
Stay at Eastern & Oriental Hotel Penang to experience the bygone colonial era richly preserved in the architecture and decor of the hotel. At the entrance, you are greeted by a guard in a Khaki outfit similar to that worn by the doorman when the hotel was first opened. Quietly nestled on the waterfront, it commands a great view all the way to Gurney Drive. At night time it turns into the heart of activity as No.1 Penang Street is just across the road. Beautiful lights adorn the street while music from Slippery Senoritas fills the air. 
---
---
Celebrities like Rita Hayworth, Rudyard Kipling, and Joseph Conrad have graced the hotel with their presence. You will find pictures of Hollywood celebrities decorating the hall room. Enjoy local and continental food in cafes and restaurants on-premises. Sarkies offers a great lunch menu as well as a buffet dinner menu of around 100RM. Other facilities include Farquhar's Bar, Poolside Terrace and Planter's Lounge. On a warm sunny day, you cool off the summer heat with a chilly lemonade while dipping in the beautiful pool overlooking the ocean. The overall atmosphere is relaxed and laid back. The service and facilities are great. The historical location is a must-visit if you want to enjoy Georgetown in style. 
---
The lobby has one of the biggest domes in the region. Speak out loud and you can hear the echo from the dome. For a more candid feel for the culture walk down Penang Road to see roadside tea stalls and local cafes and restaurants.  
You will cross a very long bridge (toll around 7 ringgit) to get into Georgetown. Find a hotel near the northeastern tip of the island where most restaurants and places of attraction are. Some of the best places to stay in Georgetown are 
---
Shopping at Gurney Drive in Penang
Gurney Drive is more interesting for nightlife, modern shopping malls, cafes and nightclubs. The spot is quite popular for the night food market where you can find plenty of local seafood and Malay dishes. Gurney drive has some uptown and modern apartment complexes and hotels. Gurney Plaza is a world-class shopping centre with leading fashion brands, food outlets, cinemas and banks etc. 
Gurney waterfront is lit with lights at night time presenting a magical view of the location. The place stays crowded till midnight and you can see lovers hanging around with waterfront area till later hours of the night. 18km drive along the beach leads to Batu Ferringhi. There is a spate of latest property development in this area and you will find a wide range of residential apartment complexes and hotels.   
---
Eating out in Georgetown Penang
You will be undoubtedly shocked by the number of restaurants per street in the city. It seems that people only come to George town to eat. While staying in this interesting location make sure you try out popular Nonya Food and some of the traditional family-run businesses. An interesting Nonya Food restaurant is Little Kitchen, 179 Lebu Noordin, 10300 Penang, ( 04-2616731). [ My photograph with the owner of the restaurants in the gallery above] The food is served in a small portions in a very traditional manner. The ambience is cosy, the service very personal and owner Jay Loh takes pride in giving a brief overview of Nonya Culture and Food. You can also get a chance to peek into the guest room located behind the main restaurant. 
Georgetown is also famous for traditional Indian food like Nasi Kandar. Try out Line-Clear restaurant near Upper Penang Street. It is within walking distance from the Upper tip of Penang Road near the Eastern & Oriental Hotel. The food is quite nice and you can try rice with plenty of meat dishes make with gravy. The spot is also explored by Anthony Bourdain in his travel adventures to Penang. 
I went for dinner at the buffet restaurant Sarkies (pictures above) costing around 100RM. The selection of food is great and Sarkies offers a large variety of local and international desserts. I simply loved the atmosphere and decor of this modern part of the Eastern & Oriental Hotel on 1 Penang Road. 
Another destination for a more modern feel for Georgetown is Gurney drive. Most hotels will offer a free bus tour to the Gurney drive, as the Malls ( Plaza Gurney, Gurney Paragon). These are top of the line shopping centres will world-class brands and quality shopping outlets. Located on main Gurney drive is on the way from Georgetown to Bantu Ferringhi. Gurney drive also prides itself on hosting a night market serving ethnic food lit late in the night.  
These places are not to be missed: Fort Cornwallis, Cathedral of the assumption, Cheong Fatt Tze Museum, Pinang Peranakan Mansion, Penang Hill, and Batu Ferringhi (Night Markets).
---
Visiting Batu Ferringhi in Georgetown Penang
If you are visiting Georgetown, your trip will be incomplete without visiting the beautiful coastal neighbourhood of Batu Ferringhi. Home to a number of high-end resorts and water sports, Batu Ferringhi attracts people who want to enjoy a resort-style holiday with access to private beaches. 
I drove along the coastal road connecting Batu Ferringhi and Gurney Drive. The population along the road has increased substantially and you can see a number of resorts and holiday homes more suited for long term stay.
I stopped at the floating mosque of Tunjung Bunga. The amazing architecture set against the aquamarine ocean backdrop catches your eyes from the distance. The interior of the mosque has a great atmosphere and offers a serene environment for worshippers. Driving along the ocean you enjoy beautiful shades of water against the stony outcrops and rock formations. I stopped at several locations to enjoy great views of the ocean and took some photographs. 
I stayed for a night at Hard Rock Resort and thoroughly enjoyed the night activity at the night market. The restaurants along the beach sell exceptional seafood. I enjoy a hearty meal at Golden Thai Seafood Restaurant. The restaurant has a good collection of local and imported live seafood. You can have the fish, prawns and lobster cooked in a number of different sauces and cooking styles. 
There are a number of budget hotels in Batu Ferringhi catering to price-conscious travellers. You can also find plenty of restaurants and cafes serving a mix of local and international dishes.  
At Batu Ferringhi Beach you can enjoy speedboats, water scooters, banana boats and paragliding facilities. The night markets on the weekends are quite fun and you can explore the local colours of Penang. 
Back at the Eastern and Oriental Hotel, I enjoyed the weekend fun on 1 Penang Street which has a number of bars and clubs including Slippery Senoritas and Les Mois. The atmosphere is very lively and the fun and commotion continue till late at night. 
Related Content on the site: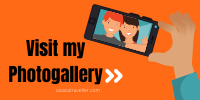 Pin it to read Later
Scroll over the text to save!