Sydney Metropolitan area covers an area of surrounded by dense national forests on Northern, the western and southern tip of the city.  The city landscape is a good mix of hilly terrain, waterways, rivers, beautiful beaches and amazing lookouts commanding great views of the city.
Sydney is an amazing city to explore. Even though I have been exploring this city for over 20 years, I always come across scenic locations and breathtaking views all throughout the year. Surrounded by National Forest on all three sides, Sydney is a wonderland for hikers and bushwalkers. NSW has a number of National Parks which are managed by National Parks and Wild Life Services. 
For avid traveller and bushwalkers, extensive printed and digital resources are available to explore these parks. Here are some of the interesting location in and around Sydney which I have explored in the last couple of years.

Mount Portal Lookout in Blue Mountains National Park
Distance from CDB: 60km
Area: Glenbrook in Blue Mountains Area
How to get there: Drive on M4 towards blue mountains and exit and Glenbrook.
Mount Portal Lookout command views of Napean River
---
Mount Portal Lookout commands a great view of Napean River and Western Sydney Region. This area offers a great opportunity for abseilers and adventure seekers. To
Mount Portal Lookout
---
This area can be visited en route Blue Mountains if you are planning to explore Katoomba and adjoining area. There are a number of walking track located in the Blue Mountains Park. Make sure you have good navigation equipment and safety beacon when you trek in these areas. A number of visitors go missing in the Blue Mountains every year and have to be rescued by emergency services. Therefore, safety should be the first priority when venturing into the bushland or long walking track. If you want to enjoy short walks there are a number of loop-around walking tracks in the Blue Mountains area that can be covered in 2 hours.
Kuringai Chase National Park
Distance from CDB: 25km
Area: Enter at Bobbin Head Road in North Turramurra
How to get there: Drive on M4 towards blue mountains and exit and Glen
Kuringai Chase National Park is a wonderland for trekkers, bushwalkers and adventure seekers. The Park is located at the Northern tip of the City stretching up to the Central Coast. Bobbin Head Reserve is the starting point of my trails that traverse through this park. A car park and picnic area are located at the end of the Bobbin Head road. Enjoy a nice warm breakfast at the cafe. An information centre is located in the reserve which provides maps and useful information to the people planning to explore the Park. 
Bobbin Head information Center
---
Make sure to start early on trails as the sun sets early the park and it gets very dark. A proper outfit, walking shoes, extra water and light food is essential to stay safe and hydrated on the trails. Start with the shorter trails before heading on the harder and longer trails.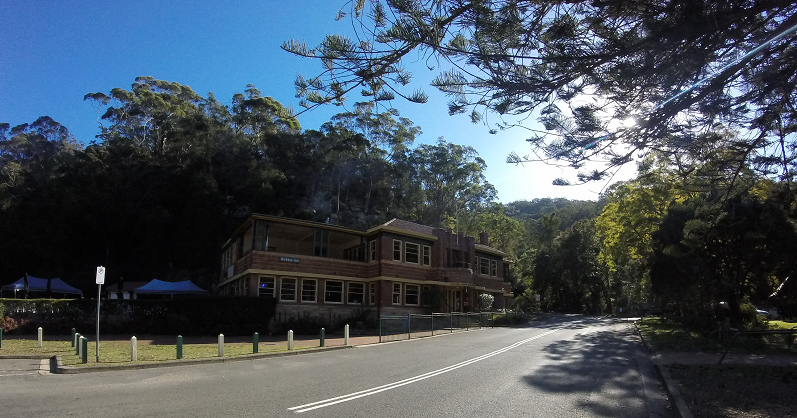 Bobbin Head information Center
---
A 250km long Great Northern Walk connects Sydney with New Castle that goes through various reserves and campground. The walk can be done end to end in 18 days or broken down in smaller walk. More details. 
View Barrenjoey Lighthouse from Westhead Lookout
---
 There are a number of walking trails located in Kuringai Chase area. Some of these tracks are:
Aboriginal Heritage Walk: 4.4km loop that takes approximately 3 hours
Sphinx Memorial to Bobbin Head Loop: 10km - 4 hours
Birrawanna Walking track: 4km - 2 hours
America Bay Walking Track: 1-2 hours return trip
Red Hands Cave Walking Track: .6km - 45 minutes
Picnic Area at Bobbin Head 
---
I walked from Bobbin Head Picnic area to Sphinx Memorial which covers a distance of approximately 4km. The track meanders along Cowan Creeks and ascends through a step of stairs near the Sphinx Memorial. You can join the road which takes you back to Bobbin Head roading near the Park Entrance. Make arrangement for someone to pick you up as walk back to the picnic area can be very long.
A track marker on Bobbin Head to Sphinx Head Trail
---

Distance from Sydney: 80km Drive along M4 to the Blue Mountains. Scenic World is located in Katoomba
Places of interest: Scenic World Incline - Cable Car - Three Sisters - Katoomba City 
Activities: Hop-on Hop-Off Bus - Visit Carrington Hotel - Visit Paragon Cafe - Explore Megalong Valley
Visit to the City of Sydney is not complete without exploring the Blue Mountains region. Easily accessible by car, bus or train, Katoomba is located 80 km from Sydney City. The weekend can be very busy, therefore, plan your visit in advance and try to arrive at the Scenic World before 10 am. 
If you are travelling by train, the ticket is approximately AUD 10 one way. Book a Hop-on Hop-Off Bus ticket to explore interesting places around Katoomba, as it will not be possible to walk to all these places on foot. 
The Blue Mountains Cable Car at Scenic World, Katoomba
---
Scenic World has the worlds steepest incline and a cable car that takes you on a scenic ride across the Megalong Valley. The scenes are breath-taking as the Blue Mountains area is over 400 million years.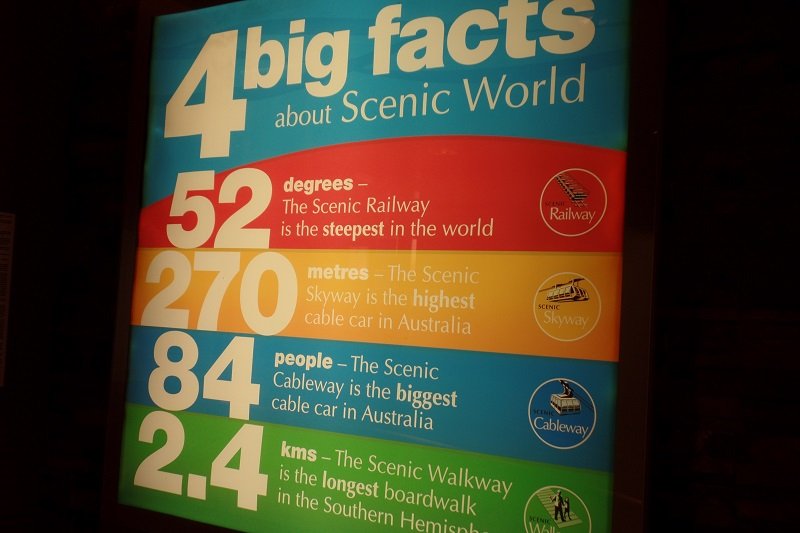 Some impressive facts about Scenic World
---
The Carrington Hotel is one of my favourite locations to visit in Katoomba. More than 100 years old, this establishment has preserved the charm of early days of exploration and travel to this unique location. The hotel is preserved in all its glory and furnished as per original design and layout. Enjoy a drink at the bar inside the hotel or order scones and milkshakes while enjoying the comfort of the warm interior of the lounge area in the hotel.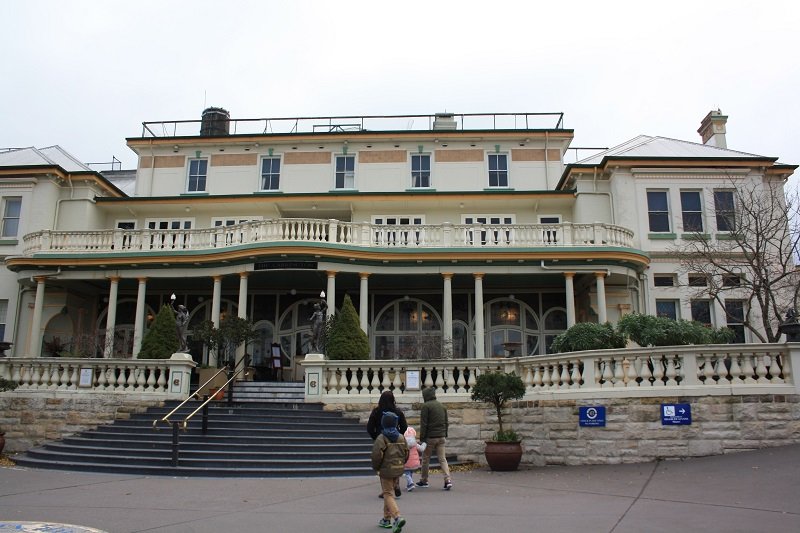 Visiting Carrington Hotel in Katoomba
---
For more adventurous I recommend driving down into Megalong Valley to enjoy hot tea and scones at a nice cafe that operates near the end of the road in Megalong Valley. Driving from Sydney turns left near the city of Blackheath to get into Megalong Valley. 
The Blue Mountains has a number of lookouts and walking trails, including a 10km long track to Victoria Falls in the Blue Mountains. Other places I have visited included Minihaha Falls near Katoomba. 
Another easily accessible lookout is Wentworth Falls lookout located on the way to Katoomba.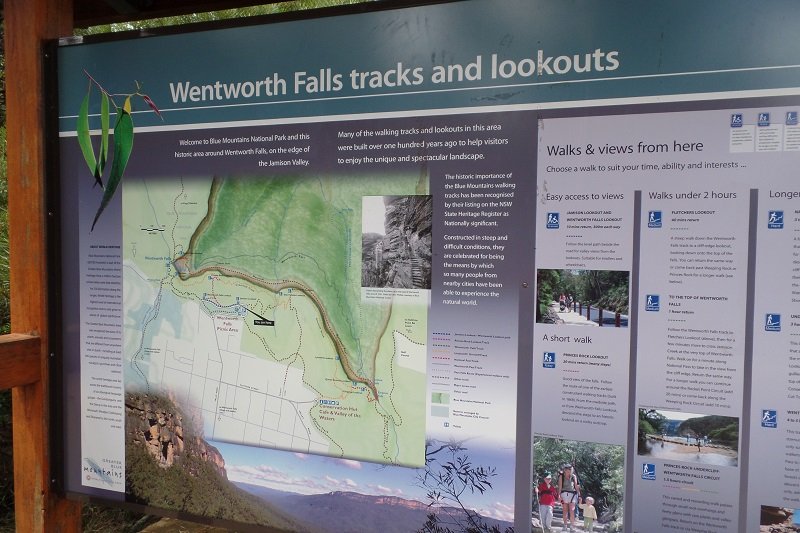 Stanwell Tops is a scenic lookout located on Old Princes Highway between Sydney and Wollongong. The location is easily accessibly from the Princess Highway around 10 km past Sutherland Shire. Alternatively, take a country road through National Forest, that finally emerges on Stanwell Tops. 
The location is popular for paragliding and skydiving. Two other places of interest located in the vicinity include Indian Temple and a Koala Sanctuary. 
Old Princess Highway makes an ideal route for a day trip to South Coast passing through beautiful towns of Scarborough, Austinmeer and Thirroul. The area is also popular with artists seeking escape from busy Sydney life.  There is plenty of beachfront rental property available along the Old Princess Highway. You will find a number of roadside cafes and restaurant that come to life on the weekends. Summers are particularly busy with tourist cruising down the Old Princes Highway towards the south coast destinations. 
PIN IT TO READ LATER!!!