My First Visit to Bangsar Village in Kuala Lumpur
My first visit to Bangsar Village was in 2015 after reading the popular blogger from Bangsar, the BangsarBabe. I was quite surprised to find content on plenty of quality eateries, exotic fusion cafes and pastry shops in the Bangsar area. The visit to this amazing location was better than my expectation and every time I visit Kuala Lumpur I visit this amazing locality.
Jalan Telawi is the main street in the Bangsar Village area
---
The taxi rank is located next to Bangsar Mall which is quite a modern shopping mall with designer apparel stores, speciality stores, home and decor stores along with many other services under one roof. The Old Bangsar Village area is a traditional U-shaped market housing plenty of eateries, shopping outlets, bars and mixed businesses. Bangsar Mall is located near the main mosque in Bangsar and should be your starting point to explore some amazing shopping options. 
---
---
Bangsar Village Shopping Malls offers plenty of western food outlets, ice cream parlours and restaurants. If you plan to stay in the Bangsar Village area, The Bangsar Village Mall has a supermarket offering a wide range of Asian and Western products. 
---
How to get to Bangsar from Bukit Bintang or KLCC?
A cab ride costs RM 15-20  from Bukit Bintang or KLCC. Grad (ridesharing app) can be much cheaper. You might have some congestion on the roads after work. Bangsar in the evening is packed with people as this is a popular hangout for shopping and trendy cafes. 
Bangsar neighbourhood attracts an upper-middle-class residential population. Most amenities, including transport, shopping and utilities are quite affordable by Kuala Lumpur standards. If you are planning on relocating to this area you can find plenty of houses as well as serviced apartments offering a nice view of the city skyline. 
---
Bangsar Cafe and Restaurants
Bangsar Village is designed in a grid with hundreds of stores, cafes and restaurants. This area attracts large crowds during lunchtime and evenings. The weekend is packed with shoppers and food lovers. A night street market is organized near the mosque on weekend nights. 
The bakeries, cafes and patisseries have an eye-catching and eclectic presentation. Antipodean cafe and Yeast enjoys a regular customer base including digital nomads and business people busy with their laptops and hand-held devices. 
Enjoying dinner at Knowhere in Bangsar Village
---
Recently, I visited another interesting bar and restaurant attracting large crowds over the weekend. "Knowhere" has a great ambience and an impressive menu. I enjoyed a dinner with a friend and loved the mix of western dishes with a twist of local flavour.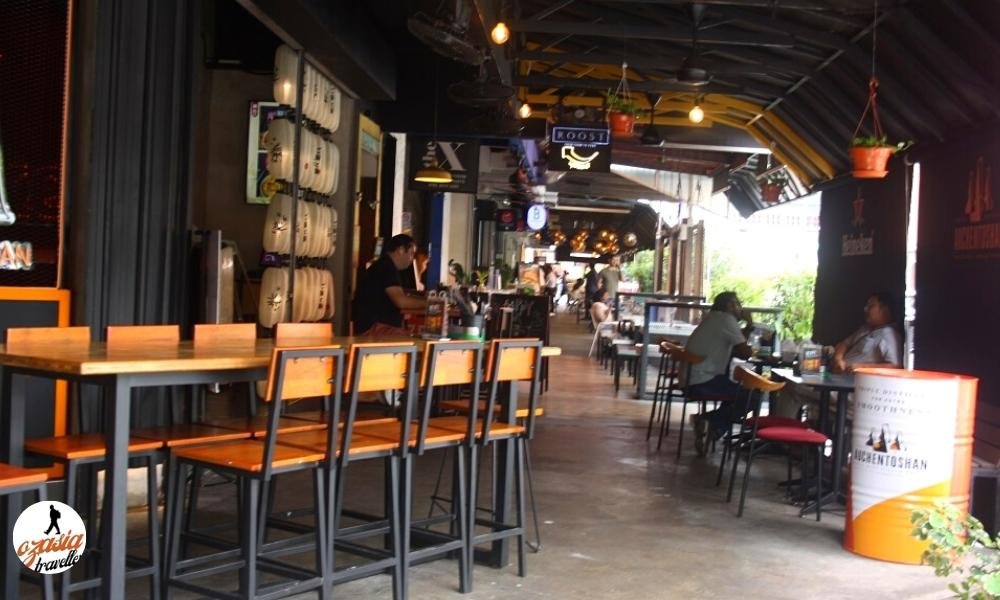 Bangsar Village is home to plenty of cafes, bars and restaurants
---
Jalan Telawi and Maarof attract large crowds over the weekend adding plenty of activity to this residential neighbourhood. Catering to the expatriate and affluent class, you can explore options for high-end dining and trendy hangouts. Rock Bottom Bangsar and Bar Atas enjoy a lovely ambience over the weekend nights. 
Shopping Mall Bangsar Village Kuala Lumpur 
---
We explored menus of various restaurants and stumbled upon a home-style kitchen nestled between DeSoto SteakHouse and The Social. This hidden gem is called Cafe Pak Abu Maskan Kampag Asli.  Mr Abu, the owner of the restaurant specialises and party decor and the first-floor sitting area of the restaurant is richly decorated with party decorations, glass and colourful furniture. The restaurant offers pre-set menus in RM 25 price range. Abu is an amazing host and recommends dishes based on your taste and appetite.  
A dessert bar in Mid Valley Mall Bangsar
---
The Bangsar Village Mall has grocery outlets, ice cream parlours, and Nandos along with a number of other interesting stores. Three Little Pigs and the Big Bad Wolf is quite popular with the local crowd. 
The crab curry in mild chilli sauce was well prepared and we ordered house speciality beef marinated in secret sauce. We really enjoyed the authentic home-style food and plan to visit this restaurant again on our next visit to Kuala Lumpur. 
Masjid Sayedna Abu Bakar is located right next to Bangsar Village. I offered my prayers at this beautiful mosque several times during my visit to Bangsar.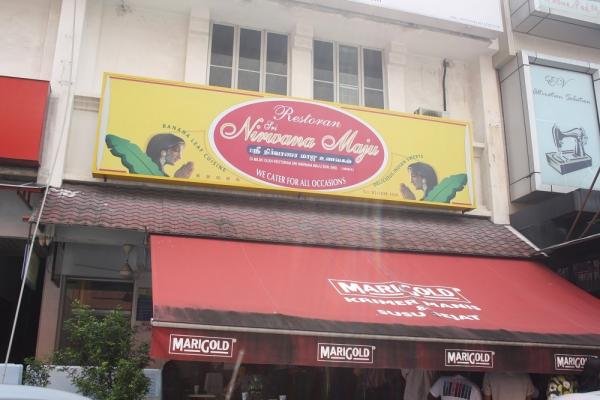 Sri Nirwana Maju is a must visit Banana Leaf Restaurant in Bangsar
---
Nirwana Maju Banana Leaf restaurant is a must-visit if you have a taste for Indian curries served with a number of deep-fried snacks, fish and chicken dishes. I fell in love with restaurants. The food is amazingly fresh and affordable. The restaurants attract large crowds for lunch. 
Popular Bangsar Cafes
---
If you want to try local food you can visit Mahbub which is quite popular for Biryani and a number of amazing local favourites. This restaurant also specialises in fried noodles, soup, lamb shanks, tandoori chicken and other Indian specialities. 
Mahbub is a popular Biryani house serving a mix of Malay/Indian dishes
---
Other popular food outlets in Bangsar I visited include
Antipodeans Breakfast - breakfast in bangsar
Dancing Fish
Coffee Coffee
Monte's Western Delicacies
Nirwana Maju's Banana Leaf Rice
Cafe Pak Abu is an interesting local restaurant with an impressive menu and unique dishes. The cafe owner makes a recommendation based on your taste and like. I tried grilled beef, chicken curry and a very tangy lemon drink. I highly recommend this cafe if you want to diversify your palate. 
Shopping in Bangsar - Mid Valley  Mall in Bangsar - Gardens Mall Bangsar
Bangsar has a number of modern and high-end shopping Malls. One of my favourites is Bangsar Village and Mid-City Mall. Bangsar Village Mall is located in the Bangsar Village area and has a number of fashion outlets. There are a large number of popular bars and restaurants located outside Bangsar Village. A taxi ride from Bangsar Village to Bukit Bintang is approximately RM 15. 
Mid Valley Mall is a massive Mall and a must-visit for shoppers and food lovers. There are hundreds of cafes, restaurants, food outlets and clothing stores along with a large number of services. Allocate at least 3-4 hours to explore these Malls. There is substantial vertical growth in South Bangsar Area and most shopping malls cater to the affluent working class and ex-pat population with more disposable income. Therefore, there are plenty of luxury brands and services catering to this population segment. 
If you have a knack for shopping I highly recommend visiting Mid Valley Mall. Start early in the day if you want to explore most of this amazing location. Gardens Mall is located adjacent to the Mid Valley Mall and offers great shopping and quality eateries and fast-food chains. The ground floor has grocery shopping and basic services and health care clinics. 
Visiting Mid Valley Malls with kids?
Kidzooona is a great place for kids' entertainment with a massive gaming arcade, and kids' games for all age groups. Narikiri is a shopfront for kids to use their imagination for role-playing. Other interesting games include cyber wheel, the slider ball pool etc. Kidzooona is definitely a great place for kids to socialize and learn new skills in a safe environment. 
---
---
Where to stay in Bangsar Kuala Lumpur?
If you are planning to stay in Kuala Lumpur and want to explore the suburbia, I highly recommend staying in one of many boutique hotels or homestays in Bangsar. Check out the best rates online . Advance Booking can save up to 40%.
Staying at V E Hotel and Residences in South Bangsar
---
In July 2022 I stayed at V E Hotel and Residences in South Bangsar . This property is ideal for a family holiday because of its location and the number of quality eateries in the neighbourhood. 
Stay in Malaysia with Homestay
"The Sphere" shopping Mall is located adjacent to the Ve Hotel and Residence and contains a number of quality restaurants, bars and cafes. I enjoyed laksa at a Nynonya restaurant at the Mall. Khan's restaurant is located at the Mall and is home to authentic north Indian cuisine.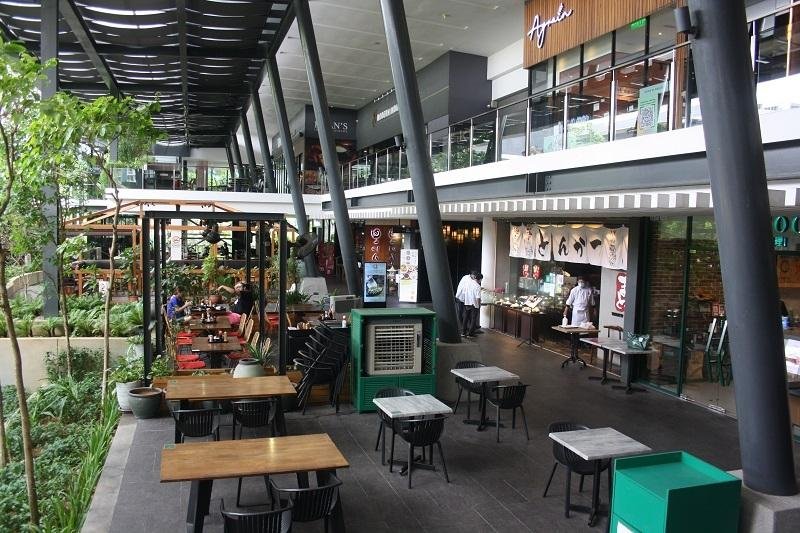 Other popular hotels in Bangsar Area include:
---
---
What are other interesting areas for Shopping in Kuala Lumpur?
Bukit Bintang is the heart of tourist activities in Kuala Lumpur. The most popular shopping malls like Pavilion, Farenheit88, Sephora and Sungei Wang are located within walking distance from each other. This area is easily accessible by monorail at Bukit Bintang Monorail Stop. A taxi ride from Bangsar to Bukit Bintang is around RM 15. 
For souvenirs and cultural artefacts, batik and local crafts,  I suggest visiting  Berjaya Times Square ( Imbi Station) in Bukit Bintang and Central Market in the Masjid India area.