Staying at Traders Hotel | Skybar at Traders Hotel | KLCC Suria 
My experience at Traders Hotel by Shangrila in Kuala Lumpur
Looking for one of the best places to stay in Kuala Lumpur? Look no further. Traders Hotel is a great choice for its great features and an ideal location next to KLCC Park and Petronas Tower. Traders hotel is ranked as one of the best hotels in the KLCC area. 
I had stayed at Trader's Hotel a couple of times in the last 3 years. The place is in high demand and the best way to get the most competitive rates is to book in advance . 
The hotel is ideal if you want to stay close to the centre of the city and want to enjoy shopping and dining out without the hassle of driving into different parts of the city. If booked in advance you can get a double room for around $US130  for a double room including breakfast, which is quite a deal. 
Trader Hotel is ideally located in KLCC
---
The standard rooms are quite comfortable with modern decor and services available. The check-in counter is on the 5th floor of the building with a cafe right in front. The cafe is open for lunch buffet till 230pm.  A la Carte menu is available with a mix of international dishes, fish and chips as well as local delicacies. I tried oxtail soup and nasi lemak with as great. The service is impeccable.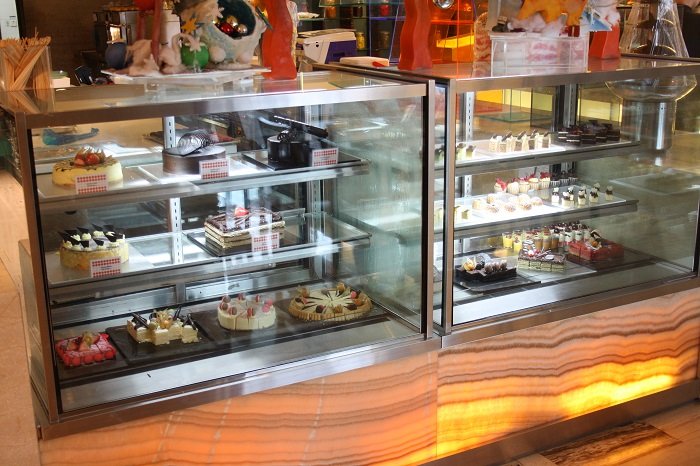 Gobo Chit Chat Cafe is a great place for breakfast or light lunch 
---
A spa is located on the 34th floor offering a wide range of services. A one-hour massage costs around RM 240. The indoor rooftop pool is located adjacent to the Spa on the same floor. 
Enjoy Oxtail Soup at Gobo Chit Chat Cafe
---
If you want to visit KLCC Suria shopping centre, catch a buggy cart on the ground floor which is running every 5 minutes. This will drop you right next to Mandarin Oriental Hotel. The KLCC Suria has great shopping as well as quality cafes and restaurants. Harrods has just opened a store in this shopping centre as well.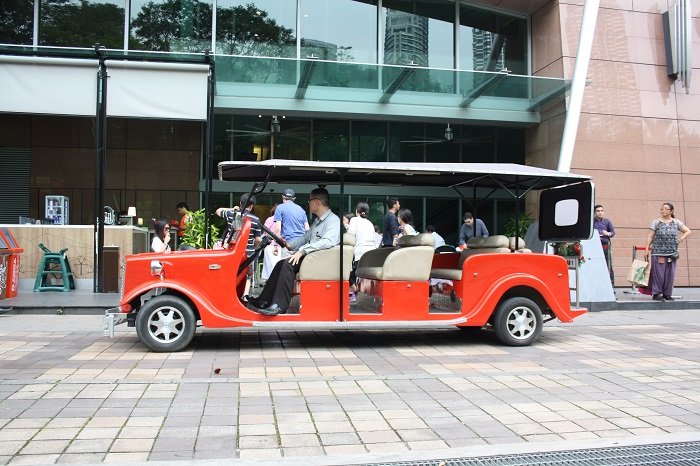 A buggy cart service to KLCC Sura & Petronas Towers
---
Skybar at the Traders Hotel in Kuala Lumpur
Skybar is one of the most popular hangouts commanding great views of KLCC Park and Petronas Twin Tours. Shaped around the rooftop pool, enjoy the ambient atmosphere of Middle-Eastern and modern decor. Light food is also served on the weekends. The crowd is trendy and hype and Skybar is a great place to meet like-minded travellers and visitors to the city. 
At night time you can sit right next to the windows overlooking KL central park and enjoy the night views and live music at the pool. Skybar is a must-visit even if you are not staying at Traders. 
Skybar at the Traders Hotel Rooftop
---
KLCC Suria Shopping Mall Kuala Lumpur
KLCC Suria is a top-end Mall located in KLCC, adjacent to Mandarin Oriental, Petronas Towers and KLCC Park. There is a very nice food court on the third floor and a great place to have lunch on weekdays or weekends. The food is quite affordable and there is a large variety of local and international dishes. 
KLCCA Suria is home to international fashion brands including Jimmy Choo, LV, Marc Jacobs, Miu Miu and Versace. Enjoy a drink at Harrods on the first floor. 6 floors are packed with top-end shopping and designer shops including some of the best Malaysian Brands. A bridge connects the Shopping Mall to the convention centre and Traders Hotel. 
The open public area near KLCC Suria
---
KLCC Park adjacent to Traders Hotel and KLCC Suria
---
Beautiful water fountains and parkland near Traders Hotel
---
Colourful interior of KLCC Suria Shopping Mall
---
Medical Center at KLCC Suria
In case you need to see a doctor in an emergency a medical centre is located on the 4th floor offering quality consultation and medicines as well. A doctor's visit would cost around 35RM in Malaysia. A couple of pharmacies are located in the shopping centre. Make sure you have your doctor's prescription with you if you want to get anti-biotics off the counter. 
KLCC Aquaria
AQUARIA KL
---
KLCC Aquaria is one of the major attractions for kids in KLCC, home to over 150 different kinds of marine life. Walkthrough the tunnel with glass walls with a wide range of fish and sea life from the jungles of the Amazon to the diverse waterways of Malaysia. Aquaria is a great educational and learning experience for kids and adults alike. 
Opening Hours: 11 am - 8 pm
Planning to visit KL?
Save up to 40% on advance booking with top booking platforms.
---
USEFUL INFORMATION ABOUT TRADER'S HOTEL
Average room cost: AUD $ 150
Premier Cab to KLCC/KLIA: RM 120 ~ $40
Taxi to KL Central : RM 30-40 ~ $10
Taxi to Bukit Bintang: RM 15

 

 
Other Hotels I stayed in Kaula Lumpur