Johor Bahru is a popular city of Malaysia located at the Southern tip of mainland Malaysia and a gateway to Singapore. With its proximity to Singapore, Johor Bahru has seen plenty of development and growth in the last few decades making this city an amazing place to visit for a weekend break or an extended stay. 
I visit Johor Bahru in July 2022 and decided to explore some interesting places along the way while driving from Kuala Lumpur to Johor. 
How to travel from Kuala Lumpur to Johor?
Most major cities in Malaysia are linked with a world-class infrastructure of road networks. As a result driving between Kuala Lumpur and Johor is a very enjoyable road trip. 
I decided to explore the cities of Malacca, Muar and Batu Pahat along the way to Johor Bahru. The main freeway network exits near Melaka and then two-way country roads connect Melaka with Muar and Batu Pahat. 
If you are using public transport, a five hours bus service connects Kuala Lumpur to Johor Bharu. The tickets can be booked online. 
Driving from Batu Pahat to Johor Bahru?
Batu Pahat is an interesting town that has fallen off the radar with time. The town is popular with local tourist who wants to enjoy coastal features, nature reserves and water parks. The city, however, has retained the old-time charm offering a mix of old and modern side by side. 
I enjoy the laid-back and relaxed feel of small Malaysian towns which seem to be running at a very slow pace. They offer a nice change from the busy city life of Kuala Lumpur and other large city centres in Malaysia. 
I stopped by to have lunch at Old Street Commercial Center. The white painted colonial style building offers a mix of cafes, restaurants and other services. 
The rooftop offers a nice bar and open city area commanding a good view of the area. 
I decided to head to utilize my daytime and drive to Johor Bahru after lunch. The drive time between the two cities is around two hours. 
Once I got back on E2 near at Ayer Hitam toll booth, the volume of traffic flowing north-south is very high. The freeway network gets a bit complex as you start approaching Johor and I had to follow the GPS to navigate to Johor City Center where I booked V Hotel. 
This was my first visit to Johor Bahru and picked this hotel online after reading plenty of good reviews on Agoda online. 
Driving inside the city of Johor Bahru is an absolute delight as the city is well laid out with open spaces, parks and beautiful Mosques and palaces. The road along the water leads up to the city City Center Area. The architecture of some of the main buildings is absolutely amazing. 
---
Hotels in Johor Bahru?
The Z Hotel building is visible from the distance and enjoys an ideal location close to most tourist attractions including the old city centre, Meldrum Walk Street Food and night markets.  
I checked into the hotel at 4 pm and decided to take some rest before heading out for dinner at some interesting waterfront restaurant. 
Z Hotel is ideally located adjacent to the City Center overlooking the Strait of Johor. If you are not driving, the central location of this hotel makes most places of interest accessibly by foot. I explored most of the city centre area with ease and saved myself the hassle of catching public transport. 
Z Hotel gets amazing reviews online and offers quality accommodation at very reasonable prices. I was able to secure a great deal for a three-night stay online with Agoda.com
---
Find Best Hotel Deals in Johor Bahru
---
Best places to eat in Johor Bahru?
Johor Bahru city centre offers a mix of street food, local cafes and up trendy nice bars including Irish Pubs. Whatever your preference, there are plenty of choices to explore. 
I decided to walk down Meldrum Walk and check out some local food stalls. The stall sells a mix of Indian, Chinese and Malays food dishes. I tried beef broth with juicy chunks of meat. A cafe in Meldrum Walk specialised in Asian dishes where I stopped to taste an oyster omelette and curry puffs. Some restaurants were selling non-halal dishes and catering more to the Asian audience.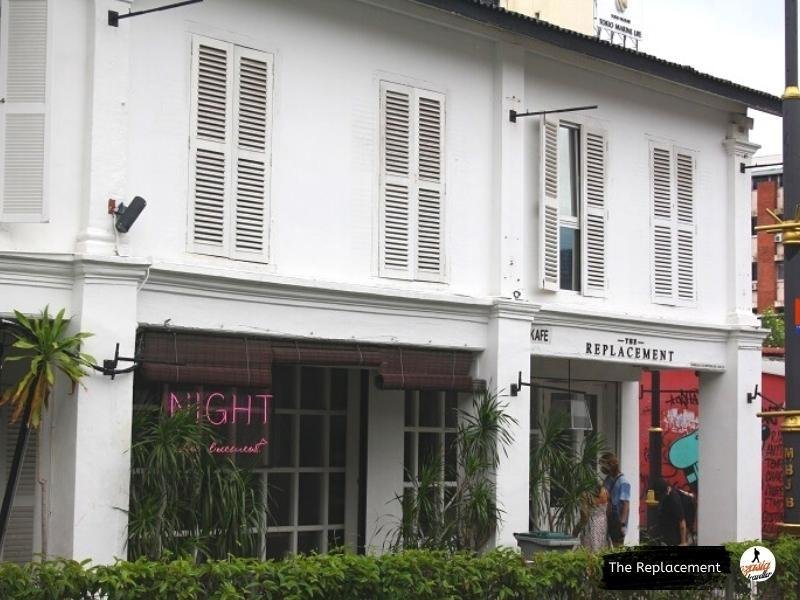 The streets along the night market area have plenty of modern cafes and restaurants that attract large crowds over the weekend. 
Breakfast is somewhat of a ritual in Johor Bahru with traditional coffee houses packed with customers. In some places, I observed queues of people waiting outside the famous Hiap Joo Bakery to be served banana cake and other specialised dishes. 
Traditional Coffee houses are popular offering a mix of noodle and rice dishes. The prices are very reasonable and the quality of the food is amazing.
I popped into a very busy-looking cafe and order a noodle dish with boiled eggs and a local variety of Kopi. The total bill was under RM 10. Quite cheap I thought. 
The waterfront area near Berjaya Waterfront ferry terminal has a number of restaurants and bars that open till late. 
---
Day trip to Desaru from Johor Bahru?
As I had 4 days to myself in Johor I decided to take a road trip to the coastal town of Desaru. The driving time is around 1.5 hours. Desaru is home to some luxury seafront resorts offering a wide range of watersports and amazing seafood dining experiences. 
Desaru must be on your list if you plan to visit Johor for your next holiday. Read more about my trip to Desaru Coast .  
---
Exploring Johor City Center Night Market - Pasar Karat (Bazar JB)
The night markets are popular attractions as the darkness sets in the fresh breeze from the ocean making it very pleasant to stroll along the night markets that stretch down a couple of streets. Staying at Z-hotel makes it very easy to step out and walk around the night market area that stretches across a number of streets near Johor Baharu Chinese Heritage Museum. 
Johor Bahru Night Markets
---
The markets display a wide range of clothing, handbags, t-shirts, toys and other fashion items. These night markets are quite popular with local people and tourists alike and the stall stays open till midnight. 
A little walk away is a beautiful Indian Mariamman Temple and Sikh Gurudwara. A number of Indian food outlets, jewellery stores and clothing outlets can be found in the streets surrounding the temple. 
In the daytime, the entire area gives a different appearance with a mix of traditional and modern cafes serving breakfast and hot coffee.
I decided to have breakfast at a well-rated trendy cafe "The Replacement Lodge and Kitchen". The cafe is very well-managed and offers a good mix of English breakfast options. The atmosphere of the nice cafes is very impressive and highly recommend visiting this cafe when in Johor.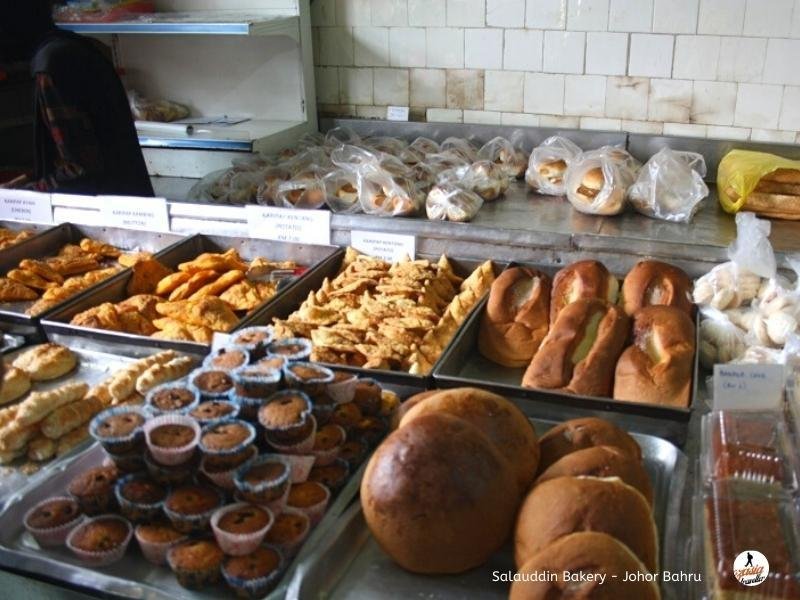 Stopping at Salahuddin Bakery takes you back in time when bread used to be baked over wood-fired ovens. The bakery is one of the oldest in the region and has still retained the same style and layout. If bought a few puff pastries with chicken, vegetable and meat filling.
The bakery seems to be very popular with the local crowd as I noticed a number of regular stream of customers coming to the shop to buy bread and other products. 
The next day I decided to have breakfast at Roast & Coffee Retro Garden 1968 which is a popular join with locals offering a range of coffee and breakfast options. The local coffee is called kopi and is prepared in a different style to barista-styled coffee. I picked a liking for this style of kopi and visited several other kopi shops in Johor during my one-week stay. 
A concentration of a number of cafes makes it difficult to decide what to eat and which venue to explore as most places seem equally packed and crowded with local people. JB is definitely a place for foodie encounters. 
---
Visiting Abu Bakar Mosque in Johor Bahru
The impressive cream and blue-coloured structure are visible from Jalan Ismail Sultan. The beautiful mosque is sitting on top of the hill overlooking the Strait of Johor. 
I visited this mosque in the late afternoon. The doorman opened the doors for Asr prayers and made my way to the richly decorated interior of the mosque to offer prayers.
The mosque offers a very peaceful atmosphere for praying and meditation. I sat there for 30 minutes and took some photographs of the mosque as it was a clear and sunny day and the structure juxtaposed against the clear blue skies offered a rare photo opportunity. 
---
Visting Danga Bay area in Johor Bahru
Danga bay is a popular new waterfront development with plenty of high-rises and a beautiful waterfront area with Danga Bay Park. 
This location is packed with visitors over the weekend and is a popular hangout for families and couples. 
I visited Danga Beach Beach Bar on a weekday night and still enjoyed the lively atmosphere of the sand beach bar overlooking the strait of Johor. The dimming lights of Singapore are visible from the distance. 
---
Visiting Legoland in Johor Bahru
One of the biggest reasons for families to visit JB includes a visit to Legoland, one of the premier theme parks in Malaysia. 
Theme Park, Aquarium and Waterpark are major attractions at Legoland. The tickets can be booked online or get the lowest rates with Klook. 
Legoland Hotel is ideal if you plan to spend more days at Legoland as it provides easy access to all facilities and saves commute time. Legoland is sure fun for the entire family offering treasure hunts and exploring lego features. 
Enjoy Best Activities in Johor Bahru with KLOOK
---
Shopping Johor Bahru
Johor is a great shopping place as it attracts a large number of Singaporeans driving across the causeway for daily shopping as well as exploring local shopping malls for amazing deals and discounts. 
If Shopping is a big thing on your list this year, Johor Bahru must be on your travel list as it is home to some amazing Shopping Malls in Malaysia.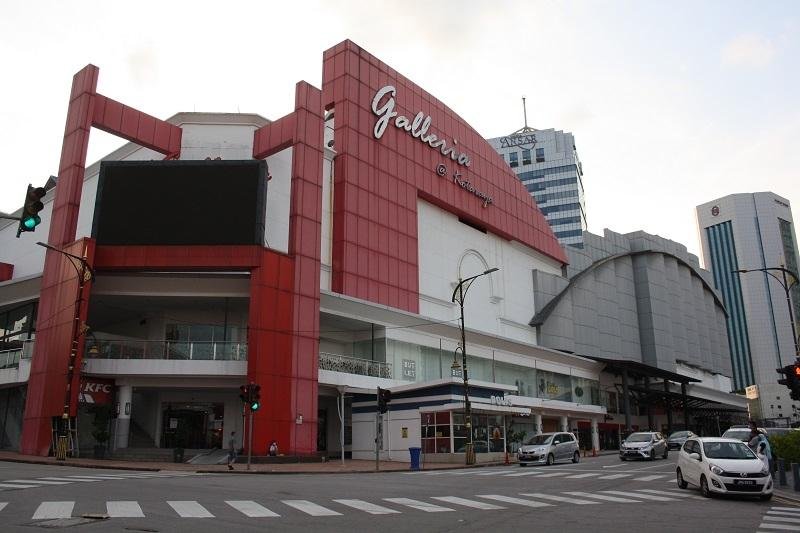 Galleria Shopping Mall in City Center in Johor Bahru 
---
One of the most popular malls, Johor Bahru City Square is home to many local and international brands and offers great shopping options. The Mall is located within walking distance of the Z Hotel where I stayed. 
Other popular shopping Malls include KSL City Mall, AEON Mall and Mid-Valley South Key Malls offering innumerable shopping options for all budgets. 
---