Victoria outback has a large number of amazing towns and wild country to explore in the summers. A road trip from Melbourne to Wangaratta, Beechworth and Alpine Country towns of Bright is a practical itinerary for a weekend or 3-night road trip. 
I have driven to the laid back country town of Wangaratta in Victoria a couple of times in the last few years. I count not resist exploring the Alpine Country Region with rolling hills, lakes and rivers. Here is my 800 km loop from Melbourne to Alpine Country and Bairnsdale Victoria. 
Melbourne to Victorian Alps Loop
My last trip was planned for July 2019 and we decided to spend 6 days on the road. The first stop on the trip was Wangaratta which is located at a distance of 280 North of Melbourne.
I booked a car from Melbourne. Midweek and long term car rental rates are very low in Melbourne. An easier way to reach Wangaratta is to either catch a bus from Melbourne or travel by train. The train trip is quite enjoyable and gives a chance to relax and you can enjoy reading a book along the way. Get Best Car Rental Rates Online
---
Wangaratta - 250 km from Melbourne
Wangaratta gets its reputation as a bustling country town popular for amazing food outlets and a jazz country festival that it hosts annually. The town has a very relaxed feel and the downtown is relatively small but has a number of quality restaurants, cafes and bars. Ovens rivers run through the town adding a nice picturesque layout. I stayed in Wangaratta for two nights and explored some local attractions before heading out to the Alpine Country.
During my stay in Wangaratta, I explored the local heritage building from the 1850s. Wangaratta Art Gallery is a great place to explore local art and the history of the region. Cycle Tours are quite popular in the region and a number of trails around the region give you an opportunity to explore the countryside, vineyards and eye-catching wilderness. 
---
Wangaratta to Beechworth - 40 km
Beechworth was the next turn on my trip that captured my fancy with its historical buildings, beautiful cafes and restaurants. Beechworth has a number of prized eateries and has become a culinary capital of the region surrounded by quality vineyards and an agricultural region providing supplies to high-end restaurants. 
The historical precincts of the city have a goal where Ned Kelly was kept after being captured. The remnants of the gold rush are visible in the layout of the town and the buildings that reflect the glorious past of the region. 
---
Beechworth to Bright Victoria - Dartmouth Dam - 200-mile loop
Our next stay is on the way to the popular summer city of Bright VIC. Bright is like a catchment area for Alpine Country in the Winters where most people stay because of facilities and quality accommodation. The city is equally popular in summers and winters. There are a number of Ski Rental stores.
The Ovens River runs close to the town and you can enjoy a number of activities in the area in the Summers including a 70 km long cycling track to Propenkah that traverses through vineyards and rolling hills of the high country. 
Staying at Bright Victoria
---
Mystic Bike Park Offers plenty of trails for beginners as well as more experienced bike riders. I took a bike ride some 15 Km along the track towards Propenkah before heading back to Bright. The nightlife is quite active in winter with plenty of family holiday travellers. The eateries get crowded and you can enjoy the hustle and bustle till the late hours of the night.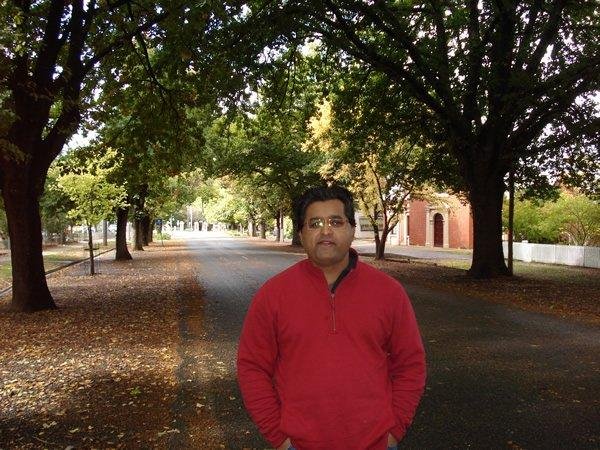 Driving from Bright to Dartmouth Dam through Omeo Highway
---
In Bright, I visited the Information Center and came to know about a 200-mile loop up to Dartmouth Dam. This makes a great day trip to explore the high country and drive along deserted country roads, farmsteads, river bodies and pristine wilderness.
There are plenty of campgrounds along the way that makes it ideal for camping trips and hiking trips. I returned to Bright to spend a night at the Big 4 Bright - a four-star motel with fully furnished cottages. 
Here are some interesting outdoor activities you can enjoy during your stay in Bright Victoria:
Camping and staying at Caravan Parks
Walking Trails and outdoor excursions
Horse Riding
Cycling Track - Mountain Bike Trails
Fishing - Trout Farms
Weekend Markets on the 3rd Friday of every month
I have stayed at Bright Pine Valley Tourist Park  two times during my stay at Bright, Victoria. The fully furnished cabins are equipped with bunks and a kitchen which is ideal for a family stay. 
---
Mount Hotham, Victoria
Mount Hotham and Mount Buffalo are premier ski resorts in Victoria and great places to visit in winters and summer alike. A straight drive from Melbourne to Mount Hotham takes around 4 hours. Winters is normally a very busy season and there is a legal requirement to equip the vehicles with chains. Mount Hotham has one of the biggest alpine villages with plenty of places to stay. Enjoy amazing ski slopes ideal for snowboarding or simple tobogganing with the family. 
The city of Bright is ideally located at the base of the mountains and offers plenty of options to book tours and rent ski equipment. The accommodation at Bright is relatively cheaper as compared to Alpine Village at Mount Hotham. 
---
Drive from Dartmouth Dam to Bairnsdale along Omeo Highway - 230 km
Drive from Bright to Bairnsdale is probably the most interesting road trip I have even taken through the isolated countryside and some wild windy weather along the way. The landscape is absolutely amazing with plenty of rolling hills till you descend to Bairnsdale in Gippsland Region. In the evening the weather turned stormy and I was driving along with very strong winds. 
Our original plan was to drive back to Mount Hotham and spend the night in Propenkah. However, with the forecast of heavy snow on Mount Hotham, we were forced to drive from Omeo to Bruthen. The remote isolation of the region is shocking as well as awe-inspiring. The sheer isolation of remote farmsteads and properties shows the challenges faced by early settlers in this region. Rolling hills with heavy vegetation along the way offer the unique beauty of the Gippsland Region. 
Bairnsdale was a sigh of relief and we enjoyed the amazing layout of the city with plenty of historical buildings and cafes. Bairnsdale Motel (4-stars) offers quality accommodation in the centre of the city. 
Related Roadtrips: