Bentong is a popular tourist spot in Pahang known for its good food and night markets. I had in the past visited Tropicale Colmar in Berjaya Hills and Genting Highlands but somehow never ventured further along Highway E8 leading to Kuantan.
On a clear Tuesday morning in July, I decided to visit Bentong and Berjaya Hills. The weather is great in Malaysia during July with clear skies and little humidity.
How far is Bentong Pahang from Kuala Lumpur City?
The drive time from Kuala Lumpur is approximately 1.5 hours depending upon the traffic conditions.  The traffic congestion clears up once you go past the Gombak Toll Plaza.
The road is uphill and you will need and you will experience plenty of slow-moving commercial traffic and old cars in the slow lanes. With excellent road conditions, the drive is quite enjoyable and you will pass a couple of small towns along the way.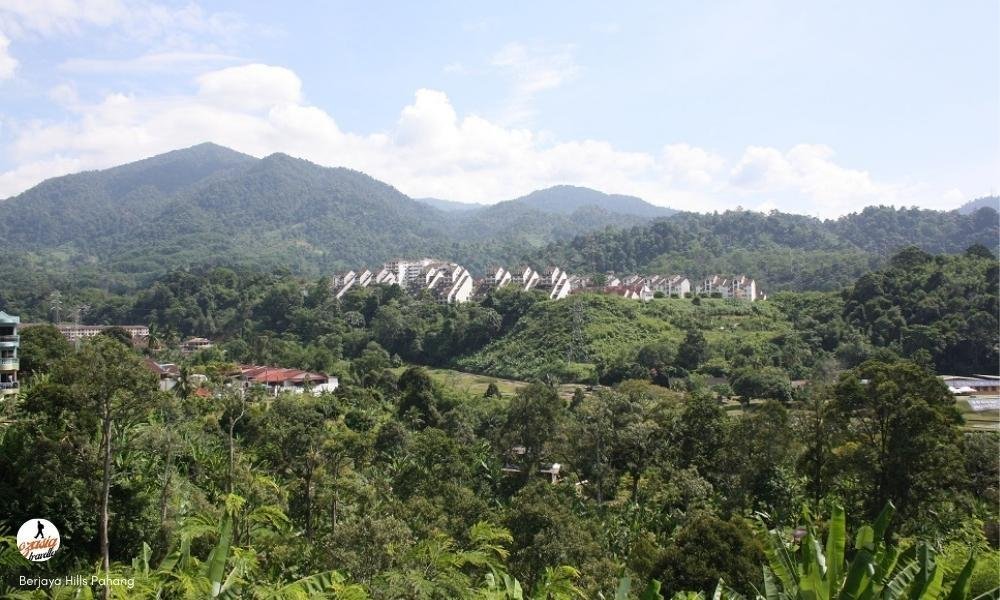 Berjaya Hills have plenty of vegetation and the heavy foliage on the hills along the freeway looks very beautiful. After passing the exit for Genting Highlands, other places of interest include Tropicale Colmar and Berjaya Hills Resort.
After passing the Bentong Toll Plaza, follow the signs to the city of Bentong. The area is relatively flat with plenty of businesses, warehouses, and sheds along the way. 
The city of Bentong has expanded in the last two decades with plenty of new architecture, shopping malls and roadside markets. In the downtown area, you will observe plenty of stalls selling ginger and soy sauce. Bentong is known for its ginger plantation and soy factories that supply soy sauce across the country. 
I drove to the old part of the city and parked my car near the Sikh Temple. The main commercial area o the old city near the "Bentong Walk" has plenty of restaurants and cafes along with other mixed businesses. Some interesting murals on the walls offer good Instagram photo opportunities. 
I got the impression that this place is quite busy over the weekend and the best time would be to explore Bentong on weekend afternoons and nighttime. The weekend markets are organized regularly that attract foodies and tourists exploring Pahang.
---
 Visiting Tak Ice Cream Corner in Pahang
Desserts are a popular part of Malaysia's food scene. Tak Ice Cream is popular for ice cream served with shaved ice and syrups with plenty of fruit and flavoured ice cream. I was tempted to try durian ice cream with lychee and watermelons amongst other tasty ingredients.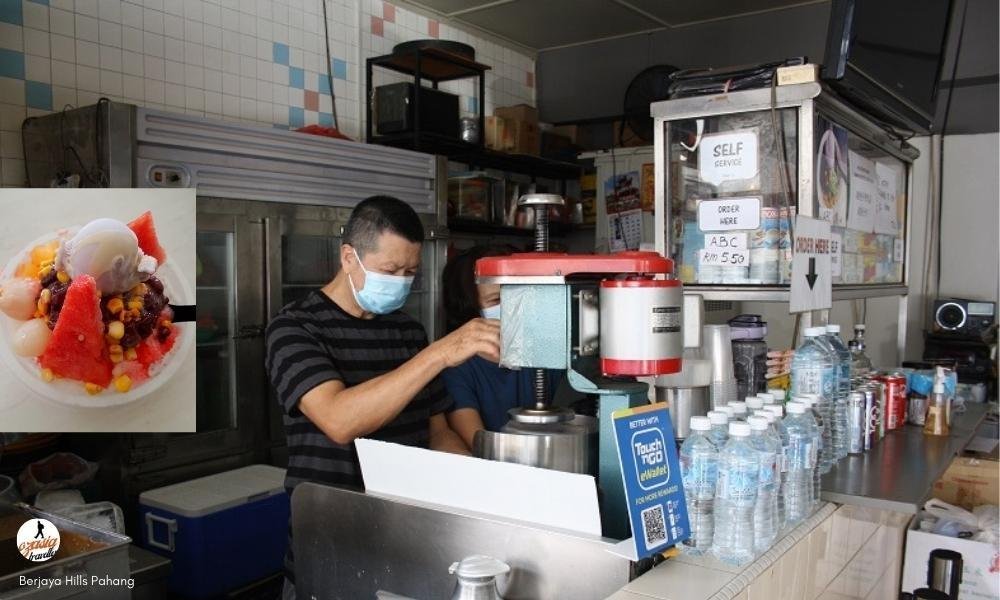 The shop was packed with local tourists who enjoyed amazing cream prepared by a middle-aged couple who managed this business. 
---
Lemang Toki - an interesting local retaurant in Bentong Pahang
I had read great reviews about Lemang Toki restaurants located at the northern tip of the city of Bentong. The restaurant has a great ambiance with hallways constructed with wood and bamboo structures.
There is plenty of sitting space and various sections of the restaurant's different dishes and desserts. The hot food section has a mix of popular local dishes, curries, and salads.  
I enjoyed the rice baked in bamboo shoots served with amazing chicken with sauce (Lemang and Rendang Ayam).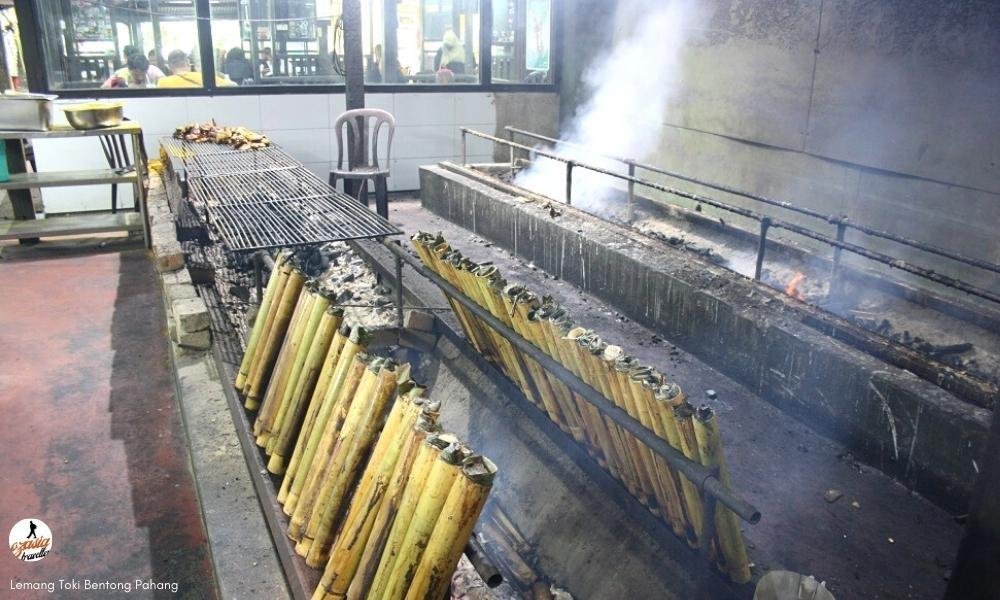 This is one of the signature dishes of this restaurant. Chicken grilled over a wood fire is also worth trying. This restaurant is quite busy at lunchtime. I highly recommend visiting this restaurant when in Bentong. 
Driving back from Lemang Toki after having my lunch I stopped at Masjid Sultan Haji Ahmad Shah located along the main road. The mosque has beautiful architecture showing the love of Malaysians for making such beautiful mosques. [ Read: Beautiful Mosques of Malaysia]. Exploring the beautiful mosques of Malaysia is one of the most enjoyable parts of my road trips to Malaysia.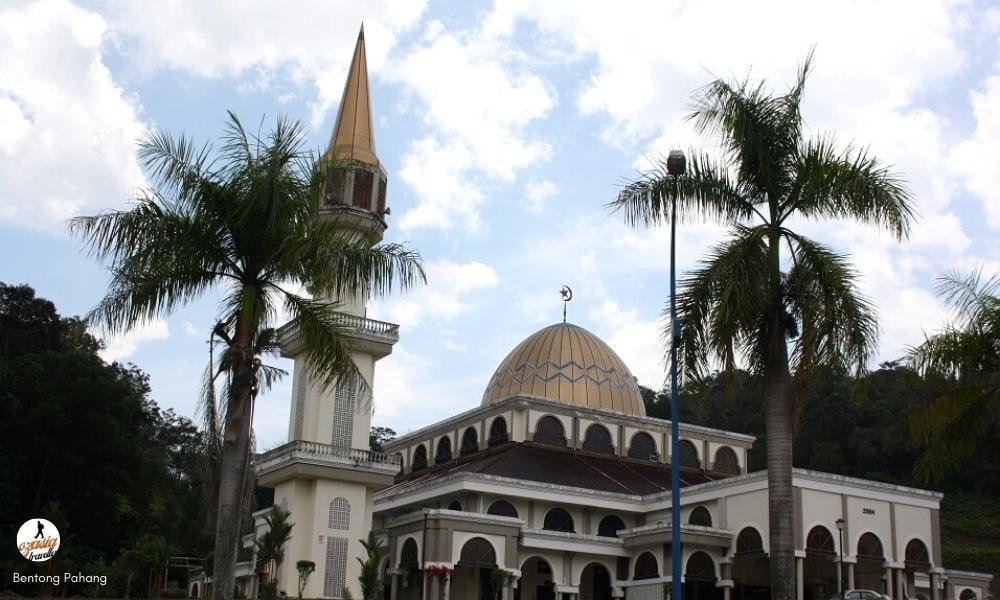 On my way back to Bentong City, I stopped over at Thong Kee Coffe Shop to enjoy some hot local kopi before heading out to Genting Highlands. The cafe culture in Malaysia is great with cafes offering a blend of local popular drinks and coffee. Kaya butter toasts and croissants are also mouth-watering and good to ease your sugar cravings.
---
Where to stay in Bentong Pahang?
Bentong offers plenty of homestay options that are popular in the region. Visiting durian plantations, hiking, and outdoor quadbike adventures are also popular in the region. The hotels are relatively cheaper compared to Kuala Lumpur. The most popular places to stay in Bentong Pahang include:
---
Driving from Bentong to Gohtong Jaya and Genting Highlands
On my way back from Bentong, I decided to visit Genting Highlands Fashion outlets that are located near Gohtong Jaya. Spending the evening at Genting Highlands is a great way to wind your day. The trip to Bentong is also manageable if you are staying at Genting Highlands for the weekend.
 During this trip to Genting Highlands, I observed a number of new hotels in Gohtong Jaya offering alternatives to staying at the hotels in the casinos which can be quite costly over the weekends. 
Bentong is definitely a great choice for a weekend break if you want to explore the local flavours of Bentong. There are plenty of local dishes that can be tried if you spend a night in Bentong City. Bentong offers some quality hotels that are quite reasonable in price. 
---
Enjoy the best travel experiences with KLOOK
Other Amazing Destinations in Kuala Lumpur