Planning a day excursion from Sydney? Southern Highlands offers a perfect option for a day trip from Sydney if you want to enjoy beautiful rustic landscapes, cool temperatures, a relaxed lifestyle, and plenty of historical architecture. In recent years plenty of affluent Sydneysider families have bought properties in these laid back towns because of open spaces, bigger landholding, and amazing quality of life at a driving distance from the city of Sydney.
Sydney to Southern Highlands Roadtrip
How to get to Southern Highlands from Sydney
If you want to make the most of your day, the best idea is to start early. There is not much traffic on the road on the weekend in the early hours of the morning and you can cover a lot of distance.
I started from Sydney city by getting on M8 TO M5 leading towards Canberra. M11 exits towards Mittagong from Hume Highway which leads to the country road towards Mittagong, Berrima, and Moss Vale. 
The green road signs are intercity freeway and the brown signs show the Tourist Drives, which normally detour off the main freeway and pass through historical country towns, interesting lookouts, and places of interest in the region.
---
Exploring Mittagong, NSW
Mittagong was my first stop along the way where I noticed the scenic pointing toward the historic building of Fitzroy Inn which has been serving the region since 1836. This well-maintained building is popular with visitors to Mittagong and is a great place to organize wedding events. The adjacent grounds to the building have a marquee and gazebo located close to a weir offering a very rustic look.
Fitzroy Inn Historic Retreat in Mittagong, NSW Saturday is the best time to travel as you can enjoy the weekend Markets in downtown Mittagong.
Staying at Fitzroy Historic Retreat
These markets are equally popular with locals and visitors to the town. Various vendors sell local produce including vegetables, condiments, handmade crafts, and antiques. There is a bit for everyone out there. Markets are a really fun place to enjoy the local culture of the town and enjoy some lunch and snacks.
Mittagong Weekend Market Fitzroy Inn Historic Retreat at Mittagong The main part of the city offers small local shopping malls, cafes, restaurants and some historical churches dating back to the last century. Mittagong is not a very large city and can be easily explored in a couple of hours. A major attraction in the region are vineyards, which are becoming popular for most tourist. The altitude of the region is approximately 800m above sea level and offers a good mix of alpine vegetation and greenery.
---
Interesting things to do in Southern Highlands
Thinking about what to do in the Southern Highlands? Explore some of the interesting lookouts in Mittagong overlooking the rolling landscapes and deep gorges with waterfalls. Explore Mittagong Lookout, Jellore Lookout, and Bowral Lookout.
Mount Gibraltar Walk is easily accessible both from Mittagong and Bowral and provides great views of the region.
Historic Wombeyan Caves  are located at 1.5 hours ( 65 km ) driving distance from Mittagong. Make sure to start early at the 60 km stretch will take around 1.5 hours of driving time through country roads. The historic caves are over 400 million years old and home to some unique rock formations, stalactites and stalagmites, and rock pools. 
With the recent growth in the affluent population in the region, Southern Highlands has become an attractive destination for gourmet food and wine lovers. There are a number of quality wineries in the region. Centennial Vineyards, Cuttaway Hills Wines, and Southern Highlands wineries are worth visiting for wine lovers. 
Make sure you have Berkelouw Book Barn on your list when planning a trip to Southern Highlands. The beautiful estate offers a unique reading environment surrounded by hundreds of antiquarian books. You can also shop for selected new books and enjoy a good read at a relaxed cafe on the premises.  Enjoy a coffee while reading one of your favorite classics. The Berkelouw Family planned a vineyard next to the book barn that was first established in 1812. The cafe and the vineyard is a new addition to the property offering a very enjoyable experience to the visitors. The cafe is open for lunch on the weekends between 11:30 am to 3:30 pm. The weekday lunch timings are 12:00 pm to 2:30 pm.
During my last visit to Berrima, I enjoyed a light lunch at the cafe while going through the books I purchased at the Book Barn. 
For a Unique Experience of Southern Highlands book a scenic flight from Sydney to Berrima that includes a gourmet lunch at the Centennial Vineyards. A 45-minute ride takes you over some of the most beautiful views of NSW with rolling hills, waterfalls, and an amazing coastline. 
---
Berrima NSW - a beautiful historical town
The historical town of Berrima has located 10 km from the town of Bowral. The laid-back and relaxed country village with a number of historical buildings worth visiting. An amazing way to explore Berrima is to book an e-bike tour that takes you around some of the popular attractions including Harpers Mansion. You will stop over along the way to enjoy local coffee, a visit to the wine cellars, and an excellent lunch at the Berrima Vault House. The village also is explored at your own pace as a number of old buildings and shops are located very close to the entrance of the village.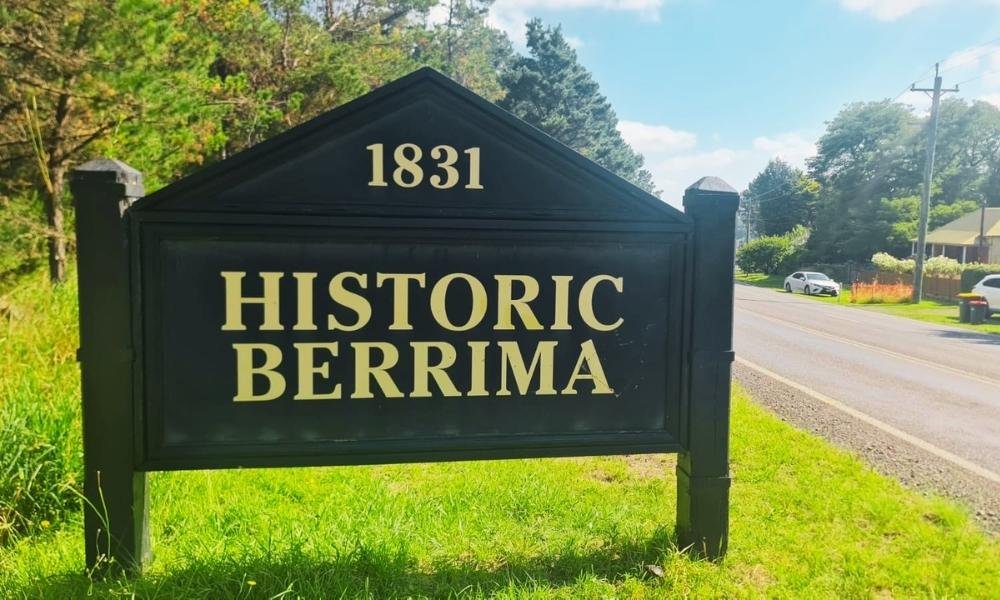 Lately, the cafe culture is a new trend in Southern Highlands with a number of cafes in Berrima offering quality coffee and desserts. A number of stores sell locally-produced condiments, local crafts, and decorations. The local watering hole Bistro 1834 is a popular spot with locals as well as visitors. Plan a stopover for a drink before heading on the Berrima River Walk. Gumnut Patisserie has opened a new Branch in Berrima and is a great spot to satisfy your sugar craving.
Other cafes in the hood include Schmokin and Magpie Cafe. Berrima is to be best explored on food at an easy pace as the local Museum and historical buildings in the village are storehouses of the interesting history of early settlers in the region. 
---
Exploring the City of Bowral in Southern Highlands
NSW Visiting Bowral NSW Bowral is the next town in line. Made famous by cricket legend Don Bradman, the city is home to Don Bradman Oval and Museum with great information on the cricketing history. Bowral downtown is home to a number of quality cafes, clothing stores, art galleries, and antique stores which makes it a popular spot to hang around on the warm weekend.
Planning a holiday in Southern Highlands?
 Check for amazing deals online.
Early September is the beginning of spring in NSW and a great time to explore these amazing country towns. The quality of clothing stores and cafes and patisseries shows that this region caters to plenty of affluent clientele with an eclectic tastes in food and clothes.
Busy Streets of Bowral, NSW Bowral has a similar feel to Katoomba and other towns in the Blue Mountains. Gumnut patisserie caught my attention as the corner shop had long queues of foodies waiting for their turn to enjoy a wide array of desserts and pastries.
---
Attractions in Bowral, NSW
A couple of interesting bookstores with cafes reflect a literacy legacy in this town. With a good mix of gourmet food outlets, bookstores, and over 60 vineyards, Bowral is definitely a great place for a weekend retreat from Sydney.
 Info Bowral is home to Bradman's Museum. For cricket lovers, this is a must-visit location with plenty of information on cricket and cricket memorabilia from Don Bradman's era. 
---
Fitzroy Falls NSW - Budderro National Park
NSW Fitzroy Falls is a popular location in the Southern Highlands commanding some great views of the waterfalls and scenic gorges in the region. With a number of walking tracks towards the scenic lookout, the Fitzroy Falls area can be a great adventure to explore local flora and fauna on one of many bushwalking tracks in the region.
Fitzroy Falls parking area has an all-day parking fee of $4.00. The information center near the car park provides valuable information on plenty of activities that can be conducted in the region. Local guide maps and brochures are available for free.
There are a couple of long walking tracks. Make sure to obtain all useful information and topographic maps from the information center at the caves. A safety beacon is recommended if you plan to explore long walks in the region. 
The Budderro National Park is a hikers' paradise offering a number of interesting walking trails. Make sure to keep your fitness level in mind when planning a long trek in the national park. All useful information and maps are available at the Information Center at Fitzroy Falls. Other waterfalls in the park that can be explored include Macquarie Waterfalls, Carrington Falls, Gerrigong Falls, and Belmore Falls. 
A number of quality lodges, farm stays, and holiday homes in the region offer quality accommodation and escape from the busy city life in Sydney. Enjoy a warm fireplace in winter as the region can get quite cold in the months of June and July. Some properties are stretched over acres offering an interesting experience of luxury country living. Most properties can accommodate large groups and are ideal for a family holiday break.  
---
Driving from Fitzroy Falls to Macquarie Pass
Jamberoo Waterpark is a popular attraction in the region that attracts large groups over the summer. Check out my photo gallery for a trip to Jamberoo Water Park in Kangaroo Valley. Jamberoo is a great place to visit with children the park offers plenty of thrill rides, a massive wave generator, and other water sports. The bob-sled down the hill is definitely a must-try for thrill-seekers.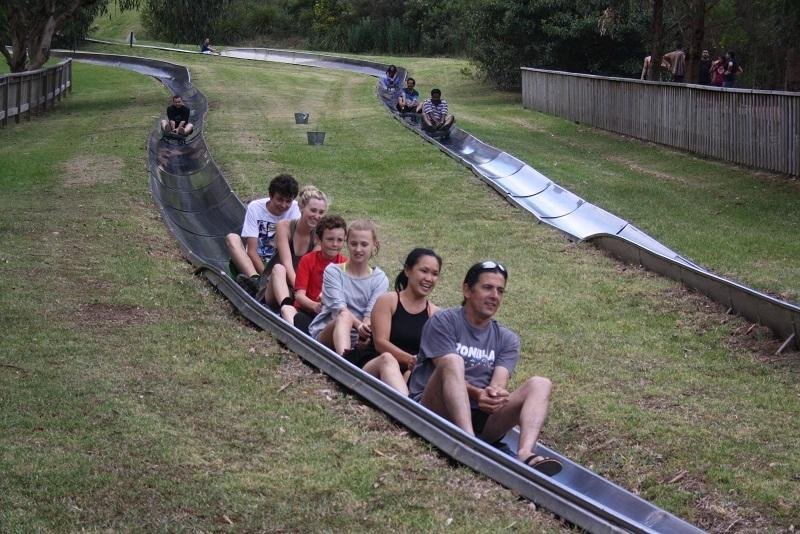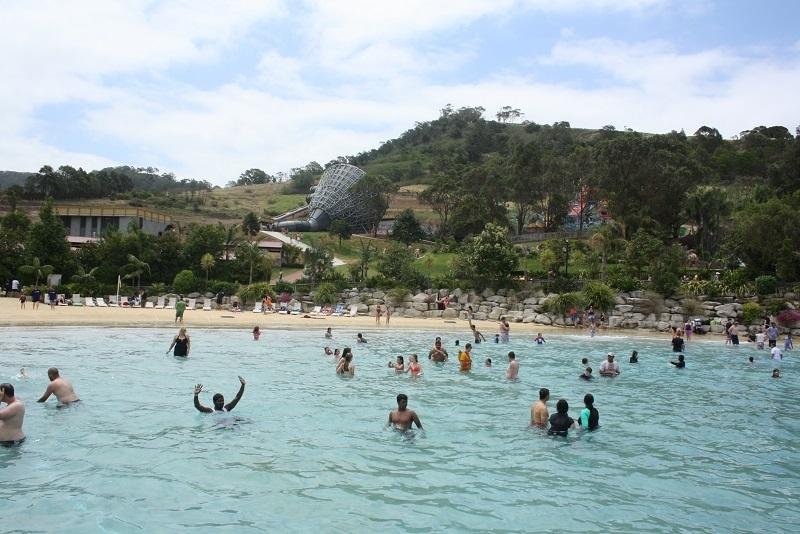 Check out my Photo Gallery for Trip to Jamberoo 
---
Two alternative ways to Wollongong from Fitzroy Falls Driving further south from Fitzroy Falls you can take a scenic route through Jamberoo Waterpark, Minimurra Falls with a Tree Walk as a major attraction. Book in advance as tickets are hard to find on arrivals.
Alternatively, drive towards Macquarie Pass and you will pass through rolling hills and scenic views on both sides before descending steeply down towards Illawarra Region. Enjoy the cascade falls at the bottom of the descent before hitting Albion Park.
The road from Albion Park joins Princess Highway. You can either turn right towards Kiama and South Coast or turn left towards Wollongong and back to Sydney. The driving distance from Albion Park to Sydney is 130 km.
---
PIN IT TO READ LATER