Wollongong is a very popular destination some 80 km from the city. You can drive or catch a train that takes around an hour and cost approx $16 on city rail to get there. The train runs from the central station to the country link platform. Wollongong is located on South Coastline, passing through Hurstville, Shire District and some of the most scenic spots like Helensburgh, Stinson Beach, and Thirroul. 
Driving from Sydney to Wollongong
If you plan your trip ahead of time you can stop by at a number of small coastal towns on the way between Sydney and Wollongong City. The coastal towns of Stinson Beach, Coalcliff, Scarborough and Thirroul are located along Old Princess Highway, which is an alternative route to drive to Wollongong. 
Driving to Wollongong from Old Princess Highway
Info  There are two alternative routes from Sydney to Wollongong.
First Route from Sydney to Wollongong
The first route takes you down the Old Princess Highway through the National Park and goes past Stanwell tops and descending to the famous Sea Cliff Bridge which has become somewhat of a landmark of this route to South Coast. 
The Second Route from Sydney to Wollongong
The second route is the shortest and quickest way to get to Wollongong using Princess Morotory. The first interesting stopover along the way is Bulli Lookout. There is a steep descent after Bulli all the way to the city of Wollongong. The exit near the University of Wollongong takes you to the Wollongong beach area which is the main area to visit in Wollongong. 
Travelling by train from Sydney to Wollongong
Alternatively, you can catch a train from Sydney Central Station from the Country Link Platform. The trains run all the way to Bombaerry on South Coast. The city of Wollongong and Kiama are accessible by train. The train track goes along the ocean passing through the coastal towns of Coalcliff and Thirroul. 
---
Bulli Pass and Bulli Lookout
Bulli Lookout at Bulli  NSW, Princess Motorway
---
An alternative route takes you down, the Princess Motorway towards Thirroul, where you can stop over at a lookout near Thirroul which commands amazing views of Wollongong and Port Kembla. 
Redcedar Picnic Area the National Park 
---
Old Princes Highway is a scenic route that takes you along the National Forest near Sutherland. The entry fee to the National Park is $10 payable at the entry point past Sutherland. There is a boating facility in a reservoir before Helensburgh. This area is a popular picnic spot over the weekends.
Bundeena is another interesting location to visit which is also accessible from Cronulla by Ferry. The drive is pretty interesting, however, keep an eye on the occasional wildlife crossing the road, especially at night time. 
---
Stanwell Tops NSW
If you plan to take Old Princess Highway through the National, the road emerges near Stanwell Tops. This area is popular for hang-gliding and sky-diving. The Sea-Cliff Bridge is visible from the lookout. The lookout is also directly accessible from the Princess Motorway by existing towards Stanwell Tops. This route is quicker if you want to save time. 
Stanwell Tops, NSW
---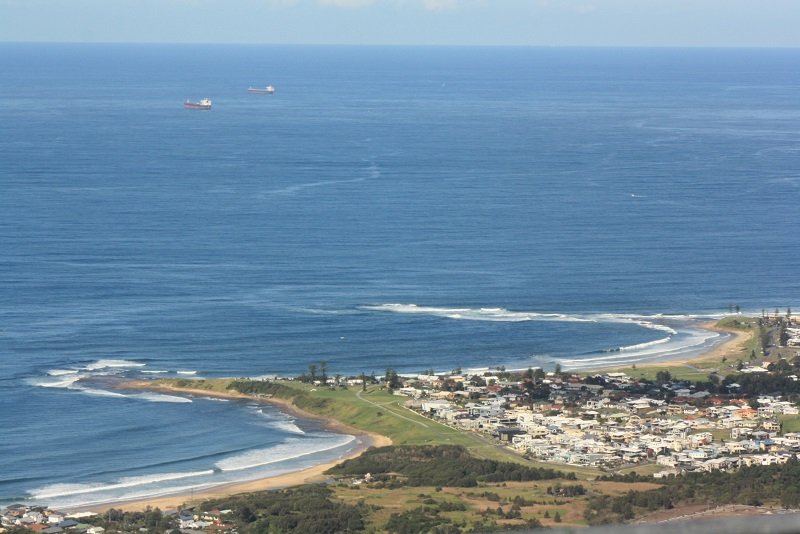 Beautiful Views of Illawara Region from Bulli Lookout on Princess Highway
---
Wollongong is famous for its beautiful beaches and a relaxed atmosphere. You can drive another 10 min out of town to Nan Tien Buddhist Temple for a peaceful and quiet day. If you are keen on trekking and bushwalking look for some trails through Mount Kiera all the way to Macquarie Pass. I have claimed Mount Kiera over 30 times during my stay at the University of Wollongong.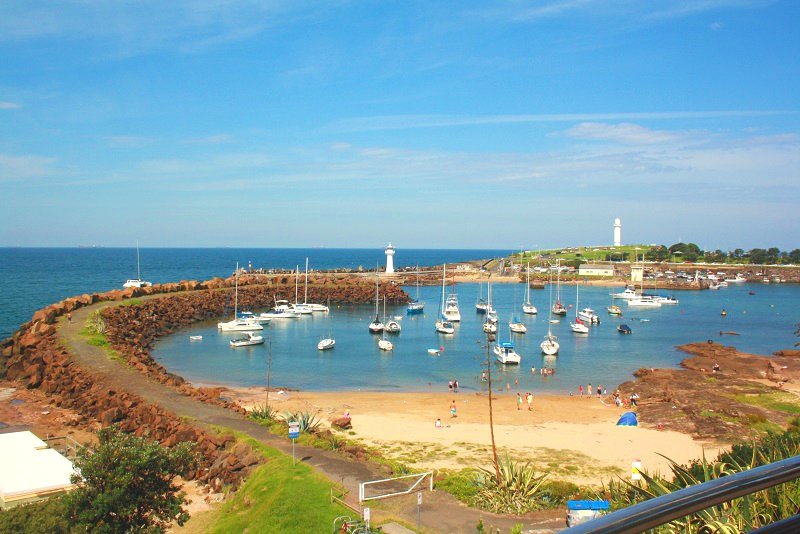 North Wollongong Beach and Lighthouse
---
City of Wollongong NSW
Wollongong is lined with beaches in almost all the suburbs in the neighbourhood including Fairy Meadows, Towradgi, and North Wollongong. Historically an industrial city, Wollongong attracted workers for the BHP factory near Port Kembla.
The city has seen economic up and downs with the migration of people in and out of the city through the years. The University of Wollongong attracts around 15000 students, the majority of whom are international students that add to the activity and culture of the city.
Wollongong Beach is fun in summer and is packed with picnic crowds and surfers. Surf guards patrol the beaches in the summer season. Wollongong has rock pools along the beach which attract swimmers from the early hours of the day. These rock pools fill up with ocean water during high tides. Wollongong beach has a number of nice cafes and snack bars serving chilled drinks throughout the day.   
Fun at Wollongong Beach
---
The area south of Wollongong is called the Illawarra region popular for lakes, rolling hills and old historical towns. A day-long road trip can take you down to the pristine beaches of Jervis Bay while stopping at the historic town of Berry for hot pies.
Nan Tien is a famous Buddhist temple located on the outskirts of Wollongong City and is a popular attraction for tourists. The temple is visible from Princess Highway connecting Wollongong with Kiama. 
Nan Tien Buddhist Temple
---
Exploring Shoalhaven and Southern Highlands near Wollongong
Driving past Wollongong along South Coast you enter the Shoalhaven region which has beautiful beach areas and waterways. Macquarie Pass divides the Coastal Towns of Oak Flats and Kangaroo Valley from Southern Highlands. For more adventures explorer Mittagong is an interesting area to explore you can drive north near Oak Flats through Macquarie Pass to join Hume Highway heading westbound towards Melbourne. Read more about Southern Highlands 
Fitzroy Fall in Southern Highlands
---
Jamberoo Water Park
Jamberoo is a popular waterpark in Kangaroo Valley and attracts large crowds in summer. Enjoy a full day of water rides, bobsleigh, wave generators and lots more. The entry fee is around $30 for a day. 
Massive wave generator at Jamberoo Water park - Visit my Photogallery 
---
Interesting places to visit in this region include:
Jamberoo Water Park
Nan Tien Buddhist Temple
Kiama Blow Hole
Cities of Mittagong, Moss Vale
Fitzroy Falls
Mount Kiera Lookout in Wollongong near the University of Wollongong
---
Where to stay in Wollongong City?
The city of Wollongong offers plenty of quality accommodation as the region caters to plenty of local businesses and educational institutions. Here are some of the most popular places to stay in Wollongong:
---
Find interesting place to explore near Wollongong
---
Planning to Visit Wollongong
Compare Best Hotels Rates Online.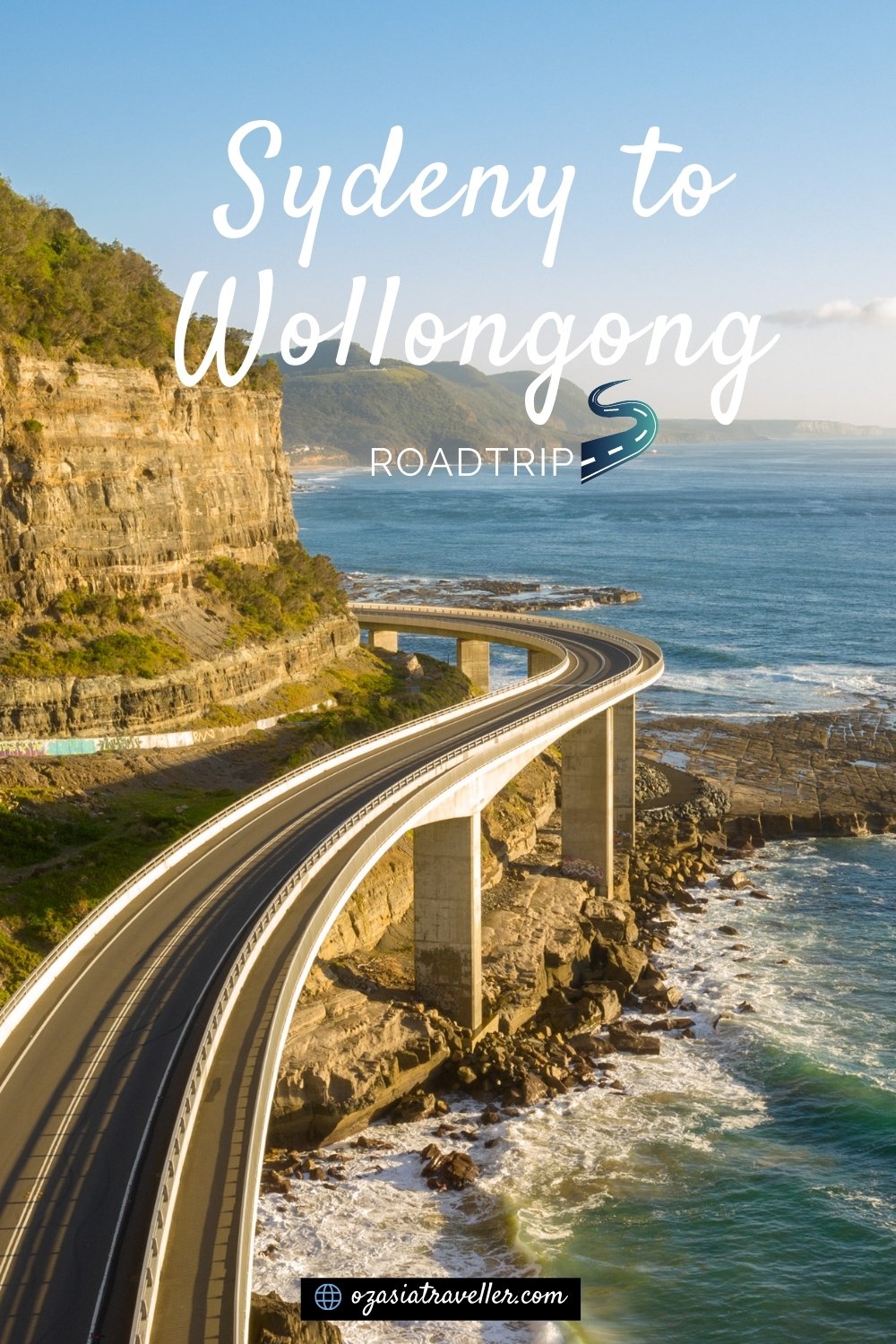 Related Content on the Website